British who hates compromises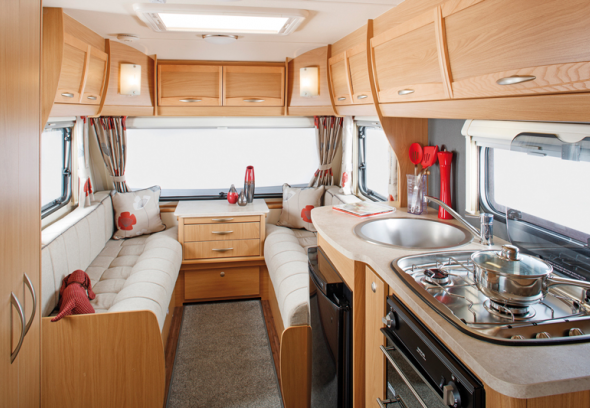 Elddis is a British brand that creates premium caravans. Although almost completely unknown in our country, it is worth attention.
Elddis has offices in Great Britain, Belgium and the Netherlands. In Poland, they are not yet available, although it may be a pity. The company offers trailers with a standard that goes beyond what we know even from high-class German trailers.
The cheapest, "budget" Xplore model is worth attention, as it is advertised as attractive in terms of price, and at the same time without compromises. Well, "cheapness" is a relative thing, and in this case it means 11,000. pounds for the smallest and least equipped trailer.
Xplore is available in four different sizes. The shortest measures 3840 mm and offers accommodation for two people. It can be tight in it. The versions with a length of 4,450 mm, 6,124 mm and finally 6,250 mm are more recommendable. Larger models provide comfortable accommodation for 3, 4 or 5 people. The largest model even has a bunk bed. There is an aluminum ladder to the top.
What distinguishes the Xplore is the rear window, which is wide to the entire rear wall of the caravan. The aesthetic, quilted sofas that can be lifted with the help of gas supports to get to the bedding containers are also noteworthy.
The kitchen equipment is impressive. We will find, of course, a 3-burner gas stove with fire protection, a sink, but also a 112-liter fridge-freezer and an oven with grill.
The heating and ventilation system (gas-electric) distributes warm or cool air throughout the caravan, including the bathroom. The airflow of cold and warm can be adjusted with the use of aesthetic and practical knobs. An 8-liter boiler takes care of hot water. And if there is not enough water in the tank, you can use ... an external water source using a submersible pump.
The Xplore trailer can have up to 5 230 V electric sockets. The TV can be connected to both a 230 V and 12 V socket. There is also an antenna that receives both analog and digital signals.
Windows can be unsealed, which means that they can provide fresh air even when they are closed. This can be useful, for example, on a camping site, if you are afraid to leave the windows open.
You can also appreciate the deep cabinets and the generally high level of interior finishing. Another advantage is the bathroom with a sink, shower and additional cabinets. It is surprising that so much space has been found for the bathroom part.
Indeed, Xplore seems to be the right proposition for those who don't want any compromises. And yet this is only the cheapest and simplest model from Elddis. The Avante, Affinity, Crusader, and especially the Buccaneer trailers mean not only the lack of compromises, but even the splendor of luxury. Interestingly, the basic elements of all these models are similar, with the biggest differences being in the finish standard.
Sometimes it is better to get lost than to ask for directions too much. Aldous Huxley
Enjoyed reading this article? Share it!