Polish motorhome with rich equipment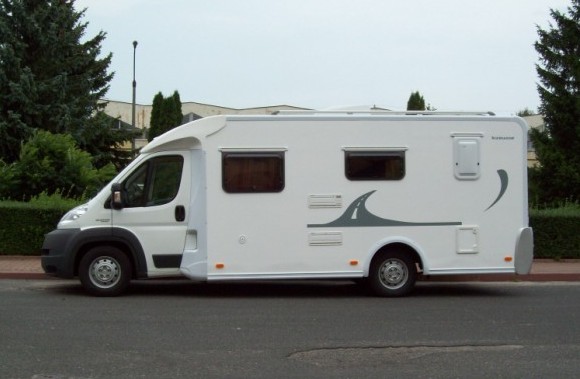 Niewiadów SA is not only a Polish trailer manufacturer. Recently, he is also a manufacturer of Romer motorhomes. Let's see if they can be a serious alternative to camping vehicles from Western manufacturers.
It cannot be denied that the greatest advantage of Romer is its… price. 200 thousand PLN for a motorhome built on the Fiat Ducato Maxi platform, equipped with a 3-liter engine with 160 hp is relatively little. Especially if we look at the rich equipment. Niewiadów can also boast an extensive service network - about 30 authorized points in Poland will help keep the motorhome in good condition.
Are there any downsides? The basic one is Romer's look. Apparently, tastes are not discussed, but in this case it should be admitted that the Polish motorhome differs slightly from the current trends in style, which we will encounter, for example, in motorhomes from Germany. This applies to the exterior as well as the interior of the vehicle. However, who does not need ultra-modern design, but appreciates more practical values, can become the owner of quite an interesting vehicle.
Comfortable and roomy
The motorhome is designed for four people. The sleeping area (with a large bed) can be separated from the rest of the vehicle by a curtain. The front seats are swivel, so you can turn them towards the table when parked. As in motorhomes of Western manufacturers, travelers can use suspended cabinets that allow for the practical use of the luggage space, we also have LED and halogen lighting at our disposal. The vestibule of the vehicle is equipped with additional lighting.
The Romeer has a bathroom with a toilet, mirror, bathroom cabinets and a closed shower cubicle. There is also a kitchen with a sink and a two-burner stove. The refrigerator has a capacity of 80 liters - it can be powered by gas from a cylinder, 230 V or 12 V electricity. Both clean and dirty water tanks have a capacity of 85 liters. The motorhome has gas heating with an energy distribution system and a 10-liter boiler.
No complexes
The equipment also includes a control panel with indicators for the level of clean and dirty water, battery charge (starting and additional) and the main power switch 12V. For an additional fee, the motorhome can be enriched, among others o parking air conditioning, roof rails, bicycle rack and TV (15.6 '').
The furniture is made of light plywood-colored plywood. The floor imitates floor panels used in apartments. The outer and inner sheathing of the vehicle is made of laminate. The floor, walls and roof are insulated with polystyrene. Two vents are installed in the roof for good air circulation.
To sum up, the equipment of Romer does not differ from what can be found in much more expensive motorhomes of Western manufacturers. If so, why overpay? The Polish motorhome from Niewiadów will surely find its amateurs, and according to the manufacturer's announcements, not only Poles are to be among them.
Sometimes it is better to get lost than to ask for directions too much. Aldous Huxley
Enjoyed reading this article? Share it!