Caddy Tramper - a little traveler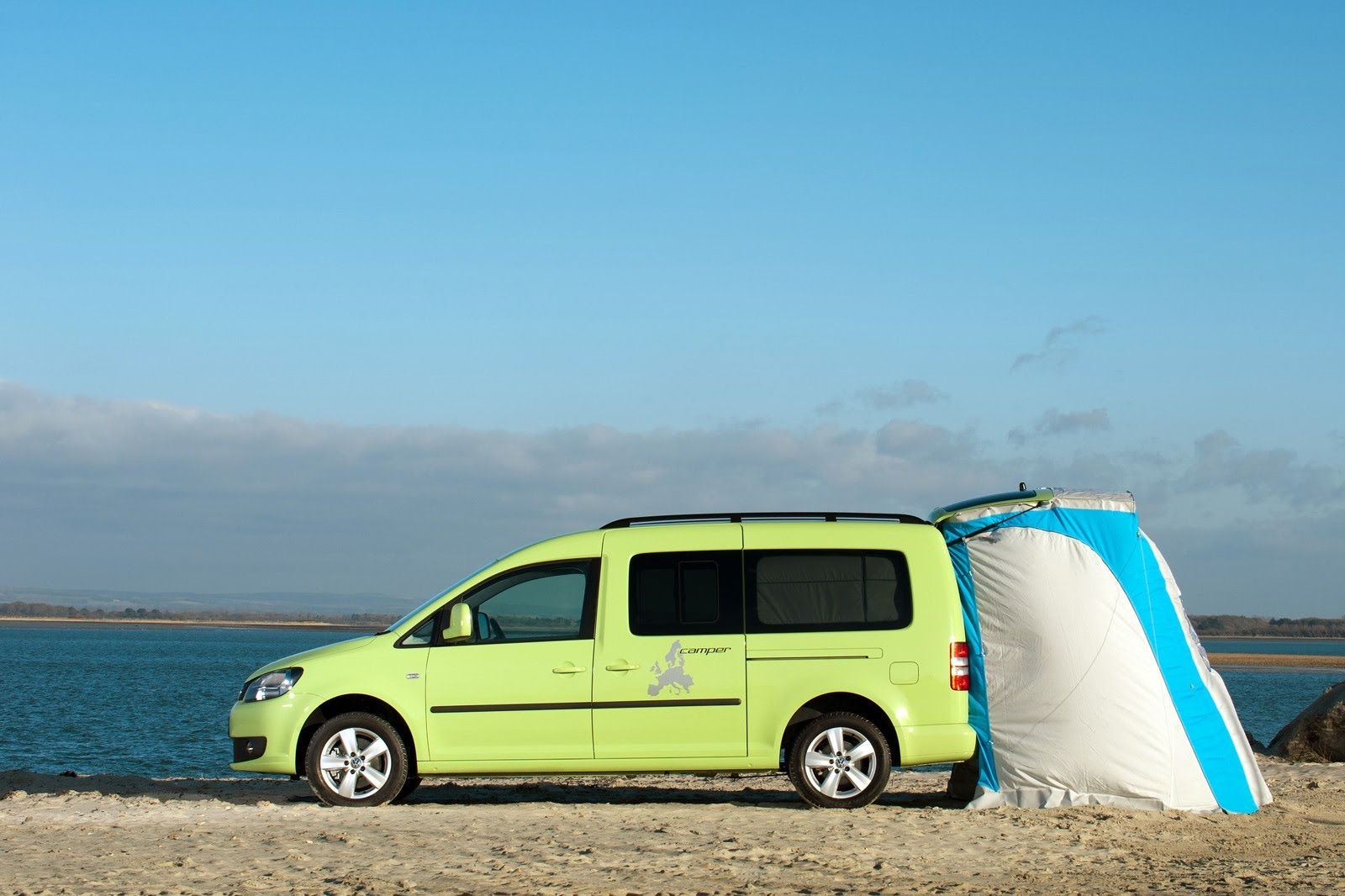 More and more manufacturers offer small cars with camping features. A few years ago, this trend was also picked up by Volkswagen, offering recreational vehicles based on the Caddy small delivery model.
Caravanning, once stereotypically associated with the cheerful life of a retired Western old man, is now gaining more and more popularity among young people. Volkswagen took advantage of this fact when preparing the Caddy Tramper and Caddy Maxi Tramper models for young customers who love to travel, but cannot afford to buy a full-size motorhome.
An oasis for two
Not everyone knows that the Tramper concept was developed in the years 2004-2005 at the Polish Volkswagen factory in Poznań . Polish specialists not only designed practical solutions inside the car, but also invited many Polish companies to cooperate, which became suppliers of equipment for Caddy Tramper and Caddy Maxi Tramper cars.

Of course, the basic idea was to make the best use of the space inside the car. 1.3 cubic meters is not a lot of space, so the challenge was all the greater. There are versions with a gas stove and a refrigerator, but most Trampers do not have such facilities. What is most important in this car is a double bed measuring 1.1 x 2.0 m .
A motorhome on request
On a daily basis, the Tramper can be used just like any other passenger car. Five seats allow it to be treated on a par with other B-class vehicles. Importantly, the tourist equipment can be easily removed , turning the sleeping part into a spacious trunk.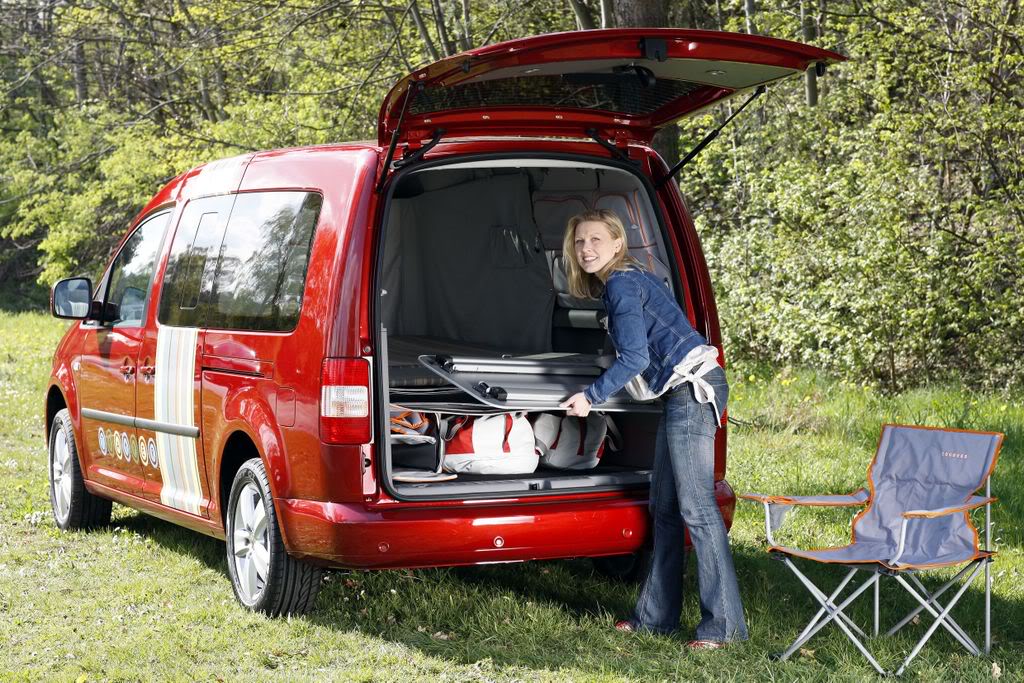 However, if you want to go on a spontaneous camping, just get in and drive. Once there, you need to fold down the rear seats with just a few movements, and then spread a comfortable 4 cm thick mattress on their surface.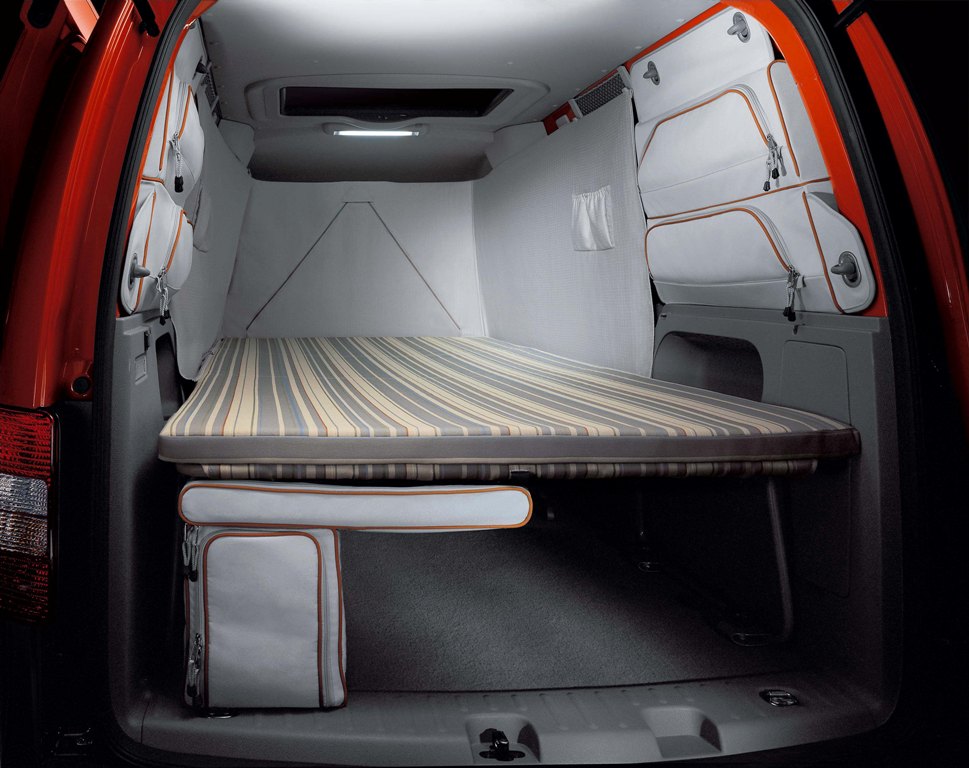 The next step is to unfold the curtains, which are hooked in designated places around the mattress. Thanks to this, we will separate ourselves from the surroundings. For an additional fee, you can choose a version with an electric sunroof , which will allow you to watch the stars at night and… let fresh air inside.
Vacation in a tent
The manufacturer took care of a large number of hanging storage compartments of various sizes. Thanks to this, there will be a place in the Tramper for a lot of various trinkets - small and larger. Drawers are installed under the driver and passenger seats.
In addition, the equipment may also include two folding chairs and a table to be put outside the vehicle and a quite large tent (2.30 x 2.00 m), unfolding with the use of an open tailgate.
After closing the tailgate, we can unfold magnetic blinds on it and turn on halogen lamps (also attached to the trunk lid).
Additional equipment may include, among others parking heating and a heating mat for the bed, thanks to which it will be possible to make spontaneous trips with an overnight stay even in winter.
In Poland, the cheapest Tramper, equipped with a 1.2-liter TSI engine with 86 HP, costs PLN 62,529 . The car is available with the same range of engines as the Caddy .
Sometimes it is better to get lost than to ask for directions too much. Aldous Huxley
Enjoyed reading this article? Share it!