Camp-Riders - a harley rider goes camping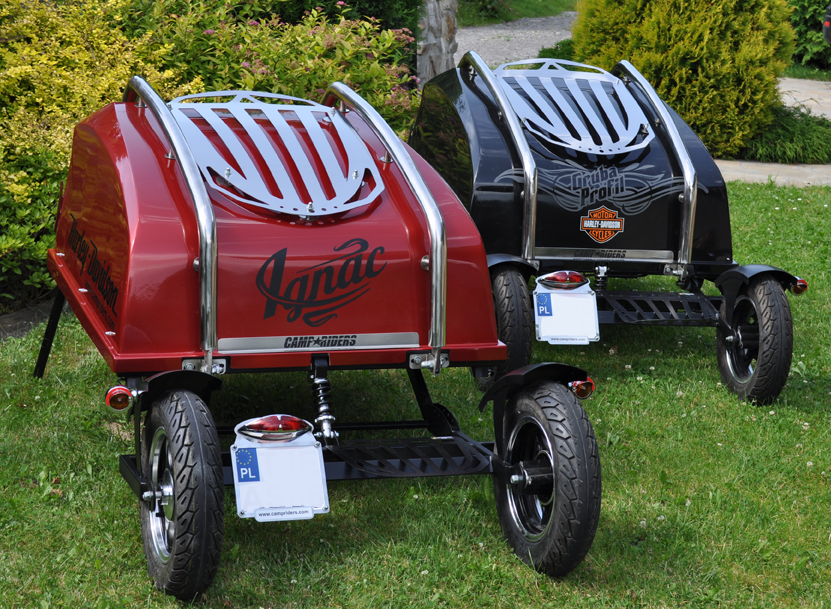 Caravanning is associated primarily with cars towing caravans, or with motorhomes. What about motorcyclists who would like to go on a long journey and do not like hotels? It is for them - and in Poland - that the Camp-Rideres brand was born.
The name Camp-Riders are used for caravans created just for those who would like to attach ... a "caravan" to their two-wheeled road cruisers. Well, this term is perhaps a bit exaggerated, but only a little. In Camp-Riders, we can not only sleep, but also use it as a vestibule for a field kitchen. First things first.
A real tough guy doesn't sleep in a hotel
At first glance, the Camp-Riders caravan does not seem as spectacular as it actually is. Yes, its design is interesting and it will certainly attract attention on the road.
The stroller attached to the motorcycle looks particularly good with Harleys and Honda Goldwing-style motorcycles, and because the manufacturer also accepts orders for individual painting , we can order a trailer that, together with the motorcycle, will form a coherent and breathtaking whole. Such a trailer not only will not take away the "masculine" character of the road cruiser, but will also strengthen the character of many a chopper or cruiser.
And yet, looking at Camp-Riders in the complex version, we are unlikely to suspect how much it can do. Oh, a nice trunk. Nothing could be more wrong! After unfolding, the caravan turns into a quite spacious tent with a bed on which two (slim) people can sleep.
It does not matter if you want to take a nap in the parking lot, spend the night at a motorcycle rally or go camping. Thanks to this caravan, you can have an overnight stay, and a storage compartment with a capacity of up to 250 liters .
A trailer full of surprises
The manufacturer ensures that the caravan unfolds quickly. The roof of the tent is made of a material resistant to rain, and at the same time ensuring adequate ventilation. The same materials are used in professional expedition tents . The mattress, which is the standard equipment of the trailer, has been trimmed with high-quality ecological leather.
However, the trailer can be used not only while sleeping. During the day, we can rest in it like in an armchair or use it like a deckchair . And by placing a table and a gas stove next to it, we can even treat it as a vestibule with a place for outdoor cooking.
Inventions cost money
The trailer with its equipment weighs 65 kg , while its permissible total weight is 100 kg. This is the maximum value that non-registered trailers can have. As a result, the owners are released from the obligation to perform technical inspections.
When folded up, the trailer is 200 cm long , 90 cm wide and 50 cm high. When unfolded, the vehicle will be 175 cm at its highest point. It is worth noting that the trailer has an electrical installation socket and appropriate lighting (brake lights, parking lights and indicators).
The manufacturer apparently does not focus on selling the trailer only in Poland, because the price is given in euros. Currently , Camp-Riders costs 1950 euros . However, this value also includes a hook that will allow you to connect the vehicle to the motorcycle - here the price is given in PLN and can be PLN 850 or PLN 950. The vehicle is covered by a two-year warranty.
Interestingly, the caravan can be ordered online together with transport. It is enough to pay the appropriate amount to the manufacturer's account, and in two weeks at the latest, a pallet with very interesting content will be delivered to the house.
Anyone interested? Please comment.
Sometimes it is better to get lost than to ask for directions too much. Aldous Huxley
Enjoyed reading this article? Share it!