Caravan FENDT Bianco 2014 - advantages dominate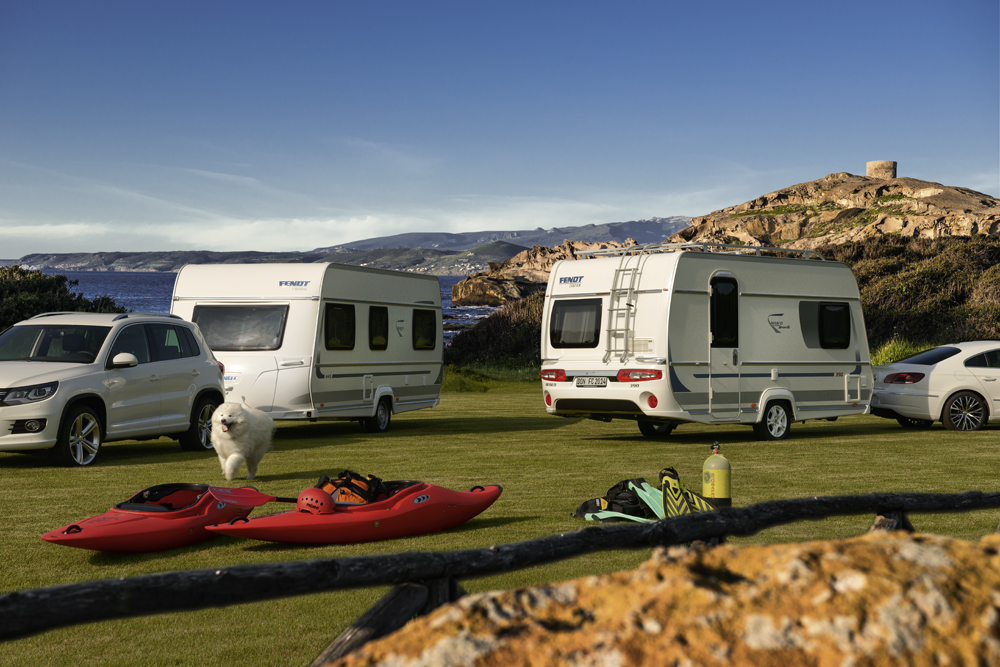 Fendt is a German manufacturer that wants to be seen as a manufacturer of solid caravans at a price that is not controversial. In addition, it constantly modernizes its models - in 2014, the changes included, among others, one of the cheaper models - Bianco.
Fendt rarely makes spectacular changes to its trailers. Rather, he tries to listen to customer suggestions on an ongoing basis and improve the offer in small steps. This is also the case with Bianco. In the range of seven models, the Bianco is the second proposition, right after the basic Saphir model.
Bianco is one of the mid-range caravans. It comes in seven variants with a length of 4.51 to 6 meters . The permissible total weight ranges from 1,300 to 1,600 kg , and prices (in Germany) start from 15,600 euros . The most expensive model in basic equipment costs 19,850 euros.
A modern sleeping corner
In the new season, Bianco has changed slightly on the outside. More importantly, the kitchen space has been redesigned, and the sofas have been divided into 3 parts , making it easier to access the compartments under them. These and similar changes improved the functionality of the trailer.
A very interesting novelty is the enrichment of the large bed with two adjustable headrests . They not only look great, but also allow you to rest your head comfortably, for example while reading. It's a bit like enriching the caravan with two comfortable chaise lounges.
In versions with two single beds, it is possible to place an additional frame between them and create a third sleeping place. Thanks to the thick spring mattress , you should sleep comfortably. It is worth adding that the bed frame is adjustable.
Another novelty is the aesthetic shelf between the headrests, which can be used as a bedside table. In its center there is an extension with adjustable lighting and small shelves for small items. It would be nice if similar, additional shelves also appeared in several other places of the caravan.
Certainly, the new version of Bianco cannot be denied a better design than before. The good impression is enhanced by a large number of LED light points - here we can find large ceiling lighting, bedside lamps, and an illuminated bar, as well as illuminated upper cabinets. Light enters the interior also through two large sunroofs.
Lots of pluses, some disadvantages
Does Bianco have any downsides? Unfortunately, yes, although they can be considered trifles. For example, the hinges of furniture that protrude in the bathroom may be disturbing. Of course, this is a minor matter until no one bumps against it. The manufacturer explains that the use of large, metal hinges was necessary for the furniture to retain its solidity. Of the other small drawbacks, the lack of an automatic igniter in the gas stove may be surprising.
The very structure of the trailer cannot be considered a plus. Forged aluminum, plastic insulation and a wooden frame are a system that is slowly becoming a thing of the past, but Fendt continues to use it.
However, let's not end too pessimistic, especially as Bianco has a lot of good to offer. The load meter deserves special praise, as it shows how much can still be loaded on the trailer in order not to exceed the maximum total weight .
The Fendt Bianco is a well thought-out caravan. If minor shortcomings are eliminated and the wooden frame is replaced with a more modern, lightweight composite structure, the manufacturer will be able to be fully proud of his work.
Sometimes it is better to get lost than to ask for directions too much. Aldous Huxley
Enjoyed reading this article? Share it!