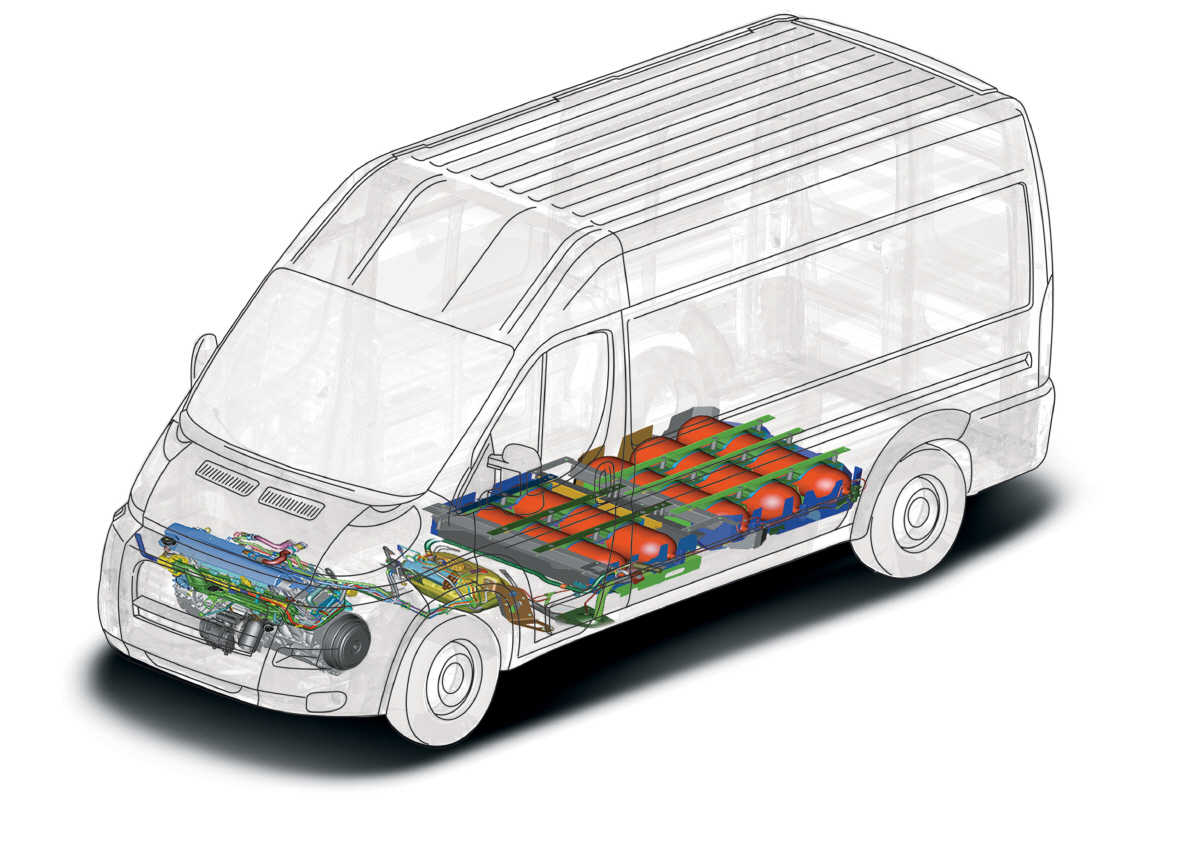 A camper powered by natural gas? This may be a very good solution, although there are still few stations in Poland where you can refuel with CNG. However, there is a way to do this too.
Cars powered by CNG (Compressed Natural Gas) are currently quite unpopular in Poland. However, there are brands that try to promote this way of powering the car, including: Fiat with a Ducato model equipped with the appropriate installation.
And yet Ducato is also a basic base for campers!
Ecological star
In Germany, the combination of Ducato + camper + CNG has been successfully used for several years. One of the first CNG-powered camping vehicles is La Strada Avanti Ecostar .
The car is equipped with a 3-liter engine with a power of 136 HP. The maximum torque of 350 Nm is available from 1,500 rpm. However, the most interesting thing here is the power supply. It is not based (as in the case of LPG installation) on the interchangeable use of gas and gasoline, but has been designed so that the car can use natural gas in all conditions. Already at the moment of starting, the engine is powered by gas .
Five gas cylinders were placed in the floor. They take up a lot of space, but at the same time lower the center of gravity. The cylinders have a total volume of 220 liters, which means they can hold 37.4 kg of gas. Filling the cylinder completely requires refueling approximately 50 m3 of gas. This amount should be enough for approximately 400 km. Cost? As I write this article, one meter costs PLN 3.28. This means that PLN 164 is enough to travel 400 km .
A petrol tank can also be found in La Strada, but it has a capacity of only 15 liters. It was designed as an emergency tank, thanks to which we will be able to travel 100 km in search of a CNG station.
Garage gas dispenser
It is difficult to obtain stations of this type in Poland. However, there is an interesting alternative.
While we do not place a gasoline dispenser in the garage, it is possible to install a natural gas compressor in it. This device is not cheap - it costs approximately PLN 30,000. PLN . However, it allows you to purchase gas from your home network, which will cost approximately PLN 2.50 per meter.
If a family uses several cars and all of them run on natural gas, such an investment may pay off.
Benefits of CNG
The only thing left to ask is "why?" Apart from the lower costs of such gas, will caravanning enthusiasts also benefit from other benefits? It turns out that yes.
First of all, a CNG car is quieter , so the holiday trip will be less burdensome for everyone on board. The second thing is that CNG gas is odorless . So you won't smell either gas or gasoline in the car. At the same time, manufacturers ensure that CNG installations are perfectly tight and secured in such a way that gas supply is safer than all other power supply methods.
However, another advantage will be most important for the owner of a camper. Well, it is possible to use natural gas as power for various devices . Therefore, you do not have to refuel the car separately and additionally replace gas cylinders, e.g. for powering the kitchen, gas heater or heating water. It is the possibility of using CNG as the main power source in the entire camper that most convinces its use in caravanning.
Does a CNG installation have any disadvantages? This certainly includes the fact that cylinders take up a lot of space and reduce the vehicle's ground clearance . Perhaps converting an ordinary camper into a CNG-powered vehicle would also be a problem.
However, if you are considering purchasing a new vehicle and building it up as you wish, it is worth considering the option of a natural gas camper.
Sometimes it is better to get lost than to ask for directions too much. Aldous Huxley
Enjoyed reading this article? Share it!