Custom-Bus - a discreet motorhome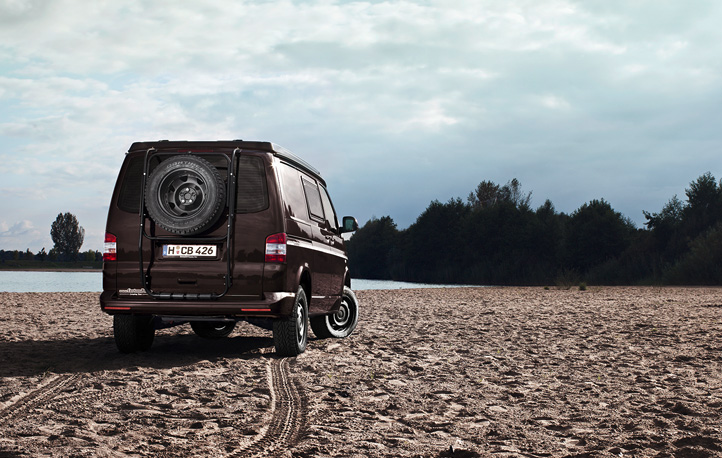 The German brand Custom-Bus is already distinguished by the fact that it builds its motorhomes on the basis of Volkswagen - until recently the T5, and now the T6. But an important distinguishing feature is also the use of clever solutions - simple and practical at the same time.
Volkswagen, which leaves a small plant in Langengagen in Lower Saxony after all camping modifications , is hard to distinguish from the factory T6 model . This can be an advantage for many customers, as their car will not attract prying eyes or provoke thieves. Anyway, in a motorhome, the most important thing is the interior.
Given the dimensions of the standard Volkswagen Transporter, we should not expect it to be as spacious as a typical camper van. It cannot be denied that it is a delivery vehicle with tourist equipment. And yet, the functionality of this camper van may surprise you.
A furnished "delivery truck"
Looking into this car, our attention will be drawn to three rows of seats and a set of furniture on the wall opposite to the interior. The furniture can be covered with a wood-colored decor (natural wood is available as an option) or a gray color similar to the upholstery. The floor can also look like wood or be covered with gray carpeting. Camping furniture has the form of a modular structure, which is available in three variants.
In the first one you will find three rows of cabinets . In the lower ones, located under the window, there are closed shelves for pots and a 65-liter fridge quite large for a camper van. From the top, a sink and a two-burner gas cooker are embedded in the worktop. Between the stove / sink and the cutlery drawers underneath them, there is space for pull-out tops . Thanks to this solution, the drawers are supports for tables at which you can eat or, for example, spend time in front of the computer.
The third segment is a wardrobe , which may consist of several shelves for folded clothes or towels, but after removing one of the compartments, the piece of furniture can be used as a hanger for shirts and dresses. So if someone wants to go camping in a suit - no problem, there will also be a place for ironed clothes.
Unnecessary can be taken out
In the second variant, the kitchenette was extended by 40 cm and equipped with an additional cabinet with drawers and a table. If, on the other hand, the customer prefers to give up the wardrobe in favor of a 160 cm wide bed , he should opt for the third option.
Since we are talking about fold-out sofas, they are the greatest pride of Custom-Bus producers. In the Custom-Bus Camper version, we can have 7 seats , all of which are facing forward (this is important information for passengers with motion sickness). All seats are equipped with the Isofix system (for child seats) and three-point seat belts.
The practical advantages of the Custom-Bus are evidenced by the fact that the sofa, which is a fold-out place to sleep (made of a foam mattress), can be turned into a bed in two seconds , and completely removed in 20 seconds, turning the camper back into a van!
The solution a la Ikea is also interesting. In some versions, under the sofas, there are large, pull-out boxes , which can turn out to be extremely spacious compartments.
A camper like a pocket knife
If we do not need an extensive set of cabinets, we really want a larger bed or we want to convert a vehicle from a van to a touring vehicle in an even faster way, the Custom-Bus Multi version will be worth paying attention to.
In this variant, we only have one segment of the furniture , but it may resemble a Swiss Army knife. By disassembling individual elements, if necessary, we will gain access to the sink, stove and a small refrigerator in the form of a container.
In this version, we can have as many as 9 seats . However, if we do not need two additional places between the couch and the driver's seat, we can easily remove them from the hooks, which will not remain visible after such an operation, because they are aesthetically integrated into the floor.
Like a real motorhome
Custom-Bus equipment is very rich, and may include, among others additional gas heating , which can also be used while driving, a convenient Voitronik panel to control the vehicle's electrics, LED lighting, 12V and 230V sockets, water tank with a capacity of 105 liters and solar panels.
It is worth mentioning that special versions of Custom-Buses for surfers are also available for sale, and for an additional fee we can get a comfortable bicycle or even a motorcycle rack. So if you are looking for clever solutions in a discreet package, Custom-Bus can meet your expectations.
Sometimes it is better to get lost than to ask for directions too much. Aldous Huxley
Enjoyed reading this article? Share it!