Dethleffs Bedouin Scandinavia - a year-round flagship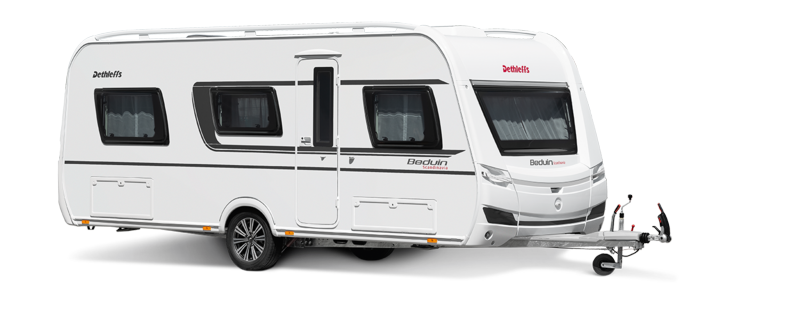 Flagship - this is how you can describe the Bedouin series in a nutshell. Since 1956, when the series with this name was added to the manufacturer's offer, it has been a benchmark for competitors and customers. Each new solution, design patent or innovation in the field of design is first "instilled" in this top collection. The "Scandinavia" supplement is to refer not only to above-average thermal comfort, but also to design.
The choice is wide and includes as many as 10 different systems with various DMCs, from 1,800 kg to as much as 2,500 kg (the load capacity is 185-475 kg, depending on the model). Total widths can range from 230 (550BET, 550RD, 550SE) to 250 cm (other models), and lengths from 768 to as much as 942 cm. We have places to sleep here for three, four, six or even seven people (models with bunk beds). The height of the caravans is 265 cm (inside it is a truly Scandinavian dimension - 198 cm from floor to ceiling). Access to the interior of the vehicle is gained thanks to a solid, glazed door, 70 cm wide.
Safe and warm as standard
The common feature of all variants is the Alko chassis with hooks equipped with advanced stabilizers and safety brakes, as well as the roof made of polyester resin laminate, ensuring resistance to damage, hail and snow pressure.
The smooth aluminum wall sheathing and perfect insulation are the standard design parameters in this class of trailers. The thickness of the roof and walls is 34 mm, and the floors - 42 mm. Of course, the ALDE system is responsible for heating the water and the interior. This means that, unlike dry air heating (eg Truma), we have a radiator-based solution here, just like at home. In addition, our electrically heated floor will take care of our thermal comfort. The heating system is controlled via the integrated i-net solution. Remote communication allows us to monitor the temperature and start heating, e.g. on the way back from the slope. In practice, it is a very comfortable and useful gadget.
Kitchen and bathroom at home
The multitude of solutions in the field of kitchens and bathrooms deserves attention. On board of each of the models you will find an integrated sanitary module equipped with a shower with a shower tray, a toilet and a washbasin. Some of them are compact solutions with designer washbasins made of mineral composite (folding model in 540 QMK). Some of them, however, have fully functional bathrooms, with a separate shower cubicle, toilet and a washing station with a mirror. In models 540QMK, 550BET, 550RD, 670BET, 690BQT we can expect truly royal comfort worthy of dedicated bathing rooms. Unfortunately, the larger the bathroom, the smaller the number of sleeping places. The most functional bathrooms are in models for 3-4 people.
The range of kitchen layouts includes two variants - it can be a compact kitchen block with a 3-burner stove with a piezoelectric igniter, a sink and cabinets / drawers in the middle of the vehicle or an extended version located transversely on the entire front wall (550BET, 670BET, 690BQT, 740BFK). Standard kitchens are equipped with ovens, and fridge-freezers can accommodate from 142l to 167l.
There are 3 color versions of the upholstery. In combination with the furniture in the color of light oak, the whole makes a modern and very pleasant impression. Mattresses made of a special, 7-zone foam are set on high-quality wooden frames - it is a guarantee of a good night's sleep.
Dethleffs boasts one more important argument in the marketing message. The tables used in the Scandinavia series, mounted on a single, central leg, allow you to comfortably sit at the table without catching your legs on the supports, and when converting the living room into a bed, a simple lowering mechanism allows us to perform this operation in the blink of an eye - all without compromising stability and strength .
Atmospheric lighting and cabinet lighting, as well as the thoughtful location of electrical sockets, lamps and USB connectors (rail solutions) clearly indicate belonging to the premium category. As standard, the trailers are equipped with a compact electric block, a 340W converter, a fresh water tank with a capacity of 38 liters and an external gray water tank with a capacity of 23 liters.
Premium winter package
When deciding to order the Scandinavia model, it is worth considering the Premium winter package. It includes additional "Autark" electrical equipment, XPS insulation at the front, back and sides, insulation of all sewage pipes, and heating the floor with warm water (instead of electric).
The gray water tank included in the package (of course heated - of course!) Will hold up to 42 liters, which will make life in winter conditions much easier. The optional clean water tank allows you to take up to 70 liters on board.
The distributor of Dethleffs caravans is the Camping Center from Kutno . The company has branches in Poznań, Gdynia and Warsaw. It is also an authorized service center of the brand and will professionally advise and equip every caravan or motorhome. The available vehicles can be found here: https://centrumcampingowe.otomoto.pl/
I feel best in the form of trade fairs and meetings with enthusiasts. Technical freak. In my life I have dismantled many motorhomes for the first time. Fan of large vehicles, mountain biking and traveling without weight and financial restrictions. At CampRest, I am responsible for all publications on automotive topics.
Enjoyed reading this article? Share it!