Dethleffs Nomad - an all-rounder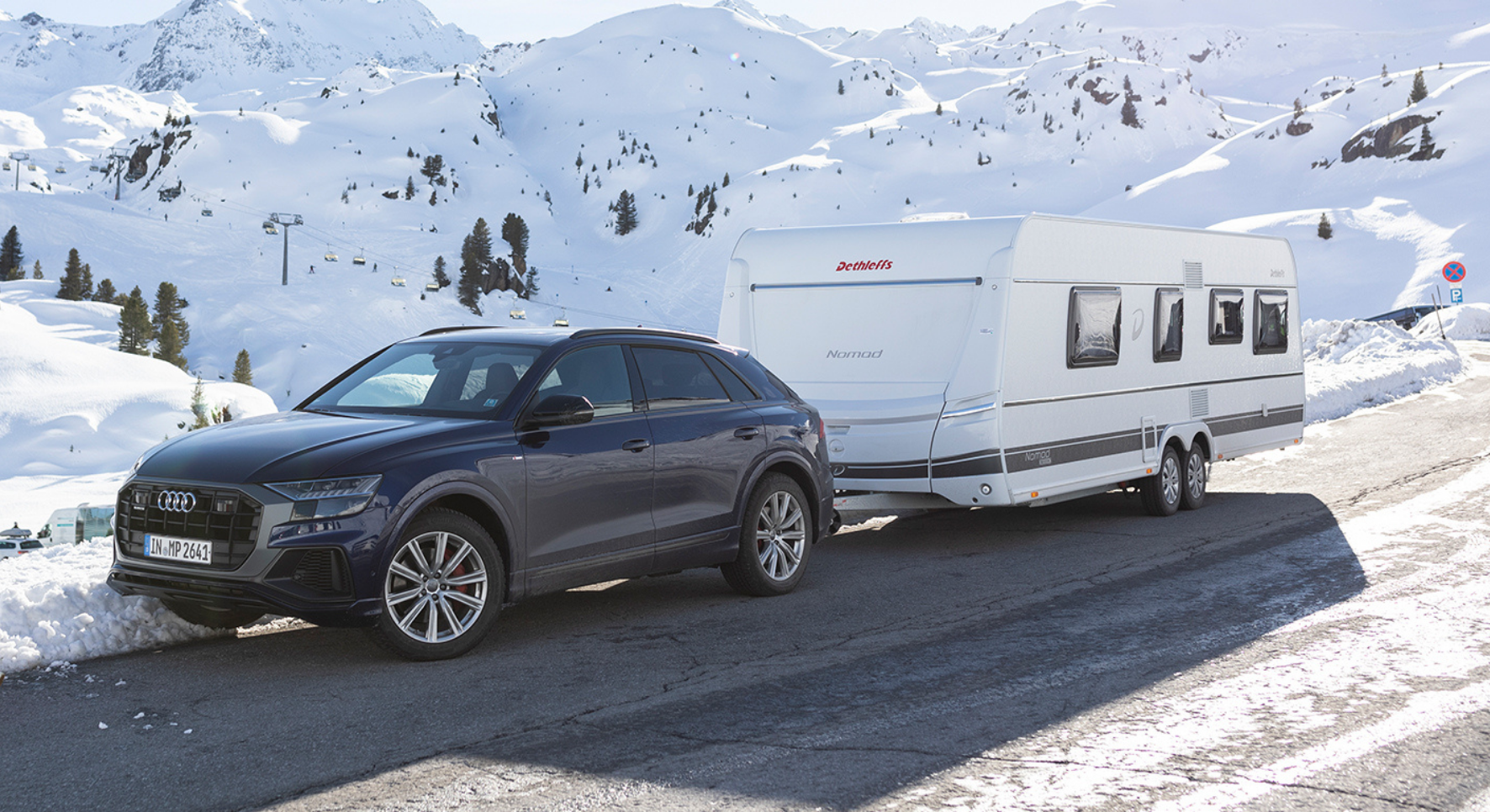 The Dethleffs brand in the world of caravans is famous for its proven quality and an offer tailored to all needs. The model range includes 6 series - from budget C'JOY and C'GO to exclusive, year-round Bedouins. NOMAD occupies an important place in the row - it is a collection of 13 systems with a total length from 691 to 942 cm and a gross vehicle weight from 1500 kg to 2200 kg. Regardless of the model, the height is 265 cm. We can find here both versions with a width of 235 on one axle, and luxury two-axle ones, measuring 250 cm.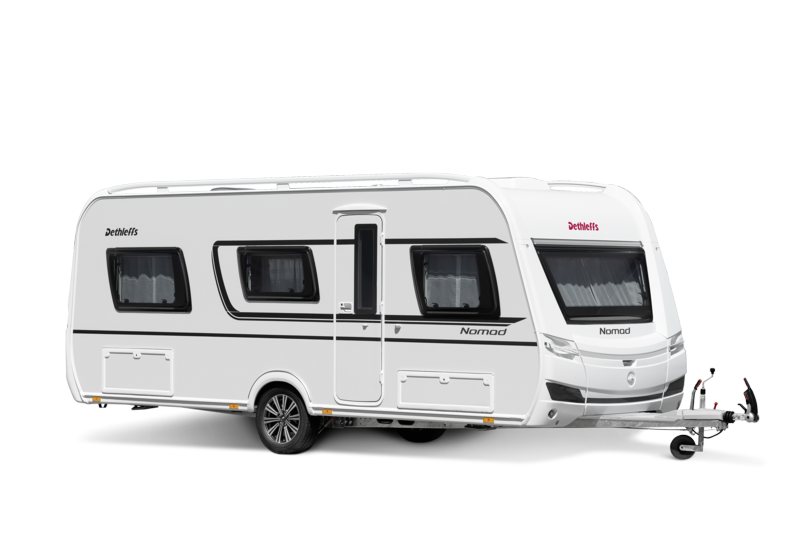 In terms of equipment, NOMAD is a proposal for the most demanding. Recent changes have made the exterior look more attractive - e.g. a modern rear with beautiful LED lighting or chrome maneuvering handles. Inside, you can immediately feel like in a cozy home - bright, modern interior is tastefully composed. Well thought-out indoor lighting allows you to create light scenes for various circumstances.
We have 3 color variants of the upholstery available (Ruby, Champion and Chromo). The roof has a resin laminate sheathing, which protects it against hail and the effects of mechanical damage.
The devil is in the details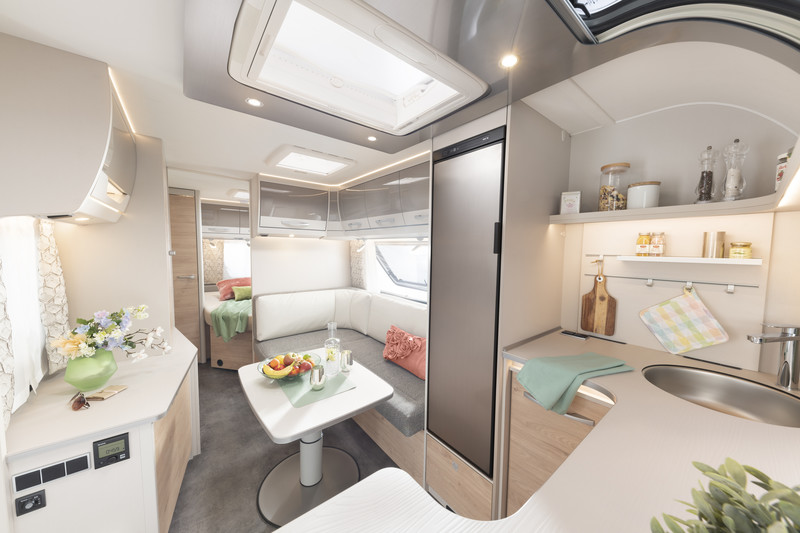 Only during the first trip with a trailer do we find out about its advantages and disadvantages. When introducing improvements to its products, Dethleffs certainly listens to the voices of users, because they take care of the smallest details here. Example? Many manufacturers have got us used to savings in terms of fittings and hinges. Dethleffs has been using decent components with a soft close for years and when opening a cabinet or a drawer, we do not have the impression that something will fall off or remain in our hands. The handles are always ergonomically shaped.
Seven-zone mattresses are also not a matter of course, as is the ingenious air circulation even taking into account the backs of the cabinets (AirPlus system). We have freedom in terms of the location of reading lamps or USB sockets. A large 142l fridge and a 3-burner stove are standard. The manufacturer leaves no compromises in terms of driving properties and safety. Brakes with automatic adjustment, octagonal shock absorbers that stabilize the track, the ATC system and the AKS hitch - all these top AL-KO technologies are taken for granted here.
730 FKR - our favorite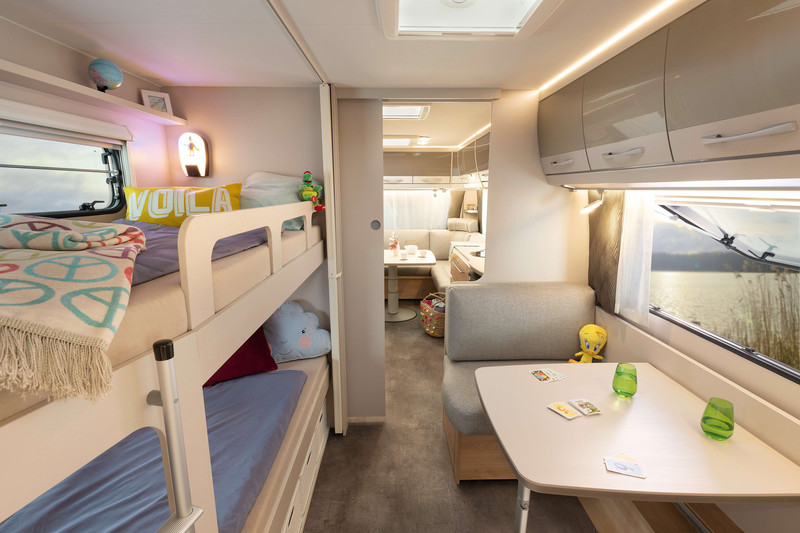 During the review of the trailer market for large (really large) families, we reviewed the offers of many single- and double-axle models present on the Polish market. The analysis of the layouts and detailed solutions was quite an endeavor. The necessary conditions were: a logical arrangement of the interior with a separate area for children, a bathroom with a separate shower cubicle, a kitchen providing a place for storing food and preparing meals, and a way to separate the rooms.
The 730FKR seems to be second to none here. The 942 cm colossus provides a place to sleep for 7, and optionally up to 8 people. The curb weight is 1,855 kg, and the GVM is as much as 2,200 kg. This leaves the family a certain reserve for provisions, accessories and any holiday accessories.
Crossing the threshold of the caravan, on the left, we are welcomed by a spacious living room with U-shaped sofas. At night, this place can be used as a bed with dimensions of 230x155 cm. There are ceiling cabinets all around. On the right side of the entrance you will find a wardrobe, and in front of you there is a kitchen and a refrigerator. We have cabinets (top) and drawers (bottom) for provisions and utensils. A 3-burner hob and large sink take up most of the worktop.
Going further into the trailer, we go to the children's room, where on one side we have a table with 2 seats opposite each other and a table. Here you can create a sleeping area of 200x75 cm. Opposite, there is a bunk bed measuring 195x75 cm (top and bottom). Behind the children's room you will find the parents' bedroom with a 155x200 cm double bed and cabinets above it.
Right next to it there is a spacious bathroom, the standard layout of which is highly controversial and unattractive, as the shower tray is connected to the toilet (a solution hated by many, including the author of this material). Fortunately, it is possible to order a variant with a separate shower cubicle at the end of the trailer, and this arrangement is the most practical for a larger family. Many of the storage compartments in the beds are accessible from the outside through service hatches, which allows us to even take larger sports equipment and furniture with us. Importantly - the parents' bedroom and the children's room can be separated by solid, wooden doors.
The standard version of the Truma gas heater is responsible for heating. An electric boiler is responsible for heating hot water. If you plan to travel in winter, it is worth taking an interest in the optional ALDE heating, available in one of the several "winter" packages.
The clean water tank has a capacity of 38 liters (including the boiler). The equipment includes a mobile gray water tank with a capacity of 22 liters.
Importantly, the NOMAD models can be ordered with a "fish scale" or completely smooth cover - in white or silver.

The official representative of the Dethleffs brand in Poland is the Camping Center from Kutno, whose branches can also be found in Gdynia, Warsaw and Poznań.
Dealer website: https://centrumcampingowe.pl/
Currently available vehicles: https://centrumcampingowe.otomoto.pl/
I feel best in the form of trade fairs and meetings with enthusiasts. Technical freak. In my life I have dismantled many motorhomes for the first time. Fan of large vehicles, mountain biking and traveling without weight and financial restrictions. At CampRest, I am responsible for all publications on automotive topics.
Enjoyed reading this article? Share it!