Egoé Nest - a motorhome from a passenger car in a few minutes!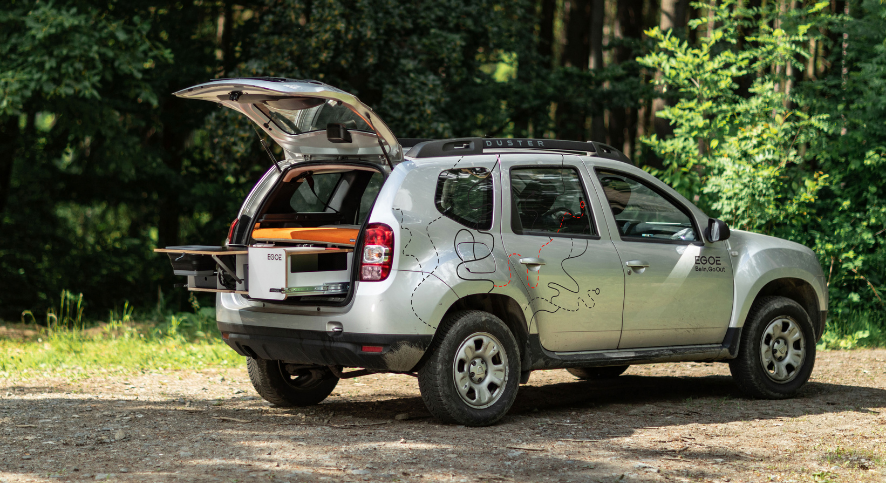 What if ... drop everything and set off on a long journey in a motorhome ... Wait ... You don't have a motorhome? Does not matter! Meet the Egoé Nest brand, whose concept in a brilliant way allows you to build a motorhome from a passenger car in the blink of an eye. In this material, we would like to introduce you to the Nestbox Camper that fits many car models.
Nestbox Camper
It is the smallest camping box that includes a stove, water module and a thermal bag. The weight of the whole set is only 75 kg, and the dimensions after unfolding are 1010 × 1950 × 360 mm. We can choose 2 variants:
A complete set +, i.e. a body with an integrated water module and a compartment for a cooling bag. The set includes a removable kitchen module (Camper version) and a bed (frame with side elements, universal support for the frame, mattress with side parts).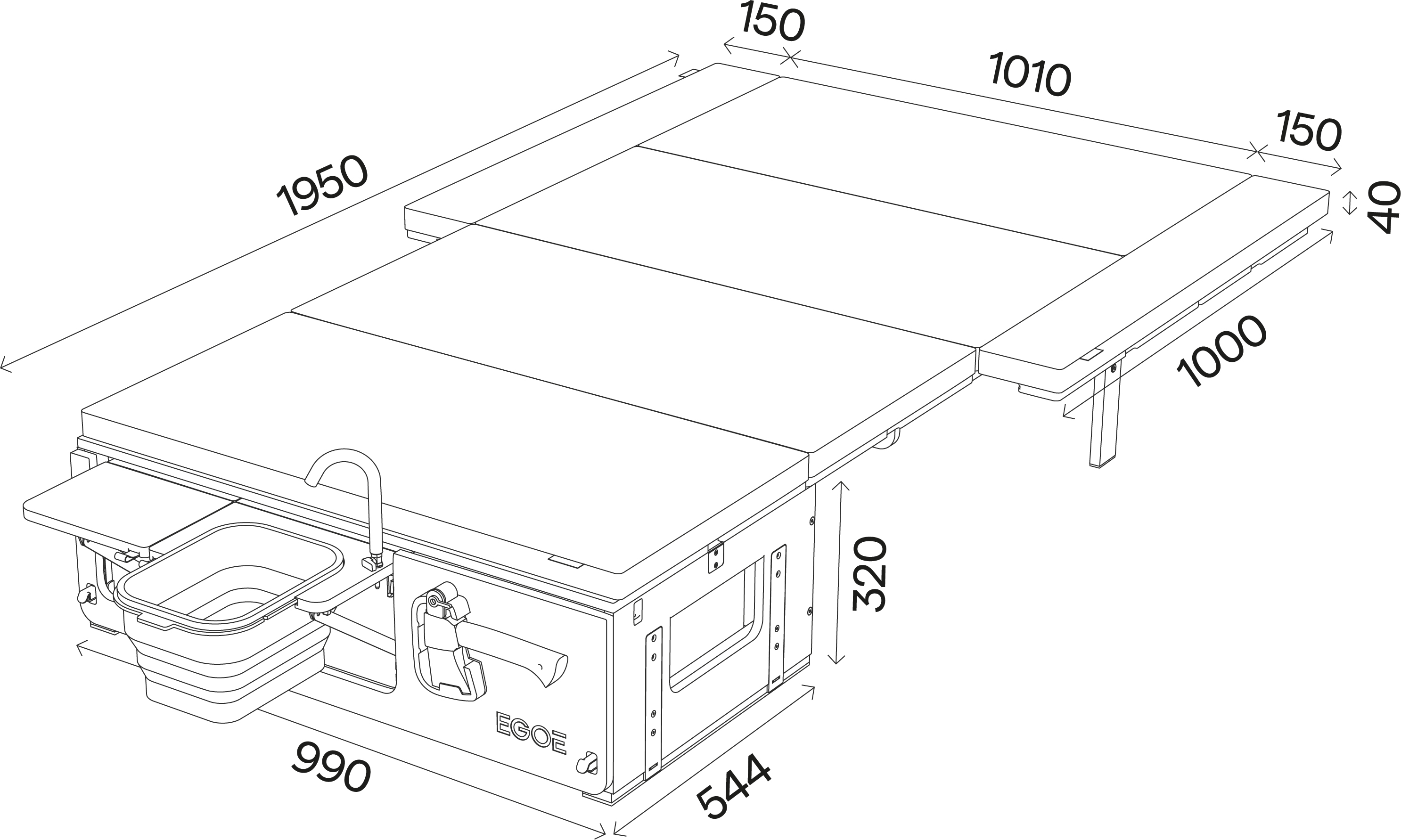 If during our trips we do not plan overnight accommodation or we spend the night in a traditional or roof tent, we can consider a proposal called "Kitchen set" - a body with an integrated water module and a compartment for a cooling bag. This version is equipped with a removable cooking module (Camper version).
The list of compatible vehicles is extensive and includes many popular models - here they are:
BMW X3
Citroën C4
Dodge Durango
Ford Galaxy
Ford Kuga
Ford S-max
Honda CR-V
Hyundai Santa Fe
Hyundai Palisade
Jeep Commander
Jeep Grand Cherokee
Kia Sorento
Land Rover Discovery 3
Land Rover Discovery 4
Land Rover Discovery 5
Mazda CX9
Mini Cooper Countryman
Nissan X-Trail
Peugeot 5008
Renault Grand Scénic
Renault Koleos
Seat Alhambra
Subaru Forester
Subaru Outback
Subaru Tribeca
Škoda Octavia III
Škoda Superb III
Škoda Yeti
Volkswagen Passat
Volkswagen Sharan
Volkswagen Touran
Volvo XC60
Volvo XC90
Why Egoé Nest?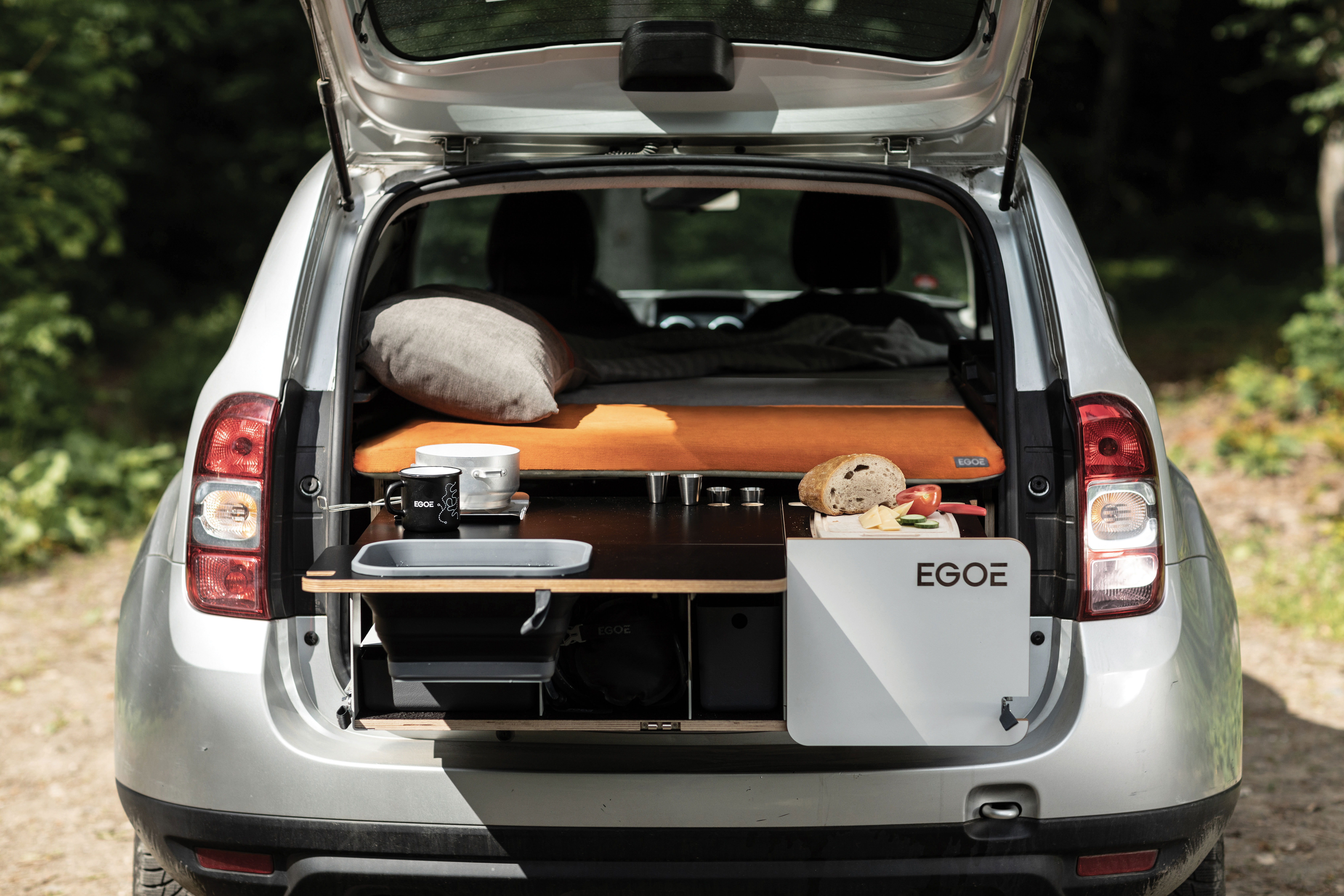 In addition to the breathtaking design, selection of materials and durability, there are several objective reasons to be interested in this solution. First of all, the installation time itself - we can install or disassemble our box in a few minutes. Secondly, when folded, it takes up only the luggage space, which allows the whole family to travel without problems. Installation takes place in the trunk using certified belts fixed in 4 points - minimum interference with the vehicle.
The mattresses and the frame unfolds within seconds and allows for a comfortable sleep in all conditions. The oven module is retractable, and if necessary, you can take the burner with the insert on a trip. For a fraction of the price of a motorhome, we gain a lot of independence and we do not have to bear the costs of maintaining another dedicated "excursion" vehicle.
The brand has in its product portfolio numerous solutions in the field of camping boxes , but also roof tents, which, in combination with boxes, allow for the most daring, family escapades, even with small family cars.
About the Egoé Nest brand:
Being outside makes us feel at home. All departments of Egoé create products that allow you to best spend your time outdoors. We emphasize that our products with a unique character are both comfortable and durable.
The philosophy of the Egoé brand is based on several basic principles. The most important thing for us is "being outside" - get out of work and just leave, breathe clean air, observe pure nature, clean your head. Just soaking up everything a wallless world has to offer.
I feel best in the form of trade fairs and meetings with enthusiasts. Technical freak. In my life I have dismantled many motorhomes for the first time. Fan of large vehicles, mountain biking and traveling without weight and financial restrictions. At CampRest, I am responsible for all publications on automotive topics.
Enjoyed reading this article? Share it!