Fleetwood Excursion 2014 motorhome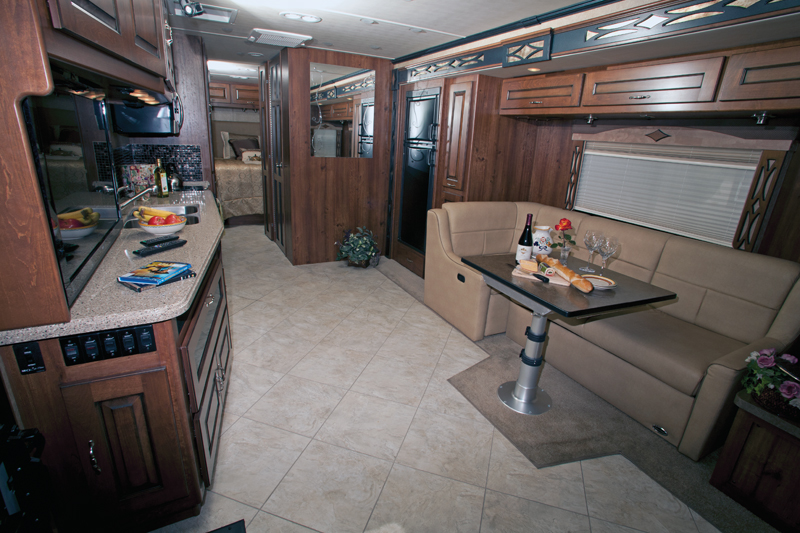 The American vision of camping may differ a bit from what we are used to. The field conditions can be luxurious, as we will see when we board the Fleetwood Excursion model with the 2014 symbol (indicating the next year).
Actually, we do not have to get into this model specifically. All Fleetwood vehicles look similar, and the Excursion is one of the cheaper A-class motorhomes. This one was equipped with a 3-liter diesel engine and costs about PLN 180,000 in the basic version. dollars. But whoever has more cents in their purse, can opt for the Providence model (literally: "providence") for over 328 thousand. dollars, with an engine power of 450 hp.
Dynamic flames
Let us, however, stick to a model that is more readily available to the average American. A camping bus, as it should be called this vehicle, comes in three different colors . It can be beige-gray-white, brown-red-beige or gray-black and white. In each variation, its sides are decorated with patterns that are probably supposed to make the angular vehicle more dynamic.
The Excursion is equipped with fog lamps and heated mirrors . Water and sewage tanks are also heated, and external compartments are illuminated. The bus is available in two lengths of 10 and 11 meters , so it is not the longest (eg Providence is 13 meters). However, it can successfully accommodate 5 people in quite comfortable conditions.
U-shaped kitchen
Inside, we will of course find everything an American needs on a trip. The equipment of each of the four versions of the Excursion is very similar, and the differences come down to a different interior arrangement. For example, a kitchen can be straight or U-shaped.
The toilet can be in the same room as the shower cubicle or separately. The paddling pool has a slightly different shape in each variant , but each time it is so large that even people who eat only hamburgers should fit.
You can sleep on a royal double bed placed in a lockable bedroom at the end of the vehicle, but there are also additional, fold-out or fold-down beds. Only one deficiency may be puzzling - namely, neither in the list of equipment nor in the photos I found information about the sunroof. Even if an excellent ventilation system has been installed (and the manufacturer convinces about it), we will not look at the stars anyway.
Inside, attention is drawn to the vinyl floor imitating stone tiles, as well as decorated wooden cabinets and a sideboard. Mixed feelings can arise from the decorative window framing with roller shutters, which reminded me of the… Zakopane style. The big fridge (226 liters) with double doors should also not miss your attention. For an additional fee, it can be equipped with an ice cube maker .
Only the cook is missing
In addition, the standard equipment of the kitchen includes a 22-liter water heater, water filtering system, one or two heating stoves (depending on the model), a 3-burner stove, a microwave oven, and a stainless steel sink. As the producer wrote in his materials, "we've added everything except a personal chef."
In the bathroom, apart from a steel washbasin and a porcelain toilet , you will find, for example, a brushed nickel towel holder and a glass shower cubicle. The bus is also equipped with an electronic control panel and an HDMI video system. There is also a carbon monoxide detector with an alarm and a smoke detector .
As standard, tanks for fresh water, gray water and sewage are installed. The first container can hold up to 333 liters! The second has a capacity of 227 liters, the third - 121 liters. If all this was not enough, you can be tempted by additional equipment - for example, a central vacuum system, a washer-dryer and a 32-inch TV. Everything to make the trip enjoyable.
Sometimes it is better to get lost than to ask for directions too much. Aldous Huxley
Enjoyed reading this article? Share it!