Ford Nugget Westphalia 2014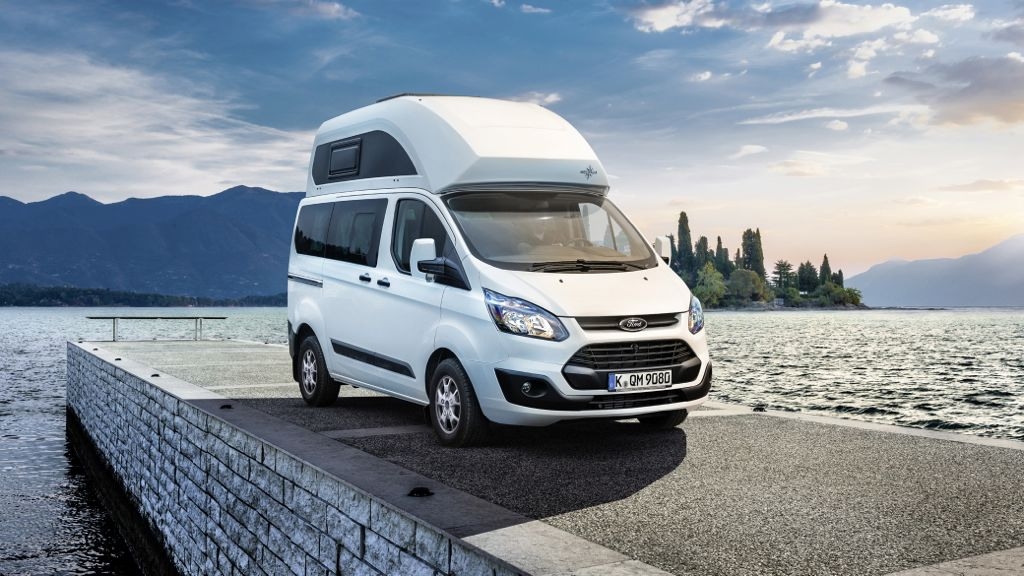 The Ford Nugget in the version prepared by the German company Westfalia Mobil is available (on special order) from the official Ford dealer network in Germany. It can be concluded that the manufacturer fully accepts the changes that were used in this camping variant of Transit.
Ford Nugget Westfalia in the version for 2014 was presented at this year's fair in Dusseldorf. From September this year, the car can be ordered from Ford dealers.
The price of the vehicle consists of two elements. You have to pay 36,000 for the car. Euro in the version with a 125 HP engine or 38 thousand. euro for the stronger version - 155 HP. In both cases, the car is powered by a 2.2-liter turbodiesel with a six-speed manual gearbox.
However, to get the camping version, you have to pay extra, and a lot of it, because 16,184 euros. This is more than half the price of a car with a weaker engine. A motorhome with the size of a van for 52 and 54 thousand. the euro is a lot even in the opinion of the German media.
With a high roof
In return, however, we get a car that does not look like a delivery truck with additional camping elements, but as if it was leaving the Ford factory in the Westfalia version. From the outside, this model can be recognized by the characteristic, raised roof with windows on both sides. This is probably the only, but very conspicuous, distinguishing feature of this vehicle.
It's also interesting inside. The floor is covered with a material imitating wood. The kitchen part has a worktop with a surface imitating black stone. The surface of the table is the same. The armchairs are upholstered in gray fabric, but all other furniture (lockers and cabinets) are white. The combination of gray and white had a positive effect on the interior appearance.
L-shaped kitchen
As we are dealing with a van, there is very little space inside. Considering how little space the designers had to use, it is worth appreciating their efforts. First of all, they tried to clearly separate the kitchen area from the dining and sitting area .
The tabletop has the shape of the letter L and you can conveniently cook with it. A 2-burner stove and a sink allow for similar work as in much larger motorhomes. Under the top there are lockers, a drawer, and next to it - at your fingertips - a 40-liter fridge-freezer . There is even a special hanger for a cloth , mounted under the table top. The dining and leisure areas are separated by a deep trough-shaped compartment, which can hold, for example, jars and bottles with spices.
No toilet
There are four seats available in the living area. Two of them are the integrated couch, placed in the same position as when driving. On the other side of the fold-out table (one or two table tops can be folded out) there are driver and passenger seats that can be turned 180 degrees.
Where's the bathroom? Unfortunately, the Ford Nugget Westfalia does not have such a facility. The shower can be used by connecting it to the outside of the vehicle, but the chemical toilet did not fit any more . There are, however, tanks for clean and dirty water with a capacity of 42 liters. The equipment also includes LED lighting, heating, there are also side windows with a dimming system and mosquito nets .
Four sleeping places
Although there is little space, four people can comfortably sleep in the motorhome. The high roof was used to accommodate a folding bed underneath it, which is 2.10 x 1.41 m when extended. People sleeping upstairs have separate windows that open!
A second bed can be organized by joining the armchairs together downstairs. In this way, a "bed" with an area of 1.90 x 1.30 m can be obtained.
Ford Nugget equipment is attractive not only in terms of camping. The car has an on-board computer, cruise control, air conditioning, start-stop system , heated windshield, side sliding doors and hinged rear doors with heated windows.
All in all, Ford Nugget Westfalia is a well-equipped, comfortable bus for four people, which, if necessary, will also provide accommodation and a place to prepare dinner and breakfast. However, it should not be treated as a full-size motorhome for long trips. It's just too small for that.
Sometimes it is better to get lost than to ask for directions too much. Aldous Huxley
Enjoyed reading this article? Share it!