HC1 - build your own trailer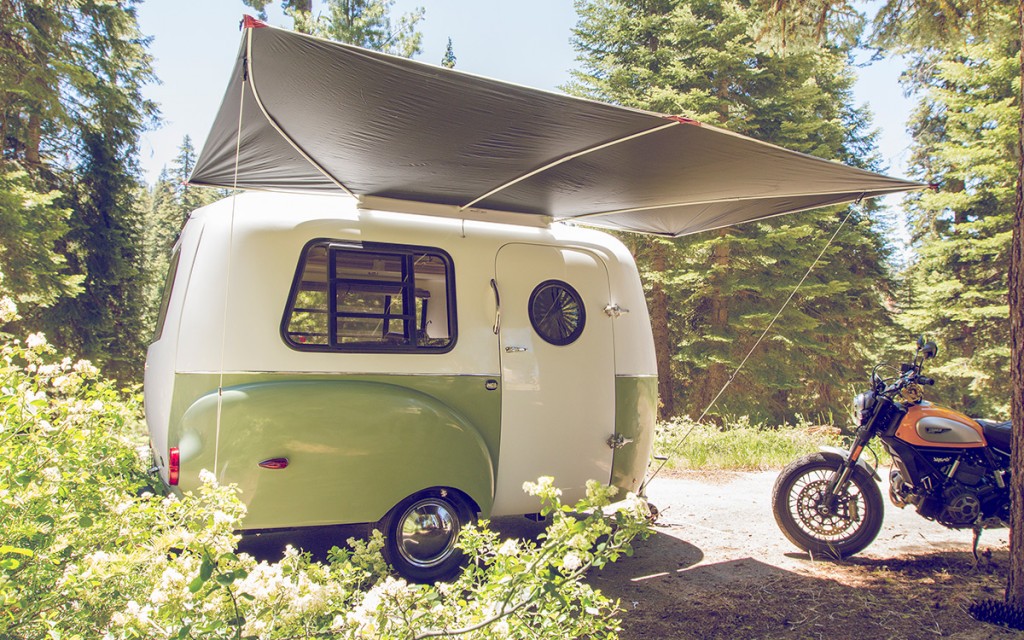 We have written more than once about the modular equipment of camping vehicles. However, in the case of a Happier Camper caravan, modularity takes on a completely new meaning. In this case, we can really cover the interior with ready-made "blocks".
Retro for everyone
From the outside, the HC1 looks like a perfectly restored caravan from several dozen years ago. You have to look more closely to notice that the retro style has been successfully combined here with modernity. The fact that we are not dealing with an old trailer is evidenced by large, opening, multi-part windows , wide side doors, or a large, telescopically lifted tailgate.
The light structure also proves modernity. If you see a tiny woman who drags HC1 with her own hands from place to place, it does not mean that we are dealing with a "strongman". To a greater extent, it will be due to light glass fibers , which were used both in the construction of the caravan and in the construction of the furniture inside it.
Due to the fact that the trailer weighs only 500 kg , it can be pulled by virtually any car and will not have a large impact on fuel consumption. The vehicle is 4 meters long and 2.1 meters wide and is said to fit perfectly into a standard parking space.
A trailer full of bricks
In the HC1, however, the most important thing is the interior. When we remove all the equipment from the inside, we notice that the floor resembles a board with 15 equal-sized fields . Theoretically, it is only up to us how we complete the individual fields. Do we need a trailer to move or do we want to transport a motorcycle and a canoe? We can take everything out of it. We want a giant sleeping mattress? This is also not a problem - it can accommodate up to five people.
Depending on our needs (and imagination), we can arrange an office and conference room, mini-bar, or finally - arrange ourselves as in a typical caravan. Importantly, we can also place a sink, a gas stove and a table in various places (provided that a specific hook is provided in a given cube).
This type of solution would not be possible if not for the fact that individual Adaptive cubes consist of several levels, or rather layers. When we remove the mattress cushion, we get a hard seat or a worktop, and under its surface we find a place for storage or additional equipment.
We don't have to set modules once and for all. We can swap them or take them out at any time. There are no obstacles to use the furniture from the trailer also as garden or camping furniture .
Buy a module, and then another
Modularity is also part of the earning concept in this case. The client, if he wants, can buy a "naked" trailer, spending about 16-17 thousand zlotys on it. dollars , while the necessary modules can be purchased in the future, constantly expanding its collection.
Specific configurations are prepared on an individual order, and the waiting time for the finished trailer is approx. 2-3 months . Unfortunately, however, the trailer is currently only available in the United States.
Or maybe some of you know a similar but European solution? If so, we will ask for a message in the comment.
Sometimes it is better to get lost than to ask for directions too much. Aldous Huxley
Enjoyed reading this article? Share it!