Heimplanet - a tent with balloons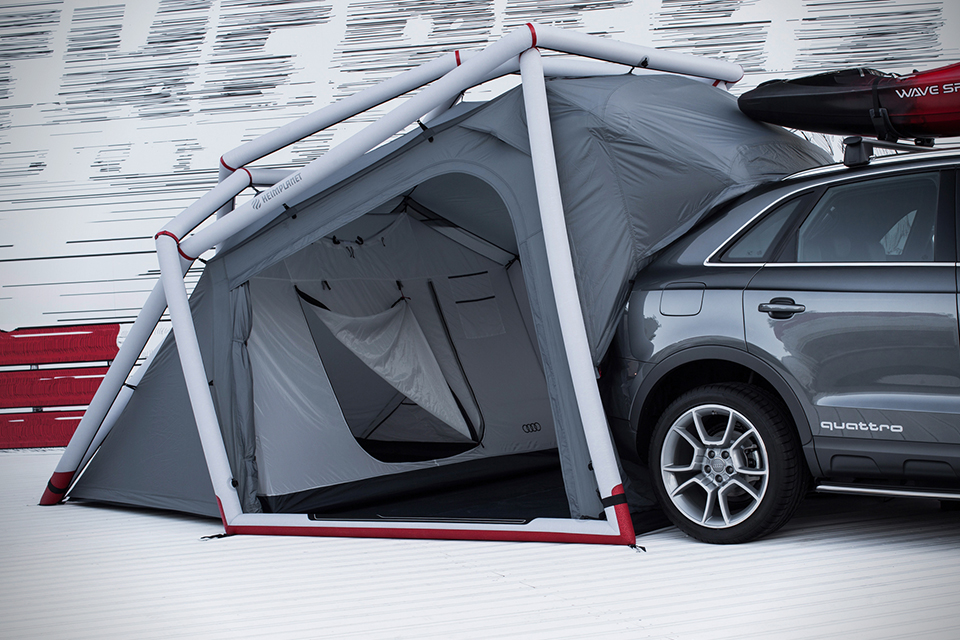 Can it be easier to unfold and fold the tents? Heimplanet proves that it is. The tent can be set up in just a few minutes! In addition, such a temporary home does not have to look boring.
The biggest problem with traditional tents is that they have to be folded up and down, which often takes a lot of time for untrained people. As a result, the desired trip begins with an experience that will surely not remain a pleasant holiday memory.
Especially for Audi
However, life can be easier, as evidenced by an interesting solution proposed by the German company Heimplanet. Recently, it presented a tent dedicated to a specific car model - Audi A3 Quattro .
I must admit that the idea is quite strange and perhaps it was more about advertising in this case than about practical values. The tent is placed against the rear of the car, similar to tents for motorhomes. It's just that in a motorhome such a combination makes sense. The idea is to enlarge the space associated with the car with a kind of "garden", and at the same time have convenient access to the car from there.
In the case of the Audi A3 Quattro, regardless of what kind of tent we supply to it, we will only get access to a not very spacious trunk. The question we don't know the answer to is "what for?"
However, if someone can answer such a question, or does not feel the need to ask it at all, he can opt for an original-looking design that fits neatly with the Audi off-road model.
In addition to their original appearance, all Heimplanet tents are distinguished by a tube system that looks like oblong balloons (the kind that street vendors sometimes tie in the shape of a dachshund). Balloons, like balloons, need to be inflated. And that's all! Instead of wasting time on not having a lot of fun to put the tent up, just inflate it in a few minutes.
The tent can be used together with the car, but it can also be used completely separately. Inside you will find a kind of vestibule from which you enter the actual tent, or in other words, its sleeping area. This structure is said to be able to withstand wind gusts of up to 40 km / h.
For long and short trips
If that's not enough for someone, Heimplanet also offers other tents, including the Mavericks model, which is windproof up to 180 km / h! This tent was prepared in connection with the Red Bull Storm Chase event. During this challenge, the strongest wind reached a speed of 155 km / h - however, the windy weather was not able to sweep the tent off the ground or even damage it.
Such a tent seems to be an excellent proposition for people who decide to go hiking in the mountains. As they move from place to place, they need shelter that can be prepared quickly and that can withstand harsh weather conditions.
According to the manufacturer, it takes less than 10 minutes to inflate a tent for one person, and for two - less than 5 minutes. Deflating the air will of course be even faster.
The expedition tent costs nearly 5,000. euro. A lot. However, there are also much cheaper options. A 2-person Wedge tent costs 449 euros, and a 3-person Cave - 549 euros. These tents can also be inflated quickly, but in extreme conditions they are unlikely to work anymore.
The main driver, founder and the brain of CampRest. He is the one who runs the whole mechanism, implements new ideas faster than he is able to invent them. He used to be a professional driver and have run his own freight forward company - as you can see, he has always been drawn to sleep in the car;) He likes to drive large motorhomes and encourages you to get a C driving license and buy motorhomes over 3.5 tons.
Enjoyed reading this article? Share it!