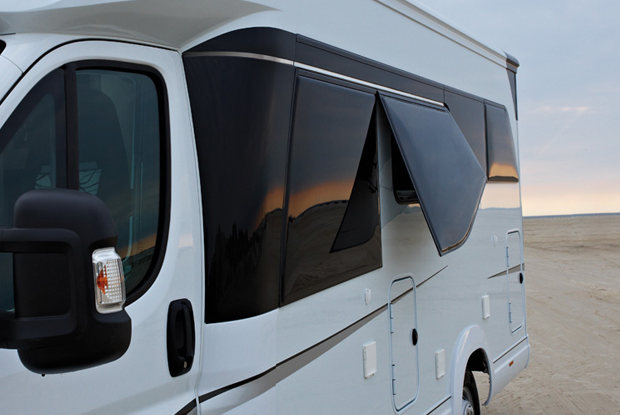 Hobby Siesta is a motorhome, which - according to the manufacturer's assumptions - provides relatively high comfort at a reasonable price. In Germany, the price is EUR 43,600, but in Poland you can buy this model for less than 40,000. euro.
Siesta is a representative of partially integrated motorhomes - that is, it is something more than a van with a camping "shed", but we can easily see where the tourist development begins. The basis of the Siesta is the Ford Transit, thanks to which this Hobby model differs from most motorhomes, which are usually based on the Fiat Ducato.
First of all: practically
Entering the interior, we will immediately know what we are dealing with. Siesta's hobbies are not the pinnacle of luxury or design, but a solid "piece" of a motorhome. The interior has been decorated neatly and practically, and the distinguishing feature of this model are black inserts in pear-colored furniture. Siesta positively surprises with numerous compartments and a kitchen, which can have an additional, foldable worktop for an additional fee.
Siesta is available in two versions of the interior layout. I must admit that the 65 TL model, equipped with three single beds, fares better in this comparison. Unfortunately, the kitchen in this version is not curved in the shape of the letter L, but the bathroom is larger, and between the beds placed at the walls of the vehicle there is a place for an additional wardrobe, which can be illuminated. The fold-down bed for a third person is admittedly very "cut" diagonally, but if it is intended for a child, it may not be a problem. This model also includes a garage space.
It is worse in the FL 65 version, because here the slant is placed in a large double bed, which adults will rather use. Unless they decide to sleep on a second, also a double bed, which is lowered.
Everything necessary
Regardless of the interior layout, the equipment is the same. There is no reason to complain about it. In each model (intended for the German market), we should find a sunroof, an electrically retractable step under the door, as well as double-glazed windows. The dark windows, which are more of an ornament to the exterior, can be lifted when parked, revealing the standard white glass.
On board was a tall, 140-liter fridge with a 12-liter freezer compartment and a 3-burner stove. The Siesta also has a stainless steel sink, a Truma Combi 4 heating system and a 100-liter fresh water tank. Unfortunately, the sewage tank is smaller - it can hold 92 liters.
The equipment also includes blinds with an insect screen and reading lamps, which are complemented by numerous LED lights. As standard, there are two panels with displays that allow you to control, among others lighting and showing the amount of water in the tanks. It is worth emphasizing the easy access to well-marked gas valves. There is space in the camper for two propane-butane gas cylinders.
For an additional fee, we will receive, among others pleated windscreen blinds, wardrobe illumination, pull-out TV, alarm system, gas detector and battery sensor with display. We can also have a rotating table with height adjustment, or bicycle holders.
The permissible total weight of Siesta is 3.5 tons, and the load capacity is 532 kg (FL) or 547 kg (TL). The vehicle measures 6,999 cm and the interior is almost 2 meters high.
All in all, Hobby Siesta seems to be a reasonable proposition, in line with what the manufacturer declares. You can really relax in this motorhome, and not only as part of an after-dinner nap.
Sometimes it is better to get lost than to ask for directions too much. Aldous Huxley
Enjoyed reading this article? Share it!