Ilusion XMK 680 - a perfect motorhome for every journey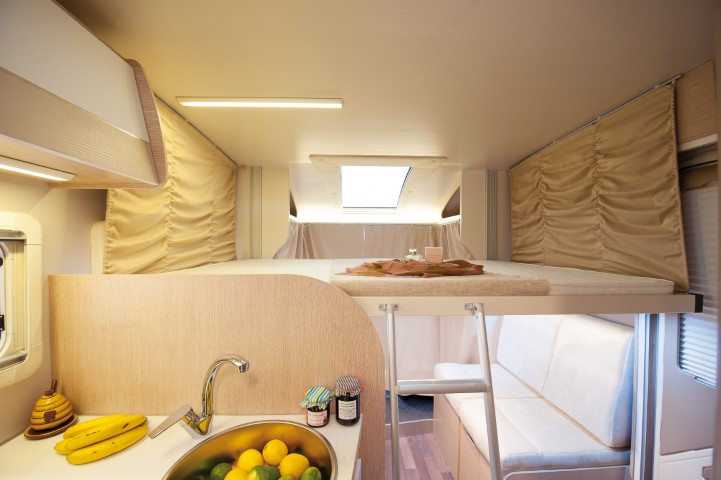 If you are going in a larger group for your next vacation, and you plan to not only sleep in the car, you will need a car that combines the comfort of driving with the convenience of using while relaxing. Perhaps such as the Spanish Ilusion XMK 680.
A motorhome not exceeding 7 meters will take 5 people on board and this is how many people will sleep there as well. The original and perfectly designed interior layout will make you feel at home.
Aerodynamic bodywork
The semi-integrated Ilusion XMK 680 has a sporty and dynamic look and better aerodynamics. This was helped by a properly constructed and interestingly shaped body, which is characterized by high resistance to frontal and side gusts of wind.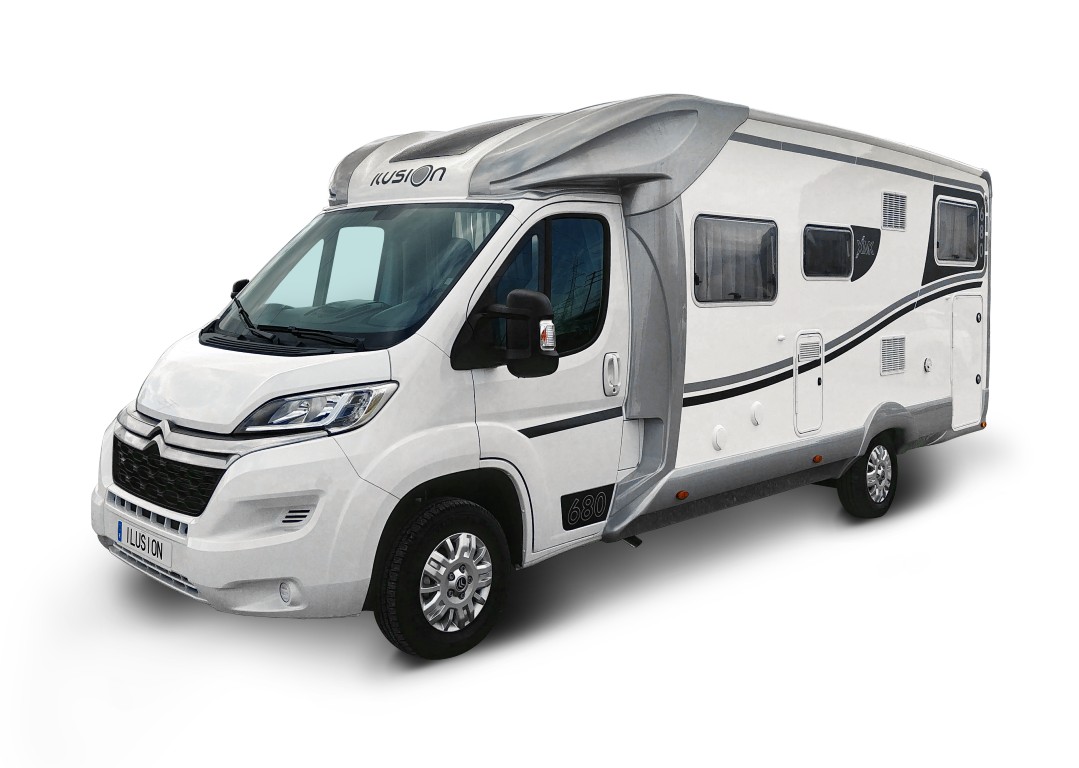 The car is made of glass fiber material (GRP), from which even stairs and wheel arches are made. The 70-millimeter thick floor has also been thought of, making Ilusion XMK 680 resistant to harsh weather conditions. The roof has a slope of seven degrees, which allows rainwater to drain freely.
S7 Seitz Dometic windows have an aluminum frame and double acrylic glazing. The blackout pleats also act as mosquito nets. The entrance door is equipped with an insulated glass window and practical pleats.
The cars have LED interior and exterior lighting. We can use indirect lighting by regulating the light intensity. USB sockets are available in the appropriate places of the work surfaces, toilet, living and sleeping areas.
A good deal is essential
Ilusion XMK 680 is distinguished by an excellent layout , although its surface is not very large. In the living area you will find a dining room with two double sofas for a total of 6 people. The table is quite large and foldable. At night, this part turns into a bedroom thanks to a folding bed for two people. We will get one more place to sleep after unfolding the sofa and folding the table. Thanks to the windows, we will not run out of light.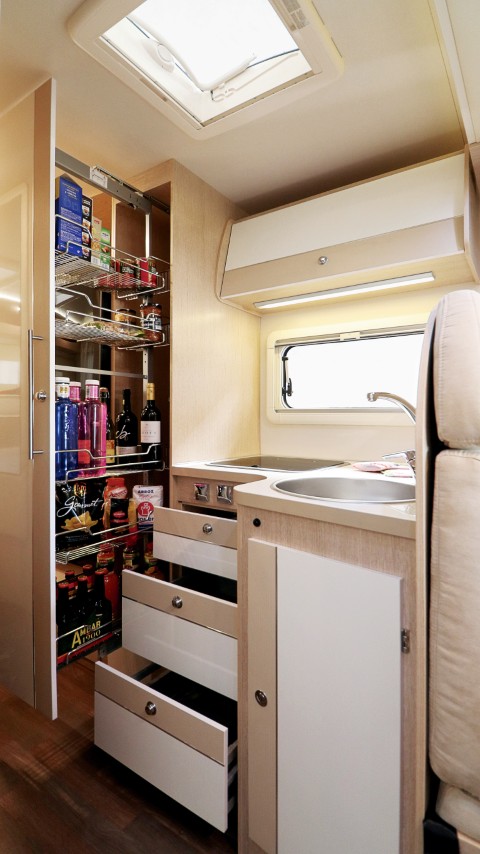 Immediately behind the dining room on the left is the L-shaped kitchen. There is a 150-liter refrigerator with a separate freezer compartment and a three-burner stove. Two large kitchen cabinets (including one, high, retractable) allow convenient arrangement of food products. Above the sink you will find a small cabinet with attached lighting. Thanks to the window, we do not have to prepare meals in the dark.
In the sleeping area you will find a fairly narrow wardrobe and a really large bed. There is also a large storage compartment underneath it, so there should be enough storage space. There is a garage under the bed, accessible from two sides .
Next to the bedroom on the right side there is a spacious bathroom with a spacious shower cubicle , a toilet, a mirror cabinet and a washbasin, under which there is also a cupboard.
The manufacturer decided to use 35% leather upholstery. The seats are equipped with Teflon pads . We can choose from 6 combinations of white with gray, brown, maroon and blue.
Where to see Ilusiona XMK 680?
If you want to learn more about Ilusion XMK 680, it is worth going to the Dandis company, located in Dzierżoniów , at ul. Podwalna 11, which has recently become a distributor of the Ilusion Caravaning brand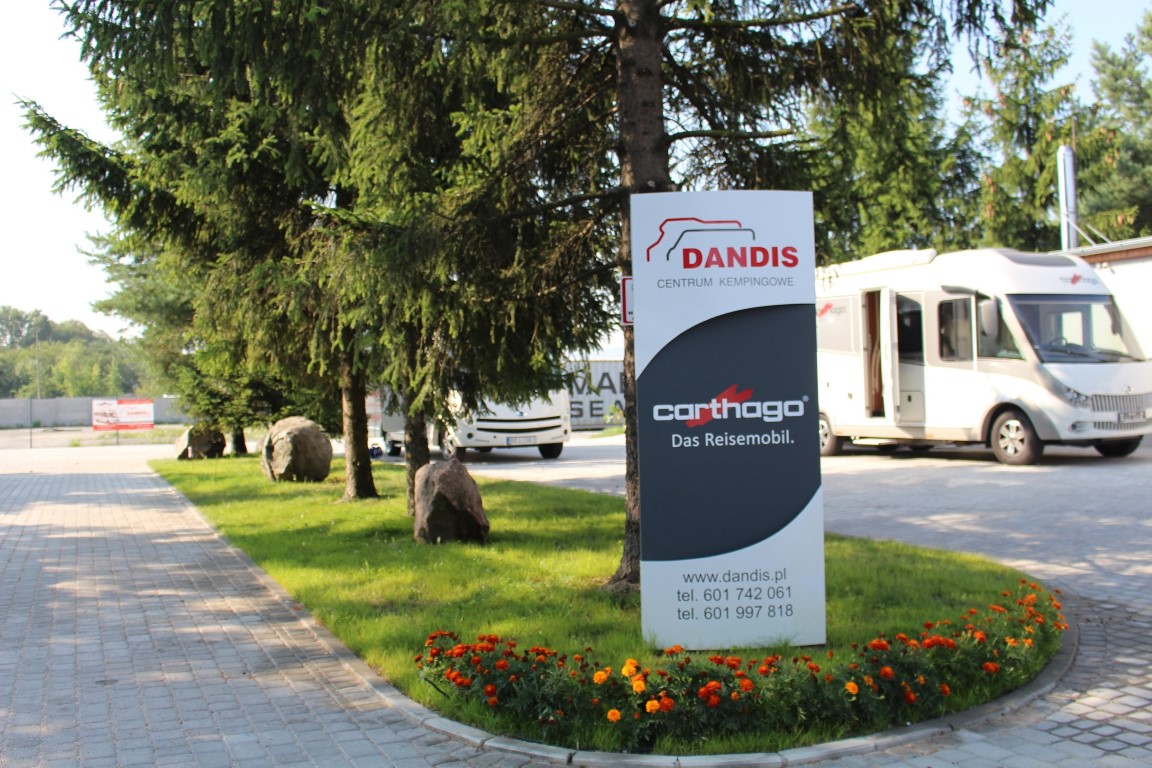 The Dandis Camping Center has been on the market for over 15 years and is engaged in the sale of new and used motorhomes, as well as a motorhome rental company. In addition, the company offers warranty and post-warranty service for cars, installation of additional equipment, post-accident repairs of trailers and cars.
In the company's headquarters you will find a very well-equipped store with camping accessories, which has an online version at www.sklepdandis.pl
It is definitely worth a look before the upcoming season.
gallery
A lawyer who loves traveling. Always with a book on the go. I collect memories of the color, taste and smell of every place I visit.
Enjoyed reading this article? Share it!