Lotus Off Grid - off-road apartment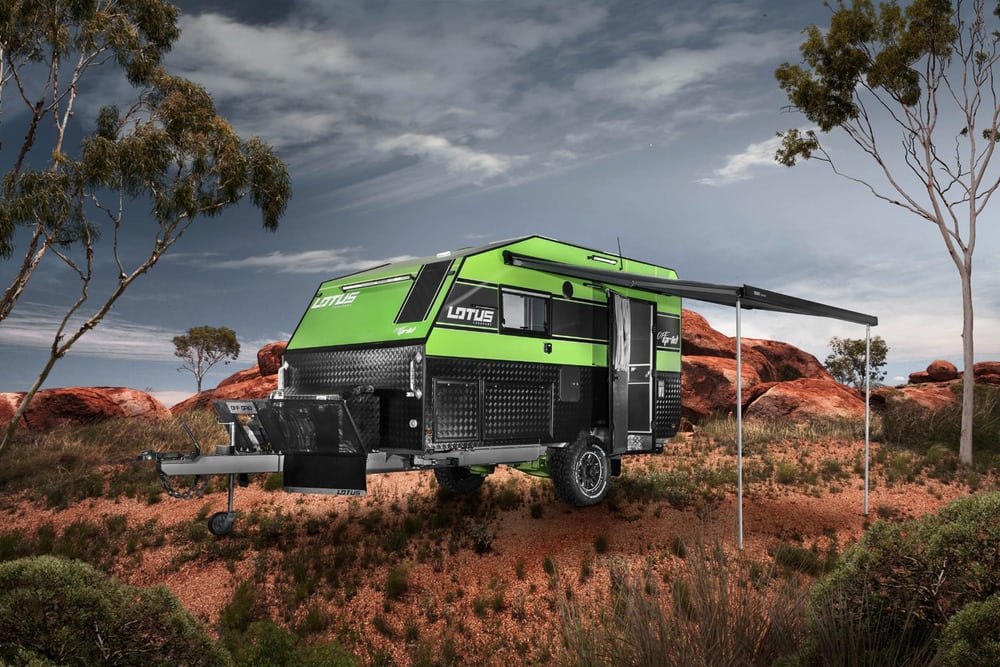 Off-road trailers are an Australian specialty. In order to successfully navigate the continent's roads and wilderness, you need a car that is strong and can handle extreme conditions. The Lotus Off Grid has everything you need in such a situation, and is distinguished by luxurious equipment.
Is it possible to go somewhere far away from civilization and at the same time not give up modernity and comfort? The Australian brand Lotus Caravans proves that it is. The company's offer includes four models of off-road "camping" or rather expedition trailers, three of which are large two-axle trailers. Off Grid is a young model, and at the same time the only one that needs two wheels.
Picnic in Australian wilderness
The body of the compact Lotus measures 4.3 meters , but its total length - including the drawbar - exceeds 7 meters. The external width is approximately 2.3 meters and the height is approximately 3 meters. However, we are talking about a vehicle standing on large 17-inch wheels, covered with Cooper STT Pro off-road tires . The interior of the caravan itself is less than 1.95 m high.
Among the most important distinguishing features of Off Grid we find a steel housing and independent suspension. The frame is made of exceptionally hard meranti wood . In addition, care was taken to ensure that all elements exposed to stone impact or contact with other obstacles were additionally covered with metal panels.
However, if we take a closer look at the formidable-looking body of the Lotus, we will notice details that may surprise. These include, for example , external speakers . Exactly! We can enjoy the music from the installed Fusion 650 audio system outside, relaxing in the shade provided by the integrated Thule awning . Not only that, because among the external lockers we will also find one with outputs to which you can connect an antenna and a TV set.
This is not the end! From the outside, we can pull out a drawer (located under the bed) with a grill and a sink , thanks to which an outdoor picnic will not be any problem. You can also put a refrigerator in the compartment. And if, in the beautiful circumstances of nature, we also want to take a shower, we can also do it outside.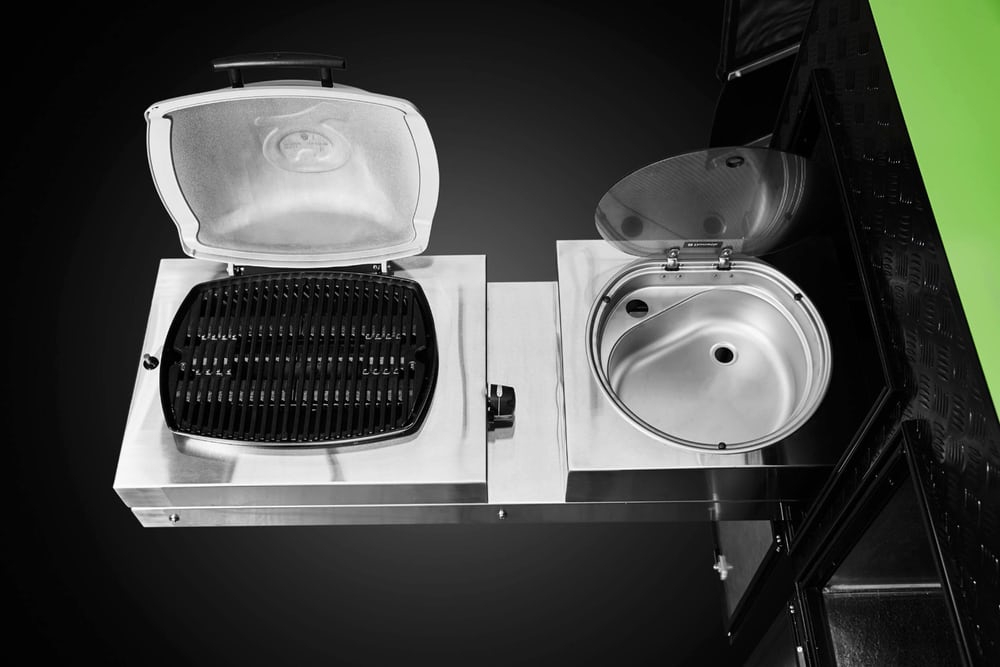 A five-star lounge on wheels
Perhaps you think that if all these amenities are available outside the vehicle, there is only room inside for a bed? Nothing could be more wrong. You may be surprised because the Off Grid interior is a modernly furnished living room with all amenities. The work done by the designers can really make an impression, although it must be admitted that a large number of white and black high-gloss elements may turn out to be impractical in off-road conditions.
When entering the caravan, you will first notice a wardrobe with a black door, which occupies a large part of the rear wall of the caravan. Opposite the entrance you will find a toilet with a shower. To the left of it - a kitchen area with an 80-liter Weco refrigerator , a two-burner gas cooker and a sink. Opposite the kitchen, an elegant and modern quilted Italian leather sofa with a designated place for a table catches the eye. The front part of the trailer is occupied by a double bed with a spring mattress - the entire width of the vehicle.
This is not an economical caravan and it is clearly visible at every step - glass fibers used in the shower cubicle , high-class vinyl floor covering, or even a retractable and retractable TV set connected to the Winegard HD antenna are elements that rightly suggest rich equipment.
The trailer is equipped with two 150-watt solar panels as standard. Off Grid also provides two 95 liter water tanks and a water pump. The equipment also includes a roof air conditioner and - separately - a fan. The fire alarm and gas detector are actually obvious.
How much do you have to pay for such an amazing trailer? The price of the basic version (although it must be admitted that it includes most of the equipment mentioned) was set at 70,000 Australian dollars , i.e. over 215,000. PLN (in December 2016).
Unfortunately - not so much the price, but above all our geographical distance from the nearest brand dealer, makes Lotus trailers rather inaccessible to the Polish customer. Although apparently ... "for the willing, nothing difficult." See how the trailer looks in the movie.
Sometimes it is better to get lost than to ask for directions too much. Aldous Huxley
Enjoyed reading this article? Share it!