Lunar Vacanza - for holidays and shopping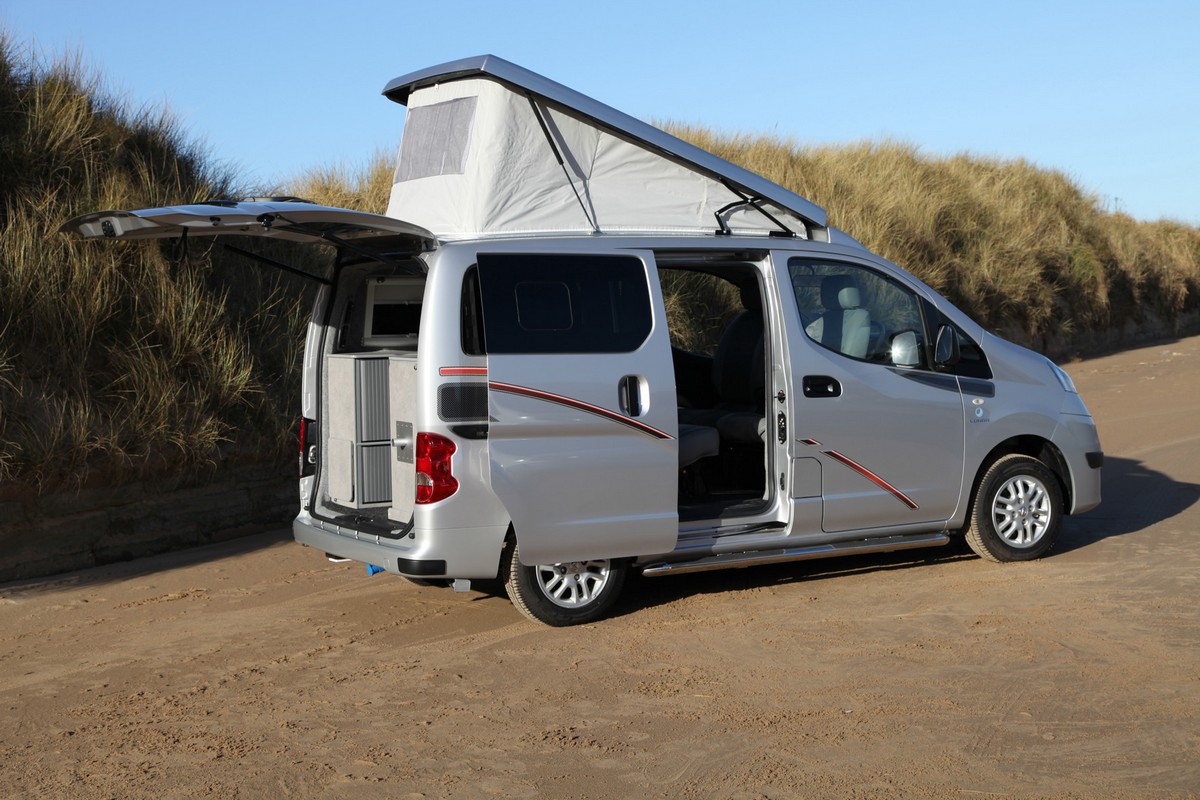 Too small for a motorhome? Nissan NV200 Combi is hard to suspect of touristic possibilities. But the British company Lunar Caravans proves that under certain circumstances the small Nissan turns out to be spacious enough.
The representatives of the Lunar brand say it straightforwardly - their goal was to offer a car that will work both in everyday use and during a holiday trip. Based on a Nissan small van, the Vacanza fits in perfectly.
Agile and economical
A car with a length of 4.4 meters and a width of 2 meters (including the mirrors) will allow for agile negotiating even tight corners and narrow streets of European cities. It is a big advantage if we plan to actively visit.
Vacanza with 1.5 dCi engine allows not only to move from place to place efficiently and economically, but also frees us from having to pitch a tent or rent a hotel room.
Such a vehicle is - of course - a bit cramped inside, but on board you will find equipment that even a much larger motorhome would not be ashamed of. First things first! The great advantage of the Lunar Vacanza is that the sliding doors are placed on both sides .
Accommodation for four
The driver and passenger seats can be rotated 180 degrees so that you can chat or dine with the rear seat passengers. 3 out of 4 seats have the ISOFIX system , which makes it easy to take even a small child on a trip.
Behind the second row of armchairs there are two sets of furniture. There you will find a 3-burner gas stove, stainless steel sink, grill , fridge and a fresh water tank. On request, you can also have a pull-out, compact chemical toilet . The windows are equipped with pleated blinds , thanks to which you can separate yourself from the outside world at night.
The armchairs transform into a double bed measuring 1,860 x 1,375 mm. What about the kids? For them, the night was organized under a raised roof made of fabric. On the first floor there is a mattress measuring 1.990 x 1.000 mm.
At night, LED lighting will certainly work well, including even reading lamps.
Even more benefits
As standard, the owner of the Vacanza also receives a rear view camera , air conditioning, CD / MP3 player with Bluetooth system and a 240 V socket.
For an additional fee, we can equip the motorhome with a large tent mounted behind the rear part of the vehicle - it significantly increases the available space if we decide to spend a longer camping in one place.
The manufacturer emphasizes that Vacanza, as it is based on a thoroughly tested passenger car, has positively "passed" safety tests . On the other hand - two airbags are no longer a revelation today.
The gross vehicle weight is 1997 kg and the load capacity is 322 kg.
The car costs 32,000 in Great Britain. pounds , which on the local market is considered an attractive price compared to competing vehicles, based, for example, on the Volkswagen T5.
More information is available on the manufacturer's website www.lunarcaravans.com
Sometimes it is better to get lost than to ask for directions too much. Aldous Huxley
Enjoyed reading this article? Share it!