Luxusline - a caravan like a spacious camper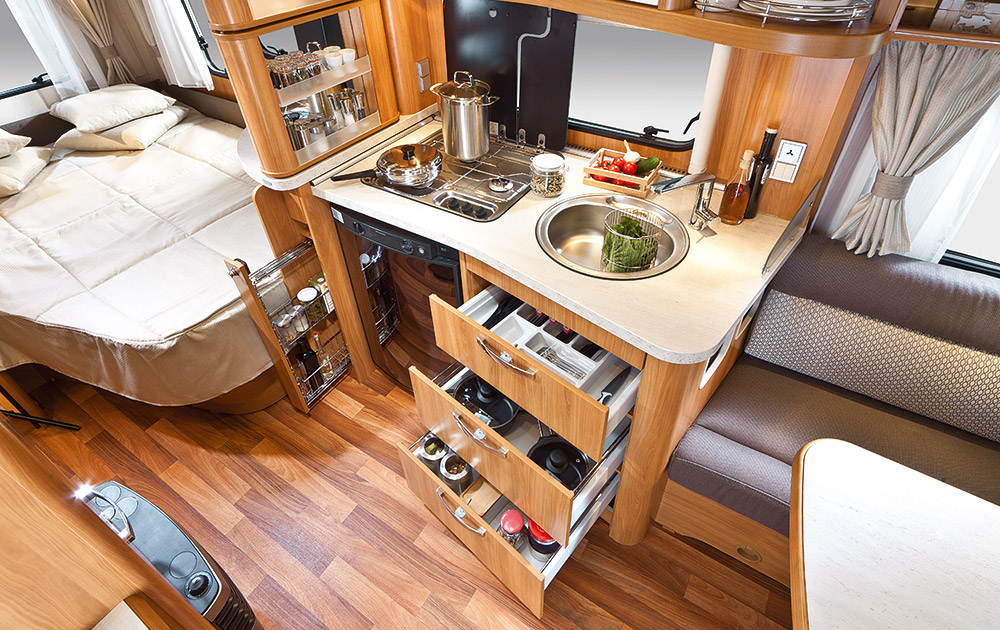 This trailer can be successfully recommended to demanding travelers. Also for those for whom aesthetics is important. Well-finished pear-colored furniture is complemented by white kitchen furniture fronts and handles in the color of chrome-plated metal.
Illuminated space
The deep cabinets are equipped with a soft closing mechanism. The folding table is adjustable in height. The whole is complemented by storage compartments, large, small and tiny - every scrap of free space has been thought out from this angle. Even under the hanging cabinets surrounding the entire caravan, there is still space for integrated shelves.
Lighting also attracts attention. In addition to large ceiling lamps, Eribie-Nova Luxusline also has plenty of small LED lamps, there are also bedside reading lamps and illuminated mirrors in the bathroom area. There is even an illuminated bar on board. During the day, wide windows and two large sunroofs will ensure the supply of light.
There are laminated PVC floors on the floor that resemble wooden parquet.
In four versions
There are four versions of the caravan to choose from, each of them, despite a slightly different interior layout, can accommodate four people. The lengths of 698 cm, 736 cm, 760 cm and 765 cm are available. There are two widths: 230 cm and 240 cm. The manufacturer ensures that each trailer is based on a very stable Al-Ko chassis structure, and the body is fully galvanized.
Each version has similar standard equipment. A comfortable sleep should be ensured by multi-zone foam mattresses, placed on a bed with metal elements and wooden slats.
The Luxusline model is equipped with a fridge-freezer with a capacity of 90 or 100 m (depending on the model). Interestingly, the device can be powered by both 12 V, 230 V and gas.
The on-board heating is provided by the Truma system (S 3004 or S 5004), which heats not only the air but also the water. The clean water tank has a capacity of 45 liters, and can also be connected to an external intake. The waste container (on wheels) has a capacity of 22 liters.
The Luxusline model also includes a bathroom area, separated from the rest of the caravan by a wall and a door. Only the shower tray is not luxurious, in which you have to put your feet even when you are sitting on the toilet. But well - camping always requires compromises, and this one is hard to consider as very onerous.
The most demanding customers will of course be able to take advantage of additional options, including, for example, roof air conditioning.
This "top" caravan in the Eriba brand offer is estimated by the manufacturer in the range of PLN 23-25 thousand. euro. For this price, we get a trailer with basic equipment.
Sometimes it is better to get lost than to ask for directions too much. Aldous Huxley
Enjoyed reading this article? Share it!