Newell 1545 - American dream, European design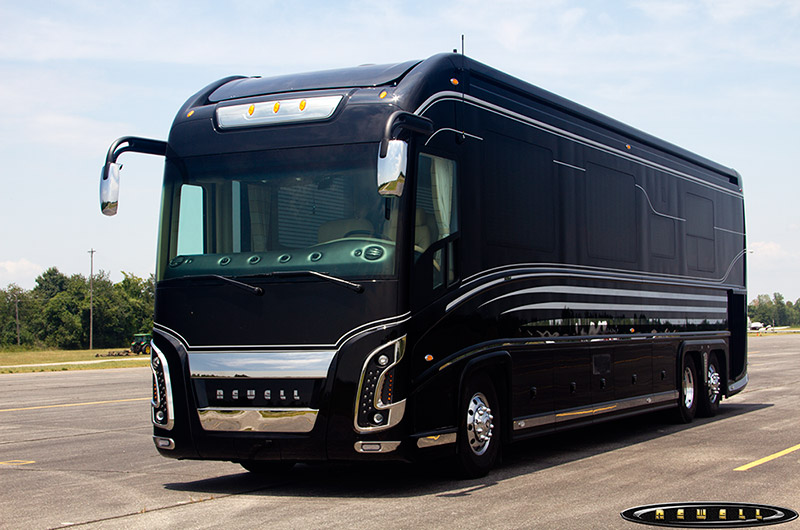 Each Newell camper van is different. Each subsequent one is put up for sale on the manufacturer's website. As of this writing, there are three vehicles on offer. The newest one is Newell 1545.
I have written many times that luxury and splendor are very difficult to combine with good taste. Most often, I referred this reservation to American motorhome-buses, in which the selection of accessories was clearly determined by the price, on the principle: let's choose everything that is the most expensive and combine them together.
But now I must say that fortunately it does not apply to all luxury vehicles of this type. The latest achievements of the American brand Newell prove that a "rich" holiday can be full of splendor, and at the same time consistent with what in Europe is now considered modern and tasteful.
Wall - get out!
From the outside, the 14-meter Newell 1524 impresses with its huge size, metallic, almost mirror-like coating and modern LED lighting. The very large side windows stand out. A skilled eye will also notice lines forming rectangles - we will find two such outlines on each side of the coach. These lines indicate movable wall sections.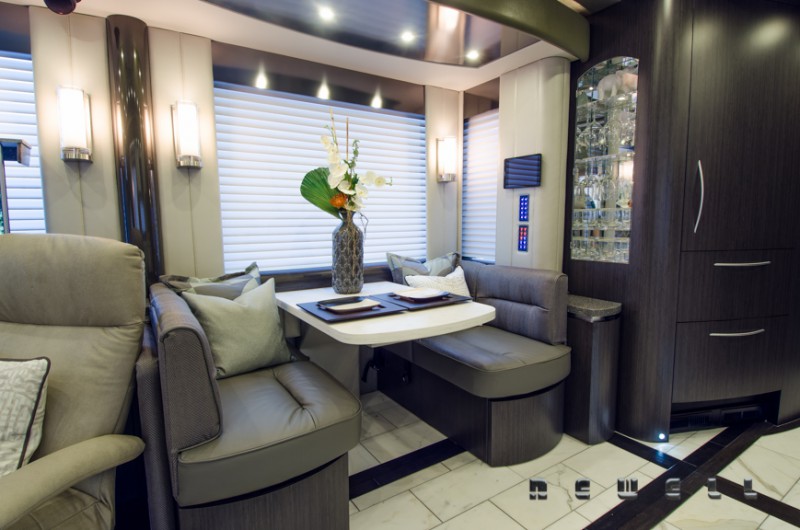 Once we park in a conveniently chosen place, just press a button to pull out the walls to the sides, enlarging the space inside the vehicle .
Thanks to this, Newell gets a lot of space, which is most visible in the bedroom. There is so much space around a double bed that more than one home bedroom could become complex.
Two bathrooms and three televisions
Anyway, the kitchen with a large worktop is not much more modest, near which there is a large, touchscreen control panel for on-board devices .
Bathrooms deserve special attention. Yes - the plural is not a mistake, because in this mega-camper , users have two bathrooms with toilets at their disposal . However, there is a shower in the larger one, for which there was not enough space in the larger one.
In the American bus for picky tourists, of course, there were televisions sliding out of the shelves . If the 47-inch screen in the living room is "occupied" by a viewer, you can always go to the bedroom and use the second receiver. But it is not everything! There is also a third, 29-inch screen , suspended between the driver and passenger seats.
Better than in dreams
I will not go into much detail about huge, leather armchairs, a stone floor or modern light boxes with LEDs on the ceiling - you can see them perfectly in the photos.
What you cannot see are heated and ventilated driver and passenger seats , the Marantz audio system with Anthony Gallo speakers distributed throughout the vehicle, navigation, camera system, satellite radio, and a Blue-Ray DVD player.
It is also worth noting that in Newell 1545 there is a washer-dryer, coffee maker and even a convection oven , i.e. a device used so far more often in gastronomy than in home kitchens. Baking four potatoes in such an oven takes 12 minutes, while in a traditional oven - almost 1.5 hours!
What more could you want? Well, maybe only the million and eight hundred thousand dollars to buy such a monster.
Sometimes it is better to get lost than to ask for directions too much. Aldous Huxley
Enjoyed reading this article? Share it!