Outside Van - Sprinter different from all the others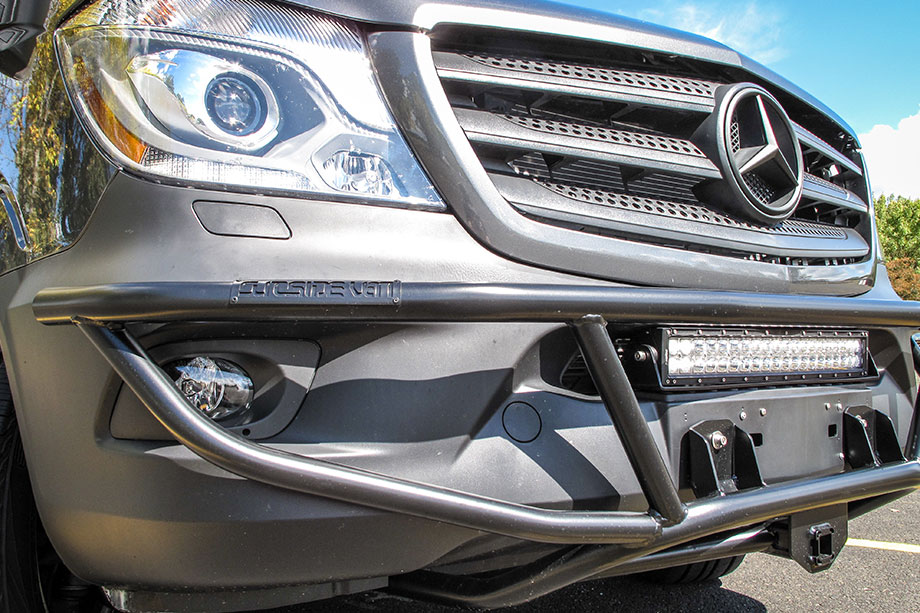 Outside Van is an American brand that conjures up vans from ordinary Mercedes Sprinter vans - unusual, because they are prepared in accordance with the wishes of customers. We can decide on basic changes, ready-made configurations or order an individual modernization.
What we can immediately like the Outside Van brand is transparency of information. We would very much like other manufacturers to envy the Americans and inform them about how long is waiting for the ordered vehicle and what costs should be taken into account. And it does not matter that the information provided on the website is very general - it gives you a good idea of what to expect.
Core - right to the point
The manufacturer divides the options for introduced changes into three segments. The Core variant refers to a basic conversion that should take 4 to 7 weeks and costs from $ 39,000. up to 43.5 thousand dollars .
For this price, we get an off-road Sprinter with powerful wheels , accessories for mounting surfboards, skis or bicycles, two roof fans and a simple, three-piece folding bed . We can also have an interesting, three-part window with tilting elements, a retractable awning and an all-terrain bumper.
As a result of these changes, the customer receives a vehicle that can travel away from the main routes, but with a set of favorite sports equipment and a place to sleep. When ordering Core - we will not get luxuries, but a strong base, completely different from what most motorhome manufacturers offer.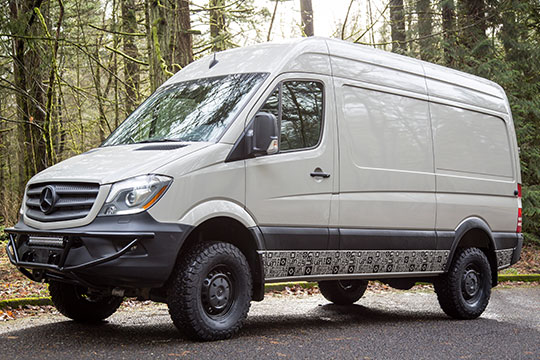 Configurable - playing with blocks
However, if we would like to approach the camping standard, we do not have to compromise on originality. The Configurable variant can be ordered online by completing the form in which we will precisely define our needs. On this basis, a proposed set of modifications will be prepared, which can cost from 50 to 100 thousand. dollars . The modernization process may take from 2 to 4 months from the moment the base vehicle is delivered to the company.
The list of available options is very wide and may include, for example, a kitchen module with a sink, hob, fridge and cabinets . To make it more interesting, the table top can be illuminated with a LED strip. We can choose from several different sizes and arrangements of drawers, cabinets and colors of the finish.
A microwave oven and an on-board control panel can fit right under the ceiling. Sets of cabinets, shelves, handles and their finishes give great opportunities to customize the finish of the vehicle. Heating, solar panels, "cool" audio equipment - these are just a few elements from the extensive list of equipment.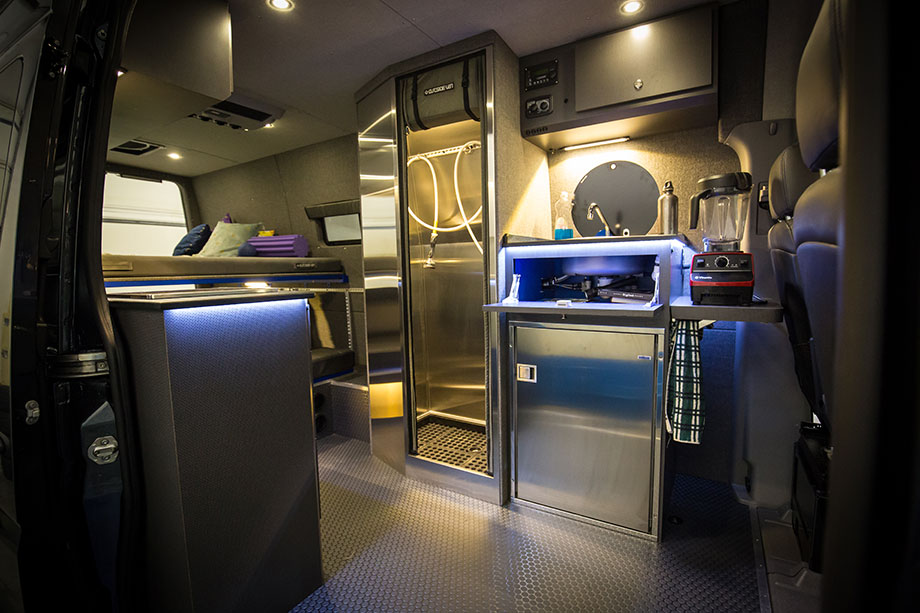 Custom - whatever your heart desires
User configuration gives the greatest possibilities. The Custom version , however, costs more than 100,000. dollars - and we are talking only about the price of modifications and additions, not taking into account the base price of the vehicle. Preparing such a car to the condition desired by the ordering party may take from 6 to 12 months!
Then, however, we can have, for example, recesses in the body - in the line of windows - which, although they look inconspicuous, provide quite a lot of additional space, e.g. for a wider bed or for a flat screen TV. You can also order a bunk bed or a bed suspended from the ceiling, or huge bumpers with large fog lights.
Most of the Custom equipment can also be ordered in the Configurable option, so we can have them fairly quickly. However, in the case of the user version, you can even order additions and modifications that are not on the official list .
And this is where the greatest charm of the Outside Van brand lies. Thanks to it, we can make our dreams come true, without being limited to a list that someone has prepared for us.
Sometimes it is better to get lost than to ask for directions too much. Aldous Huxley
Enjoyed reading this article? Share it!