Polish Romer - quality at a fair price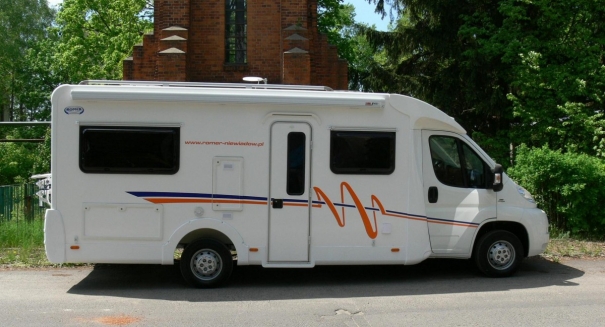 Increasingly, when we want to buy a motorhome, we do not have to decide to buy a vehicle imported from abroad. Elcamp offers campers Neo Traveler, the company Doch - Novano, Romer Niewiadów also has its own motorhome.
Romer advertises its motorhome as "world quality at a reasonable price". Reasonable prices start in this case from 210 thousand. PLN , as well as with the other mentioned producers.
So what distinguishes a motorhome prepared by a young company from Niewiadów, founded by former employees of the oldest Polish caravan factory? In the case of Romer, we are not dealing with a van that has been adapted to the residential function. We are talking about a semi-integrated vehicle, which means that where the driver's cabin ends, a completely separate body begins. And this is where we come to world quality.
Sandwich from Niewiadow
Most motorhomes and caravans produced in Europe, especially when it comes to vehicles offered in lower price classes, are made of laminate. Only some brands, usually those from the "premium" class, offer more advanced solutions, such as a "sandwich" construction. Meanwhile, the motorhome and all caravans offered by the unknown Romer have just a sandwich construction .
- Our motorhome is made of sandwich-technology walls, where the outer layer is a polyester-glass laminate filled with styrodur, and the inner layer is laminated plywood - says Leszek Reszka, director of Romer, to Camprest.com. - Our trailers are constructed in the same way - he adds.
Styrodur (or styrofoam) XPS is 25 mm thick. In the opinion of the manufacturer, this type of insulation has a great advantage over ordinary polystyrene due to its two times lower thermal permeability, greater mechanical strength and resistance to moisture and water vapor diffusion . Additional protection in the form of a laminate provides motorhomes and caravans with a very good tightness.
In the case of a motorhome, we can count on quite extensive standard equipment. Its scope includes, among others furniture with numerous compartments (including a wardrobe and a retractable TV box), two skylights , antenna installation and an additional battery. A maximum of 4 people can stay in the vehicle.
The motorhome has a standard kitchen area with gas burners and a sink, as well as an 80-liter fridge . The fact that the toilet part is located in a different room than the shower can be considered a big advantage.
The water and sewage tanks have a capacity of 85 liters , with clean water inlet outside the vehicle. The dirty water tank is placed in a thermally insulated casing and equipped with an electric heater.
The car is equipped with additional gas heating with a heat distribution system inside the seating area. A 10-liter boiler is also part of the heating system.
In terms of lighting, it was decided to combine fashionable LEDs that act as additional lighting with halogen lamps (acting as main lighting).
The motorhome has a place for a control panel with an indicator of the level of clean and dirty water, additional battery and starter battery charge as well as the main power switch 12V. The roof air conditioner requires 5,000. PLN surcharge, and we will pay PLN 1,500 for the TV set.
The Romer motorhome is available in three engine versions - 2.0 JTD (115 HP), 2.3 JTD (150 HP) and 3.0 JTD (160 HP) . While the first unit can be quite weak with the vehicle's curb weight of 2,980 kg, the two more powerful engines should already be a good choice. The length of the vehicle is 706 cm. This vehicle is sure to go to many motorhome rentals .
Actually, the only thing you can fault is the interior design. A bit more modern selection of patterns and colors would be nice, because when it comes to aesthetics, Romer - especially when compared to its western competitors - is a bit of a mouse. And today, for most customers, design is more important than a few years ago. If the manufacturer takes this attention to heart and makes the necessary changes, a motorhome from Niewiadów may have a chance to do a lot on the Polish market, and even on foreign markets.
More information is available at www.romer-niewiadow.pl
Sometimes it is better to get lost than to ask for directions too much. Aldous Huxley
Enjoyed reading this article? Share it!