Rimor Nemho - Italian middle class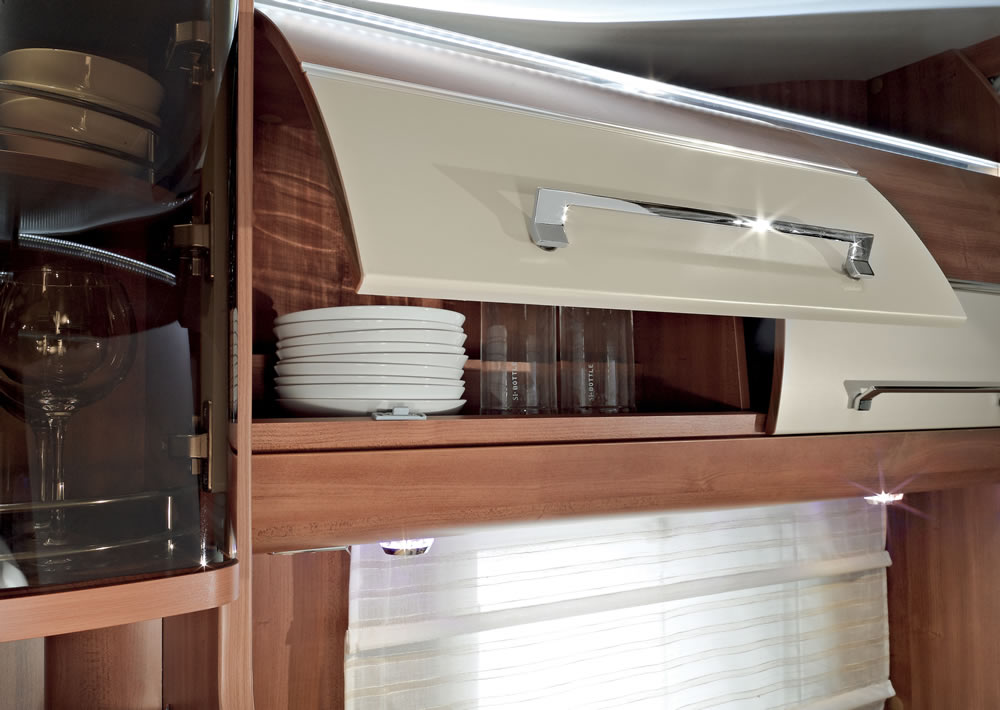 If you are planning to buy a new motorhome, you may find it difficult to find a model based on a platform other than a Fiat Ducato. In this respect, Rimor Nemho, based on the Ford Transit, may be an interesting variety.
The motorhome of the Italian company Rimor can be considered a mid-range offer. The Ford Transit with a camping superstructure is certainly not one of the largest motorhomes, but it is also not a midget.
Nemho is available in three variants with a length from 7255 mm to 7365 mm. The width of the vehicle is 2,340 mm.
Each version of Nemho has 100-liter tanks for clean and used water and a mini-garage for a motorcycle or bicycles. This model also has five full-size seats with seat belts. However, there are more places to sleep - there may be 6 of them, and in the largest version there may also be an extra bed, so that in an emergency situation, up to 7 people can stay in the motorhome.
Details are worth appreciating in this model. For example, LED ceiling lights are equipped with protruding, transparent sockets, thanks to which the light can also diffuse to the sides. On hot days, with the front door open, you can isolate yourself from the outside world with a sliding roller blind.
The retractable contents of the cabinets (including separate bottle holders), a 3-burner stove or an illuminated bar in the kitchen will surely find their supporters. The drawers have profiled cutlery containers, thanks to which the knives and forks will not move while driving. The roof window is equipped with a lockable roller blind, and on both sides of it there are three bulbs acting as ceiling lighting.
There was also space for a bathroom with a shower cubicle, a toilet and a washbasin, although it must be admitted that the toilet is not particularly spacious. Despite this, there is space in it not only for comfortable shelves and cabinets, but also for a mirror that is placed above the window or on the side wall.
In a modern motorhome, a hideaway TV could not be missing. In Nemho, it slides out of the ceiling cupboard. All devices are controlled via a color touch screen.
The prices of the basic versions of Nemho do not differ much from each other and amount to approx. 45-46 thousand. euro net.
The basic version is based on a Ford Transit engine with a capacity of 2.4 liters and 125 HP. Standard equipment includes two airbags, ABS, EBD, TCS, ESP, central locking, electric windows, on-board computer, cruise control, external thermometer, tinted windows and a leather steering wheel. For an additional fee, you can get a more powerful engine (155 HP) and automatic air conditioning.
Rimor Nemho is definitely an interesting proposition for people looking for a fairly large and well-thought-out motorhome, which despite the rich equipment, comparable to the high-end models, is available at a price that puts it rather in the middle class. Good value for money is the basic distinguishing feature of Nemho.
Sometimes it is better to get lost than to ask for directions too much. Aldous Huxley
Enjoyed reading this article? Share it!