Small motorhomes from Danbury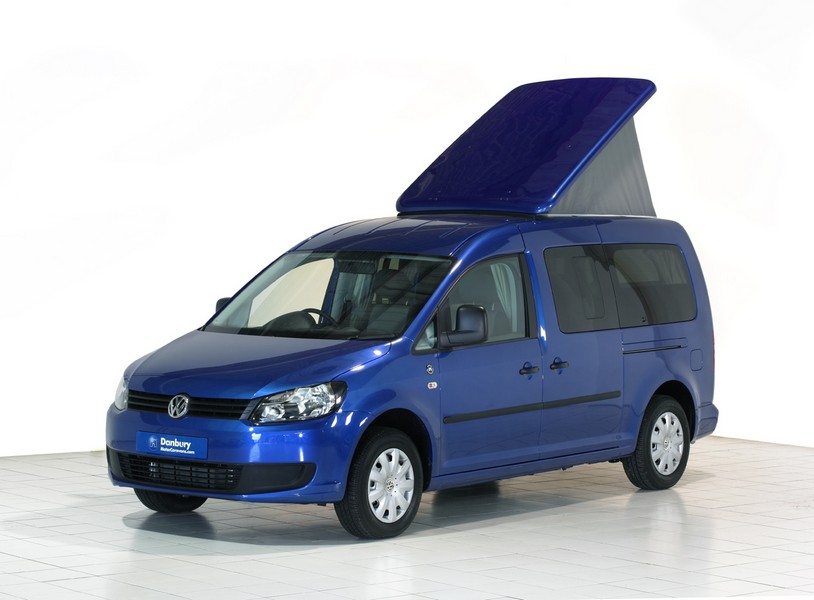 Is it possible to have a small, agile car and at the same time be a spacious motorhome? Well, not really. But you can have a small car with the equipment typical of a motorhome.
The proposals of the British Danbury brand are aimed more at customers ready to compromise… Or maybe also for those for whom the convenience of movement is more important than the comfort in the interior. For young, mobile people who want to move efficiently and explore the world, Volkswagen Caddy and Fiat Doblo in camping versions can be interesting solutions and certainly cheaper than the more "adult" versions of motorhomes.
The roof goes up
The main interference of Danbury with the standard body is to raise the roof. Both Volkswagen and Fiat are available with a pop-up roof . Thanks to this, you can increase the amount of space inside. In the case of Doblo, a version with a permanently raised glass roof is also available. However, this change does not affect the number of sleeping places. Two people can sleep in both cars (although three slim ones would probably also do it).
Standard equipment of Fiat and Volkswagen in versions offered by Danbury is very similar. In cars, we find many smaller and larger compartments. There are LED lights that can come in handy while reading as well as cooking. Yes, these campers, although small, were equipped with a two-burner stove - and attention - a grill ! The wire rack extends out of the drawer under the oven knobs.
Both Doblo and Caddy also have a 40-liter fridge-freezer and a stainless steel sink. It is integrated with a tap connected to a 10-liter water tank . It is not much, but it gives at least a bit of comfort that we cannot even dream of in an ordinary car. We can also have a chemical toilet, but this luxury requires an additional fee.
Table - retractable or foldable
The issue of tables was solved differently in the cars. In Volkswagen, they are two independent tops pulled out between the cabinets, in Fiat - a folding table resembles the one known from larger motorhomes.
Both in Fiat and Volkswagen, many elements of equipment can be obtained for an additional fee, e.g. air conditioning, diesel-fueled heating system , air conditioning, parking sensors, as well as a tent that will act as a vestibule located at the rear of the vehicle.
We can order more additional elements for the Caddy, but this is due to the options offered by Volkswagen (e.g. navigation, cruise control, heated seats).
Place - in trace amounts
Both cars have similar disadvantages, the biggest of which is, of course, lack of space. If we spread the table in Fiat, we will not get to any other part of this mini-motorhome other than the couch. If we unfold the couch, we won't open most of the cabinets, nor will we unfold the table. In both cars, space can be a serious problem.
The prices, for continental conditions, are not low - remember, however, that the British earn in pounds. Volkswagen Caddy Danbury (1.6 TDI) is offered at a price of PLN 26 thousand. pounds, and the cheapest Fiat Doblo (1.4 gasoline) is available for 20 thousand. pounds. The diesel version (1.6) requires an additional PLN 3,000. pounds.
Sometimes it is better to get lost than to ask for directions too much. Aldous Huxley
Enjoyed reading this article? Share it!