Sterckeman Alize Trend - a decent average guy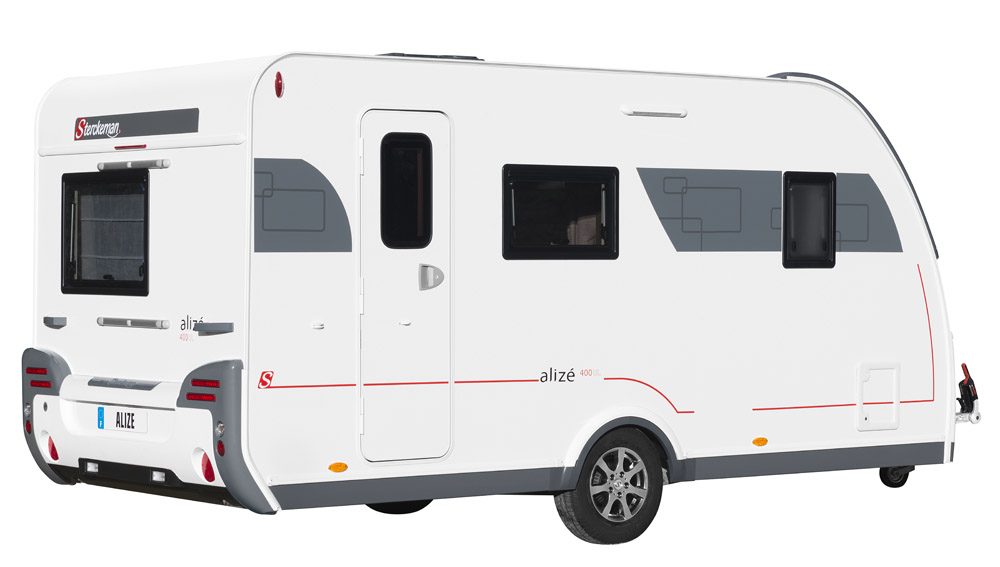 Perhaps traveling with a caravan is not very comfortable, but once we reach our destination, we can enjoy more spaciousness than in most motorhomes. This will also be the case with the Sterckeman Alize Trend series trailers.
Despite the German-sounding name, Sterckeman belongs to the French group Trigano . And Alize Trend is the top model of this brand. This year, the design of the trailer has been even more modernized. We will not go into technical details, but we are dealing here with GRP materials, and GRP reinforcement, and XPS foam insulation. It can therefore be assumed that the vehicle will serve us in very good condition for many years. In terms of design, you can mainly attach to the brakes, which do not have a self-adjusting system .
5 meters in four variants
The trailer is available in four interior variants, and its length is always the same - 577 cm without the drawbar and 700 cm with the drawbar . The interior itself is 5 m long. The total width is 2.3 m and the height - 2.58 m (internal height - 1.95 m). The total weight of the trailer is 1,500 kg (optionally 1,700 kg), and the load capacity, depending on the version, is around 190-220 kg.
We can choose versions with double or single beds, intended for four people, but there is also a 6-person variant (490 PE) , which, apart from a double fixed bed and sleeping organized from furniture in the dining room, also has a bunk bed. So a family with four children will also find something for themselves. If, however, we want a comfortable bathroom more than the number of beds, we recommend the 475 CP variant, in which the part with the washbasin has been separated from the compartment with the toilet and shower.
The 480 CP model, equipped with two double beds, seems to be a very attractive variant. One, with a size of 1.98 x 1.58 m , has been placed permanently and has convenient access from two sides. The second one can be transformed from sofas and a table into a fairly spacious dining area. This arrangement should allow four people to sleep quite comfortably.
An interesting solution in this model is also a kitchen counter in the form of a bar between the kitchen and the dining area - it is a unique solution. There are storage compartments under the sofas around the table - it is worth using and loading them while driving, which will provide the caravan with better stability. Fortunately, Alize Trend has many different types of storage places - we can find a large wardrobe for clothes, as well as a small cabinet for shoes.
The lighting system in the living room consists of eight LED lamps which give off a bluish light which may be disturbing for some travelers. Unfortunately, the cabinets and lockers are not lit. In general, Alize Trend is not one of the caravans with the best lighting - it could use more light sources with a larger, but less bright color.
Unusual fridge and standard rest
The equipment of the trailer includes, among others A 150-liter compressor refrigerator - quite unusual, as it is available in the form of cabinets under the kitchen counter! There is also a freezer in the form of an inner drawer.
On board you will find a 40-liter fresh water tank, a 30-liter waste water container, a Trumatic 3004 gas heater and a 5-liter water heater. The gas stove has 3 burners, and next to it there is a small stainless steel sink.
The standard also includes a 15-cm foam mattress, a panoramic sunroof and a 230 V / 12 V converter . The vehicle also has two USB ports , and the trailer is also pre-prepared for the installation of air conditioning and TV.
For an additional fee, we can equip the trailer, among others with automatic stabilization system (ATC) , air conditioning and underfloor heating. We can also buy aluminum rims and - yes, for an extra charge! - shower curtain.
Prices in Germany start from approx. 18 thousand. euro. All in all, the Sterckeman Alize Trend is a "decent piece of trailer" with good equipment and some unique solutions that add to its character. It is also worth mentioning that the trailer is covered by a 7-year warranty on the tightness of the body .
Sometimes it is better to get lost than to ask for directions too much. Aldous Huxley
Enjoyed reading this article? Share it!