Sunlight - decent, but not crazy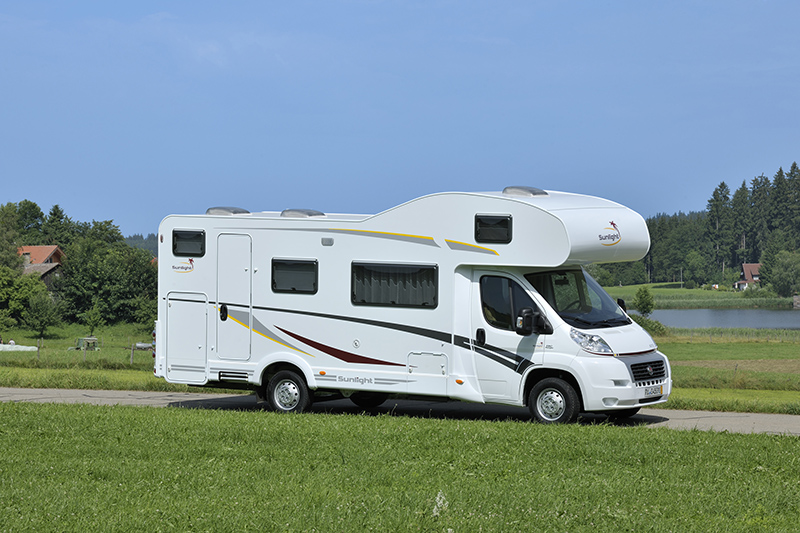 Campers of the German brand Sunlight are advertised in Poland with the slogan "Perfection and quality at the lowest price". The lowest price in this case is approx. 40 thousand. euro gross.
All Sunlight campers are based on the Fiat Ducato design. The width of each vehicle is 233 cm, but they differ in length and height. The length may vary from 623 to 728 cm. The height depends on the chassis variant. The T models are 291 mm tall and the A series models are 310 mm high.
In total, there are as many as 11 variants of the Sunglight models to choose from. Interestingly, the cheapest version of the A58 is not the one that can accommodate the fewest people. This model can travel 4 people, while different versions of the Sunlight models allow for accommodation from 3 to even 6 people. However, it is worth mentioning that if more than 4 people are to travel in a motorhome, you need to buy a safety package with additional seat belts and headrests.
Decent standard
List prices range from EUR 40,225 to EUR 43,615, and the price already includes all the required fees. The basic versions of motorhomes are built on the same Fiat Ducato model. It is a 2.0 JTD model with 115 HP. It is equipped with, among others in the driver's airbag as well as in the ABS and EBD systems.
The permissible total weight in any version of the body does not exceed 3.5 tons, which means that a category B driving license is sufficient to drive it. However, there is an option to increase the total weight to 3,850 kg.
In each of the available models, the arrangement of interior elements will be slightly different, but each one will receive similar equipment. As standard we will get, among others halogen-lit kitchen, Truma C heating (6 kW), 113-liter fridge with freezer, 122-liter water tank with 20-liter boiler, 92-liter dirty water tank, swivel seats for driver and passenger, and illuminated luggage compartment.
All Sunlights have a toilet with a shower, and a separate curtain as standard. The toilet has a pull-out cassette, an electric pump and a rotating toilet seat. Some models have a sunroof in the toilet.
The manufacturer ensures that the compartments are ventilated and the mattresses are comfortable. The T-series models are also equipped with an extendable table.
Higher class at extra cost
Paying less than 1,500 euros, you can replace the car with a model with an engine capacity of. 2.3 liters with the capacity of 130 hp, and for 2,700 euros you can even have a version with 148 hp.
The option referred to in the catalog as "rich finish shower" was priced at EUR 400. You also need to pay extra for additional beds (in some variants even folding beds are available) and wardrobes.
For the kitchen you can order, among others oven, extractor hood and fridge with separate freezer compartment. Also available as options are: underfloor heating, additional electric heating and a rear view camera.
Sunlight models are a chance to buy a motorhome with decent equipment and at a reasonable price. For many caravanning enthusiasts, it will certainly be a very good compromise between dreams and financial possibilities.
Sometimes it is better to get lost than to ask for directions too much. Aldous Huxley
Enjoyed reading this article? Share it!