Take your home on vacation - the Alize Connect 560CP trailer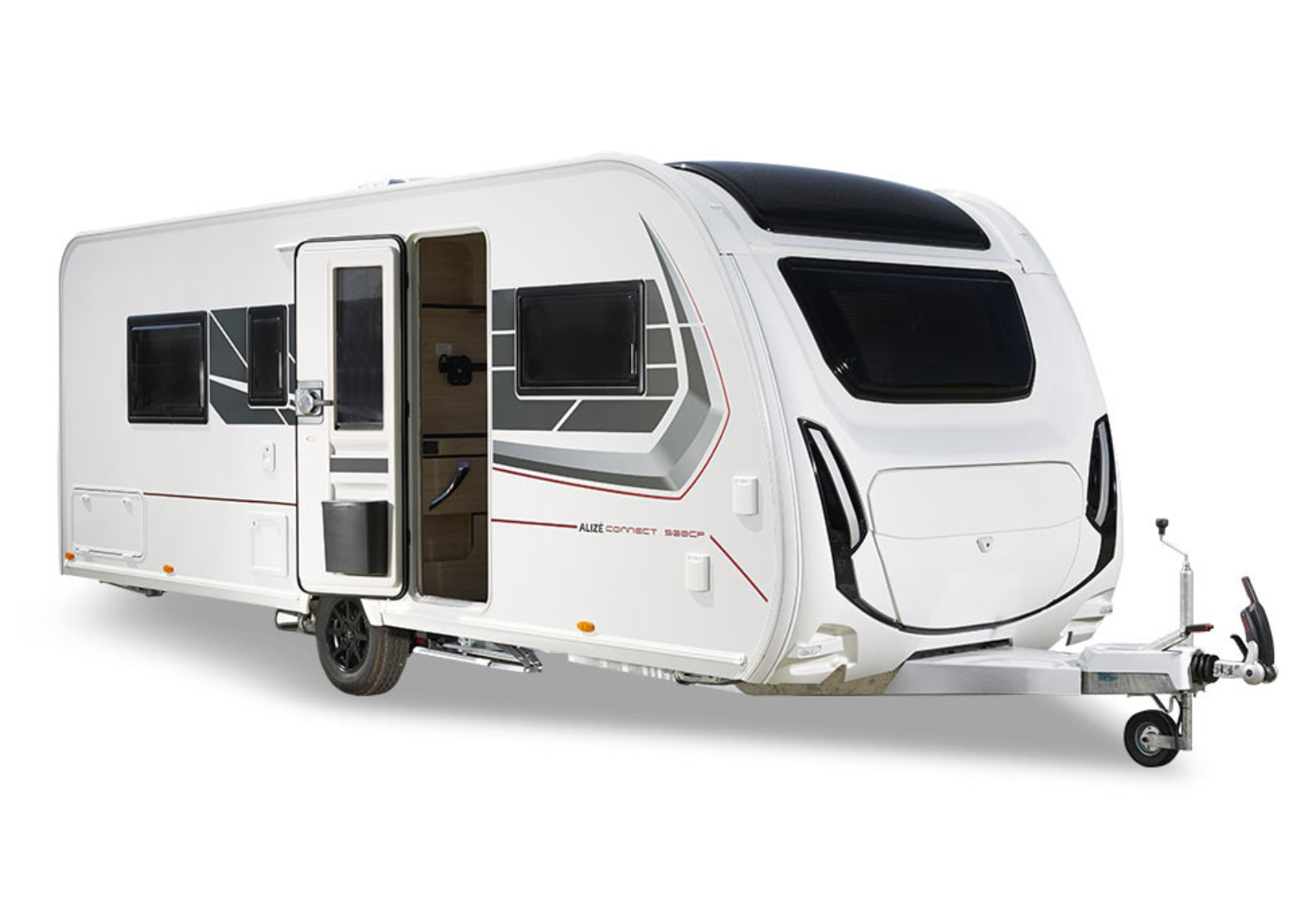 We have already written about the trailers of the French brand Sterckeman - Easy, Evolution, Alize - trailers with a soul from Sterckeman . Recently, we introduced a model designed for families - the Evolution 580 PE KID'S . And if we were not limited by finances ... and we had the opportunity to choose what our heart desires ... staying with Sterckeman, we would certainly focus on the top Alize Connect series.
Today we will look at a model that is a real home on wheels - it will be an extremely comfortable option for a couple, but also for a family with children. 560CP is a wonder with a total length of 780 cm and a width of 230 cm (inside 215 cm). The total height is 258 cm outside and 195 cm inside. The sheathing entirely made of a laminate of resins perfectly protects against adverse weather conditions, and the XPS polystyrene insulation and the ribbing of the walls made of composite materials translate into durability and strength in all circumstances. When you add attractive design and colors to it, as well as a beautiful rear with a LED lighting beam, we get a package of benefits that is really worthy of attention.
Let's take a moment to the chassis - the standard AKS3004 stabilizing hitch takes care of safety, and an optional ATC system can be ordered to prevent the set from snaking. In addition, we have 4 solid supports in the corners, a spare wheel attachment underneath and an electric step (rare in trailers). The floor is 41 mm thick and well insulated (also XPS).
Beautiful on the outside, spacious on the inside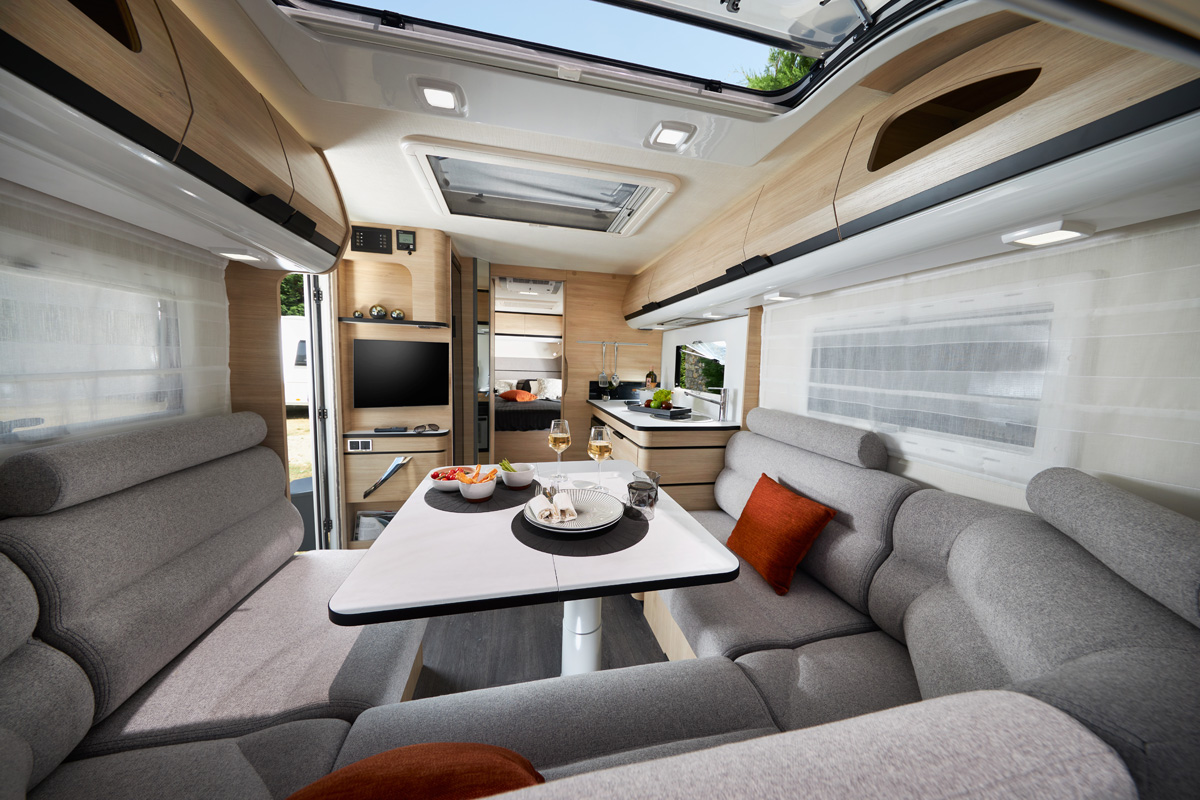 We are not talking about a light trailer - after all, the curb weight is close to 1600 kg, and the GVW is 1800 to 1900 kg (option). So we have some reserves for additional equipment. Taking into account the dimensions and cubic capacity of the interior, the permissible weight does not differ significantly from the competition.
The beautiful and cozy interior of the caravan is due to a refined design - a light furniture board with contrasting black inserts, white color on the walls and ceiling and upholstery in gray colors is a recipe for a modern arrangement that customers eagerly reach for.
It is worth emphasizing that the inset windows used are of really high quality. Skylights / roof windows additionally illuminate the interior by optically enlarging it.
Two living areas and sliding doors
Functionally, the system is divided into two parts separated by a sliding door. On the back there is a bedroom with a 150x200 French bed (of course there is a large storage space underneath it), wardrobes for clothes and a brilliant bathroom in 2 segments - on one side of the trailer you will find a toilet and a washbasin with a mirror, and on the other side a comfortable, full-size shower cubicle. It is an excellent and convenient solution for people who are reluctant to use sanitary facilities in parking places.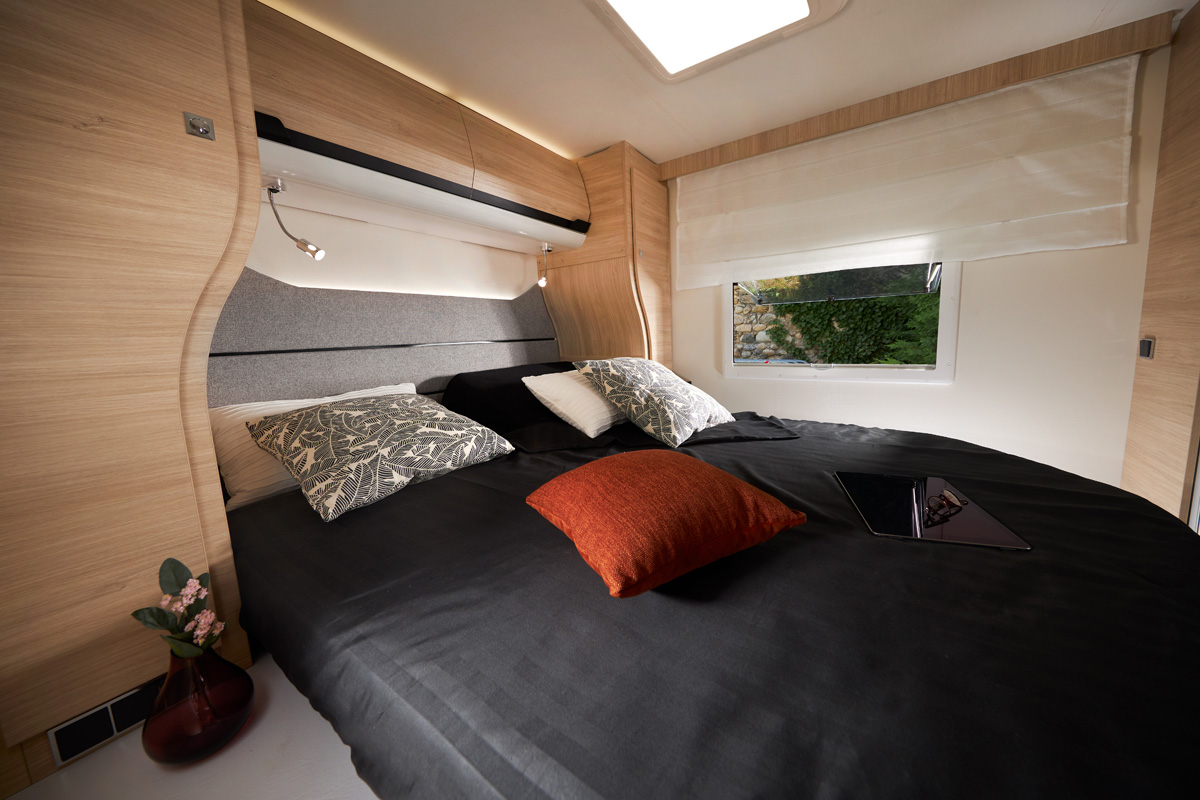 The front part of the caravan, to which the entrance door in XL format (width is 61 cm), houses a living room with sofas and a table (here, when unfolded, we get a large, 2-person bed measuring 150x210 cm). Right next to us, we are welcomed by a functional kitchen equipped with 3 burners with an absorber placed above them, a sink, an oven with a grill function and of course a shelf for spices, as well as cabinets and drawers for all kitchen utensils and provisions.
Equipment for all conditions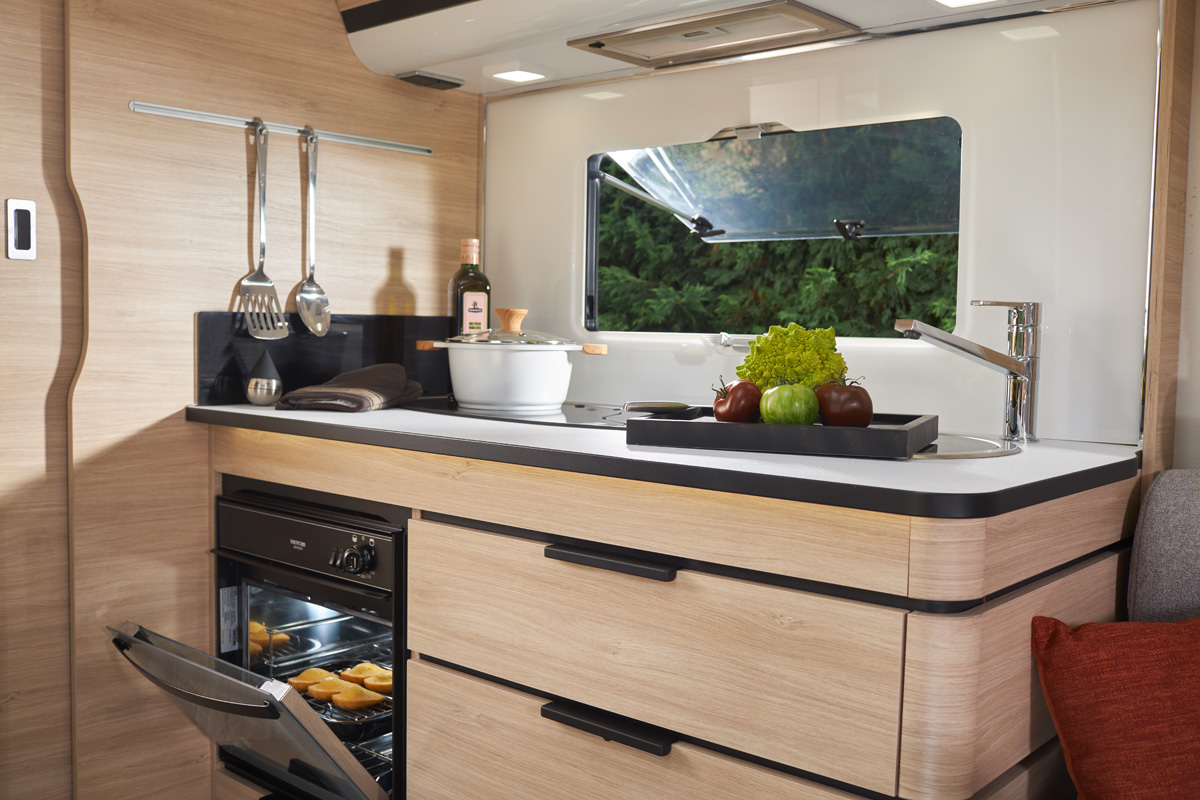 The trailer is adapted to winter caravanning - the efficient 6kW Truma CP PLUS heating system with a 10-liter boiler and iNet control means not only reliable heat, but also the possibility of remote monitoring and control of the oven parameters. The manufacturer has not forgotten about the dimmer, thanks to which we can adjust the lighting inside to the needs of the moment.
The Sterckeman 560 CP has a number of pre-installations and is factory prepared for the installation of air conditioning, a satellite dish, photovoltaic panels, and an additional battery. The clean water tank is up to 50 liters, and the external gray water tank placed under the trailer is equipped with wheels and has a capacity of 30 liters. The standard equipment includes many elements that are certainly not obvious factory equipment for most competitors: an external gas socket, an external TV socket, a city water connection, as well as light rims or a cover for a drawbar.
By choosing Sterckeman, we buy a product of a company that specializes in trailers and has a long tradition that combines with the latest technical solutions that guarantee durability of the structure and high resale value. This is confirmed by the manufacturer's 7-year warranty for the tightness of the body (the condition is regular inspections at an authorized dealer). If you are interested in this particular model or you are looking for something extraordinary with an excellent price-quality ratio, then the right address will be the representative of the brand in Poland, the company ACK Benimar Polska from Kędzierzyn.
gallery
I feel best in the form of trade fairs and meetings with enthusiasts. Technical freak. In my life I have dismantled many motorhomes for the first time. Fan of large vehicles, mountain biking and traveling without weight and financial restrictions. At CampRest, I am responsible for all publications on automotive topics.
Enjoyed reading this article? Share it!