Wavecamper Camper - how is it different from other models? CampRest test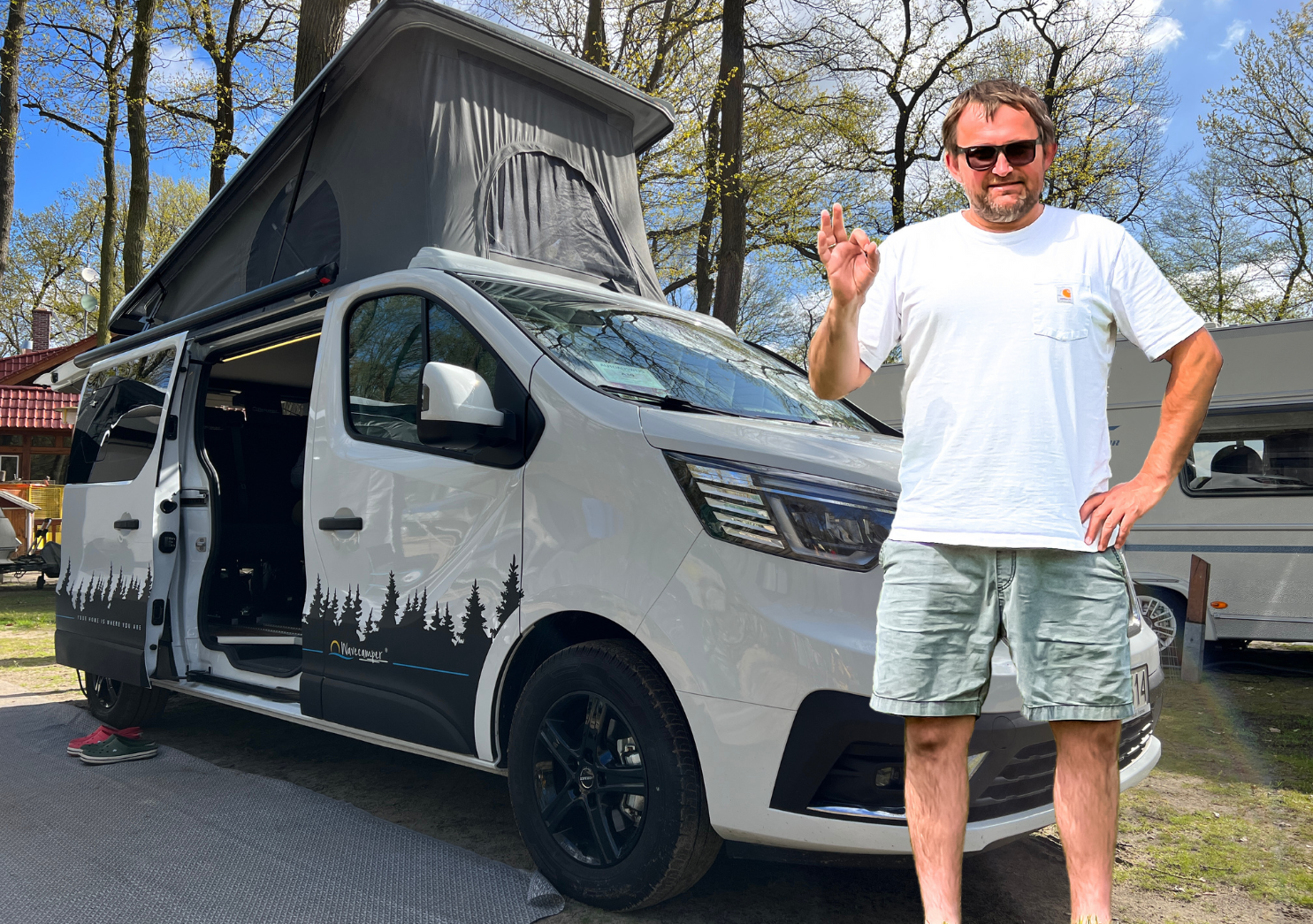 Camper is the latest Wavecamper model built on the Renault Trafic Long chassis. This camper is adapted to transport 5 people and has a three-seater sofa in the back. This car is a really great choice if you can't afford to buy a separate motorhome and a separate car for daily driving.
Wavecamper motorhomes are made with the highest precision, which Karol Szymański, the founder of the company, is very careful about. Before leaving the factory, each car undergoes a 222-point check according to Karol's precise checklist. If something is not right or does not work properly, the car is not allowed to go.
Wavecamper - camper for everyday use
Coming back to the vehicle itself, it is a compact campervan that can be used freely on a daily basis, for example, for shopping, school, work, etc. Its length is less than 5.5 m, so it can be easily parked in the city . In addition to everyday use, this motorhome is really great for holiday trips or weekend trips out of town. You can easily accommodate the whole family in it and go on a longer vacation.
Additional accessories fitted to the Wavecamper model Camper
Of course, the size of this vehicle may partially limit the amount of things you want to take on vacation. However, you can always attach a trailer if you cannot do without certain gadgets. However, if you prefer to travel without a trailer, you just need to organize yourself differently.
Wavecamper awning
When it comes to accessories in this motorhome, for example, the Fiamma f-35 Pro awning is installed, which I consider ideal for this type of car, mainly due to its size. This awning is small and compact, there is no crank mechanism to make it bigger. Unfolding it is done manually and it does not take more than a minute with two people.
Slot 230 in Wavecamper
Another nice addition is the socket for connecting the camper to the power supply, which is located at the rear of the vehicle, next to the awning. Thanks to this, when we connect the car to the power supply, we can also connect, for example, a laptop without having to use various extension cords, if we want to charge the laptop outside, under the awning.
Wavecamper on Renault chassis
While I am personally a huge fan of Volkswagen, I think the Renault is a very good chassis, especially because many things come as standard there. There is no need to pay extra for full LED lighting or automatic folding mirrors, which is necessary for Volkswagen and involves additional costs. The biggest downside of Renault that I notice is the lack of four-wheel drive chassis available.
3 seater sofa in Wavecamper
Returning to the aforementioned novelty, i.e. a three-seater sofa mounted in the car. Karol Szymański listened to his customers and often heard that they lacked just such a three-seater sofa, especially families with three children, because the Camper Flex model has single seats. Of course, the Camper Flex can be upgraded to a 6-seater version, but this requires the installation of additional seats, which are heavy and make it impossible to take them camping, as it would be impossible to mount a bed in the back. So Karol contacted the company Schnierle, who created a very nice sofa that can be transformed into a bed. This sofa has Isofixes, allowing the installation of two child seats, which allows you to travel with small children only as a family of four.
If you want to see a solution with single seats, i.e. the Camper Flex model, I invite you to watch the presentation and test of this car, which was then built on a Volkswagen, but you can also order a Camper Flex on a Renault.
This bench seat is mounted on the same system that the Camper Flex single seats are mounted on, i.e. on rails that allow the bench to be moved forward and backward. We can completely dismantle the sofa and mount, for example, a bicycle rack. The assembly of this sofa brought some interesting solutions and benefits. One of the main advantages of this assembly is a completely different use of the trunk.
Unfolding the entire sofa is very easy. In addition, the difference between Camper Flex and this solution is that you do not need to carry extra mattresses that would take up valuable space in the trunk. Thanks to the new design of the three-seater sofa, the legs supporting the bed could be dispensed with, which provides easy access to the toilet.
Which Wavecamper model is better?
If you use this car a lot to carry stuff and need to pull out the rear seats, the Camper Flex will be a better solution because it's easier to pull out individual seats than the whole sofa. It all depends on how you use the car. Personally, I would choose another car from Wavecamper with a three-seater sofa, because it is easier to unfold. It is also easier to arrange the trunk if you want to transport larger items, because you do not have to dismantle the bed, as in the case of Camper Flexa, just lift the shelf. In addition, the extra mattresses that are used to spread out on the bed in Camper Flexie are already built into the sofa.
Wavecamper model Camper body
On the left side of the vehicle there is a standard body known from other Wavecamper models. We have capacious wardrobes for clothes, closed with roller shutters, and many other compartments. In one of them there is a permanently mounted inductive charger and a practical holder for a flashlight. There is also one drawer, a portable toilet, a small fridge and a two-burner stove with an integrated sink.
Clothes lockers in Wavecamper
The wardrobes are very roomy. In our case, we fit clothes for all four of us for two seasons - winter and summer, as we travel in months when temperatures range from 2 to 20 degrees Celsius and it often rains. We can mount a very practical table on this rail, which can be hidden in the building while driving and used when stationary, using a tripod in front of the motorhome.
Water tanks in Wavecamper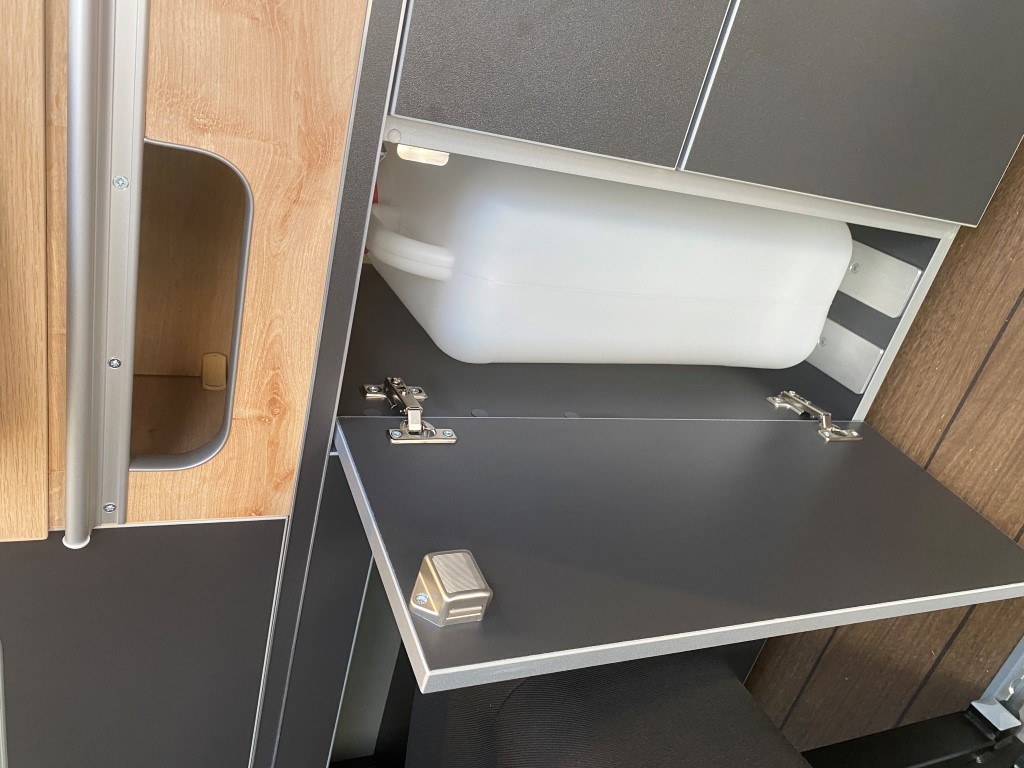 As for water, we have here, as in previous Wavecamper models, a tank with a capacity of 20 liters for drinking water and 20 liters for gray water. What's new, however, is that now you don't have to pull out the tank to fill it with drinking water. Karol has installed another system that allows you to connect an external hose to the shower outlet at the rear of the vehicle and you can fill the tank directly. You just have to be careful not to overflow the water as there is no indicator.
Current in Wavecamper
The motorhome is equipped with a compressor fridge that runs on electricity, not gas. It can run on 12V or 230V when connected to campsite electricity. There is also an additional battery in the housing development, which provides power to the lighting, heating and refrigerator while driving and stationary. A solar panel is mounted on the roof, which can charge this battery when we are not connected to electricity.
Heating in Wavecamper
As for heating, a Webasto stove is fitted, powered by diesel, which is taken directly from the fuel tank, so you don't have to worry about separate tanks. On top is a double bed that can be lowered. It is very comfortable thanks to the Froli system, i.e. springs mounted under the mattress. The motorhome has three windows, two of which have nets that allow airflow on warmer days. There is also a USB socket that can be used to charge your phone or connect a lamp.
Wavecamper is a great car for holidays and every day
All in all, I consider this car a really great choice if you can't afford to buy a separate motorhome and a separate car for daily driving. Wavecampers really live up to expectations during holiday trips and everyday use.
gallery
We have created the CampRest portal for people who value freedom and travel on their own.
Enjoyed reading this article? Share it!