Adventure Van Overland Trophy 2022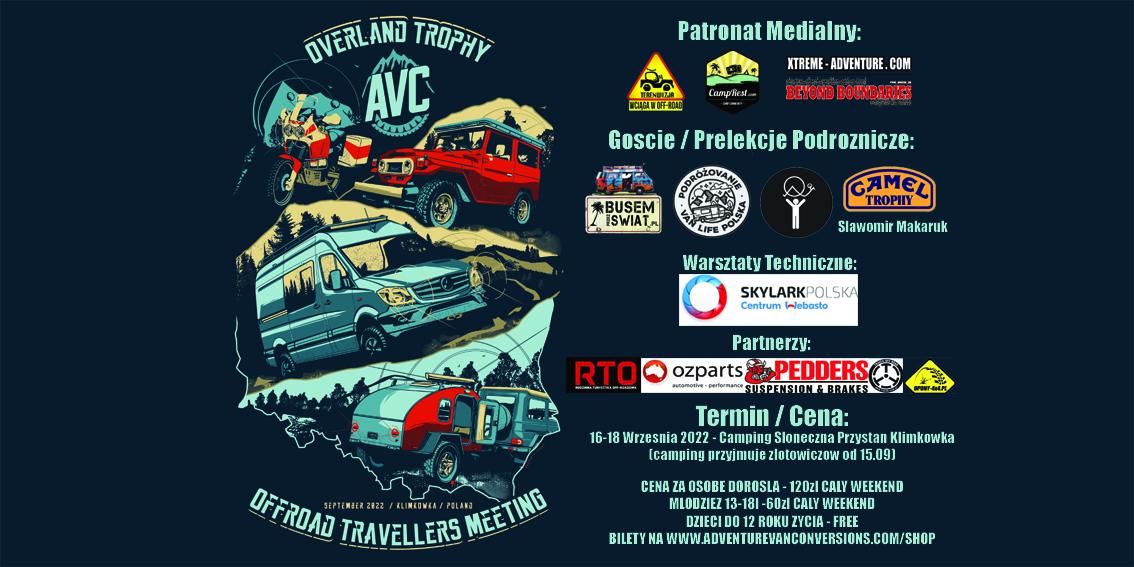 The autumn calendar of meetings and caravanning rallies could not be complete without an event organized by specialists from Adventure Van Conversions. Every day they create brilliant expedition cars for uncompromising exploration of roads and wilderness, and on September 16, for the fourth time, they invite you to an unconventional rally! The event will be hosted by Camping Słoneczna Przystań in Klimkówka on the Klimkówka Reservoir.
Lots of attractions (not only) for off-road fans
This year, many extraordinary guests will talk about their experiences. They have one thing in common - each of them discovers the world on four wheels, often overcoming the limitations of fate. Among the speakers, it is worth mentioning: Michał Woroch - Wheelchair Trip and a Pole in the Camel Trophy, i.e. Sławomir Makaruk.

This year's rally is also an "exhibitors' zone", but it will not be an ordinary fair space. The creators themselves will tell about many of the products. The meeting is also an opportunity to discover many secrets related to self-development and retrofitting of vehicles. The organizer will present the Renault Master 4x4 vehicles he has built himself at his stand - also here it will be an opportunity to talk about the technical aspects of the do-it-yourself construction.

People seriously interested in the subject of custom solutions will surely be interested in the workshops that will be conducted by Kamil Kowieski from Skylark Polska Centrum Webasto. He is one of the most outstanding specialists in electrical engineering, current independence and water systems - from the simplest systems to complex and self-sufficient expedition vehicles.
Discover the pearl of the Low Beskids
The organizer will prepare plans and road books to help you explore this charming corner. Radocyna, the quintessence of Lemko lands, Wysowa Zdrój, or numerous farms offering local specialties - all this is waiting for the guests. The surrounding gravel roads and beautiful views complete the package of attractions and provide the perfect setting for the event.
As part of the ticket, participants of the rally will receive a gadget package, vouchers for the Saturday barbecue and, of course, they can count on a lot of attractions, including a bonfire and integration.
Next to the rally site, there is one more campsite, as well as nearby guesthouses and cottages.
The rally t-shirts and sweatshirts will surely be a real treat and a nice souvenir, which can be pre-ordered by August 18, 2022 at the latest.
Package prices:
- an adult for the entire weekend - a full package with souvenirs and catering - PLN 120
- youth 13-18 years old, full package - PLN 60
-children up to 12 years of age - free of charge
-visitors or participants of the lectures with travelers PLN 20 a day.
- visitors from 12.00 to 5.00 p.m. - PLN 10.

Opening of the rally on Friday from (for those willing, it is possible to check-in as early as 09/15).
The exact plan is available on the event website: https://bit.ly/3QqyOrJ
The film presenting the seat reservation:
https://www.youtube.com/watch?v=_WMixOTwlKQ

Reservation for exhibitors: write to [email protected] or purchase an "exhibitor ticket" on the organizer's website.
It's worth being there - tickets to the party
The rally is a fantastic opportunity to hang out with caravanning and off-road fans, but also a great opportunity to explore the secrets of "arming" motorhomes for special tasks and more. If you intend to build your own motorhome or would like your vehicle to take on off-road bravery, this is definitely a good opportunity to get acquainted with the subject.
Tickets for this event are available at: https://bit.ly/3dexqtT
Videos from previous editions of the rally can be viewed on the Adventure Van Conversions YT channel. This year, due to the desire to facilitate access to a wider audience, the event takes place at the campground with full facilities - and in beautiful natural circumstances. The seat is proven, and the organizers ensure that even off-road fans will enjoy unforgettable experiences here.
Najlepiej czuje się w odmęcie branżowych targów i spotkań z pasjonatami. Techniczny freak. W życiu rozebrał na części pierwsze już niejednego kampera. Fan dużych pojazdów, kolarstwa górskiego i podróżowania bez ograniczeń wagowych i finansowych. W CampRest jest odpowiedzialny za wszelkie publikacje w tematach motoryzacyjnych.
Enjoyed reading this article? Share it!