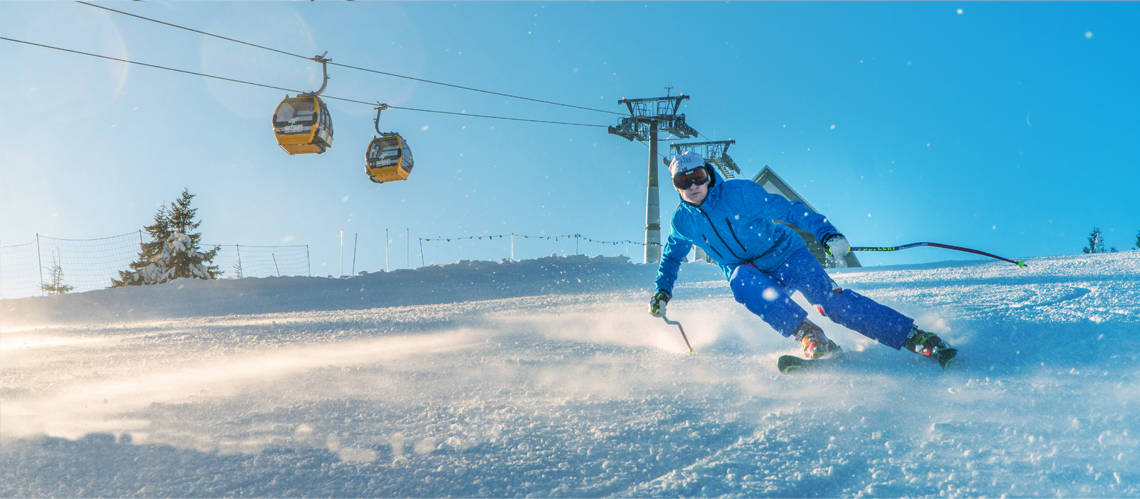 After the success of the Masurian Piekiełko summer rally, we are happy to announce that in March, in the Jizera Mountains, the winter National Caravanning Rally "Camp & Ski 2018" Świeradów-Zdrój will take place. Camprest.com is the media patron of this event.
On Lake Ryńskie we had the opportunity to take part in a regatta, a bicycle trip and improve our skills in providing first aid. Training in sailing knots and competitions with prizes were very popular. A common feast and a shanty concert are also remembered.
A beautiful view and a healthy atmosphere
This time, Świeradów-Zdrój invites us to the rally. This charming Sudeten town is located in the south-western part of the Lower Silesia Province, next to Zielona Góra and near the border with the Czech Republic. The health resort has a unique mountain climate , natural healing resources, such as mineral waters, radan waters and mud deposits, which enable the treatment of rheumatic diseases and locomotor system diseases.
Beautiful hiking and skiing routes have been attracting tourists and patients since the 17th century. Świeradów can boast a beautiful hall and a walking promenade with exotic plants, terraces, an artificial grotto and a viewing gallery on the clock tower .
Ski & Sun Świeradów-Zdrój , on the other hand, is a beautiful resort with two ski stations and a 2,500-meter long trail with an extremely varied slope, which is constantly snowed and prepared to satisfy the most demanding lovers of white madness.
A modern 2,172 meter long gondola lift , equipped with 8-seater carriages, is able to handle 2,400 people per hour. The snow groomer aligns the route twice a day, and the slope is illuminated, which allows you to ride even after dark.
There is a school in the resort where each skier can polish their skills. No equipment is not a problem! You can use the well-equipped rental shop . There is also a ski and snowboard service on site.
Rally with attractions
This is where the Elcamp Group (manufacturer of Globe-Traveler motorhomes), together with Ski & Sun Świeradów-Zdrój, decided to organize the winter Polish Caravanning Rally - "Camp & Ski 2018" Świeradów-Zdrój .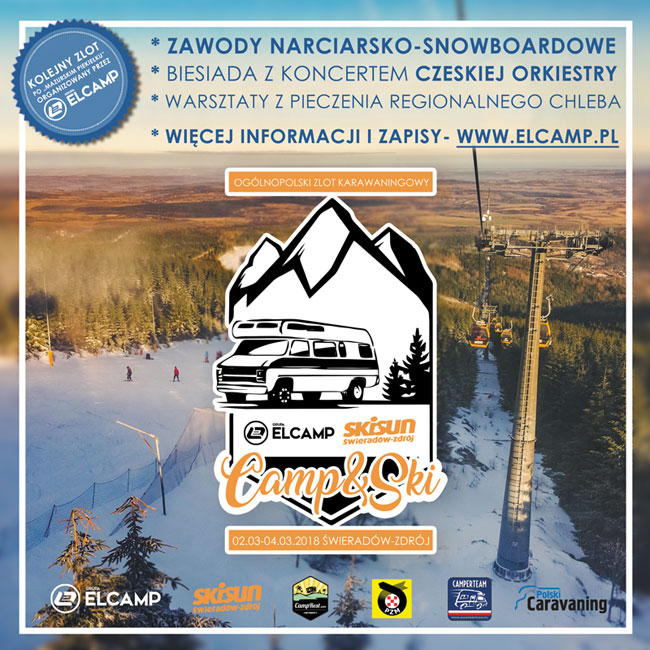 The rally will last three days - from Friday 02/03 to Sunday 04/03 . However, we are waiting for the participants on Thursday evening (01/03). Participation in the rally costs PLN 250 per crew (maximum 4 people).
As part of the ticket, the crew receives a parking space (with access to the media), participation in skiing and snowboarding competitions, bread baking workshops and breakfast (on Saturday morning). The rally is also a joint feast for all participants - the price includes refreshments and a concert by a Czech band. There will also be a lecture by the authors of the blog "Kamperem through the world".
In addition to the attractions offered in the package, participants will have the opportunity to use the Aquapark . Try your hand at baking bread or gingerbread, and go for a walk to the lookout tower. Cross-country skiers will probably be happy to set off on a beautiful route, and a ski kindergarten (additionally payable) is waiting for the little ones.
Detailed information and the registration form can be found at: http://www.elcamp.pl/wydarzenie/campski2018/ .
As an encouragement, we attach a few photos from the previous rally :)
Sometimes it is better to get lost than to ask for directions too much. Aldous Huxley
Enjoyed reading this article? Share it!