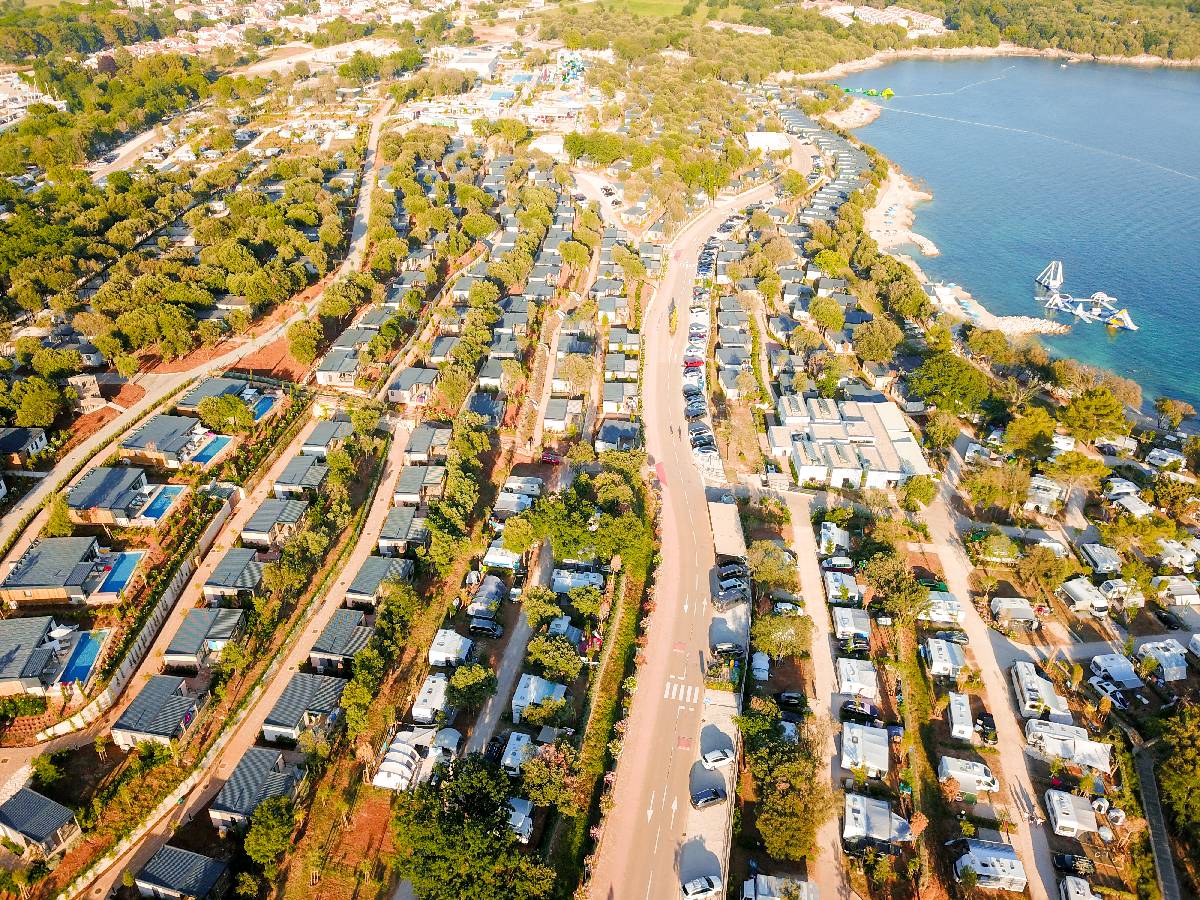 Croatian camps
You can fall in love with Croatia. It's a lovely country - it may sound strange, but it fits perfectly. The tiny country, mountainous at the same time and with an extremely interesting coastline, is perfect for a sunny holiday for people enchanted by the blue of the Croatian sea. And the beaches? Thirsty for the sun, they will find over 100 of them, and what is very important, the Blue Flags above them, which are an ecological symbol of the cleanliness of the water and the beach itself. Lovers of a bit bolder sunbathing will especially love Croatia - it is the European cradle of naturist camping. There are 12 of them in total, 7 of which in Istria itself. For such a small country, there are quite a lot of official naturist beaches here, as many as 17, and they are part of the beaches next to the camps.
In fact, camping enthusiasts enjoy exceptionally well rest in Croatia. It is no exaggeration to say that Croatian is the most attractive offer for camping tourism in the entire Mediterranean region. One can say more - the beauty of the country will be most appreciated while driving along the coast and getting to know other tourist attractions. While driving, you can come across a couple of campsites with sandy beaches. Most of them are gravel and rocky - it is not a pleasure to walk on them if you do not have shoes. Still, it is rewarded with very clean, even azure water like from catalogs or old wall murals.
Let's start with the fact that in Croatia it is not allowed to pitch tents or make caravan stops outside the designated areas. Most campsites start their activities around Easter, which in practice means that each year starts on a different date. They are most often open from April to mid-October. The largest part of the offer are three- and four-star ones (scale from 2 to 5).
Istria
Being in Istria, we can locate ourselves in the Umag Park with over 5,000. places. It is a place made for a family holiday. Children will be happy to use the pools with waterfalls, there is also an eco-botanical park, fortresses and a pirate ship. If someone believes that 5,000 The number of places is not an impressive number, he probably knows the most capacious Croatian campsite, Lanternacamp. It is located near the city of Porec and can safely accommodate approx. 9 thousand. people. In its vicinity is the famous Postumia Karst Cave Complex, including the Vertical Baredine Cave. Cavers will surely be attracted by one more local attraction - underground lakes, as well as spectacular stalactites and stalagmites.
The second family campsite worth mentioning is Bijela Uvala. We will find him near the Zelena Laguna estate, going towards the town of Funtana. It is surrounded by a picturesque row of uninhabited islets, and the two-kilometer long coastline is lined with sunbathing areas. The aforementioned naturists have a separate part of the beach reserved for themselves.
In the last few years, camping in Istria has undergone an amazing metamorphosis. The most spectacular ones can be seen in Medulin: Arena Kažela Campsite , in the aforementioned Funtana: Istra Premium Resort or in Rovinj: Polari Camping Resort and Camping Veštar
Korcula
But the Croatian coast, despite its unique beauty, can be used not only to please the eye and to gild the skin with the rays of the sun. Two kilometers west of Kučište, in an area with a beautiful view of the island of Korcula, is the partially wooded (and olive trees) camp Antony Boy. It is one of the best places for those who want to get to know the fauna and flora of the sea better - they can freely dive, surf and practice other water sports.
Some time ago, we published an article aboutsmall, cozy campsites in Croatia and it turns out that a large part of these campsites are located in this part of Croatia.
Split
And those who came to Croatia, wanting to experience the most intense holiday in a paradise environment, will most likely end up in the city of Split. Situated on a peninsula, surrounded on two sides by the sea, with a fresh climate even in the hottest heat, Split is the pearl of Croatia. Here you can enjoy nature by the sea breeze and at the same time be a regular visitor to cafes, entertainment clubs, restaurants and pizzerias. And here is also the Stobreč campsite, right at the mouth of the Žrnovica river. Supporters of visiting monuments will also be pleased - they will see the ruins of the old Salona, Diocletian's Palace and many other attractions.
On the westernmost headland, on the other hand, is the Pineta campsite with pebble beaches and a kilometer-and-a-half coastline. Right next to it is the oldest and largest lighthouse in the Adriatic, and visitors can dance to live music every night at the campsite itself. There were also pizzerias and a few cafes. If someone would like to participate in interesting animation programs, there is no problem - you can use them in a holiday and apartment center located nearby.
These are just a few of the dozens of campsites that offer hospitality to tourists. Vacationers have a virtually unlimited choice and everyone will find what suits them best - be it a bustling city full of pubs and dancing until dawn, or rather quiet beaches and secluded corners where you can forget about reality. They all have one thing in common: warm, wonderfully clear water and beautiful views.
There are plenty of opinions on the web from people who are delighted with the tiny country "hugged" to its neighbors. An example is the quote from Gazeta.pl: "I love Croatia! I remember all my stays pleasantly, the weather is guaranteed, the people are very open and polite, the water is transparent. Virtually in every tourist destination you can find something interesting to visit ", as well as a short and succinct statement of another forum member:" The most beautiful coast in southern Europe, Greece can hide ". It convinces me.
A writer by profession, a passion of a cat. One day he will see what is behind the Urals - good to Vladivostok. So far, when he can, he enjoys the sun of the countries of southern Europe. And it's also fun;)
Enjoyed reading this article? Share it!