Bathrooms and toilets on the campsite (also in winter)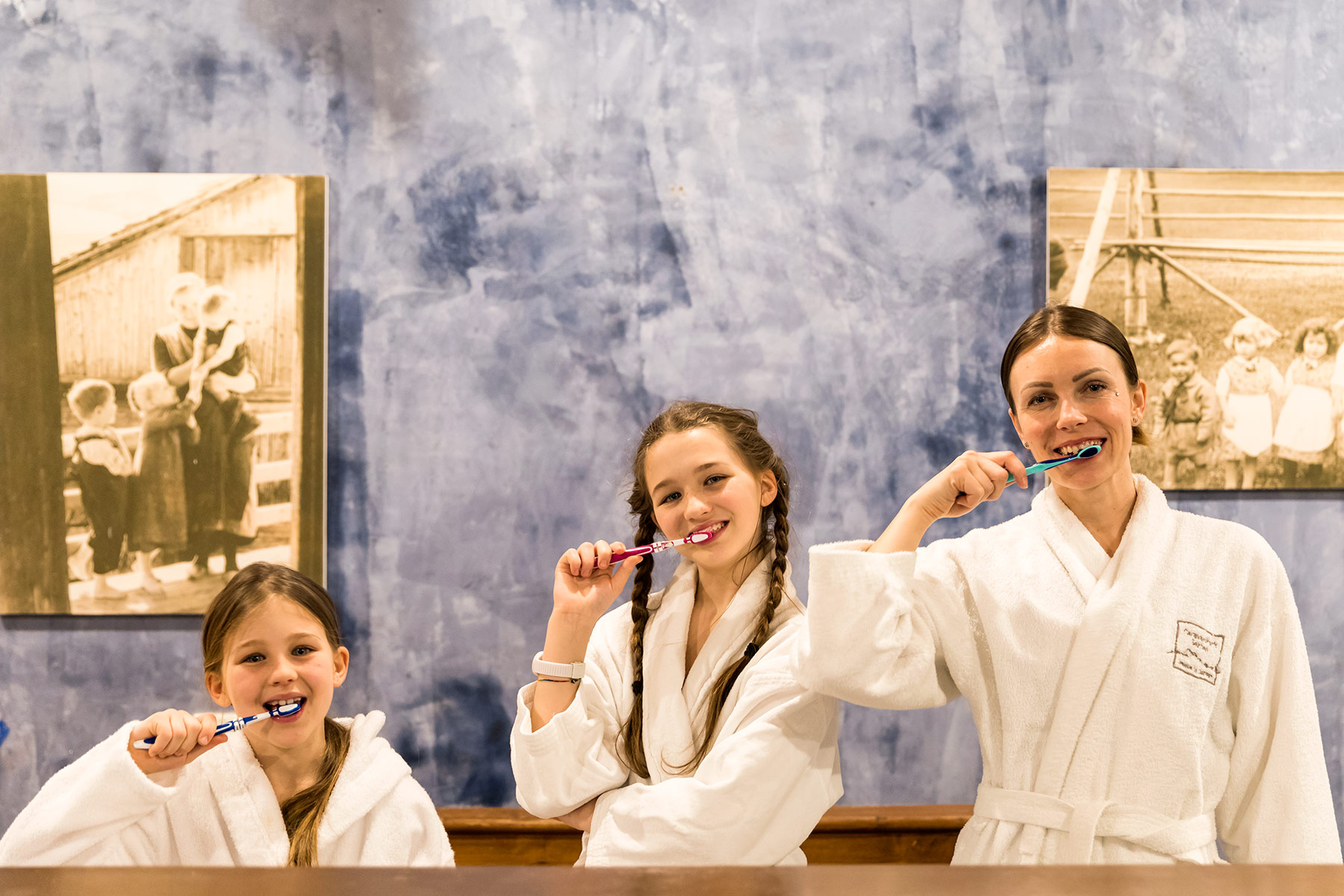 Will they be clean? Will there be warm water? Will there be any heat in the sanitary facilities? What do camping facilities look like now? We advise you how and where to find the best campsites with the best bathrooms!
Year-round camping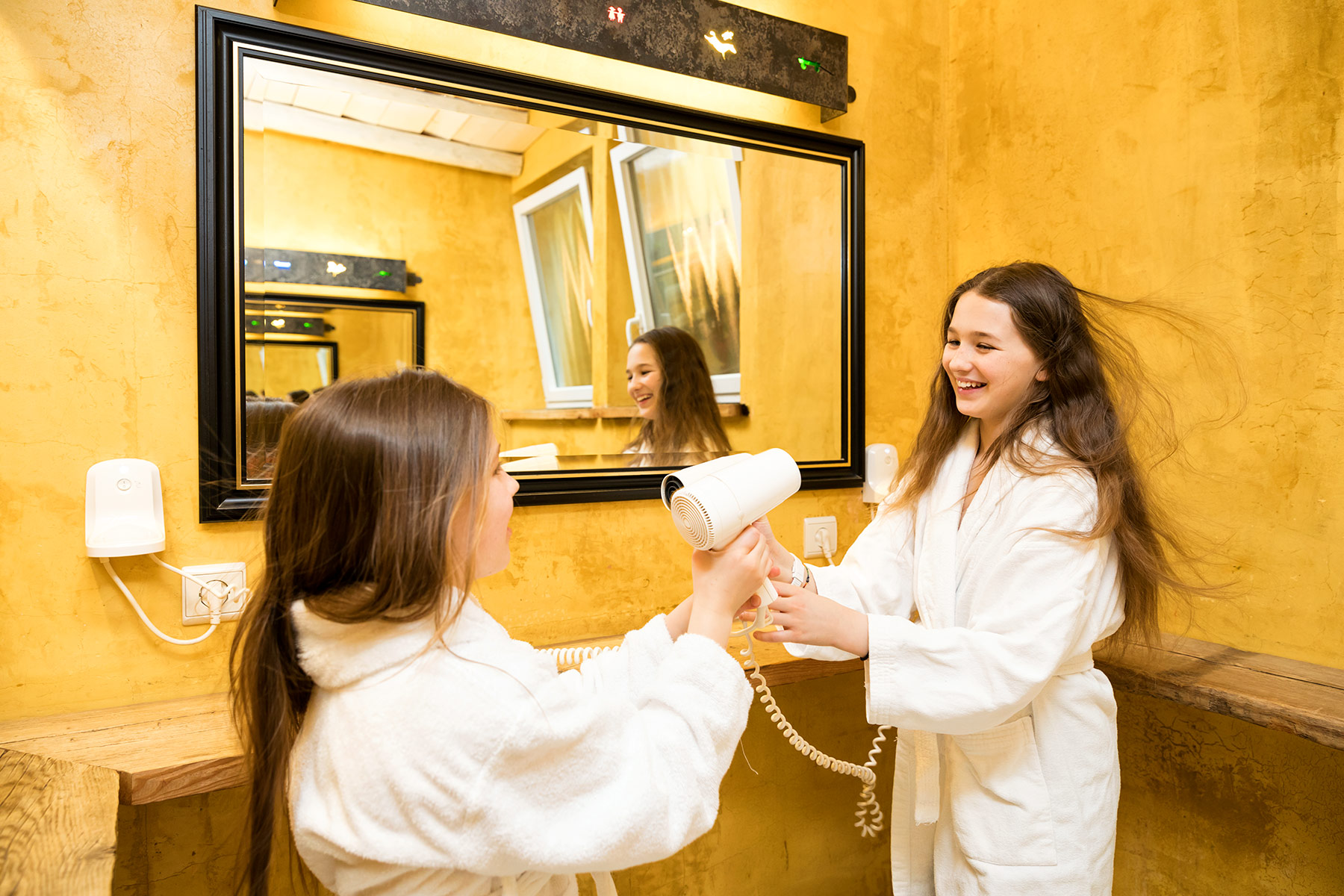 First, look for campgrounds that are open all year round . Probably the owners of such campsites are well aware of the importance of maintaining heat in the sanitary facilities at any time of the year, especially in autumn and winter . Campsites in the mountains often have heated bathrooms all year round, because at an altitude of 1,500 m above sea level it is also cold in summer. Such rooms have tight doors and windows, vestibules, and you will be happy to take your outer clothes off right after crossing the threshold. You will find selected campsites in the mountains with beautiful and warm bathrooms in our overview: The best campsites in the Dolomites - holidays in the mountains .
Sanitary facilities for children and babies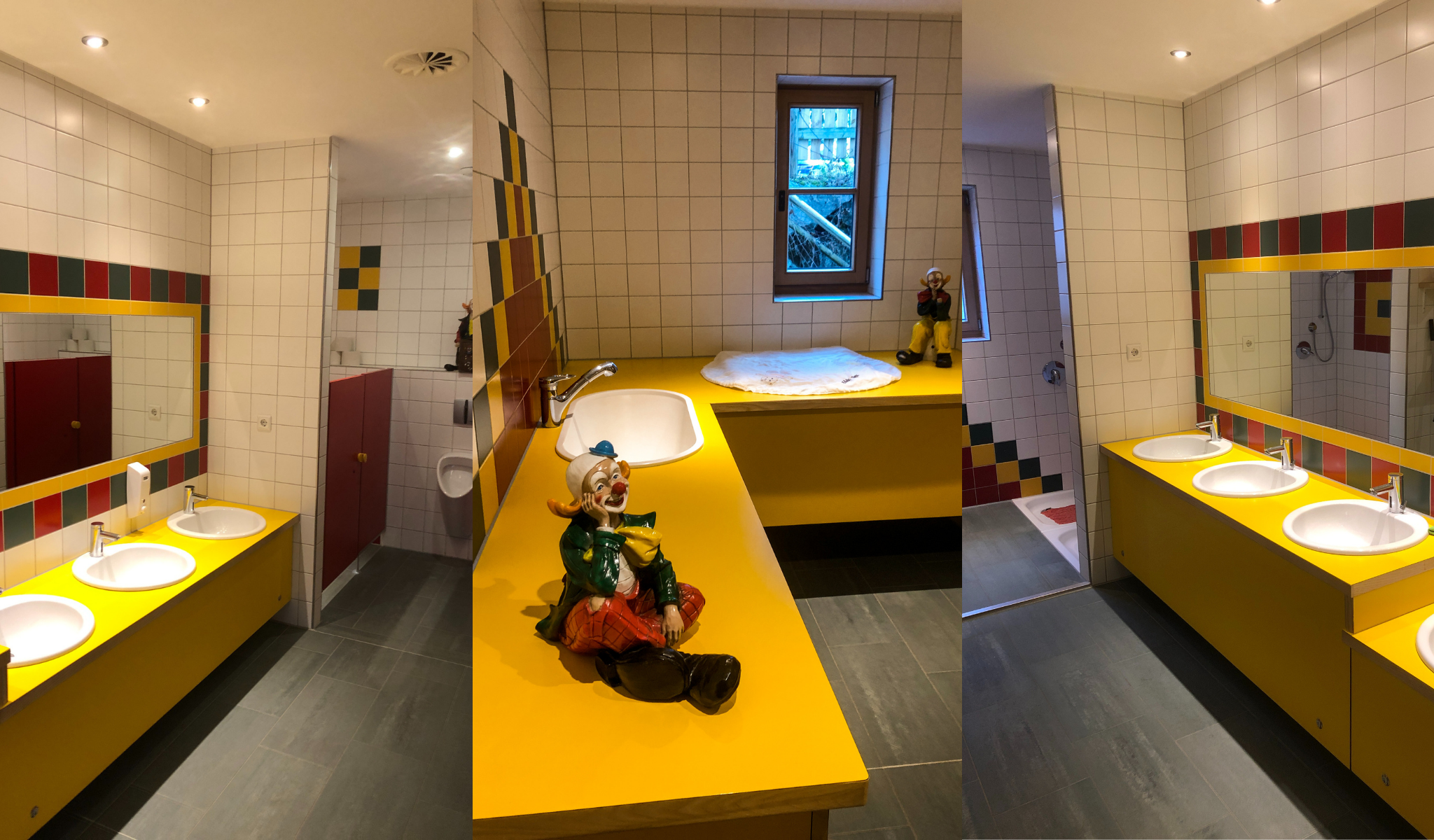 Second, look for campgrounds that pride themselves on having separate baby bathing areas, as well as those that have special baby rooms. Children's sanitary facilities have separate small toilets and lower showers with removable handset. In such rooms there are often family showers - for several people.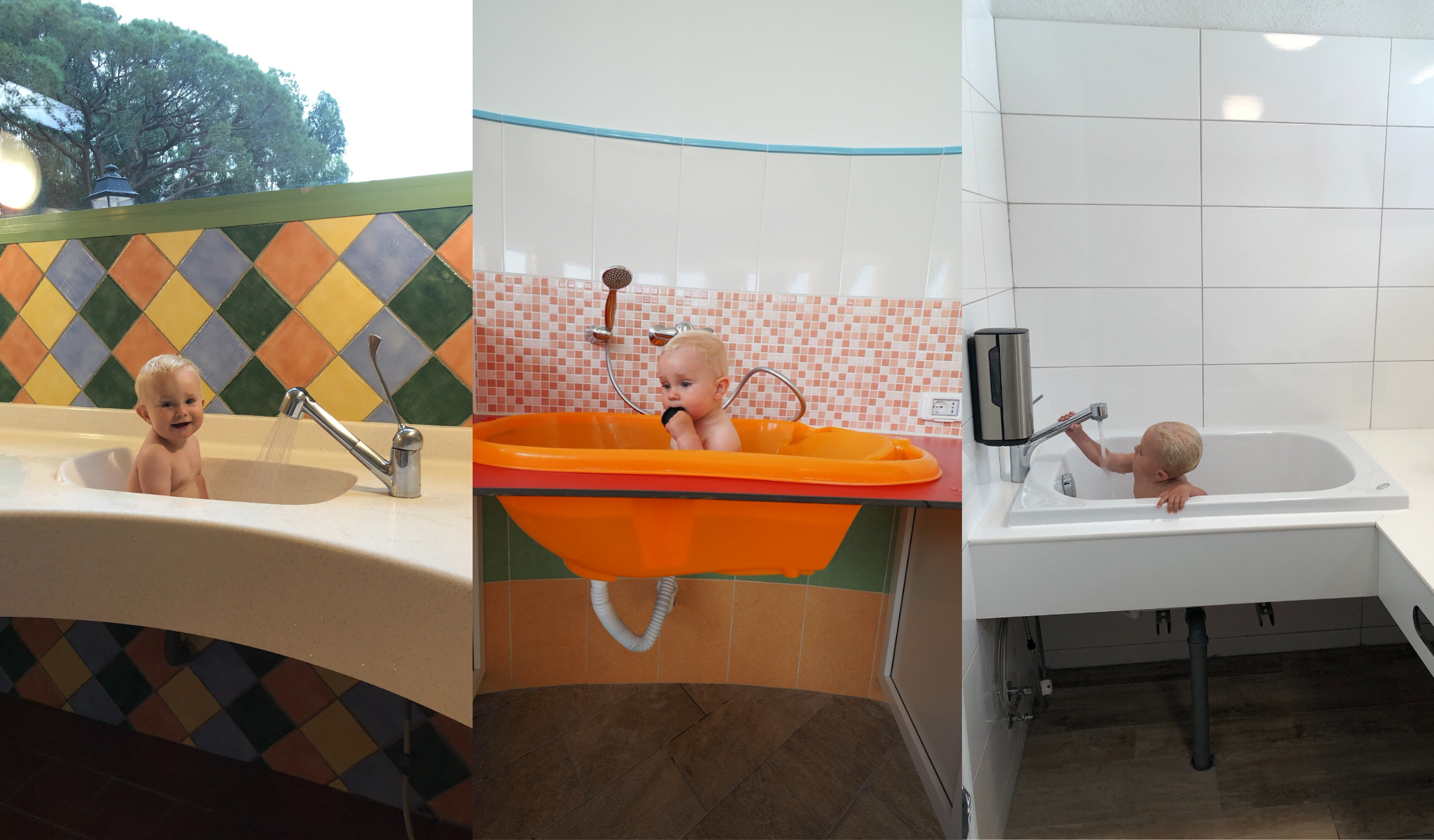 The babyroom is a room for bathing and changing babies with a bathtub in the countertop. Such rooms are usually locked, so there will be no draft here, there are changing devices and dryers.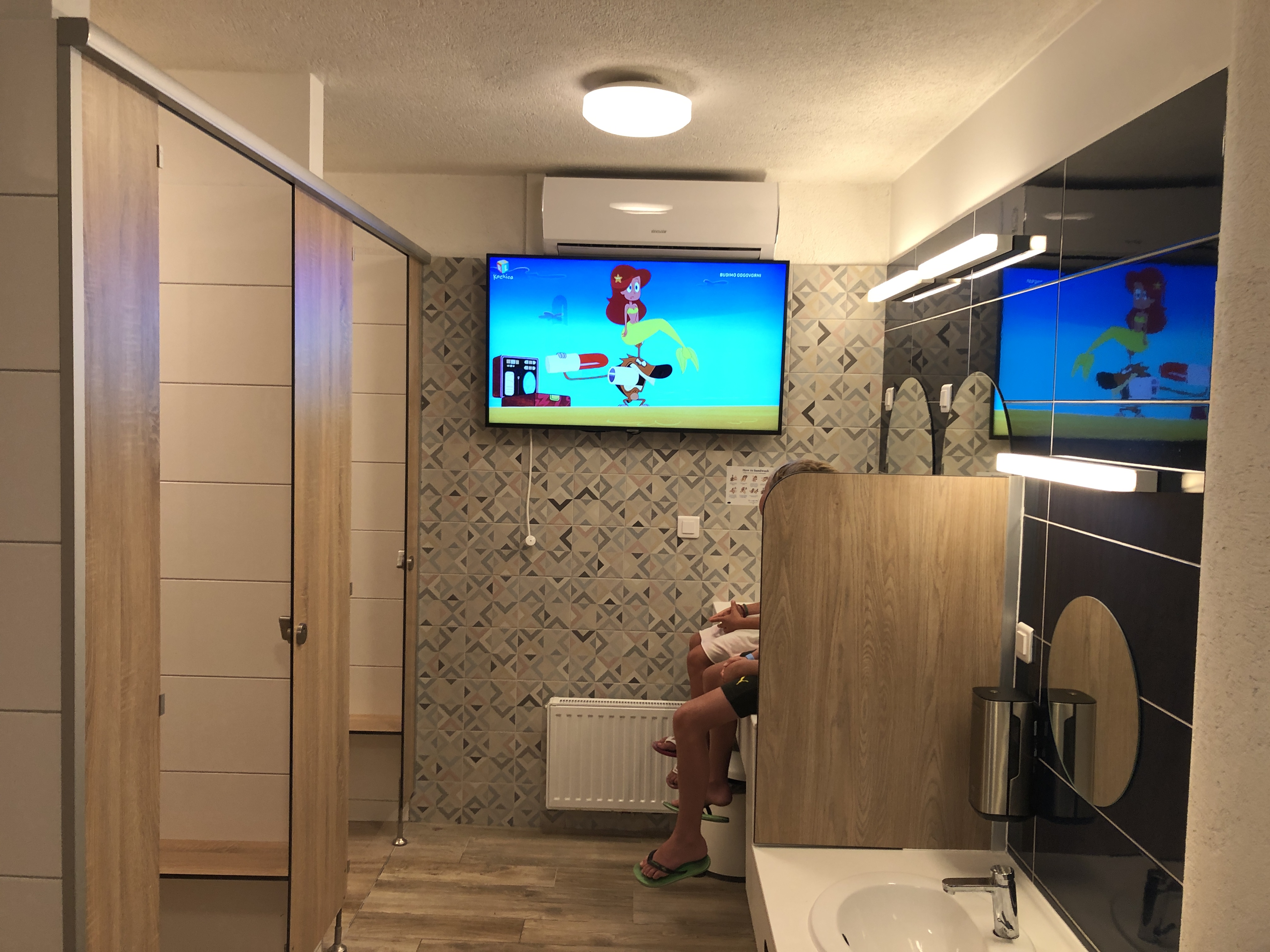 This photo is from a 5 star campground in Zadar open until October 31 - Falkensteiner Premium Resort . The babyroom is in the same room as the children's bathrooms and there's even a TV inside!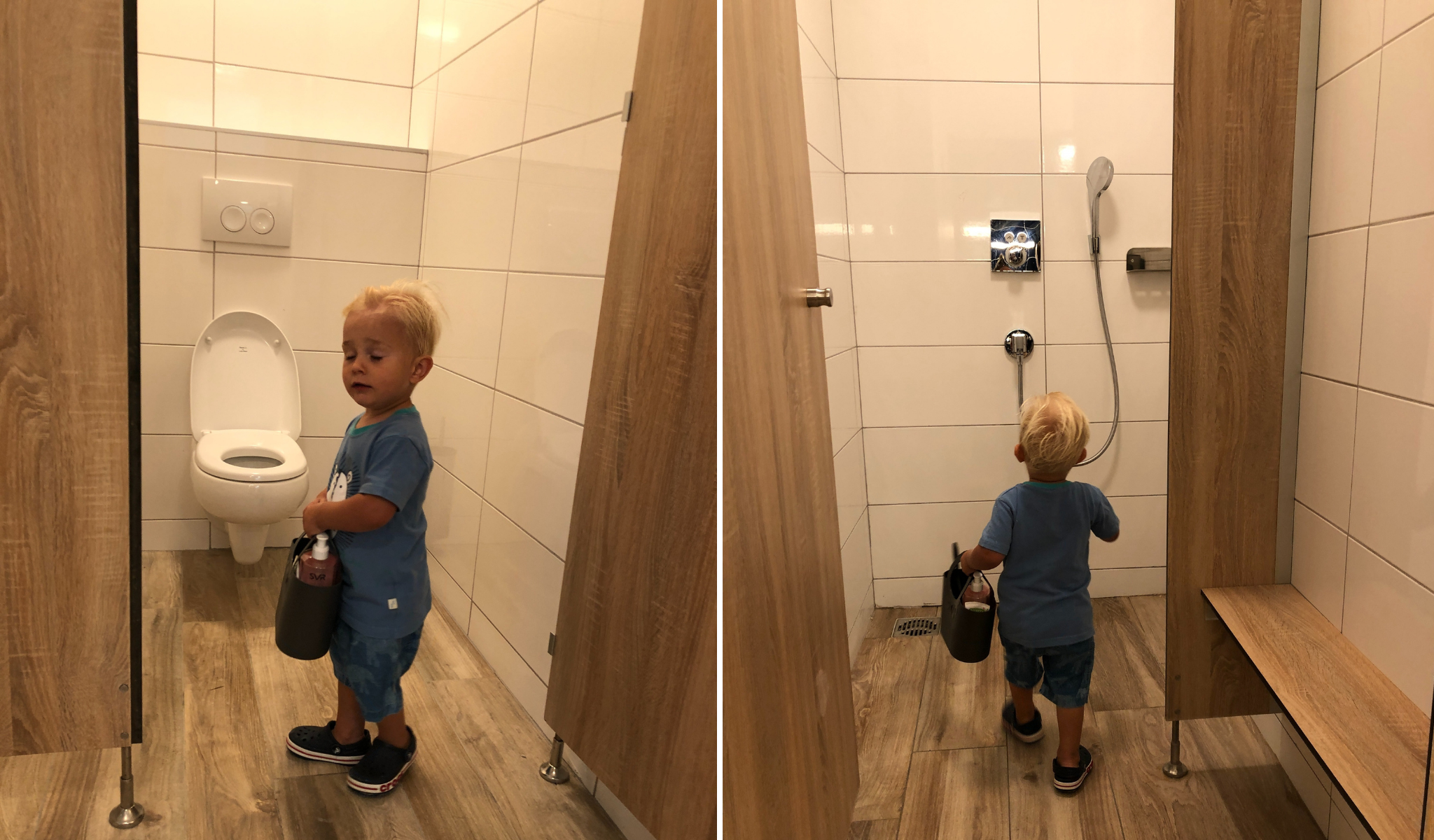 The owner of the campground, who made sure that his campsite had toilets for children, knows how important details and high quality are, so you can expect other areas of the campsite to be of an equally high standard.
Better than at home
Another issue is the cleanliness of the sanitary facilities. If you choose campsites with 3 or more stars, it may happen that the bathrooms will be cleaner than your home! Yes, it's true ... the person responsible for cleaning the toilets on campsites washes these rooms several times a day, and on larger campsites such a person cleans almost every person in the toilet. Currently, there are completely different habits than those we remembered on campsites from the 90s. During the epidemic period, these standards were maintained or even strengthened. Some campsites even have special ISO cleaning procedures in place.
Private bathrooms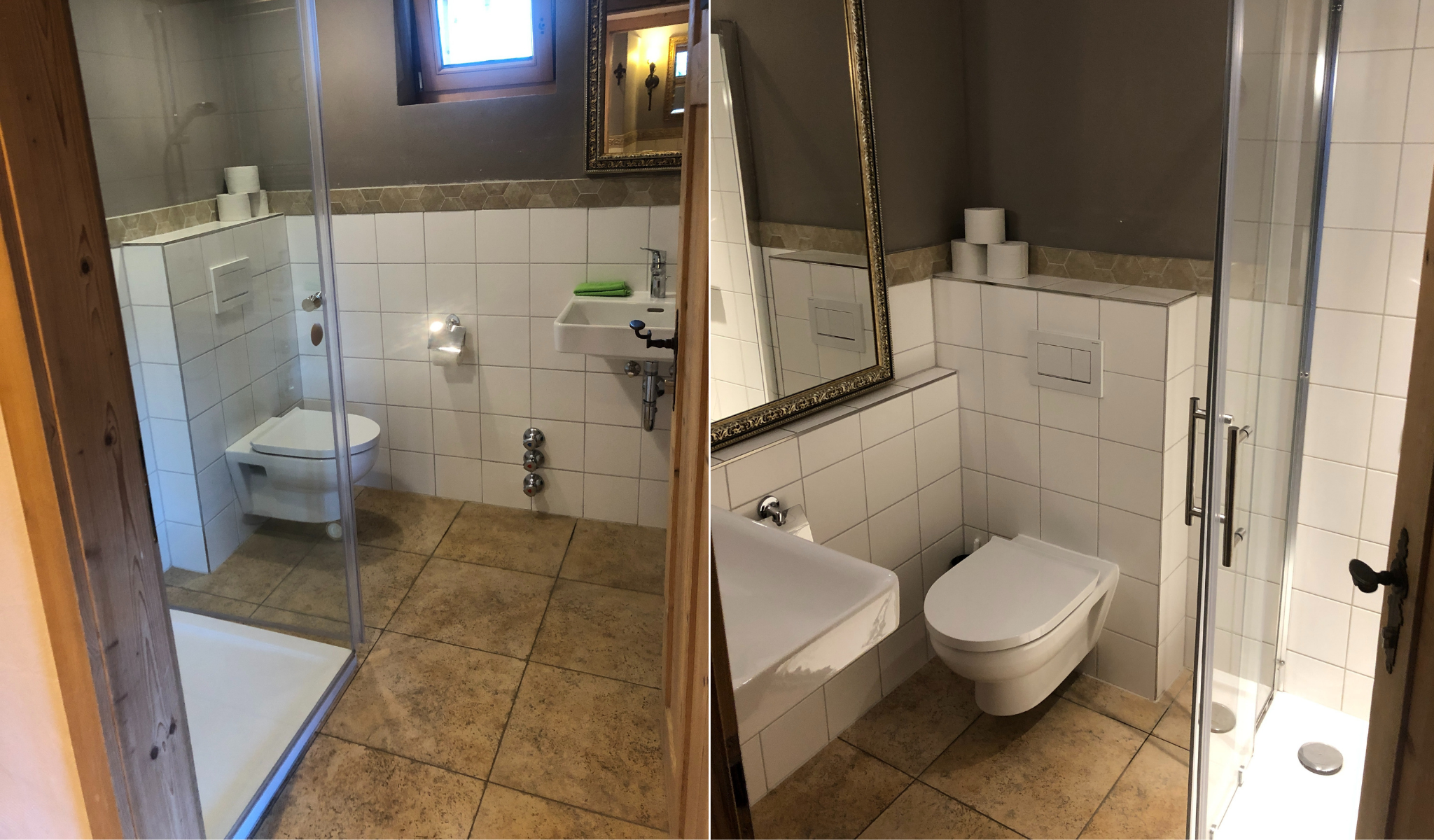 On many campsites you can rent private bathrooms, to which only you have access throughout your stay. In addition to hygiene reasons, it is an extremely practical solution, because in such a bathroom you can leave your cosmetics, towels or even bathrobes for the entire trip. When using such bathrooms, we also kept a foldable baby bath tub or a toilet overlay for toddlers. However, you have to take into account that these bathrooms are limited in number and usually cannot be booked in advance, like plots of land. However, there are campsites that have a dedicated private bathroom with shower, toilet and washbasin for each plot. Such a solution is offered by, among others campsites in Sicily at Punta Bracetto: Baia dei Corali , Camping Luminoso . Selected campsites also have private bathrooms:
Baths, saunas and swimming pools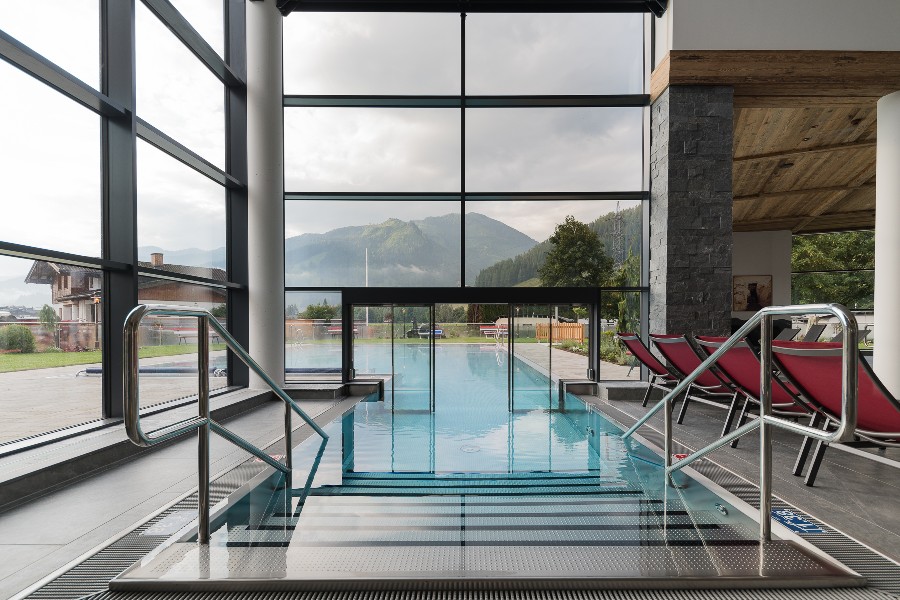 It happens that on year-round camping in Austria or Italy, bathrooms are even special bathing rooms - baths in which it is so warm that you can easily walk in them in your underwear, but in addition to bathrooms and toilets, you will rest here, for example, on sun loungers.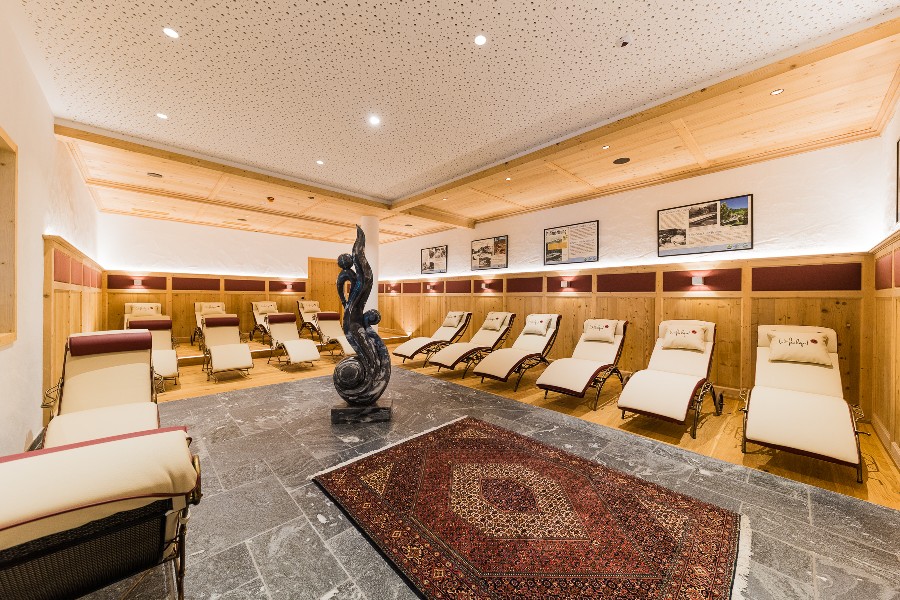 If you are looking for really warm sanitary rooms, look for such campsites with large baths, and if that is not enough for you, choose campsites with saunas and swimming pool complexes. After leaving such warm rooms, you will not be cold even in frost outside. In winter, camping is very common to see people walking ONLY in bathrobes - even children!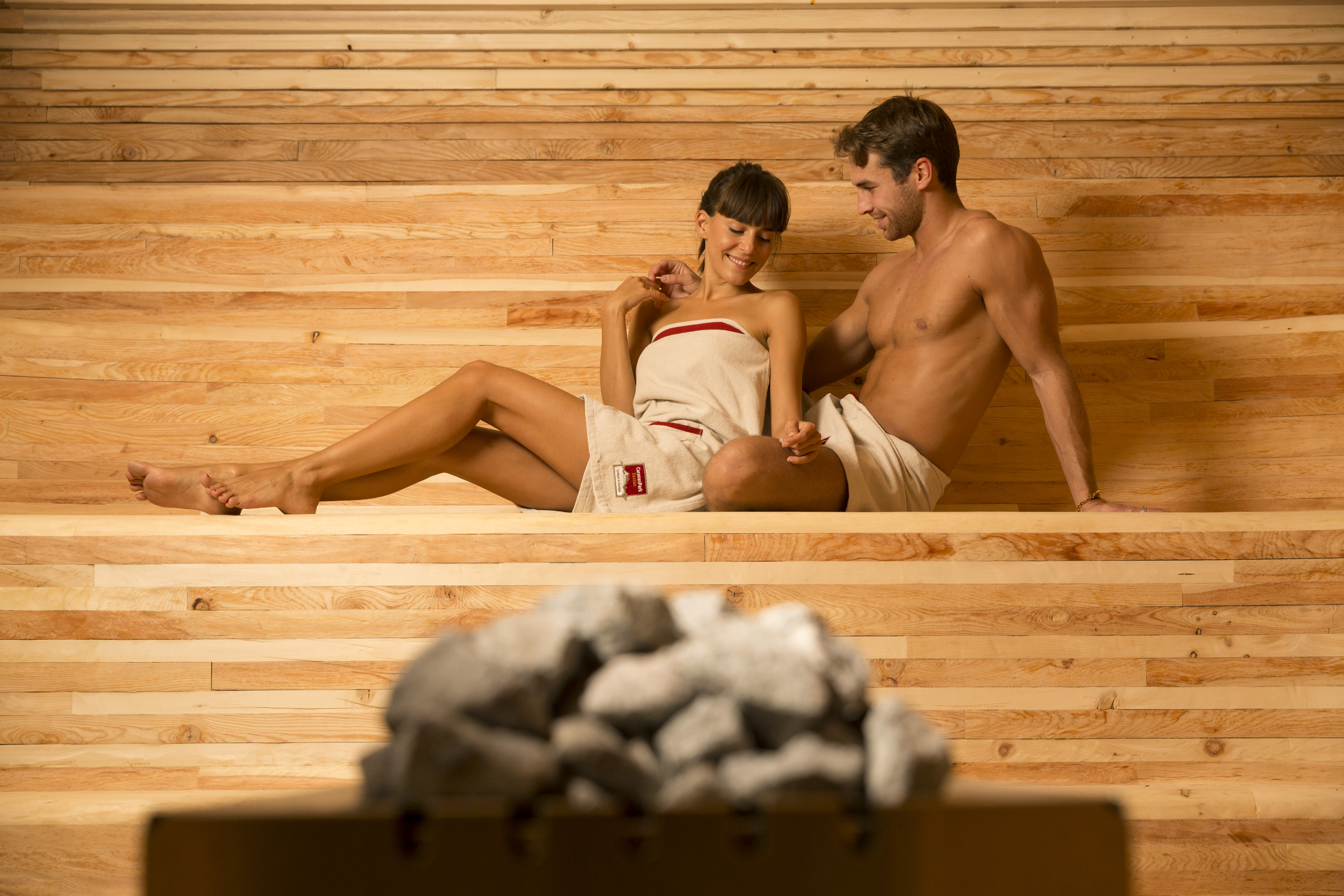 Outdoor swimming pools are also available on year-round campsites. See selected campsites with SPA and wellness with swimming pools :
Photos of bathrooms online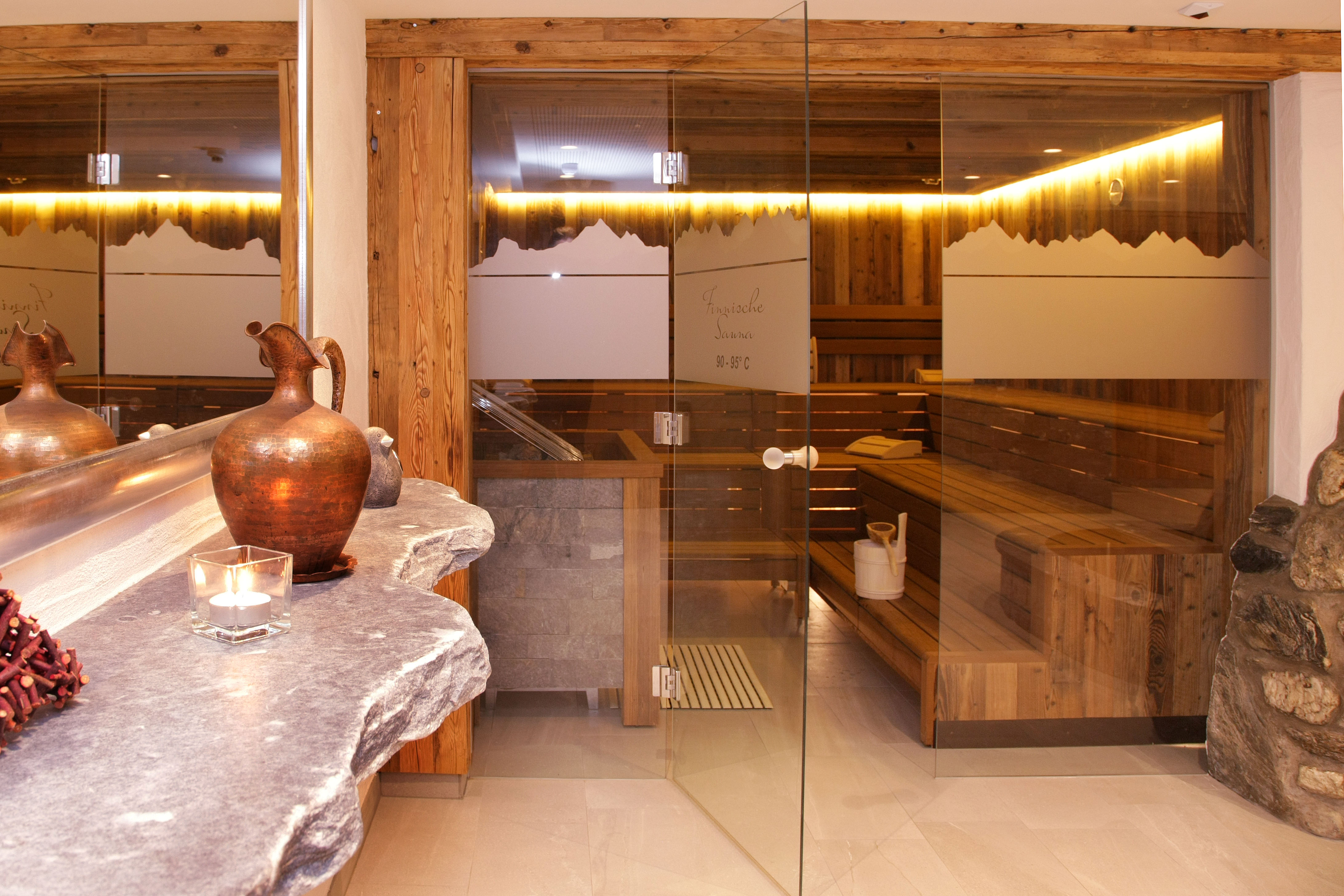 Finally, it is worth checking before arrival if the owner has placed photos of bathrooms and toilets on his website. If there are none, then there is probably nothing to brag about. We avoid such places with a wide berth;)
Camper-service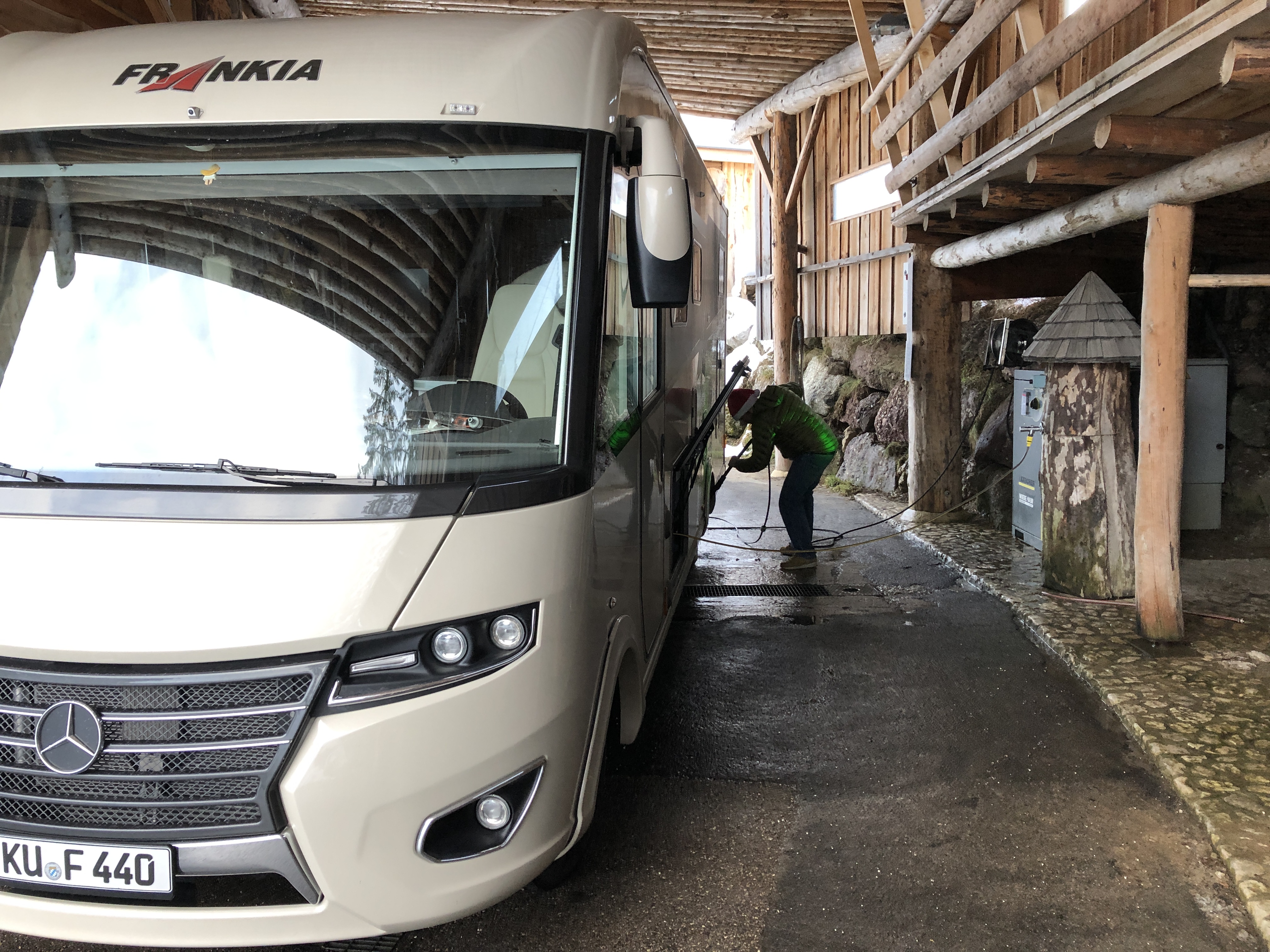 If I still have not convinced you to use the bathrooms at the campsite, you can always bathe only in the motorhome. Choose a camping where it is possible to refuel with fresh water directly on the plot and drain gray water also in the place where the camper is standing, so that you do not have to go to the camper-service every day. See the list of campsites in Poland that have this option: Campsites? Preferably with water and sewage! . Note that in winter these water points are not available on all lots. These must be heated pitches pitches.
What to take camping in winter?
Speaking of bathrooms, let me start with bath accessories:
Slip-on winter shoes - you can go to the bathroom or toilet for a moment faster than in standard lace-up shoes,
A warm bathrobe,
A bathing suit and a large bath towel, which may be useful in saunas,
Flashlight / headlamp - it gets dark faster in winter and the alleys are not always well lit.
And a few other necessities during a winter camping trip:
Additional gas cylinders,
Chains,
Insulating mats for glass,
Shoe heaters.
Do you want to go camping in winter?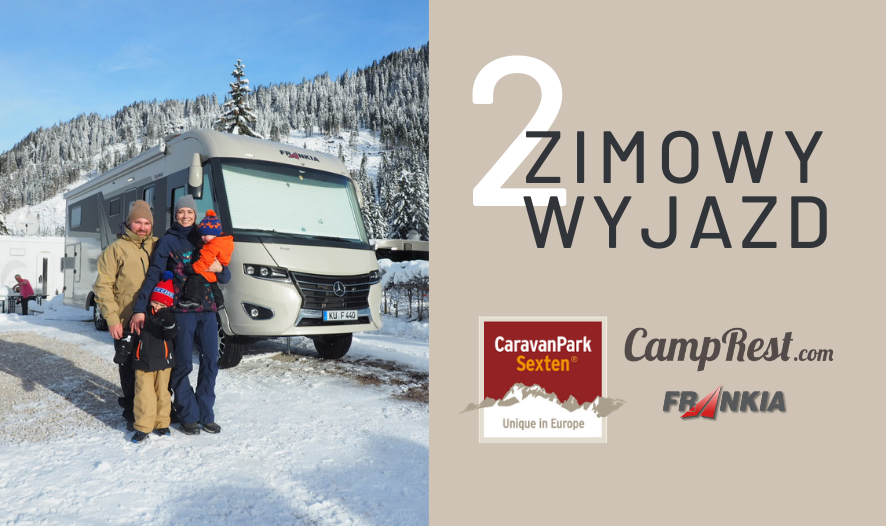 If you want to go camping in winter, but you are afraid that you will be bored there, write to us at [email protected] or [email protected] because at the turn of January and February next year we are organizing the second winter camping trip to the Dolomites . We already have a whole week plan to stay at Caravan Park Sexten, which we have already presented in the article: " II. Winter motorhome trip to Caravan Park Sexten ". The trip is also suitable for families with children and will appeal to both skiers and snowboarders as well as those who prefer to do something else. The schedule of the day is so packed that there will be no time for boredom, and at the same time there will be a lot of time for rest and integration.
---
Do you want to know even more?



• Join our Facebook group -

Cool Camping


• Follow our profile on Facebook -

CampRestowy Facebook


• See how we travel as a family on Instagram. During our trips, it is here that we put the most reports from everyday life on the campground or in the camper -

CampRestowy Instagram


• See our YouTube videos, subscribe to our channel and give a thumbs up to the videos you like -

CampRestowy Youtube
An engineer with a passion for traveling. My dream is to drive a motorhome through the USA from coast to coast. I would also like to do a few longer bike trips around Europe, but I have to convince my husband to do that;)
Enjoyed reading this article? Share it!