Death Valley and Lake Havasu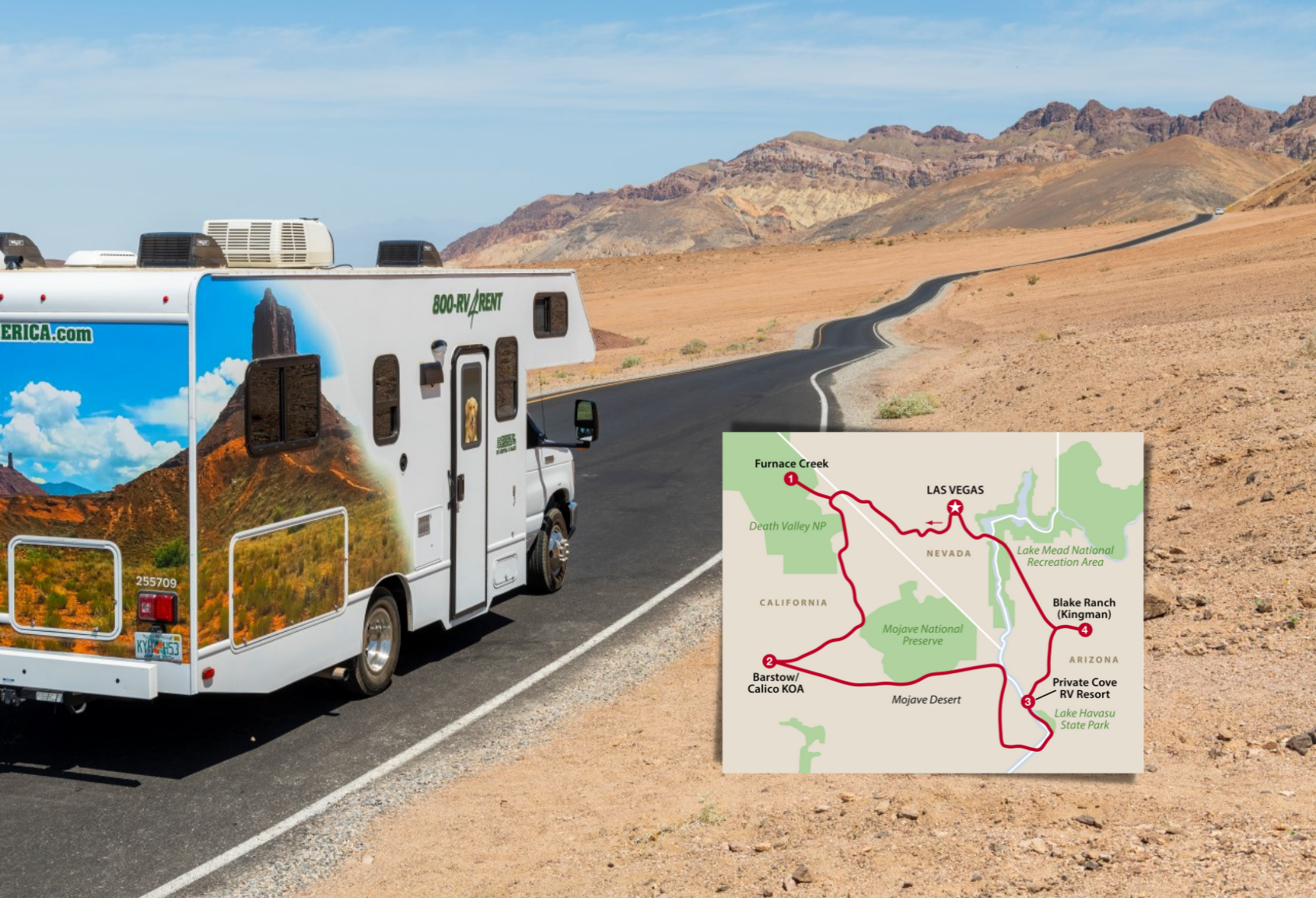 We have added this little loop to the main route. It starts and ends in Las Vegas, but can also be selected from a Los Angeles RV rental or any other Cruise America West Coast rental. Death Valley is the lowest area in North America and one of the national parks worth seeing.
Travel Details:
Departure: Las Vegas
Duration: 5 days
Route length: 745 miles
Motorhome travel route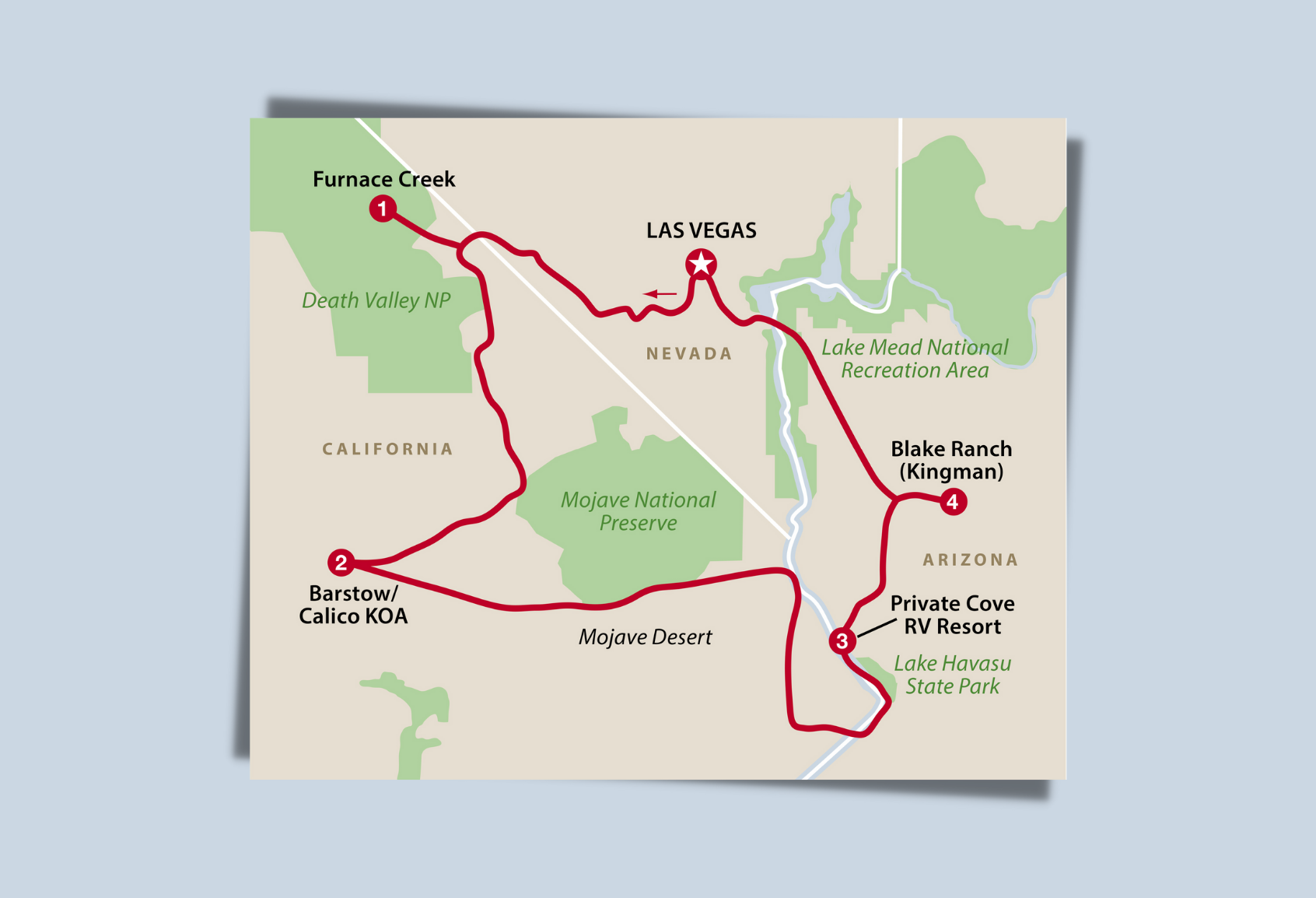 The routes we publish on the portal are created in cooperation with Cruise America - the largest motorhome rental company in the USA and Canada. In the fall of 2020, we became the only and official representative of Cruise America in Poland. Plan your vacation with us in a motorhome in the USA. The costs of such a ready route are given at the end of the article.
Day 1 - Death Valley in a RV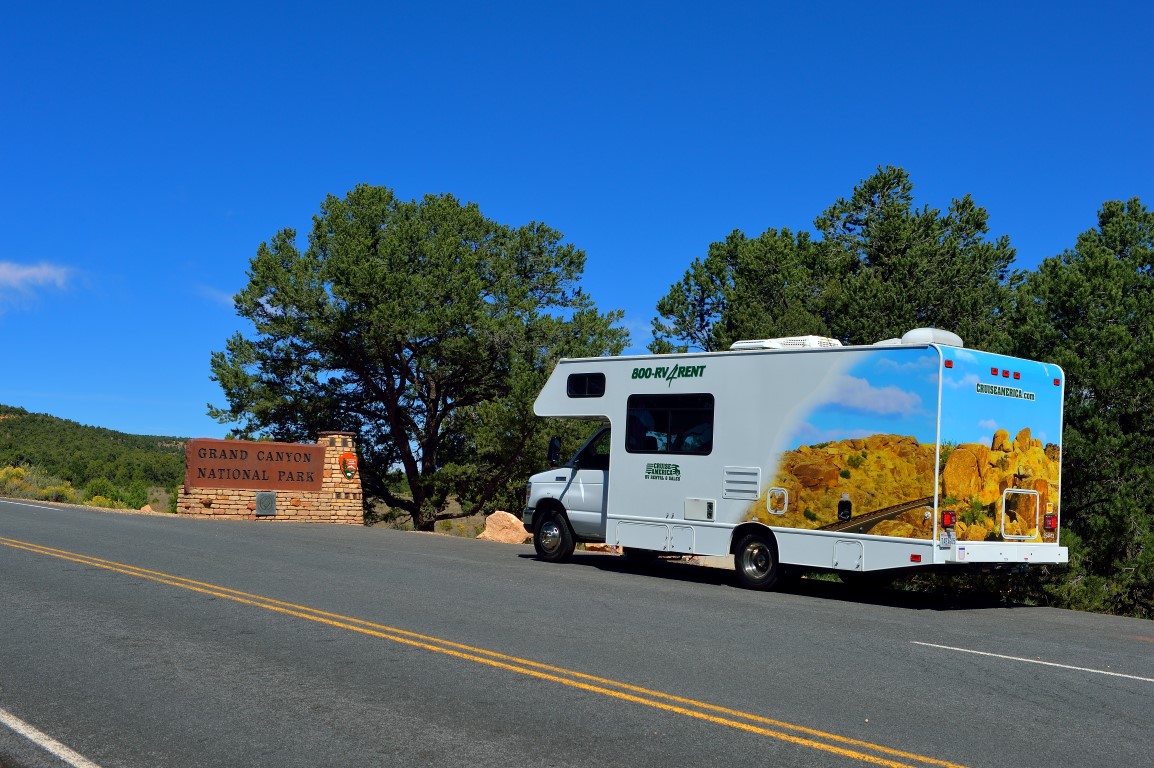 To see Death Valley, we will depart from Furnace Creek. Stay at a campground in a national park or the nearby Furnace Creek Inn - here you can also eat, shop, or go to the lowest golf course in America. Take the opportunity to head towards Stovepipe Wells as you will be going in the opposite direction tomorrow.
From May to September, excursions to the Death Valley and other desert areas are not recommended. You travel at your own risk and you are then not covered by insurance. At certain times of the year, this area presents a danger to the driver and passengers.
Day 2 - Barstow
Those who left Los Angeles will have to step back a bit. Today we're going towards Barstow. Looking at the map you might think it's a long way, but Providence Mountains and Devil's Playground are situated between Death Valley and Lake Havasu. There are simply no shortcuts.
Day 3 - Mojave Desert and Lake Havasu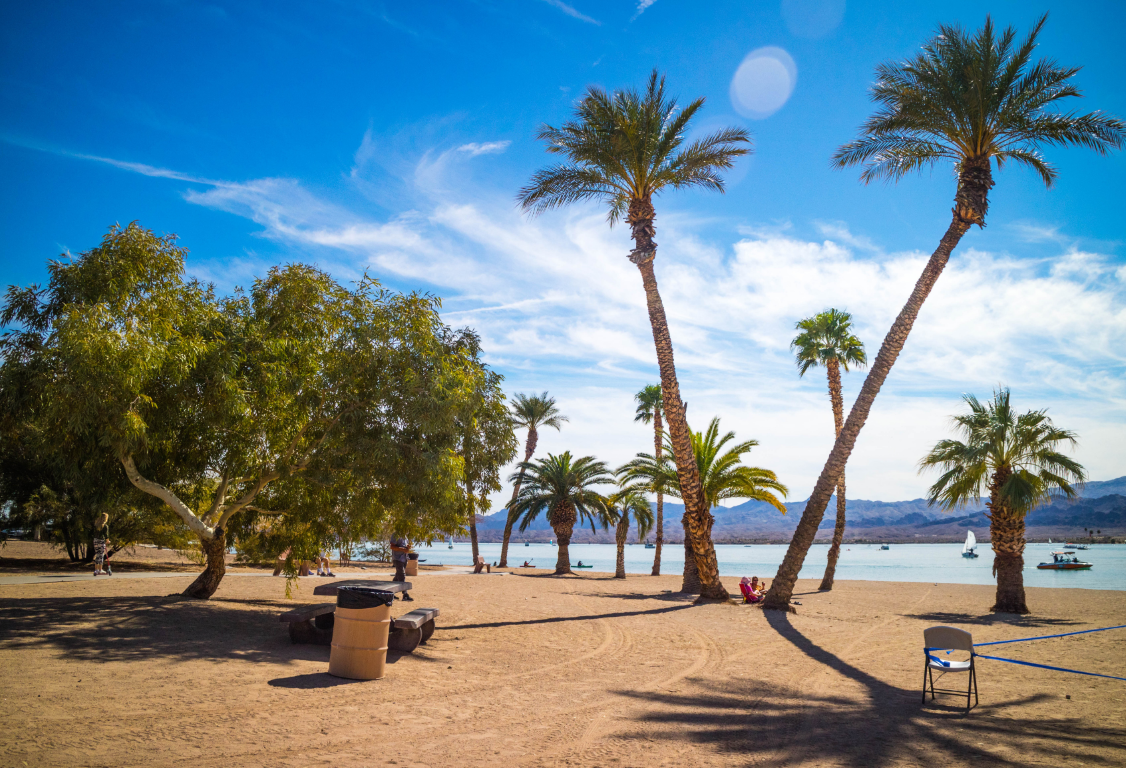 The interstate travels quickly through the Mojave Desert, so you will soon reach Lake Havatsu State Park, where you will be able to admire the picturesque shores of the lake. The highlight of this popular holiday area is the old London Bridge, which was moved from the River Thames and re-arranged in the late 1960s. Each stone was numbered to make it easier to recreate the bridge in a new place.
Day 4 - Blake Ranch - You can take Route 66
We head back to Interstate 40 north of Lake Havasu and head to Blake Ranch east of Kingman. As we only have a 90-minute drive, you can be tempted to take Route 66 (towards Kingman Airport) to cross one of the last parts of this legendary road left to this day and reach Seligman or even Ash Fork, and then back onto Interstate 40 and continue on to Blake Ranch (exit 66).
Day 5 - Grand Canion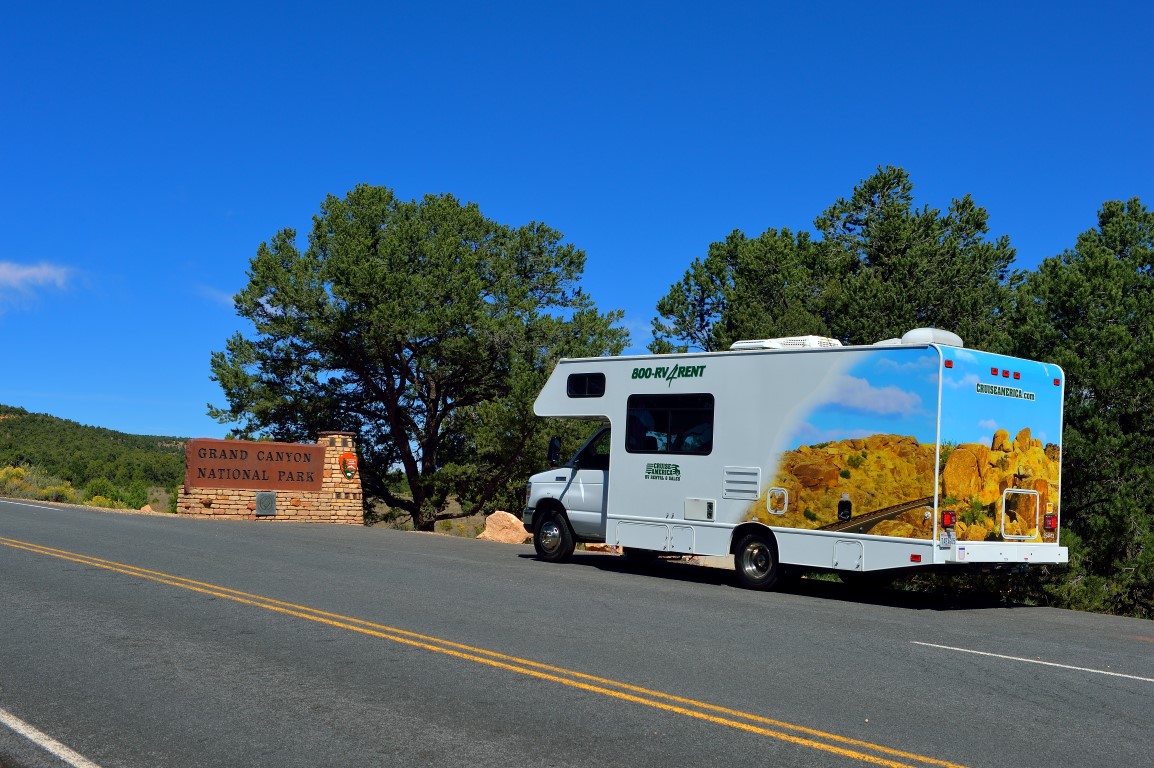 Since Blake Ranch is close to the Grand Canyon, some of you are probably going there. Those returning to Las Vegas will have time to explore Chloride on the way back, and from there the road leads straight to where you will return your rental camper. Chloride is an abandoned town next to a former silver mine. A handful of residents remained there, thanks to whom the town was not forgotten. 120 miles to Las Vegas.
US motorhome costs - C25 motorhome Cruise America
In the following calculation of the motorhome rental in Cruise America, I adopted a C25 motorhome. This is the type of motorhome most often chosen by Poles renting motorhomes in Cruise America and Cruise Canada. C25 is a 5-person camper, in fact 4 + 1. You can read more about the types of motorhomes in the article: Types and equipment of motorhomes for rent in the USA and Canada.
How much does it cost to rent a 5 seater motorhome with Cruise America?
Motorhome rental prices are flexible and depend on demand and change weekly. This is the calculation as of May 23, 2022.
Motorhome rental in the USA in July in Las Vegas: approx. PLN 6,500
Motorhome rental in the USA in October in Las Vegas: approx. PLN 4,400
To rent a motorhome, you need to add:
Cost of miles (800 miles): approximately $ 400
Camper deposit : $ 500
Costs of stay at campsites . You can assume that an overnight stay at the campground will cost anywhere from $ 20 to $ 150 per night.
Fuel costs. With an average fuel price currently in California of $ 6.0 / gallon, the cost of driving 1,000 miles is approximately $ 450-747. Cruise America motorhomes can be driven anywhere from 6 miles to 10 miles on 1 gallon of fuel. Hence the forks.
The following can be added to renting a camper at Cruise America:
Additional motorhome insurance: approx. $ 14.85 per day
Early Bird Departure: Approx. $ 480
Personal kit (i.e. pillows, sheets, sleeping bag, towels): approx. $ 75 per person
Vehicle Provisioning Kit (i.e. kitchen equipment): about $ 125
* Personal kit and Vehicle Provisioning Kit are an additional option here, as tourists often prefer to buy all the necessary things themselves.
** Prices in PLN were calculated based on today's USD / PLN exchange rate and are subject to change. The given prices do not constitute an offer within the meaning of Article 66 (1) of the Civil Code.
Ready motorhome routes around the USA and Canada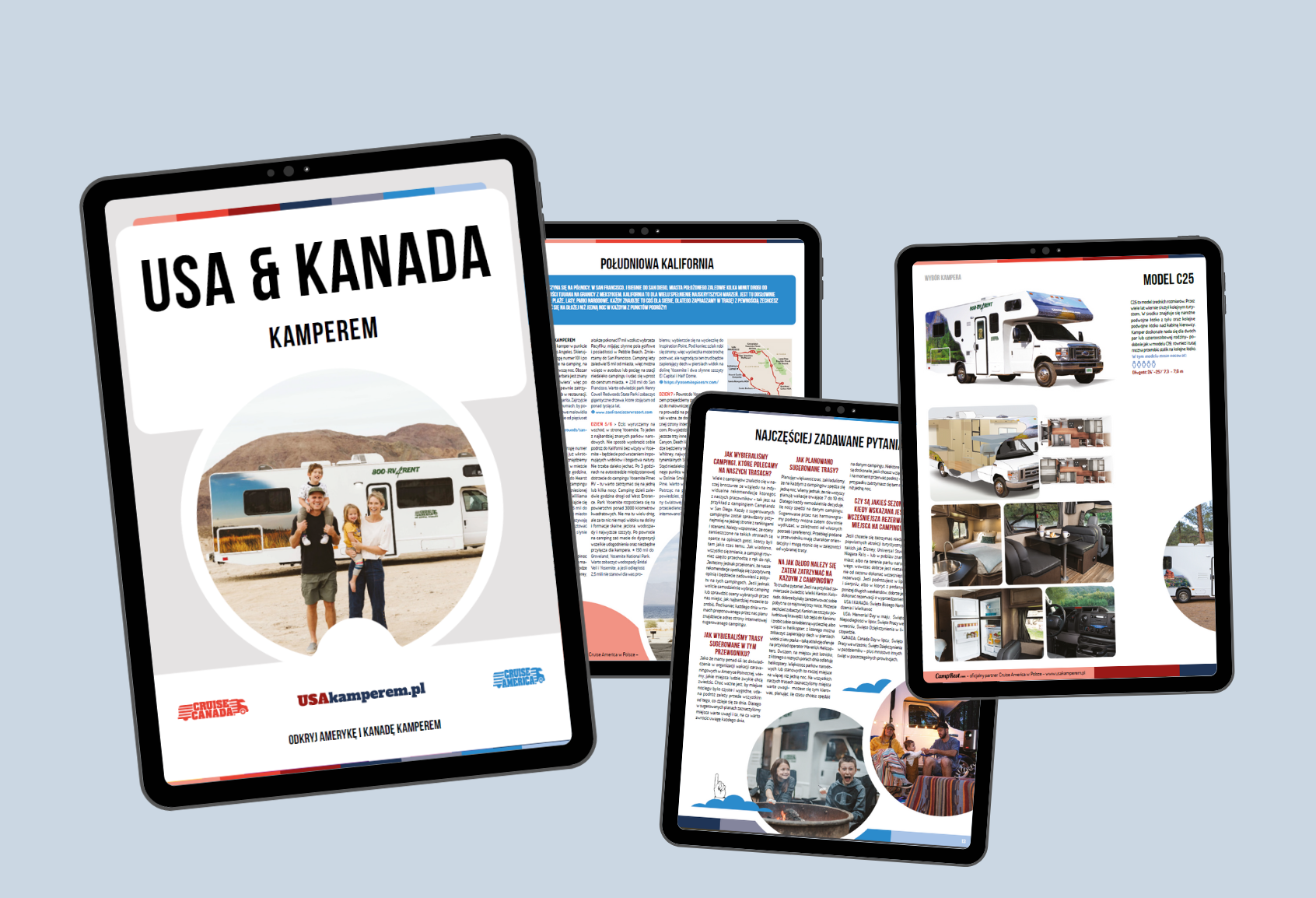 If you want us to evaluate your individual motorhome trip around the USA or Canada - write to us at: [email protected] . Remember that we guarantee lower prices than when booking directly with Cruise America. Soon you will be able to check the prices in person on our website: www.usakamperem.pl. And now you can download the tourbook from our e-book store and start planning your vacation: 16 US and Canada motorhome tours . You will find a lot more information in the tourbook. Renting a camper van in the USA is safe and simple!
We have created the CampRest portal for people who value freedom and travel on their own.
Enjoyed reading this article? Share it!