Lake Garda - holidays with children - the best campsites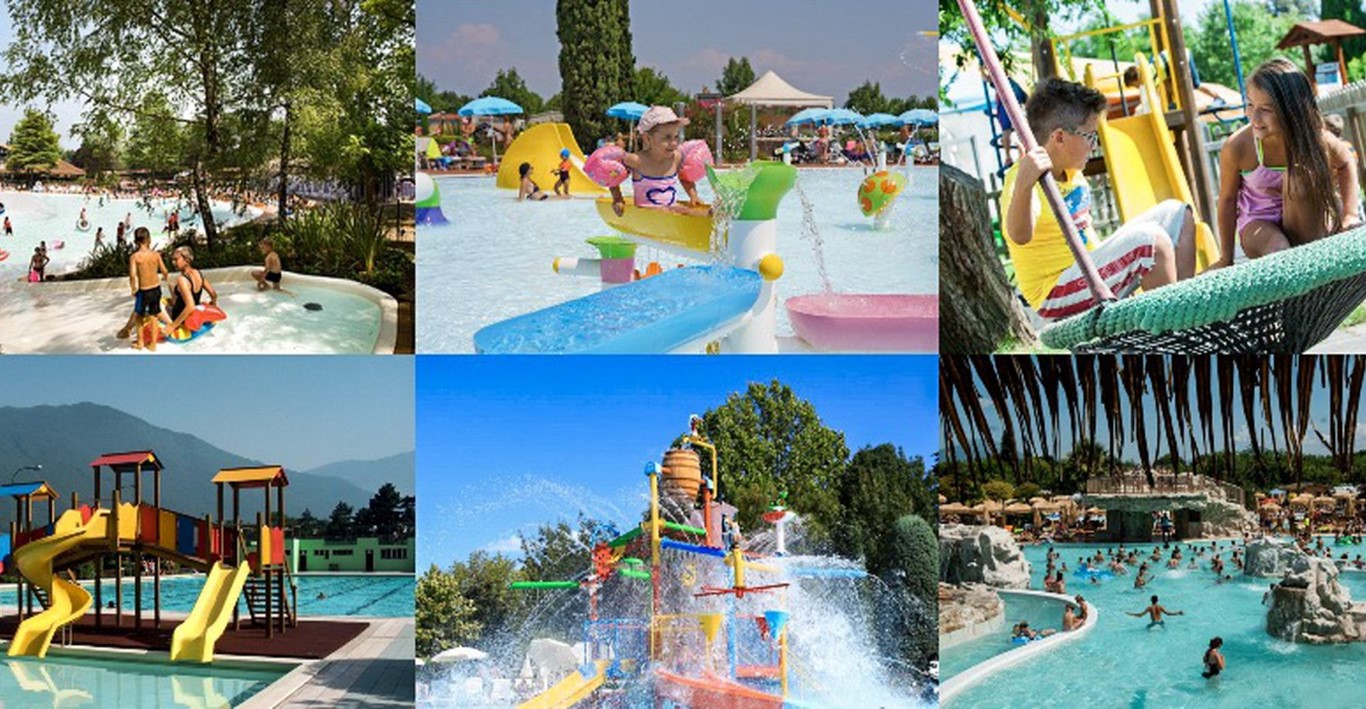 Traveling with children? Sure, it's not difficult! Holidays with children at the campground ? It's easy too! And it can be even easier and more fun if you go to a campsite with lots of activities for children and teenagers, facilities for babies and activities for parents - lots of fun for the whole family.
Lake Garda is a place that has so much to offer in terms of sports, sightseeing or simply relaxing that you will not be bored during your vacation here. For several years now, the following entry has been very popular among our readers: 11 things you must do on the Garda . This time I have prepared an entry that will help you choose a camping by the Garda , so that the whole family will be happy. A camping holiday is something you absolutely must try if you haven't tried it yet!
This camping is a real Family Park. It is huge because it covers 30 hectares. There are 400 pitches alone, and you can also rent holiday homes on the campsite from many tour operators. You can even sleep in apartments or in a hotel at this campsite. No wonder that the entertainment facilities at this campground are also versatile and on a large scale.
The campsite has a swimming pool complex for younger and older children, there are cafes, ice cream parlors and a water playground by the pools. Right next to it there is a stage where animations for older and younger children are held throughout the day, and also for adults in the evenings.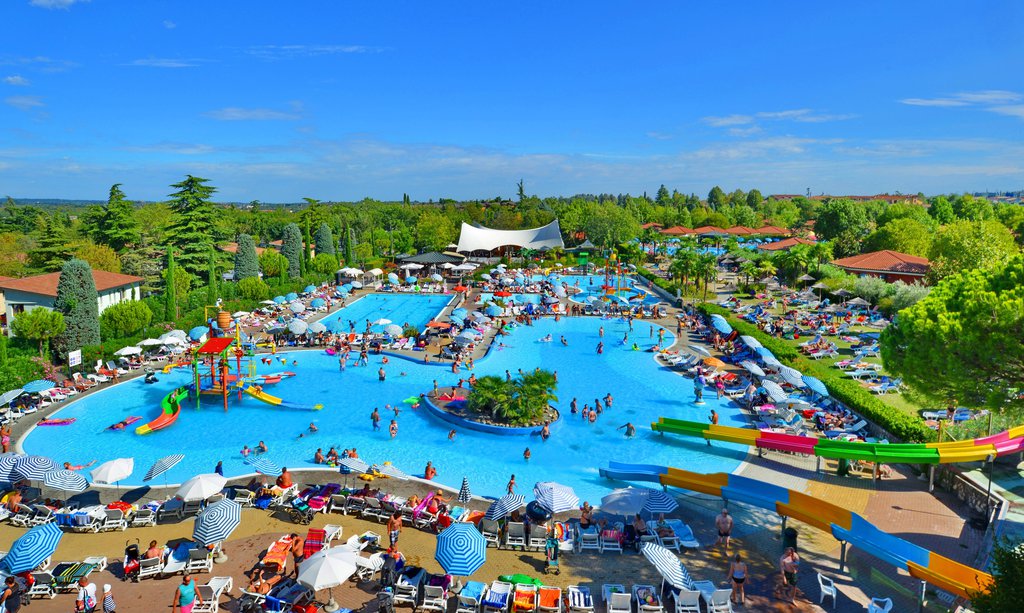 Tip: There is a train from the campground to the town of Peschiera del Garda ( € 2 per person), from which you can catch a boat and walk around the lake. Bicycles can be taken on board some ferries. If you don't have your own bikes, you can rent them at the campsite. I especially recommend taking the ferry to the farthest town and returning to the campsite by bike.
Belonging to the largest chain of camping Human Company - Altomincio is Family Park, which is one of the safer campsites for small children. In the streets between the holiday houses, cars are completely forbidden, so children can play everywhere, without fear that a car will suddenly come around the corner. There are guarded swimming pools on the campsite, and the water lagoons have a soft, non-slip bottom.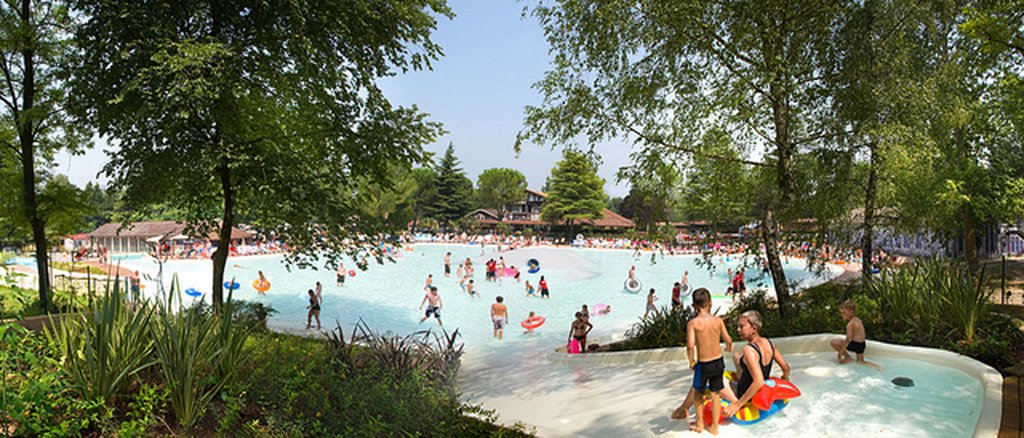 Other attractions include: a rope park hanging over the pools, all-day animations for children conducted by a trained HuTeam team, and in the evenings the same animators conduct a mini disco for children and shows for adults. On the campsite you can rent bikes, smaller bikes for children and bicycle seats for children.
Note: There are no lots at parc! There are only cabins and hotel rooms. The campsite is not directly on Lake Garda!
Tip: The campsite is located 5 km south of Lake Garda by the Mincio River and on the bike path that is part of EuroVelo 7. You can take it all the way to Mantova 30 km or a little closer to Sigurtà Park, which will surely appeal to older children
Located in the south of Lake Garda . This part of the lake has a gentle descent into the water. The campsite has pitches right next to the lake which guarantees beautiful views throughout your stay. The campsite has swimming pools, a water playground and its own guarded beach. The campsite has a water equipment rental, kitesurfing and windsurfing school. There is also a bike rental. The campsite has its own team that runs not only animations, but also football, beach volleyball, tennis, ping-pong and basketball tournaments. There is live music in the center of the campsite in the evenings.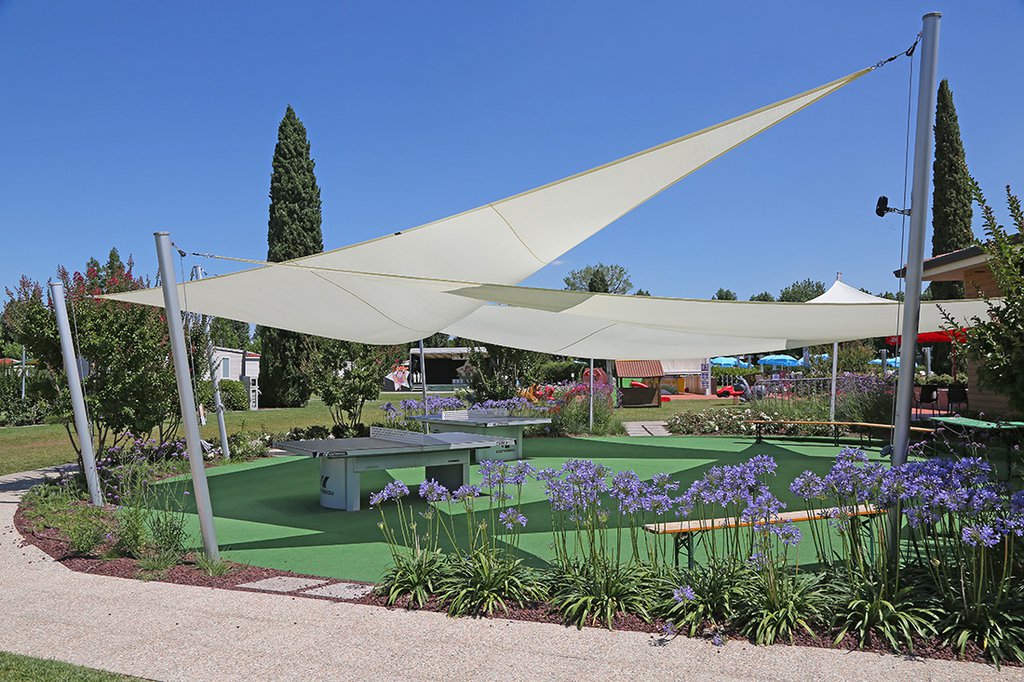 If you're looking for a dog-friendly campsite, you've just found it!
Tip: This campground is located close to the Sirmione peninsula and its picturesque town with a castle and a lookout tower. This is one of the punks that are especially worth seeing during holidays on the Garda. In addition, the campsite is well situated for visiting Verona, Milan, Brescia and Bergamo.
It is a very intimate camping . If you don't like crowds and large campsites, you'll definitely like it here. There are swimming pools with slides for children , but on the side away from lots and cabins. In the same place there is also a small playground and animations for children. Older children will be delighted to swim on a SUP or on a wakeboard behind a motorboat.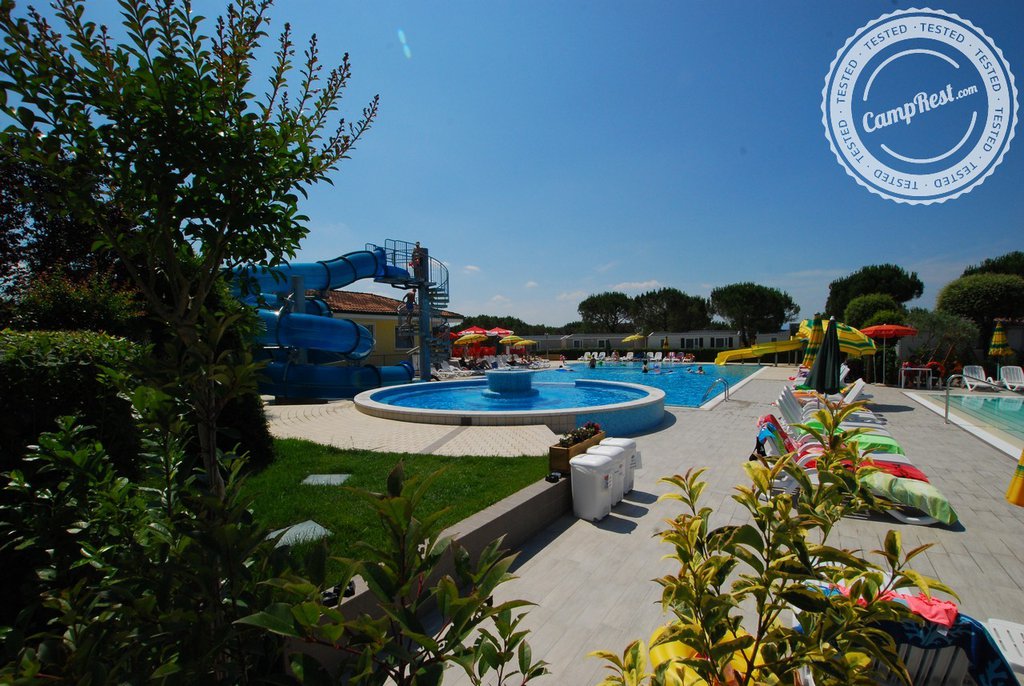 Tip: Right next to this campground is the largest amusement park in Italy, Gardalandia . The whistling of queues and the cheers of visitors can be heard at the campsite because Gardalandia is practically right behind the fence and you can reach it on your feet along a path by the lake.
This campground has a 5 star rating and such campsites always have a full range of activities for children of all ages. This campground boasts the largest swimming pool complex among all campsites on the Garda, because there are as many as 7 swimming pools! At least 2 of them are open in the low season. In addition, there are as many as 8 large slides, 6 slides for smaller children, 3 jacuzzi tubs and as many as two artificial rivers by the pools. As if that was not enough, the camping also has its own beach.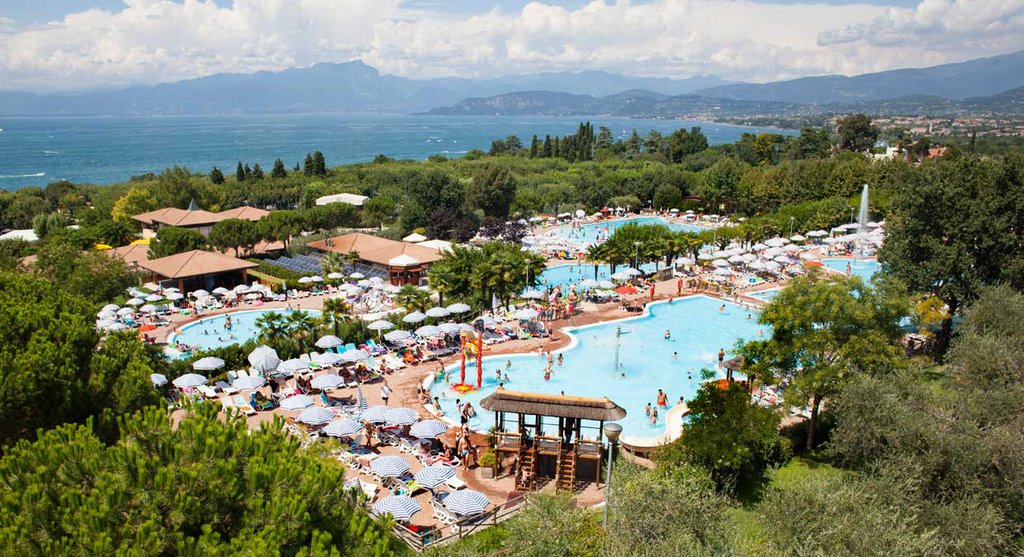 Tip: You will be delighted with a children's bathroom in a maritime style. The sinks in barrels, the tap water flows as if from a cannon on a pirate ship. Amazing effect!
Camping du Parc - large playground in the shade and right by the water
The campground has a great pool complex with lots of water slides. You can swim on a wakeboard. Rent bikes. The town of Lazise can be reached via a path along the water. The campsite has its own beach, considered by some to be the most beautiful in this area. Animations for children, and yoga for the elderly, a volleyball court or a canoe rental. There is a great playground for smaller children.

Tip: This campsite is only 300m from the village of Lazise. From here, too, there are ferries to all the major towns of Lake Garda. It's a great idea to spend the whole day at the Garda.
The campground has safe swimming pools and its own beach. As soon as you leave the campsite, you enter the wide promenade that leads to the town of Peschiera del Garda. There is a mini club for little ones.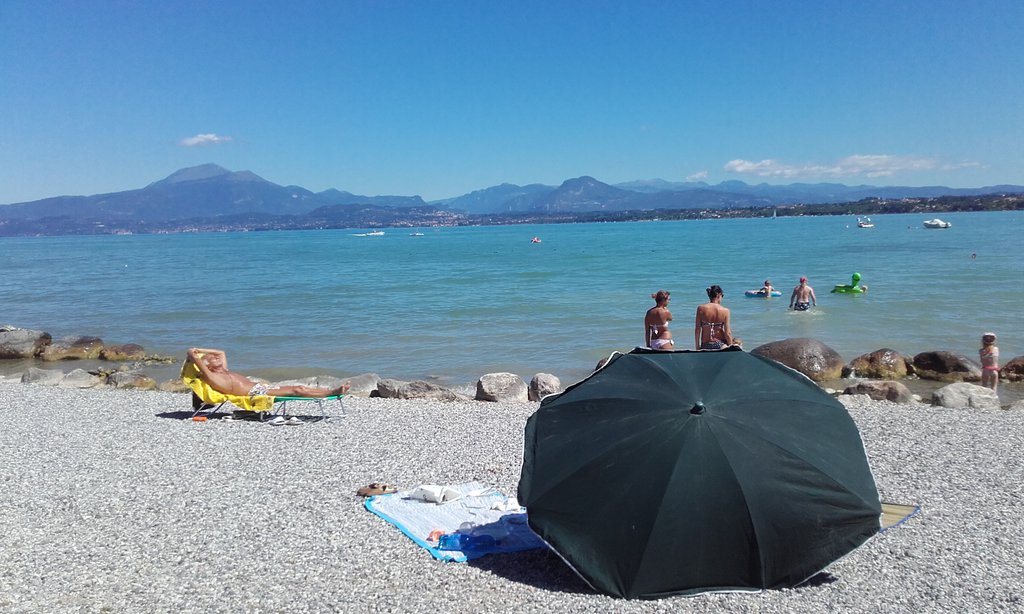 Tip: Interesting fact - you can organize a birthday party for your children here.
Another 5-star camping in our list! The campsite has an area of 7ha. Swimming pools, football, tennis and volleyball courts. There is also a bike rental, animations, mini club, splash dance, yoga, zumba, musicals, pool party, cabaret, quiz show. For toddlers there is a paddling pool and a babyroom, i.e. a room for bathing and changing babies. It is possible to launch your own boat .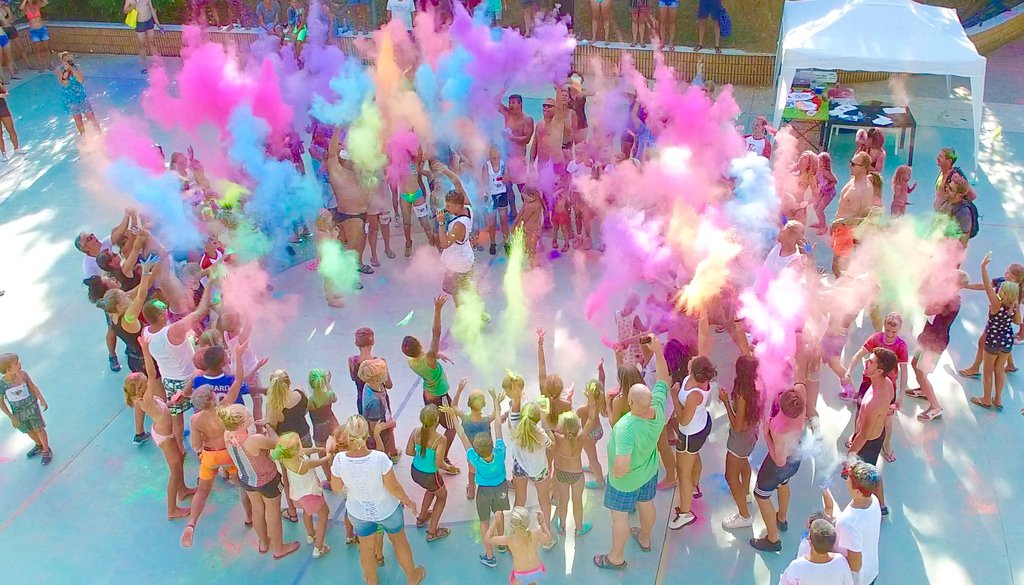 Tip: Being on this side of the lake, it is worth going on the Valle delle Cartiere trekking with older children
Camping Weekend - an exceptionally located camping
This is a wonderful campground situated on the west coast of the lake. It is located in terraces. It has several playgrounds, including a natural playground and three swimming pools, including two shallow ones for kids with slides and water attractions. Sanitary facilities for children and babies will delight all caravanning moms!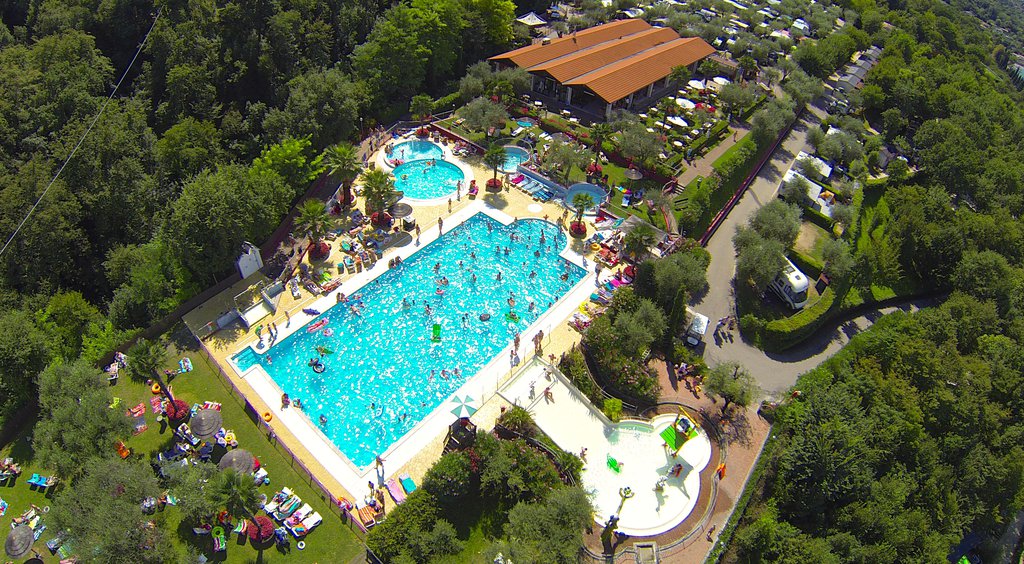 Tip: This is one of the few campsites that has a playroom for children in the building, because most campsites in Italy have outdoor activities. If you are planning a vacation in the low season and you are afraid of the weather, this camping is for you!
Arco is a village located 2km north of Lake Garda. Our readers often stop here when the campsites by the Garda are full. There is always peace and quiet here, and from the campsite there is a bicycle path along the river straight to Lake Garda. This campground is also a good starting point for cycling in the Dro valley and mountain walks. Older children will love the sports atmosphere at the campsite, as well as the swimming pool and boulder wall. This village is a great place for a vacation when your children enjoy rock climbing. The climbing sites can be reached on foot from the campground. In fact, you can see people climbing straight from the campground.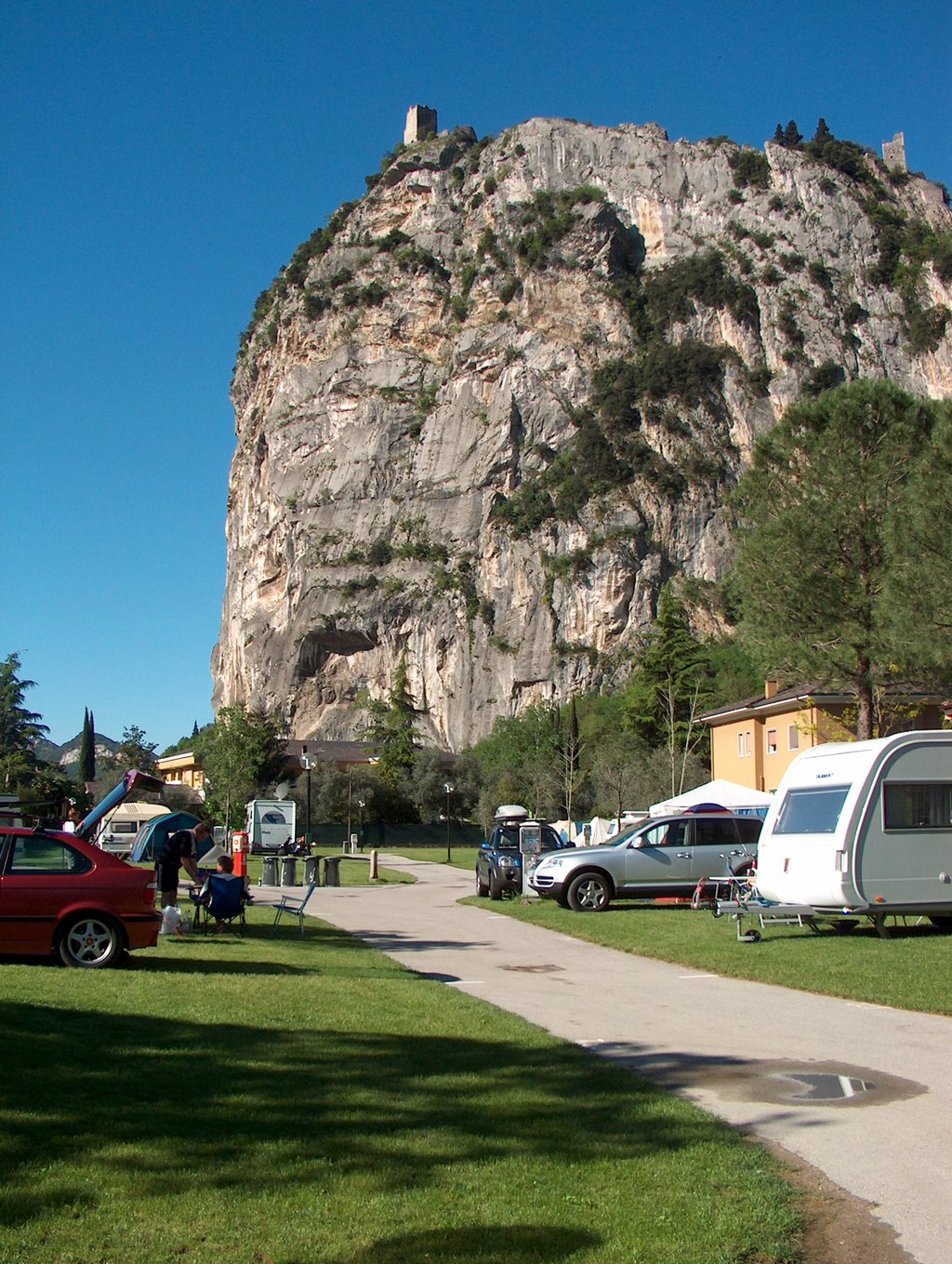 Tip: Every year the Rock Master Festival (climbing festival) is organized here.
The campsite is located in Lazise on the eastern shores of Lake Garda and, like all campsites on this side of the lake, it has a gentle descent into the water, nice beaches and a little warmer water than in the north. Children will love the new large slide by the pools. Take your bikes with you, as the campsite is located on a cycle path that takes you to Peschiera del Garda or beyond!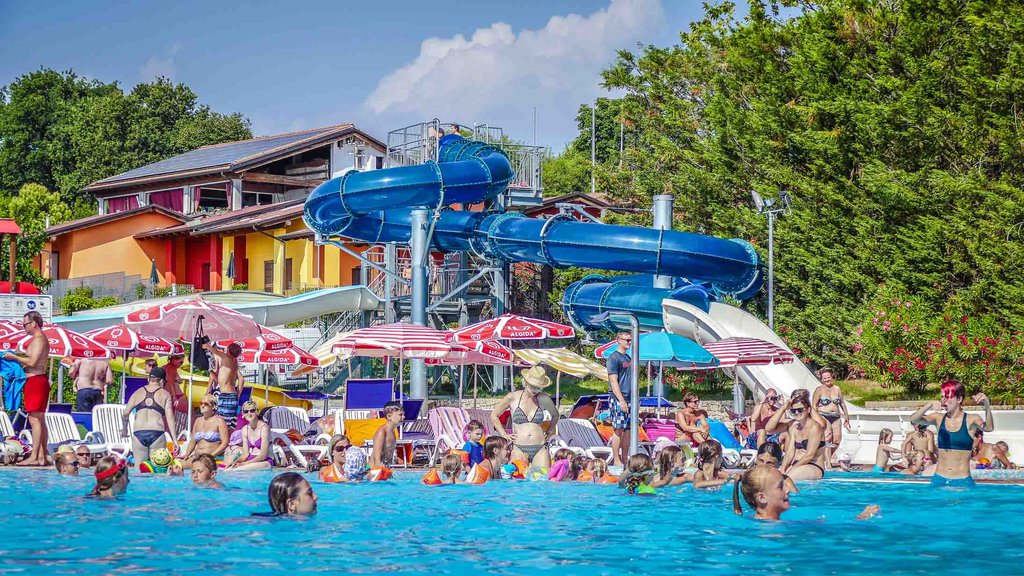 Tip: The campsite is located 200m from the Canevaworld amusement park and aquapark
The best campsites in the northern part of Lake Garda
The campsites in the northern part of Lake Garda are small, intimate facilities. There is no room there to create large Family Parks. The terrain in Garda Trentino is very mountainous, and thus it is a paradise for all those who like to spend their holidays actively. In this part of the lake there are over 1,500 km of bicycle trails. They are all perfectly marked.
The best campsites in the Garda Trentino region are not located directly on Lake Garda - quite the opposite. Many of the prettiest places are off the beaten track, high up in the mountains or even on a tiny lake near Garda.
Gallery
We have created the CampRest portal for people who value freedom and travel on their own.
Enjoyed reading this article? Share it!