Texas with a camper during the holidays - CampRest route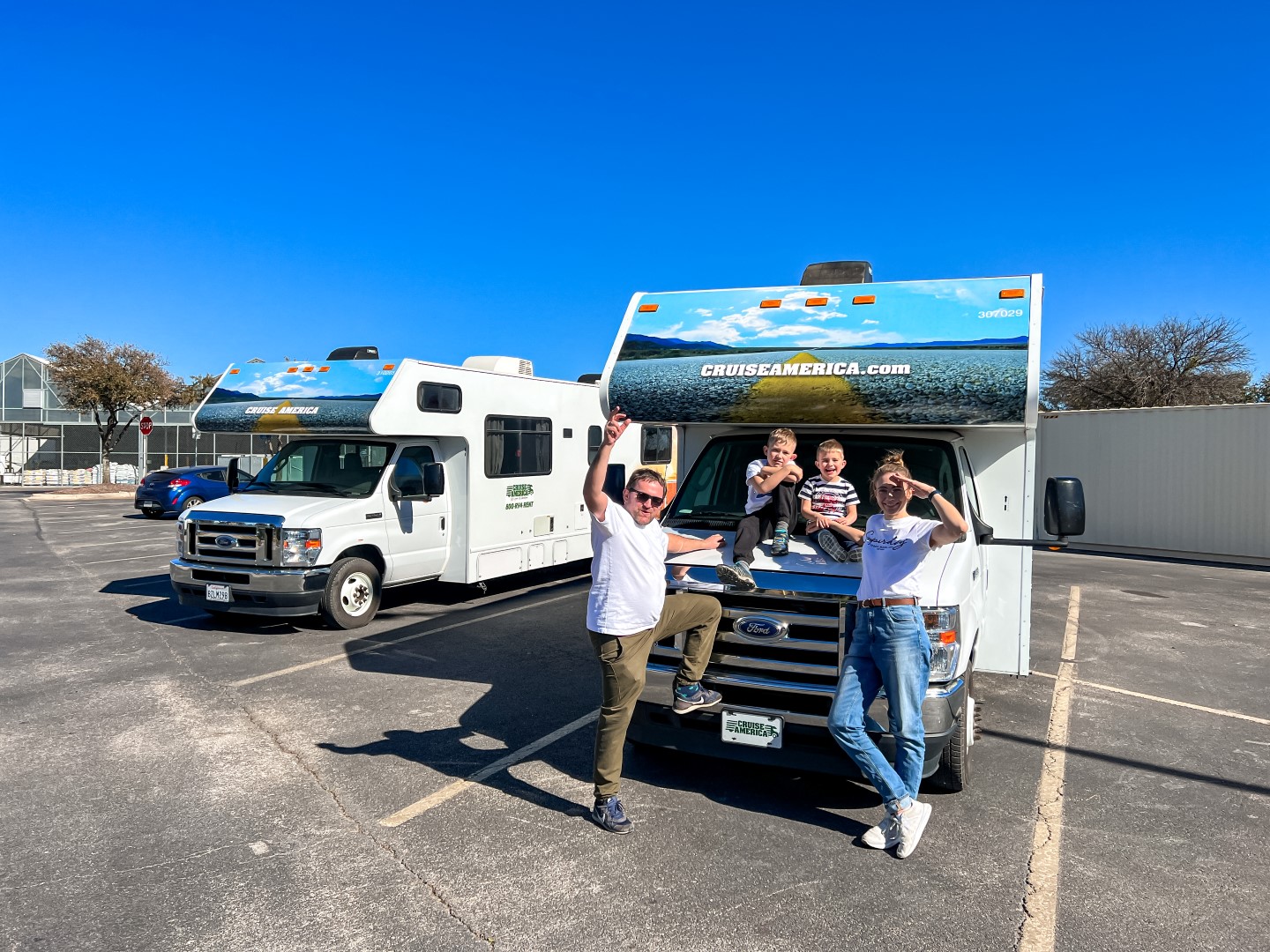 If you want to go on a camping holiday in the USA during the winter break, we recommend only two destinations: Florida or Texas . We chose Texas for our first winter trip in a Cruise America camper. I must admit that before planning our trip we didn't know anything about this state in the USA, but we researched it before departure and it turned out that we wouldn't have enough time to see everything we wanted. We were impressed by how diverse this state is. We loved it and would definitely like to come back!
Texas by RV: Must-see places and attractions in the Lone Star State
Departure: Austin
Duration 13 days
Route length 1,900 miles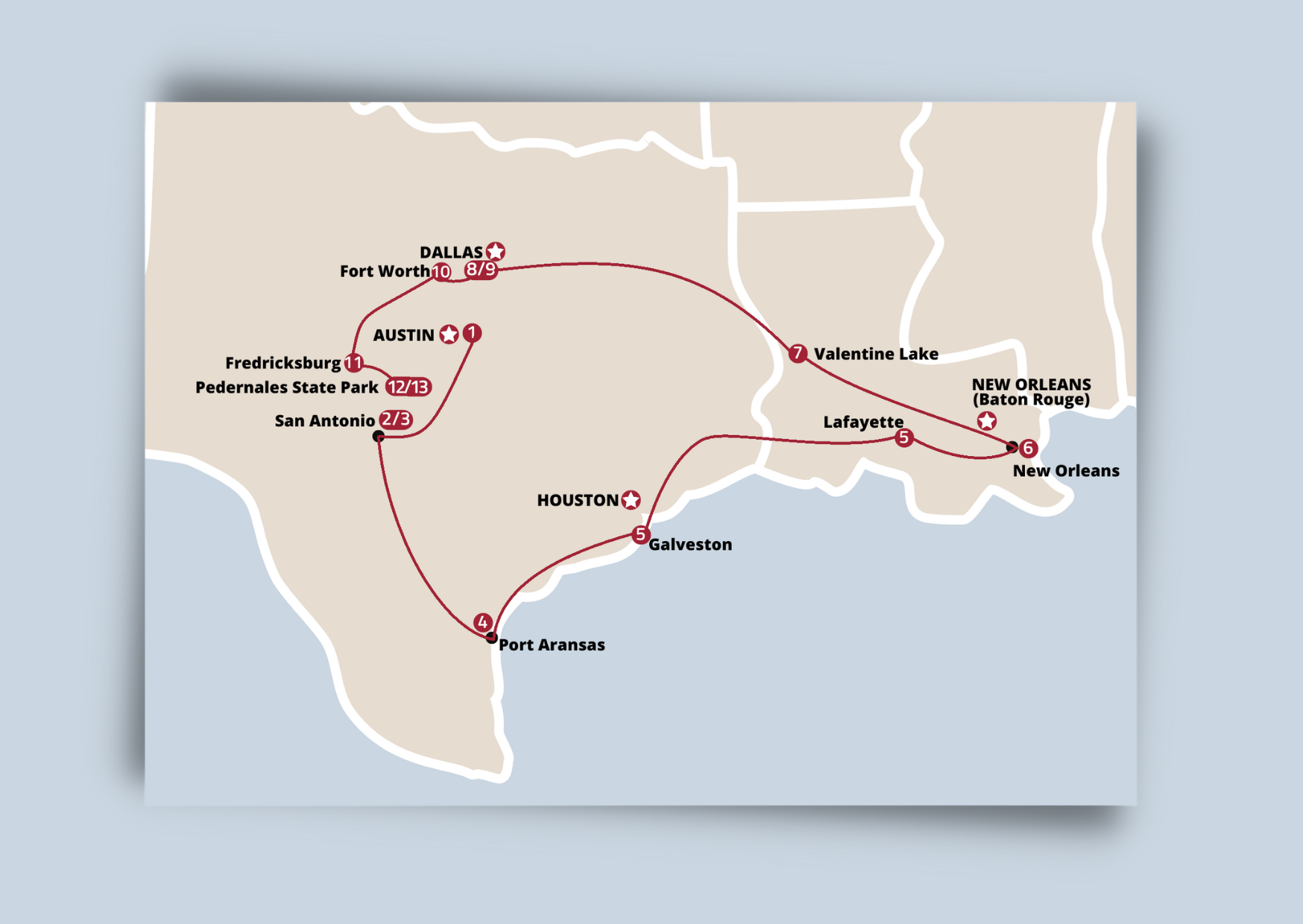 Day 1 – arrival in Austin
We picked up the camper from a point in Austin. It is important that you spend your first night (like us) in a hotel. It is not recommended to pick up the camper on the same day as you arrive in the USA or Canada . Camper pickup points are open until 5 p.m., and some even until 3 p.m. If you do not arrive on time due to any flight delays, your reservation will be treated as a "NO SHOW" and will be forfeited.
Day 2 – Cruise America camper pickup from Austin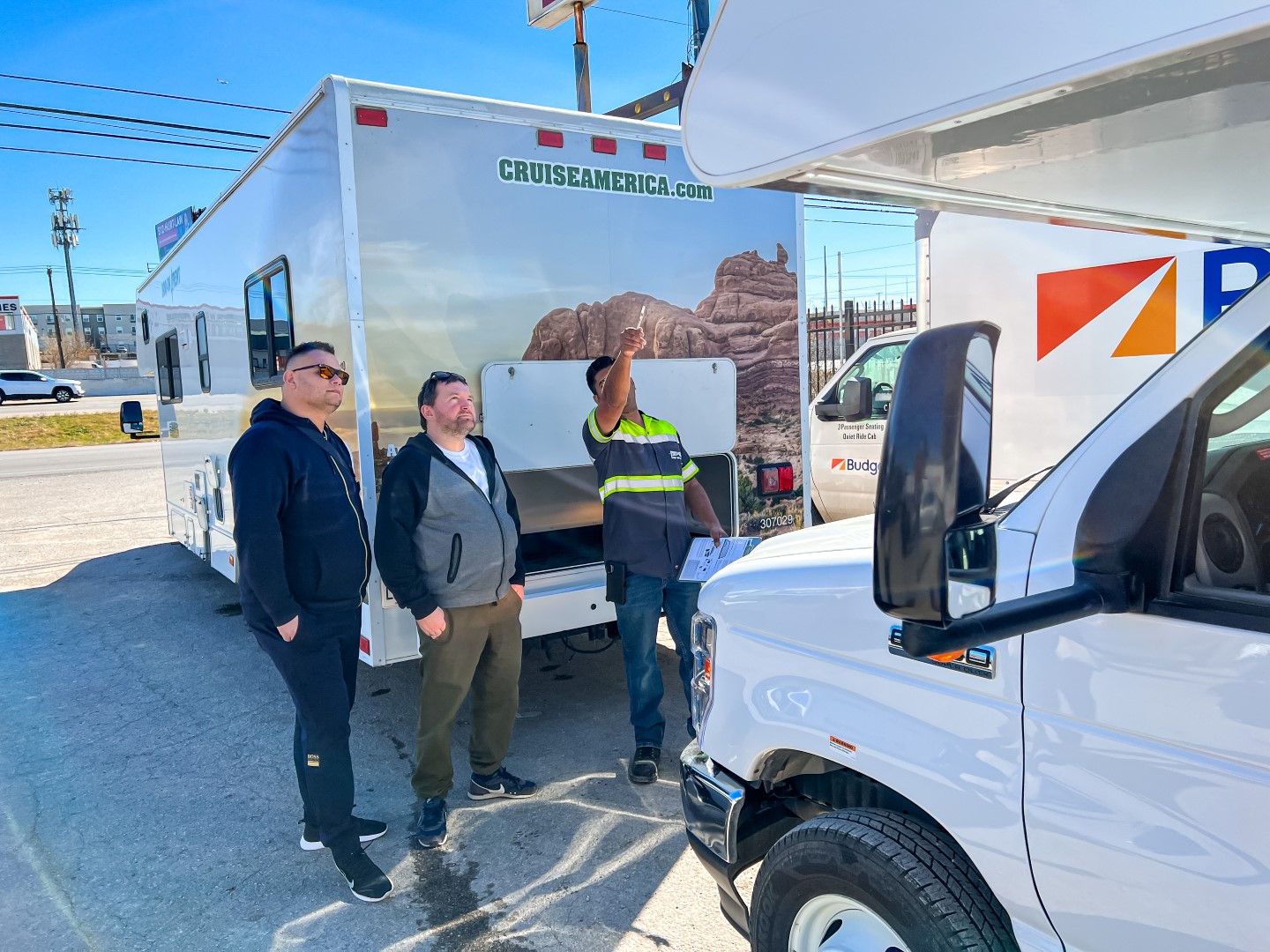 The employee gave us training in how to operate the camper. For our 2-week trip we chose a C30 camper . This is the largest camper in their fleet. It is 9 m long and can accommodate up to 7 people.
Remember that all Cruise America campers can be driven with a Polish category B driving license. In Cruise America and Cruise Canada there is no additional fee for additional drivers. The only important thing is that everyone who wants to drive a camper must be present when picking up the camper, have a Polish category B driving license and be at least 21 years old.
After picking up the camper, we went shopping at Walmart. Mainly for food, but our main goal was to get seats. We bought two for about $100. The cheapest seat, i.e. one that costs $50, is quite poor, so if you want better quality, you have to increase your budget.
After shopping, we headed towards San Antonio to the KOA campground.
Day 3 – San Antonio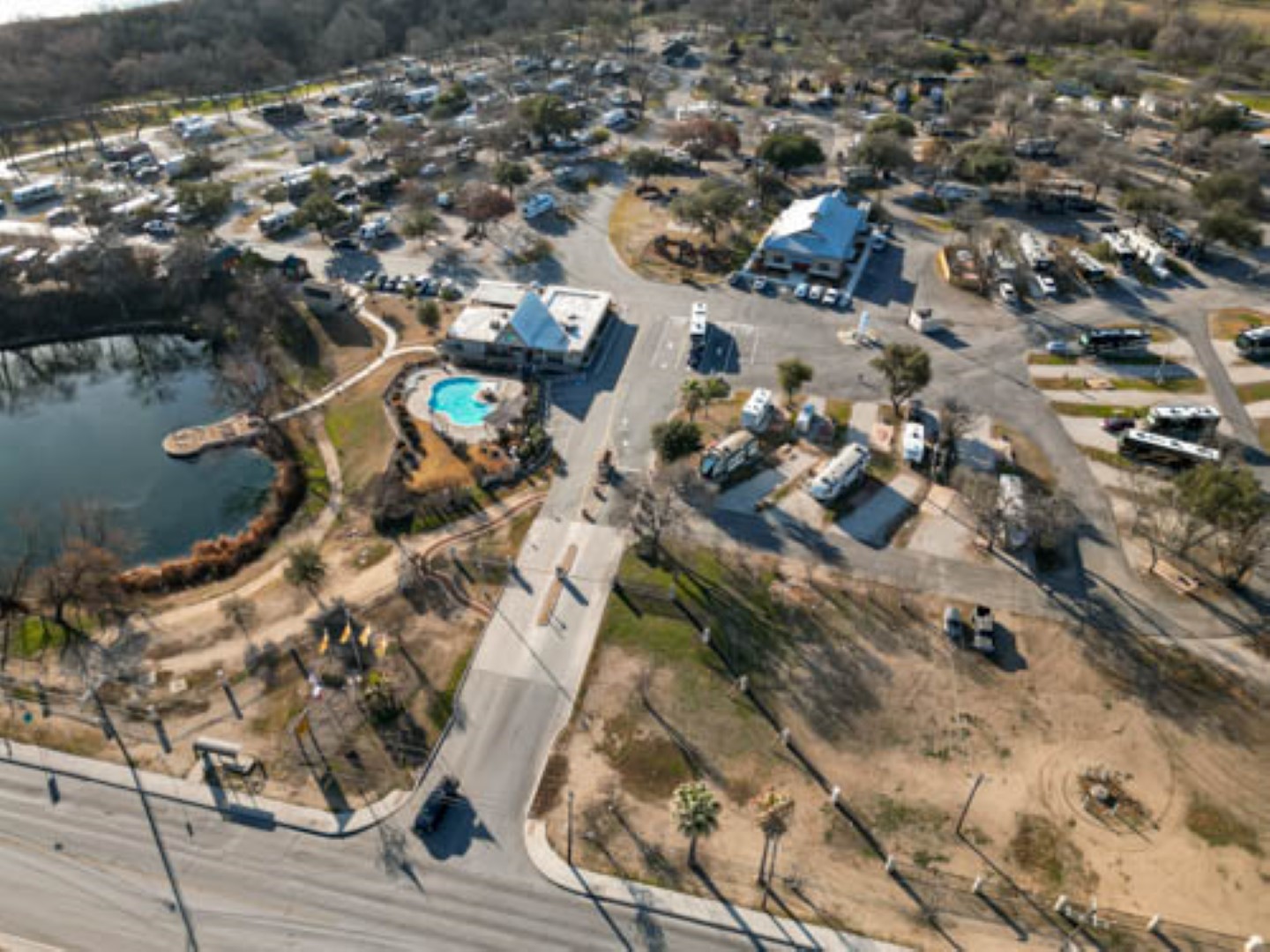 We decided to spend this day resting because jet lag was taking its toll on us, so until noon we wandered around the campsite admiring American campers and trailers, and in the afternoon we went to the center of San Antonio. We took an Uber there for about $10.
Many people ask us whether it is possible to rent or transport bicycles in Cruise America campers. Unfortunately, no, and to be honest, the distances we cover here by Uber are so large that there would be no chance to travel here sensibly by bike.
In San Antonio we went for a walk along the famous Riverwalk and ate at a TEX-MEX restaurant. After returning to the campsite, we made a bonfire. Each plot here has a fireplace with a small grill grate. You can buy wood at every campsite and in stores. There are also benches with a table on each plot.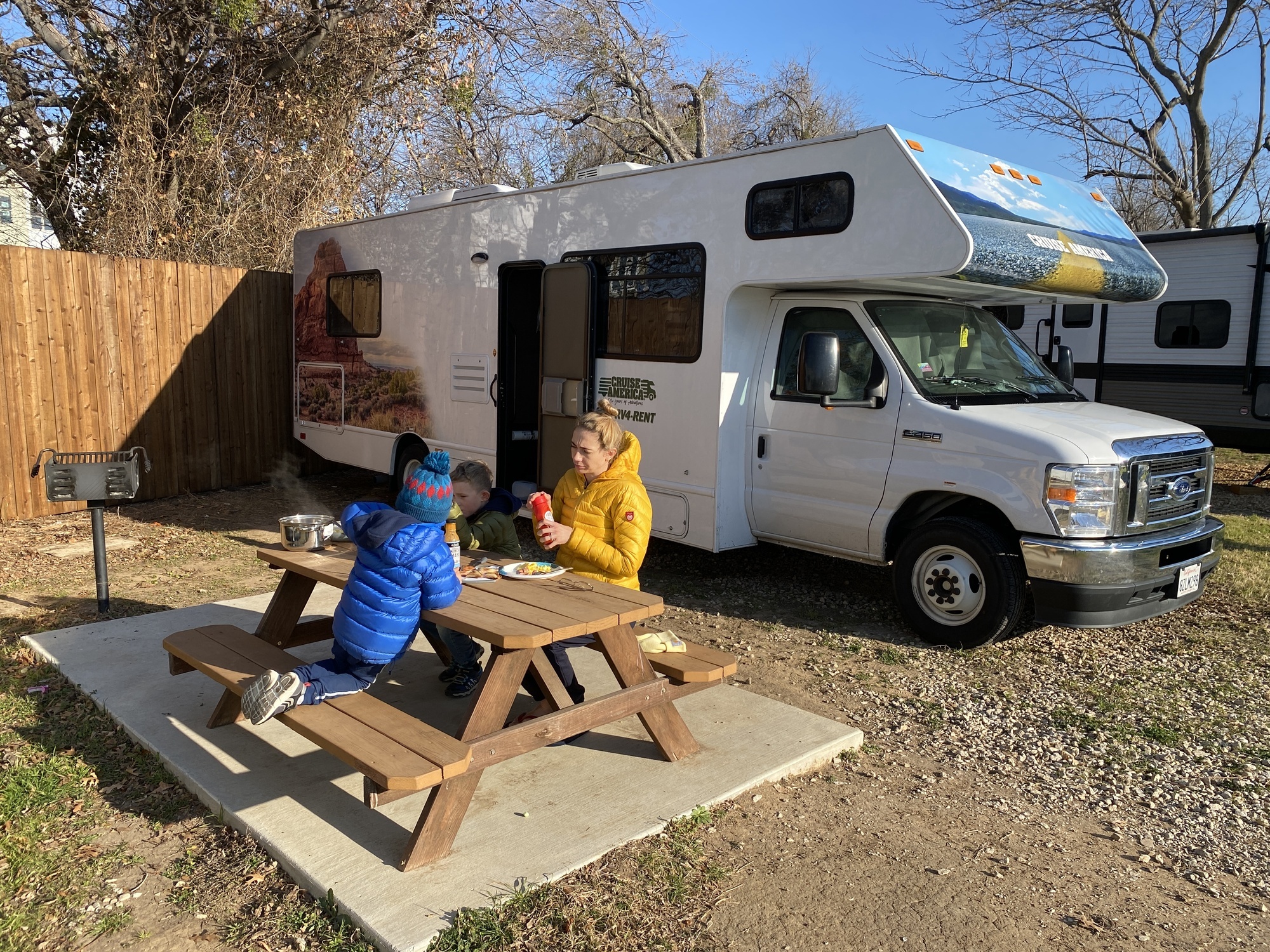 We wrote more about campsites and plot routes in the article: Campsites in the USA and Canada
Day 4 - Padre Island
We left San Antonio in the morning. Before leaving the campsite, we emptied the camping waste tank and then did some grocery shopping at Wholefoods . Unlike Walmart, they have a lot of healthy food and plenty of gluten-free options.
Cruise America and Cruise Canada campers have a very large freezer . If you plan to eat on the road, we recommend buying ready-made frozen meals. This way we saved a lot of time preparing meals, which we used for sightseeing.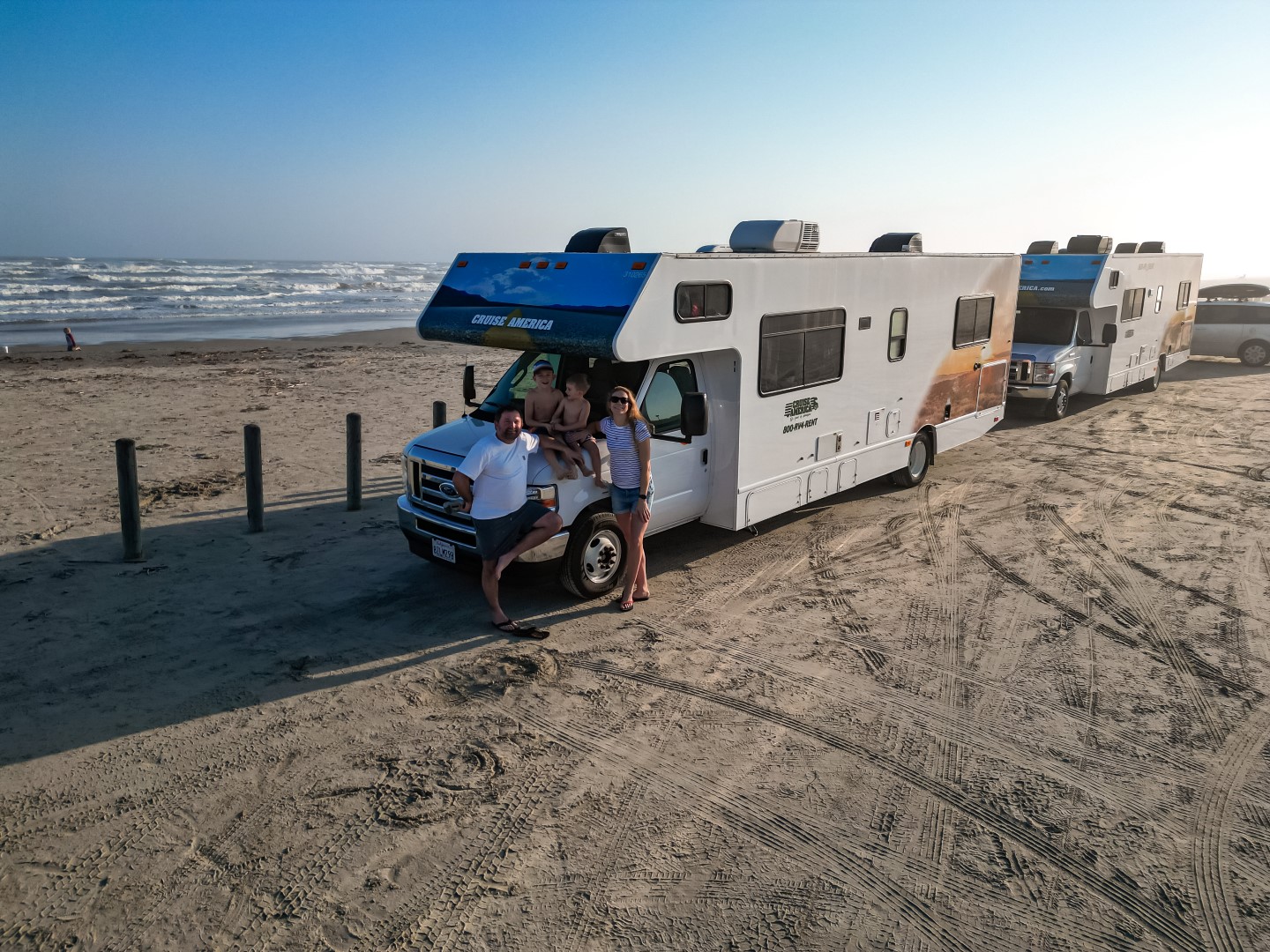 So we head south. We left the main highway and stopped for a moment in a town with Polish roots called Panna Maria, and then we entered Padre Island, the longest barrier island in the world. We get there from Port Aransas by a free ferry. We're here almost at sunset, so the kids quickly put on their swimming trunks to hit the beach. The sheriff flies a drone, and after sunset we go for a walk to the town to buy a permit to spend the night on the beach.
An overnight permit on Padre Island beach is purchased at a local store for a period of one year. Such a permit costs $12. Be sure to get this permit, because the police go around the beach at least once a day checking whether campers on the beach have a permit.
Day 5 - Galveston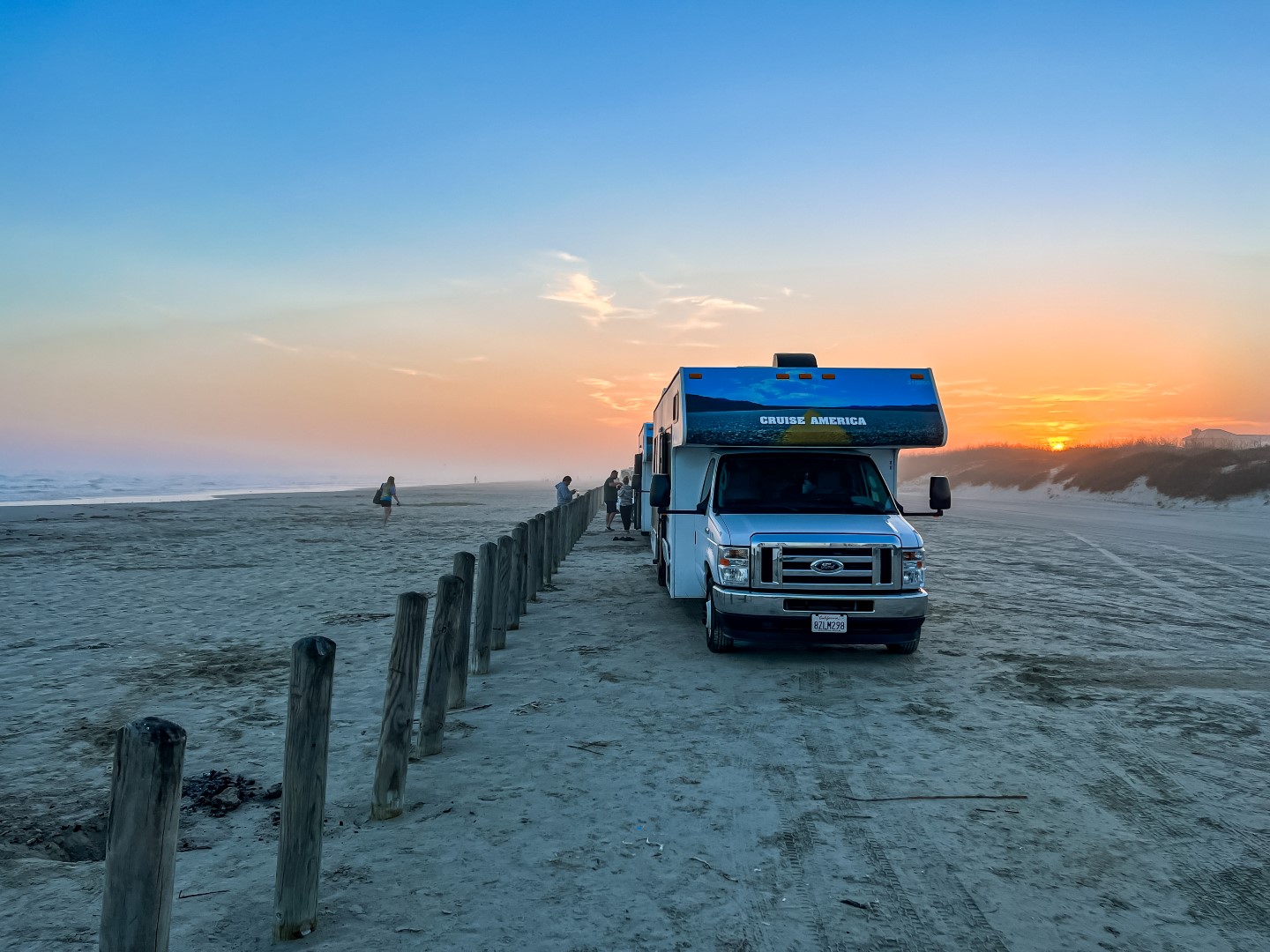 The beach lies within the buffer zone of the National Park and has a paved road on the beach. This is a national road with traffic rules. What does this mean in practice? Among other things, you must drive on the right side of the road, wear seat belts and obey speed limits. The first dozen or so kilometers are a paved road accessible to all vehicles. Only 4x4 cars can enter the next kilometers.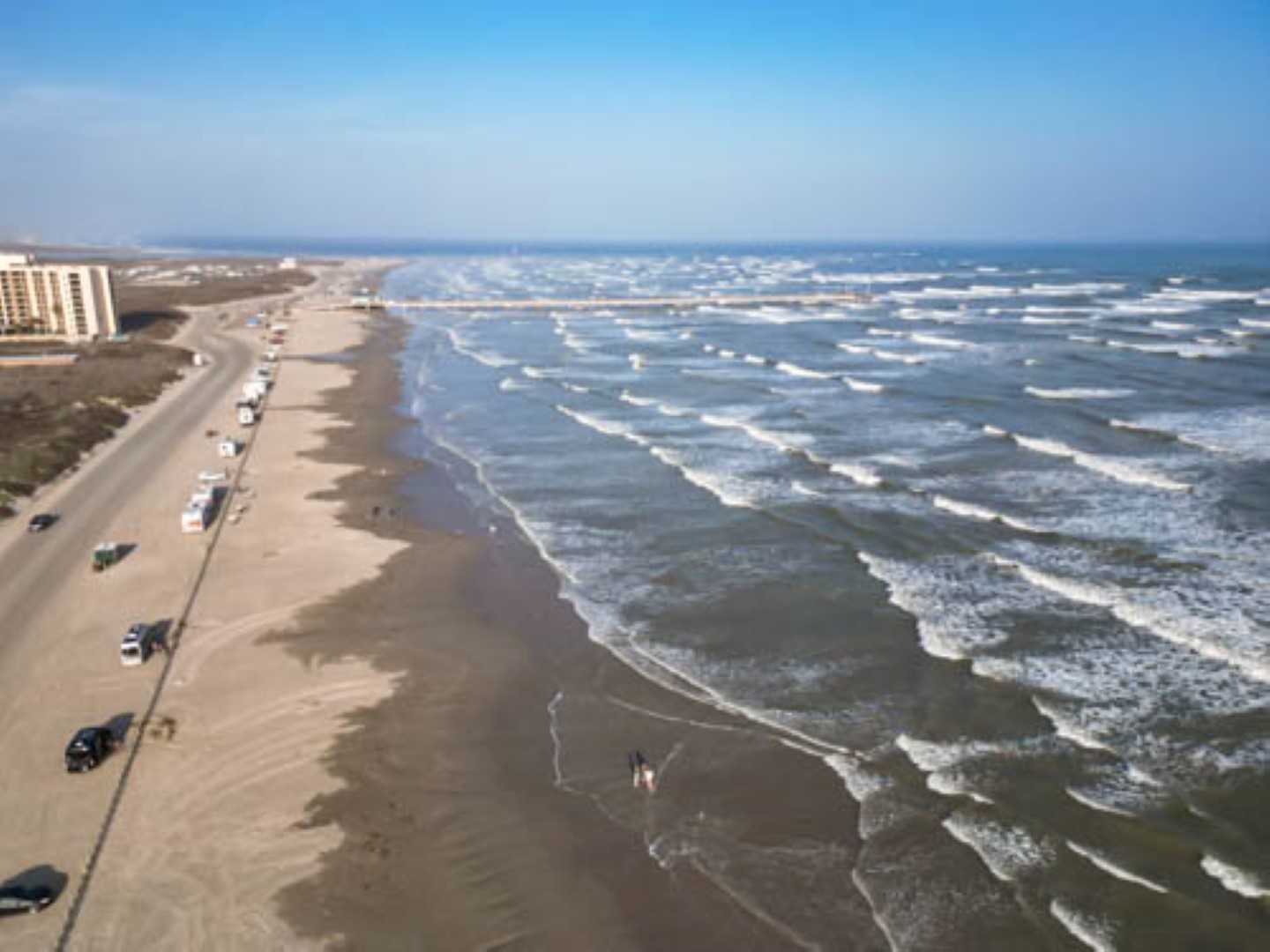 Today we are heading north, but we will continue to travel along Padre Island , which is 183 km long! We refuel on the way. Fuel in Texas is the cheapest in the entire state.
We take a break along the way and watch the dolphins! In the afternoon we reach the beautiful town of Galveston . Unfortunately, there is such fog that you can't see anything at all. In addition, the Galveston Pier is open during the off-season and is only open on weekends. To cheer up, we're going to eat shrimp at Bubba Gump.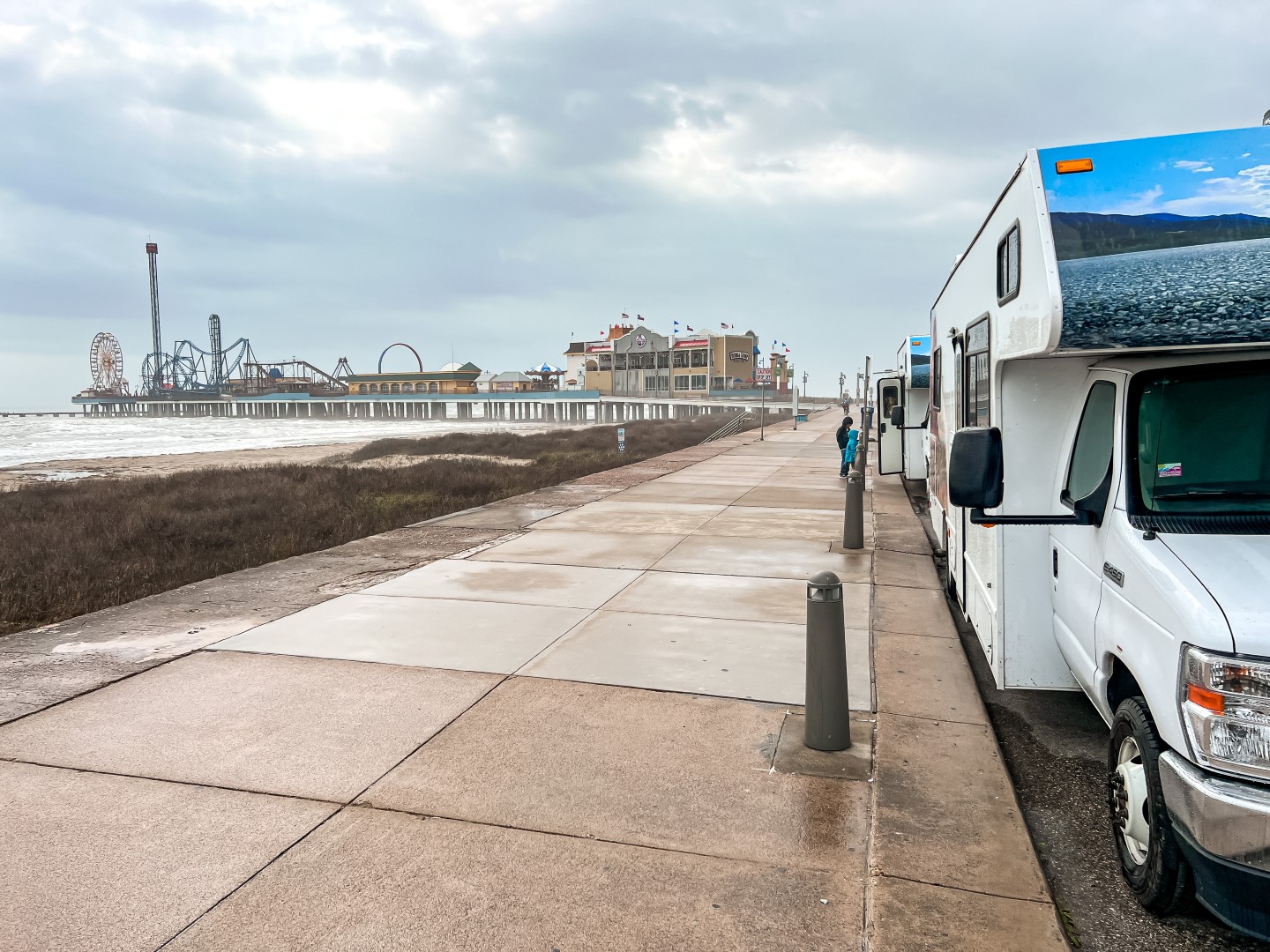 We spend the night at the Sindpiper RV Park right by the ocean.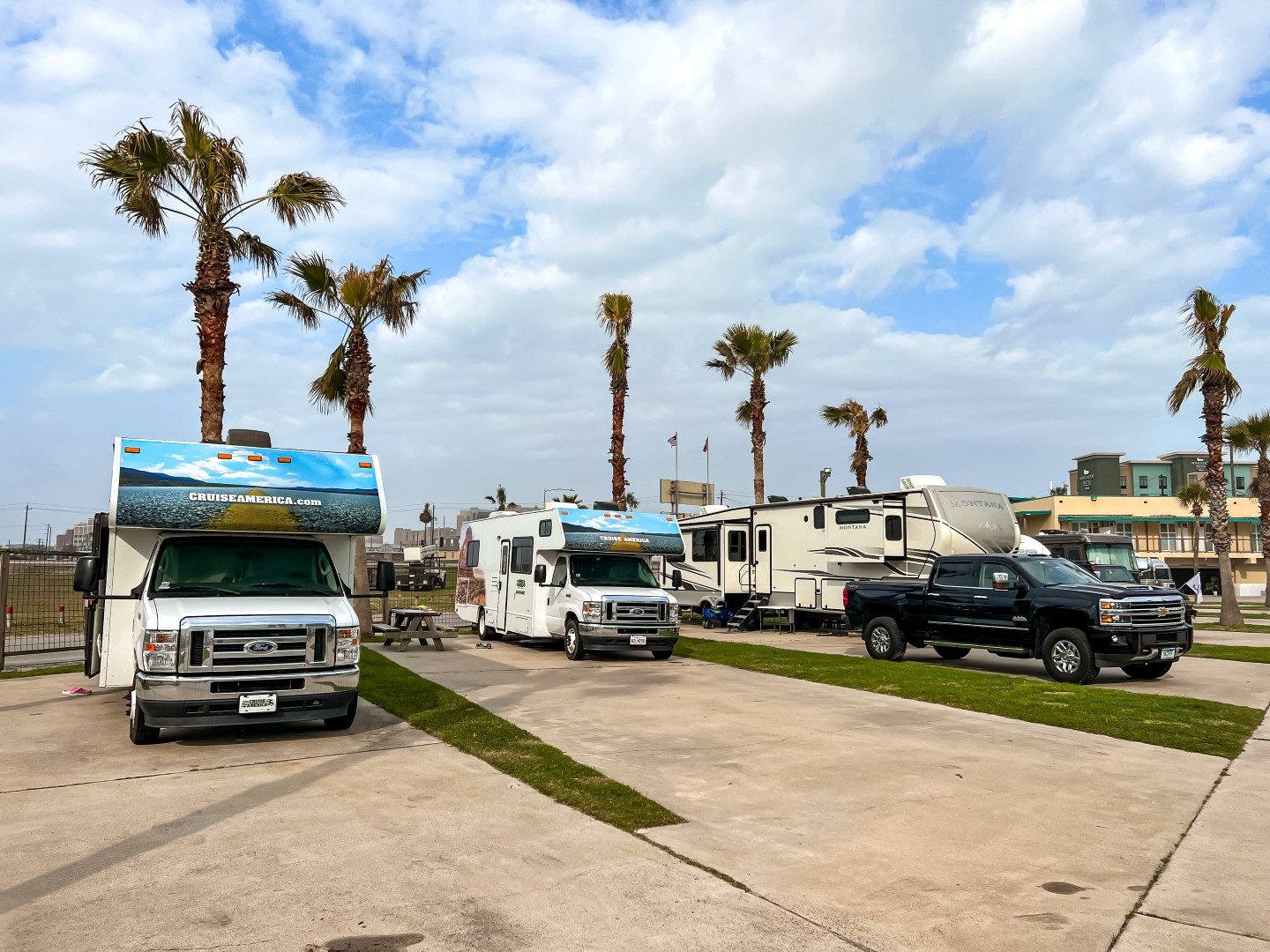 Day 6 – Galvestone Pier, Louisiana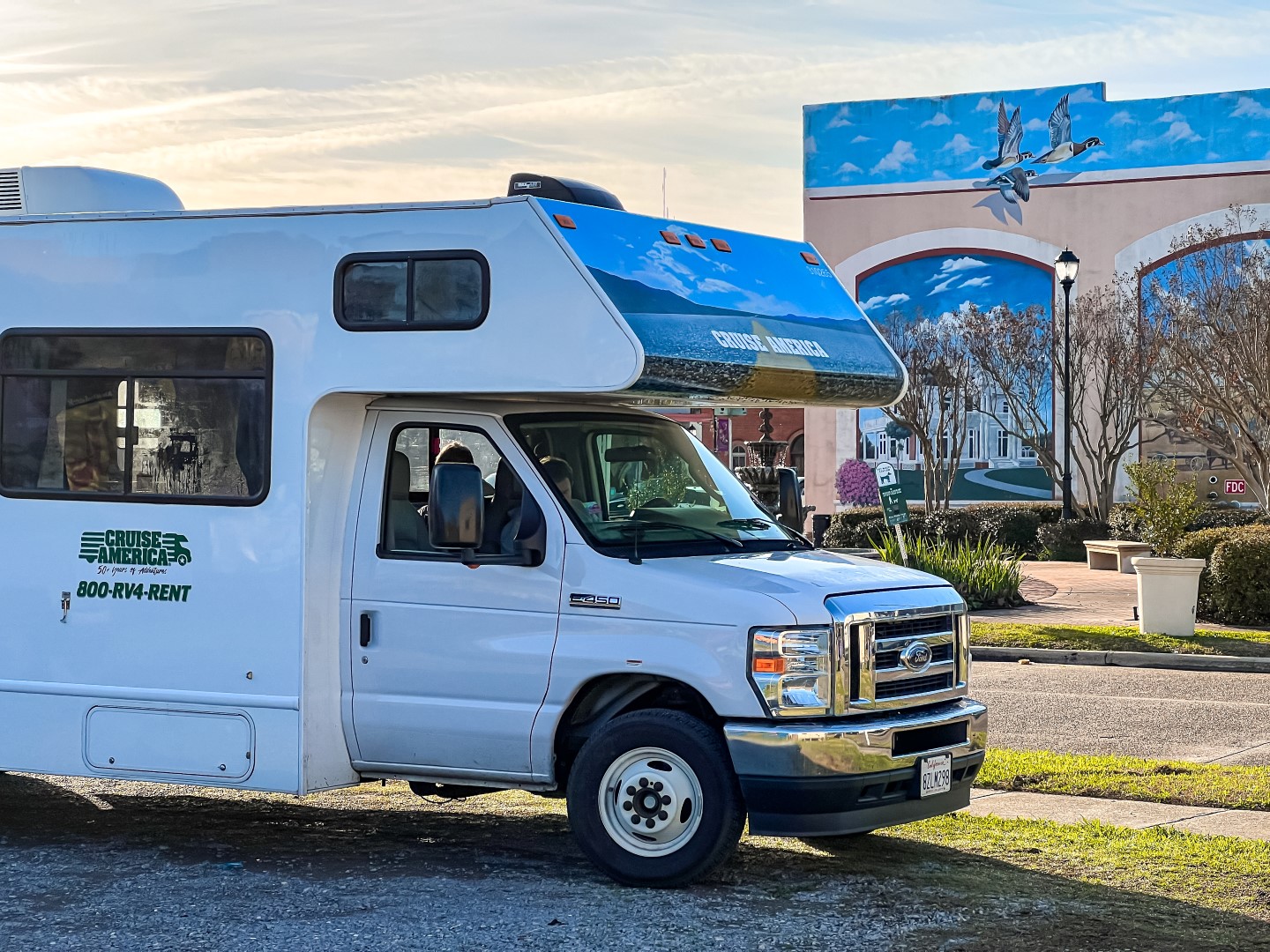 We leave Padre Island by a free ferry and head towards Louisiana. We sleep in the wild by the river in the town of Jennings.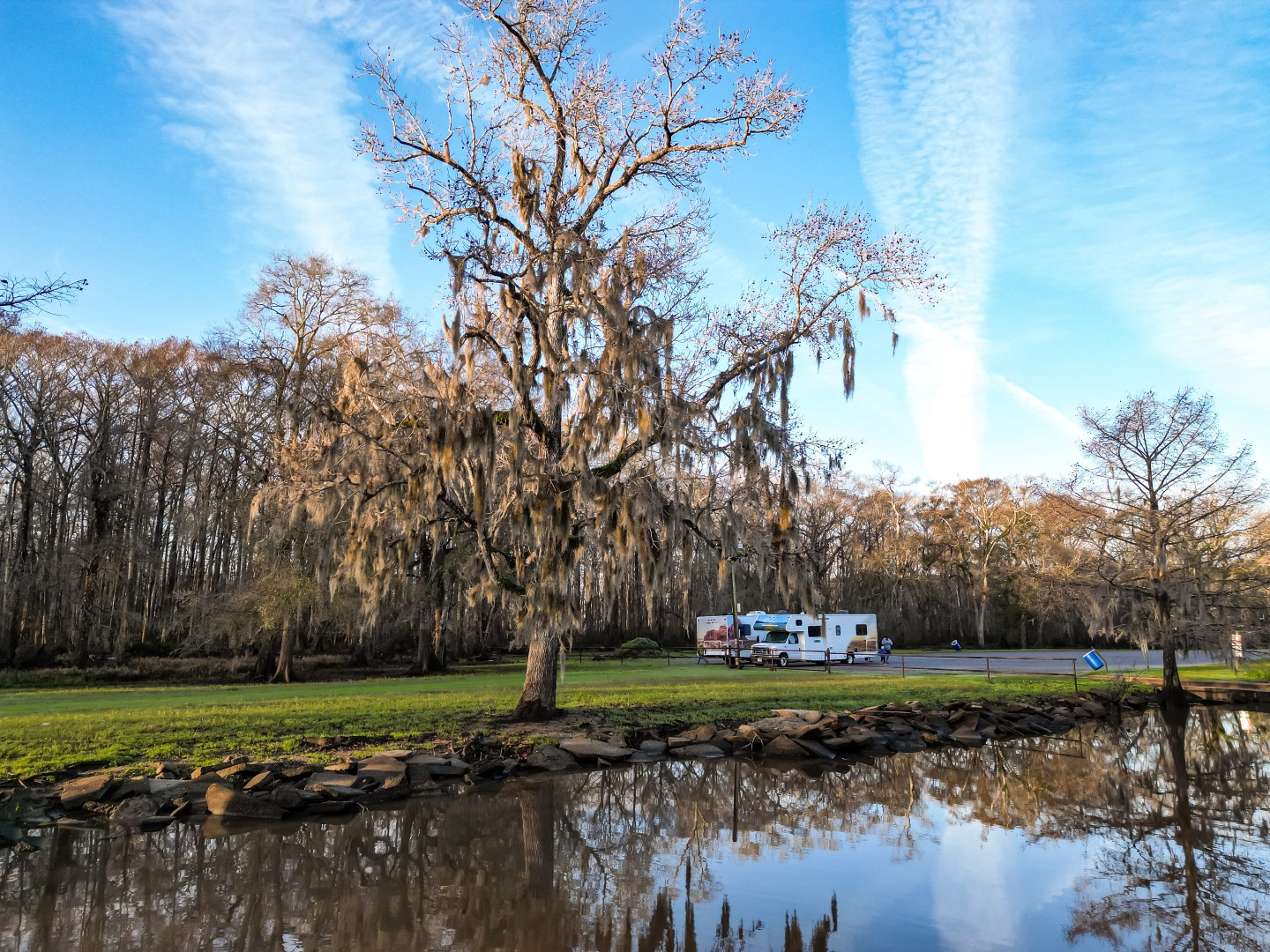 Day 7 - Swamp Tour, New Orleans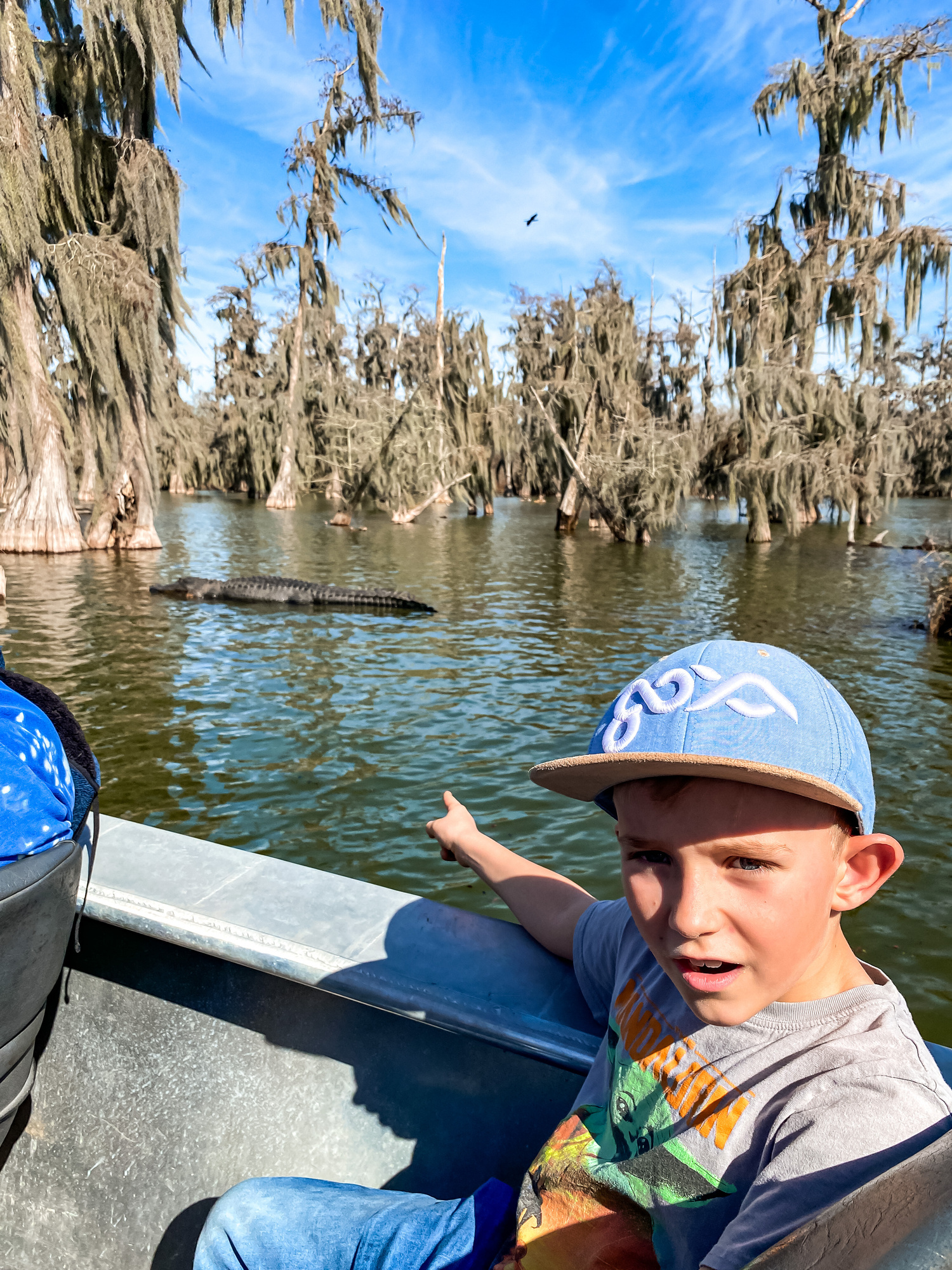 After breakfast, we went straight to look for alligators. This brilliant place was recommended to us by Paweł from Interamerica.pl. This trip was a hit. After just a few minutes we saw the first specimens. We even saw a 4-meter-long specimen. The guide was brilliant and, apart from alligators, showed us lots of other animals living in these swamps and told us the history of how this place was created. The Swamp Tour lasted 1.5 hours and right after the tour we headed towards New Orleans.
We arrive in New Orleans in the evening and immediately go to the most famous crumpet cafe. Then we wander around the city watching how the city is slowly getting ready for Mardi Gras.
Day 8 - Oak Alley Plantation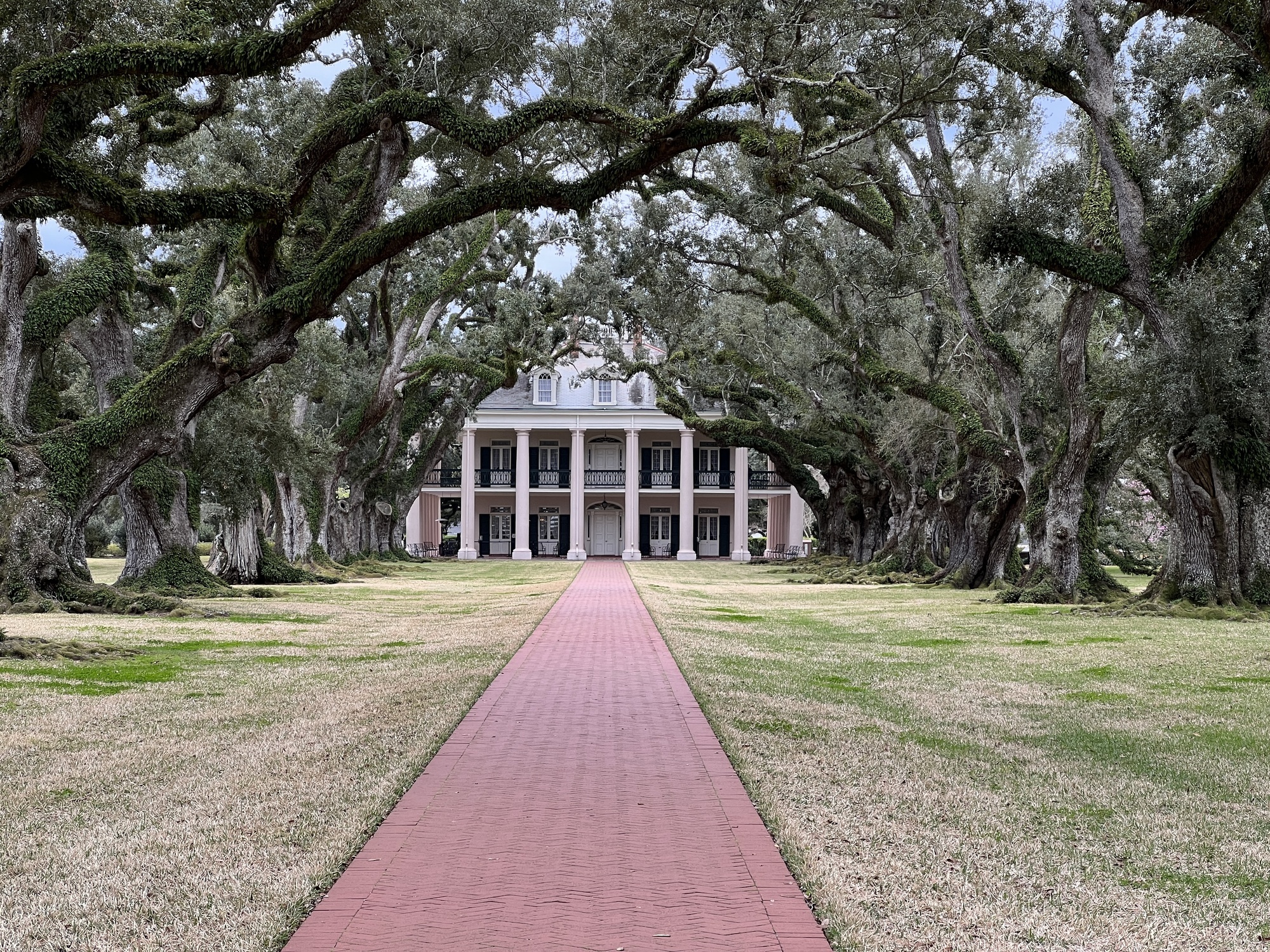 On the seventh day of our road trip, we leave New Orleans and return to Texas. At the end of the trip, we were a little sorry that we had even gone to Louisiana, because it took us a long time to get to New Orleans. In retrospect, we would have preferred to spend this time inland visiting smaller cowboy towns and ranches.
On the way, we visit the famous Oak Valley Plantation. The house can only be visited with a guide. I recommend purchasing this option, but you can explore the entire area on your own and we walk here for over an hour.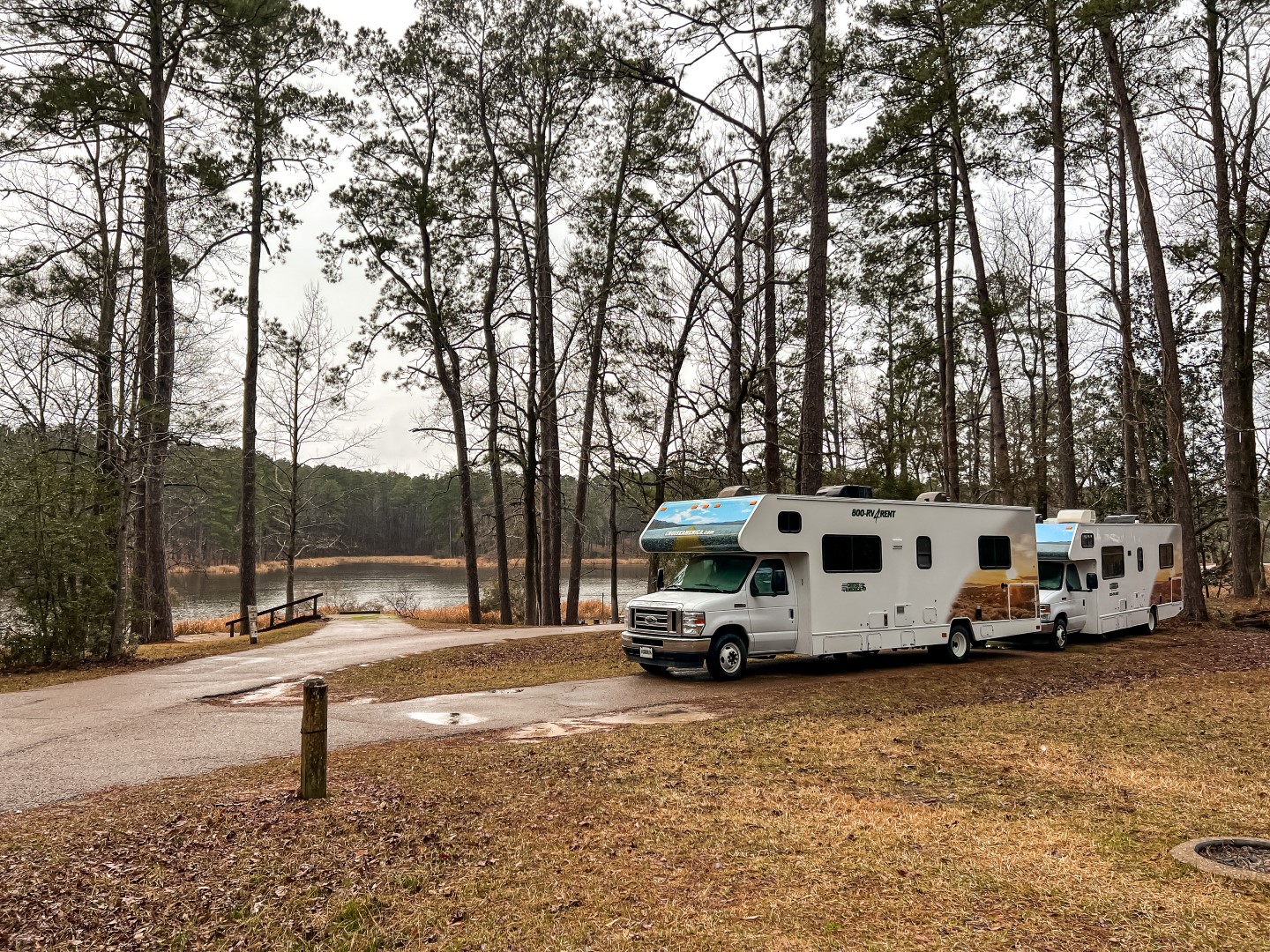 We spent this day mainly on the road because it started to rain heavily. In the evening we arrive at the campsite in the middle of the forest and light a bonfire. Interestingly, it is a self-service campsite and operates on the principles of a fair box. When entering the campsite, you take your pass, fill it in with your vehicle's data and put it in an envelope along with the money. You can also enter your credit card details instead of cash.
Day 9 and 10 - Dallas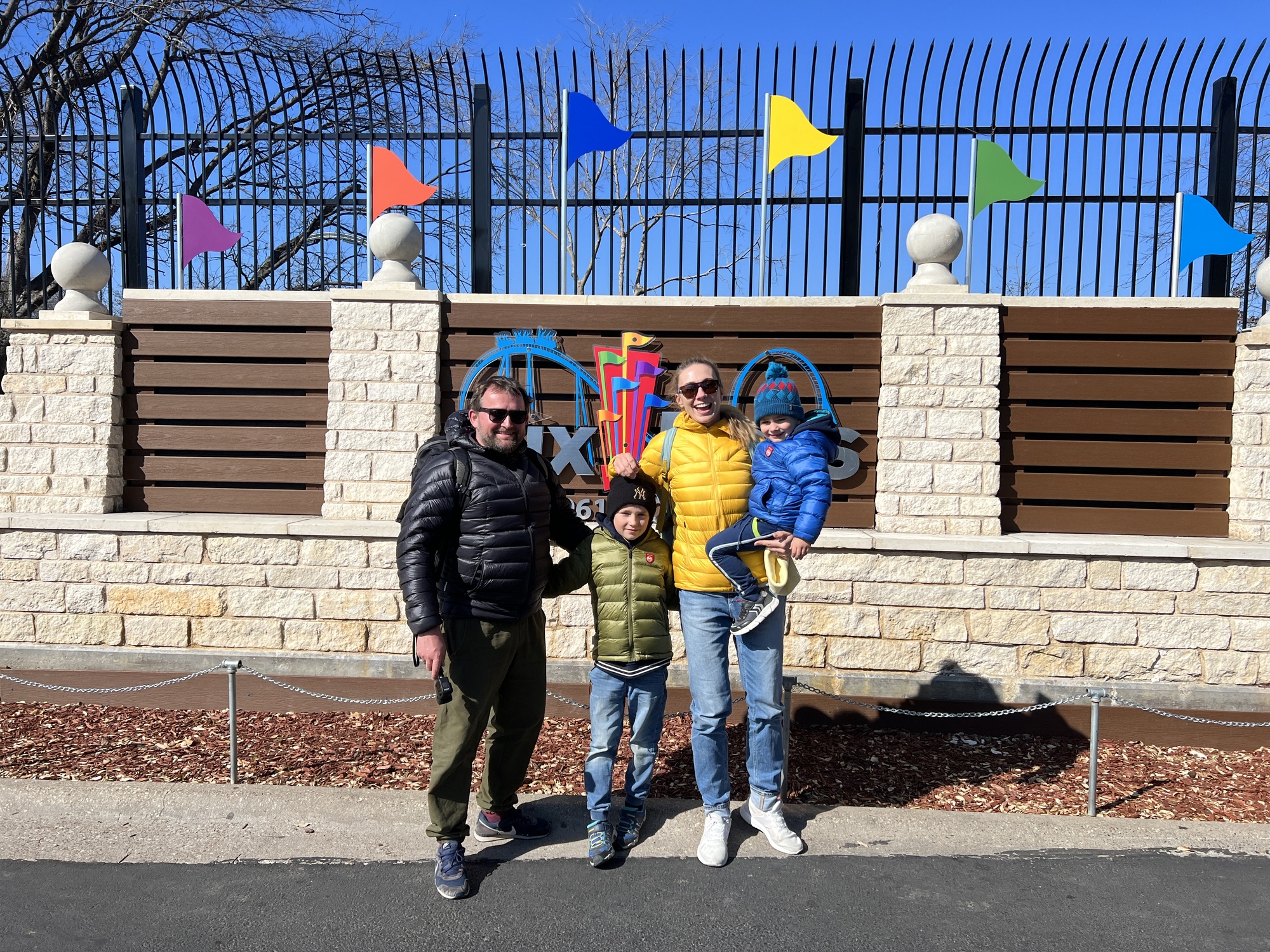 Today we arrive in Arlington (near Dallas). We booked accommodation at the KOA campsite via the application, so registration took only a moment, and we received the entry gate codes via SMS.
The next day we go to " Six Flags over Texas ", an amusement park belonging to the largest chain of amusement parks, "Six Flags". Tickets cost $180 for the four of us , and in the park itself, even though it is Sunday, there are almost no people. We enter all attractions without queues. Maks enters each attraction twice. Once with me, once with the Sheriff, because one of us chooses other, milder attractions with Frank. Out of season, the park is open only on weekends, not all rollercoasters are open and the park closes already at 7 p.m.
Our friends with whom we were traveling went to downtown Dallas at that time and to a basketball game.
Day 11 - Fort Worth
Today will be a very cowboy day. In the morning we went to Fort Worth , or rather to its old Stockyards district. We get there quite early in the morning to catch a walk of longhorn bulls through the town.
The bull walk takes place twice a day. There is a huge parking lot in the center, which can easily accommodate a camper, but since the police close the main road just before the bull walk, you have to enter the parking lot in advance. The payment process was a bit confusing, but the parking staff were very helpful and even took us to the toll booth located in the town.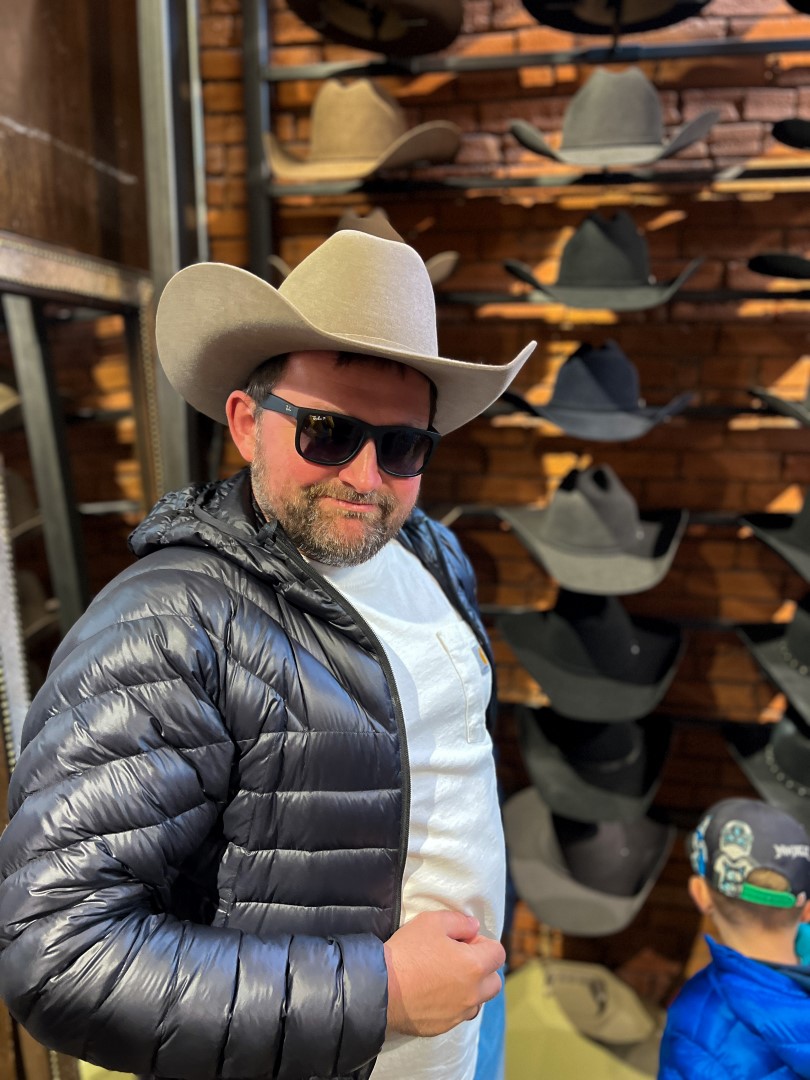 The passage of the bulls through the city is very spectacular, and after the event you can take photos with them and even ride on them. In the town we go for lunch and enter a few cowboy clothing stores. The sheriff still regrets not buying that hat. No other later fitted as well as this one.
In Fort Worth, you can visit the historic rodeo hall. There is a rodeo for tourists on Thursdays and Fridays. However, we don't manage to be there on the weekend, but we are lucky enough that the PRO Rodeo at Dickies is taking place in Fort Worth at that time. Tickets for this event cost $30 per person. The whole event is a real show. It's worth seeing it at least once in your life.
We sleep in the parking lot near the hall. The staff showed us this place.
Day 12 - Longhorn Cavern State Park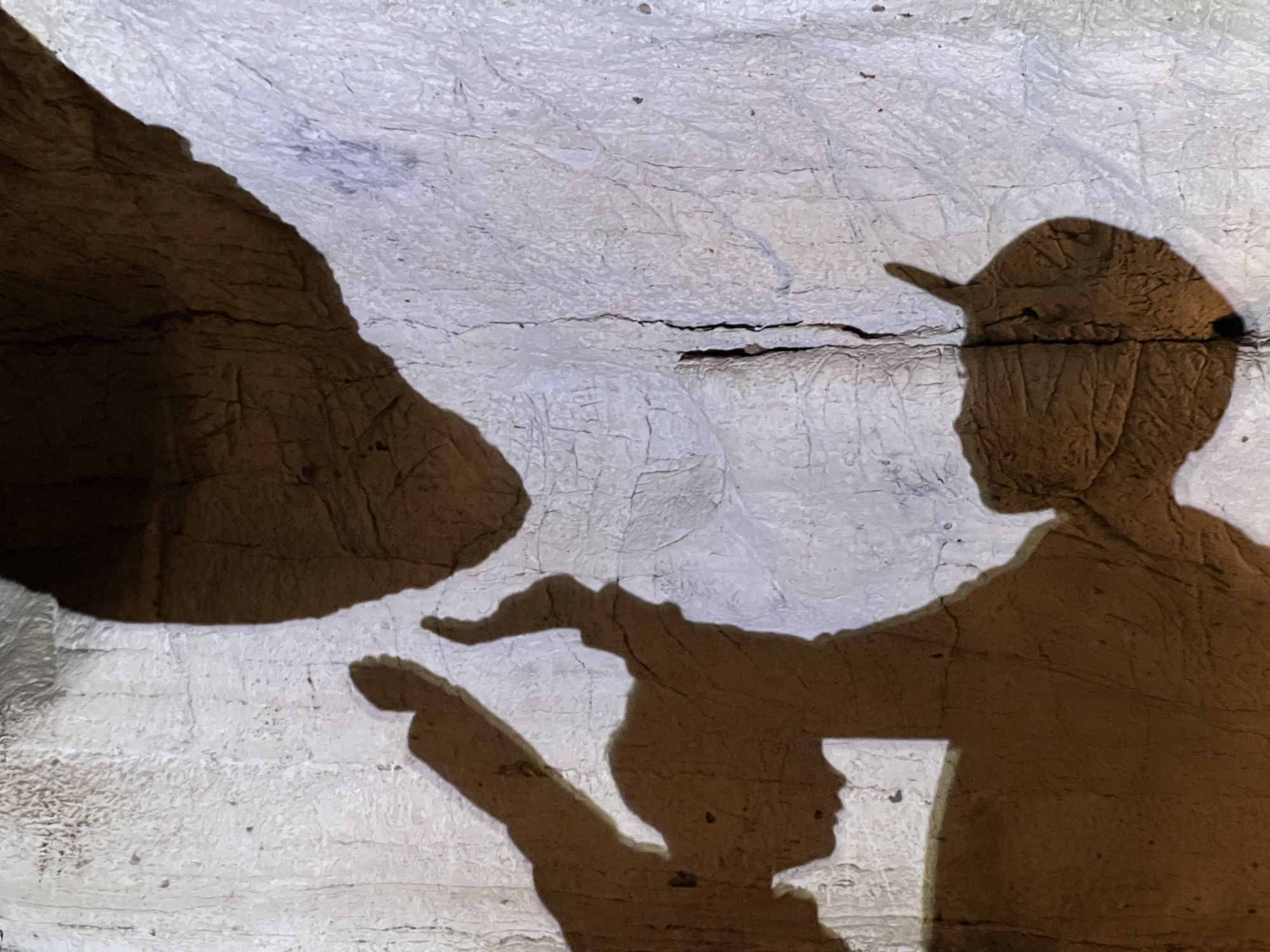 In the morning we head to Longhorn Cavern State Park. We visit the underground tunnels with a guide and continue our journey. We will spend the night at the RV Park in Fredricksburg .
If you have more time to stay in this town with German roots, we recommend going for a wine tasting at a local winery.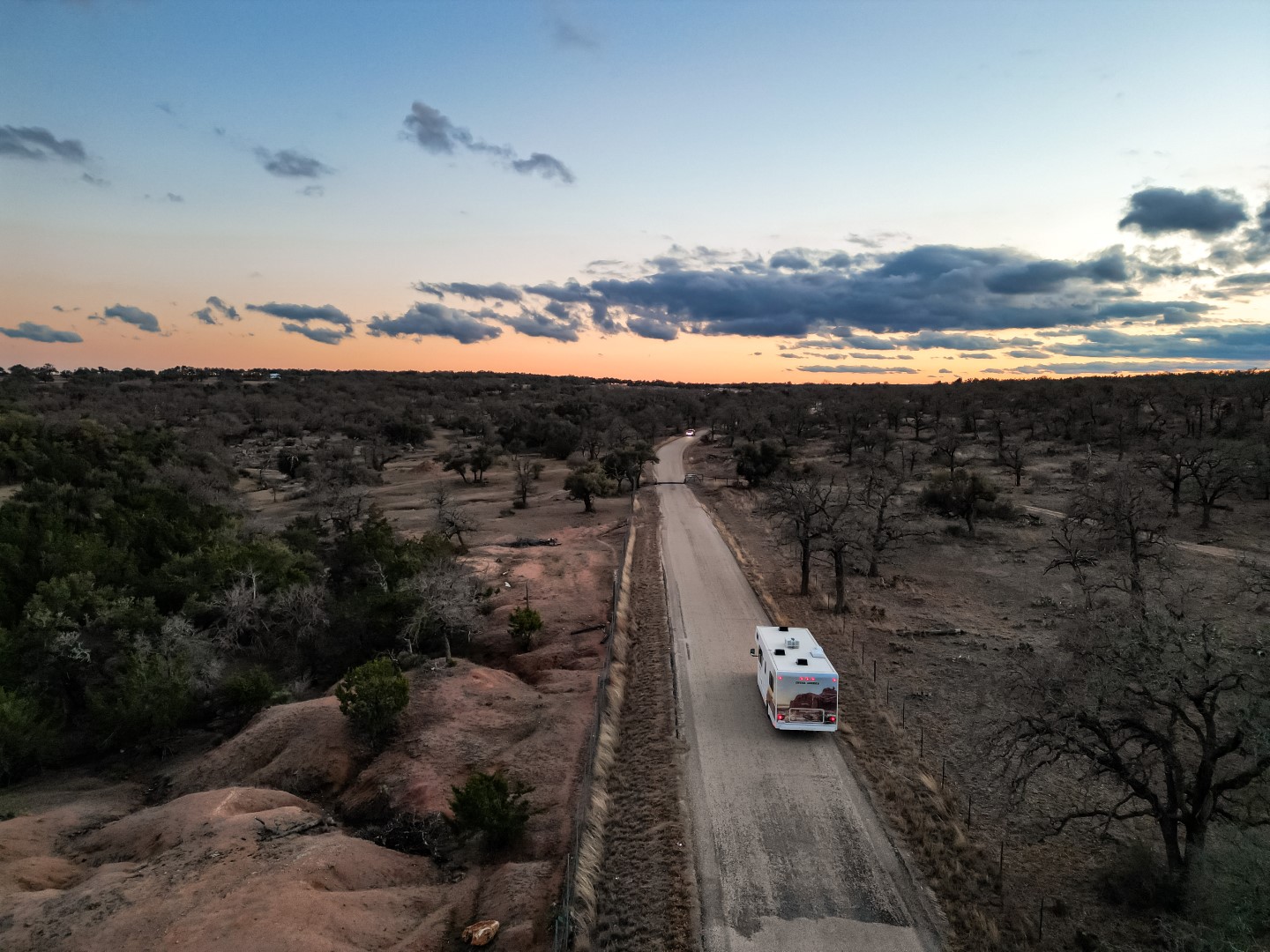 Day 13 - Fredricksburg, Pedernales Falls State Park
After walking along the main street and shopping in Fredricksburg, we go to the State Park: Pedernales Falls State Park. We highly recommend accommodation in such places. They are cheap and have all the amenities needed for a comfortable stay.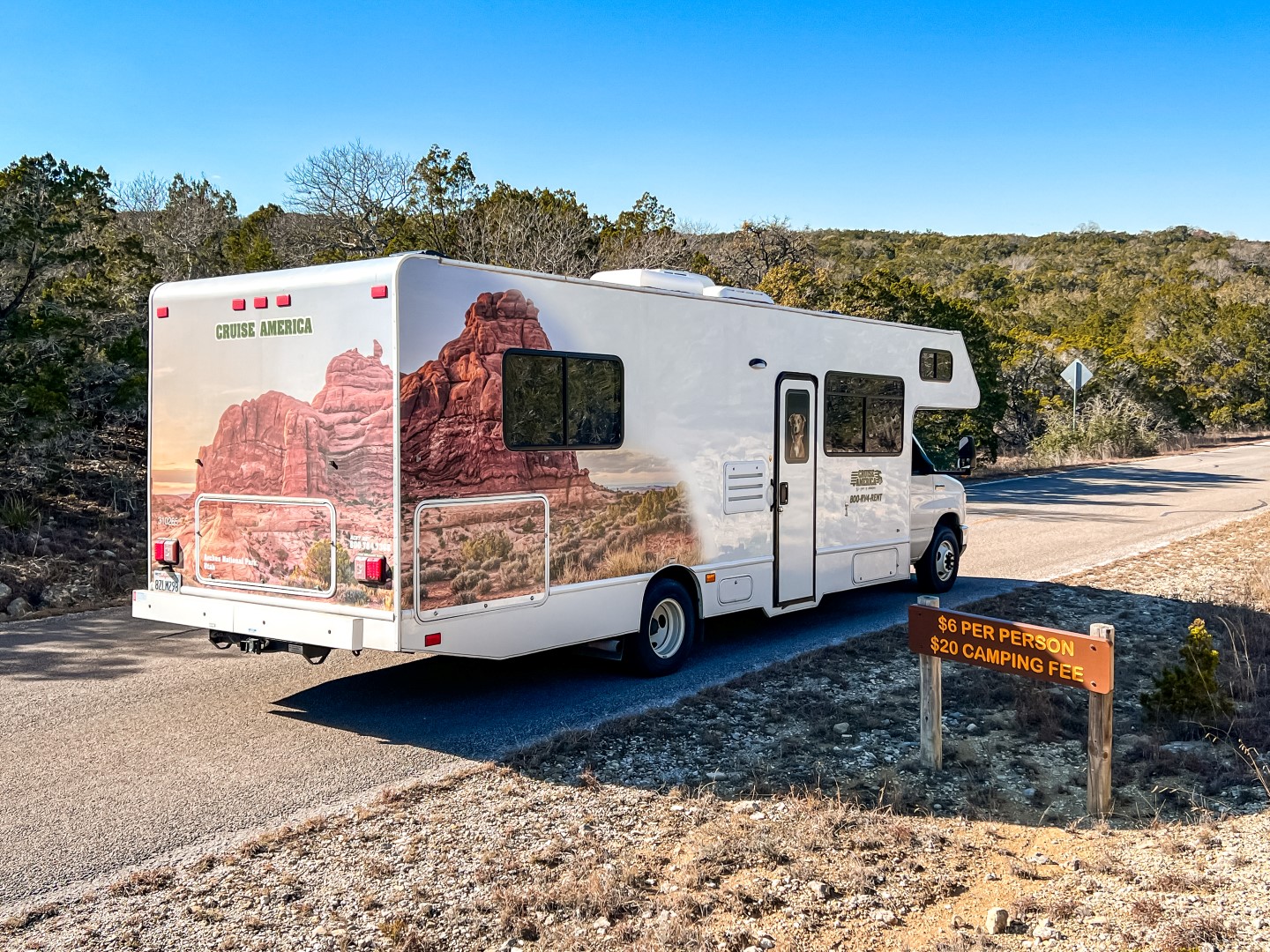 We go straight from the plot to the hiking trails. There are also horse and bicycle trails.
Day 14 - we return the camper in Austin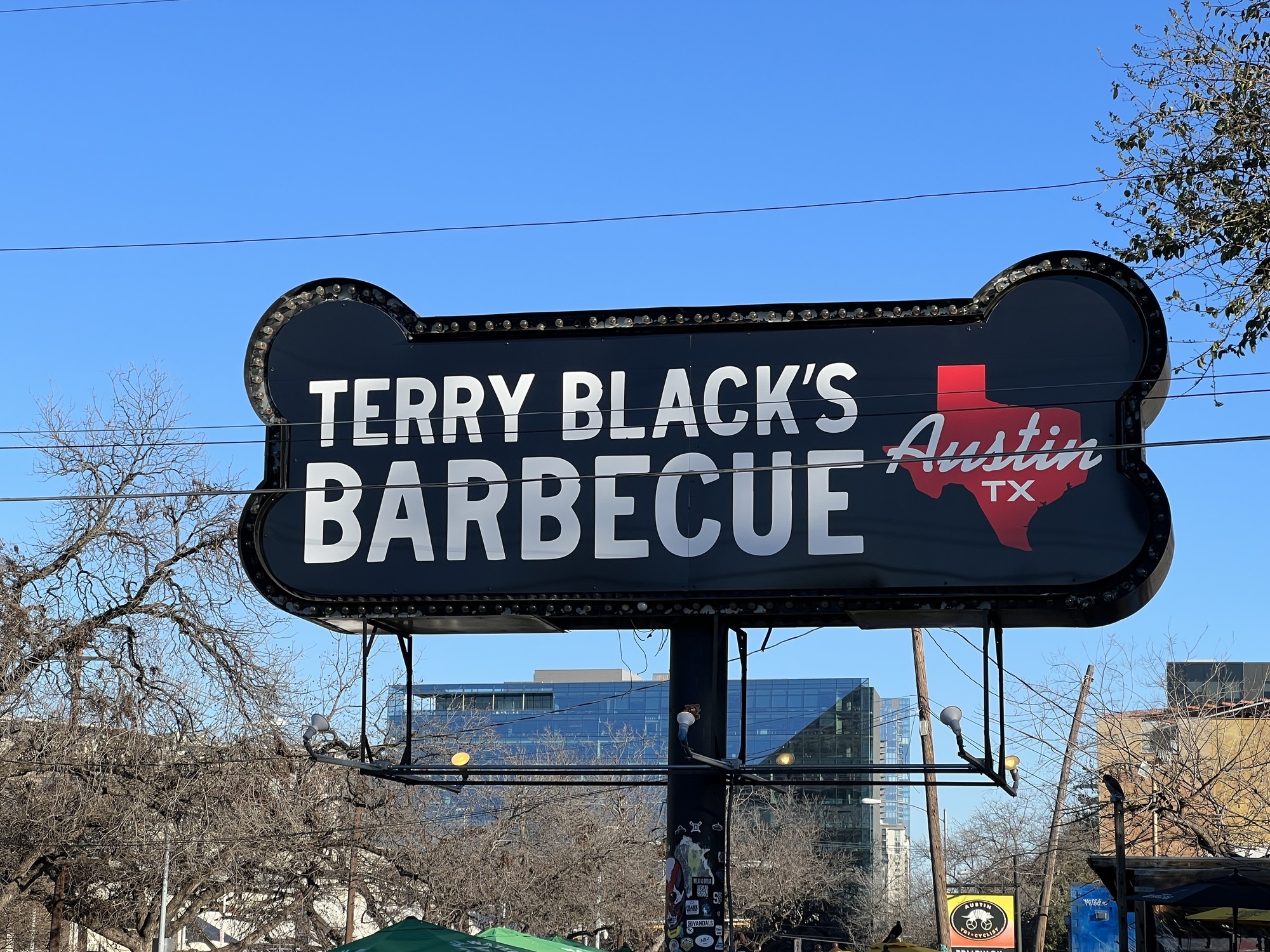 Before returning the camper, we go to dinner at the famous Terrys Black restaurant. I highly recommend you go to this place.
Would I change anything about this route?
We definitely wouldn't make the trip to New Orleans again for such a short period of time. You need to spend more time in this place, because there is more to see. If I were to plan such a trip again, I would head straight from Galveston north through Lake Livingston towards Caddo Lake (you can also do the Swamp Tour there), which would save us one day of driving and about 500 miles.
I would spend this time in the cowboy towns around San Antonio and Austin.
How to rent a camper in Texas?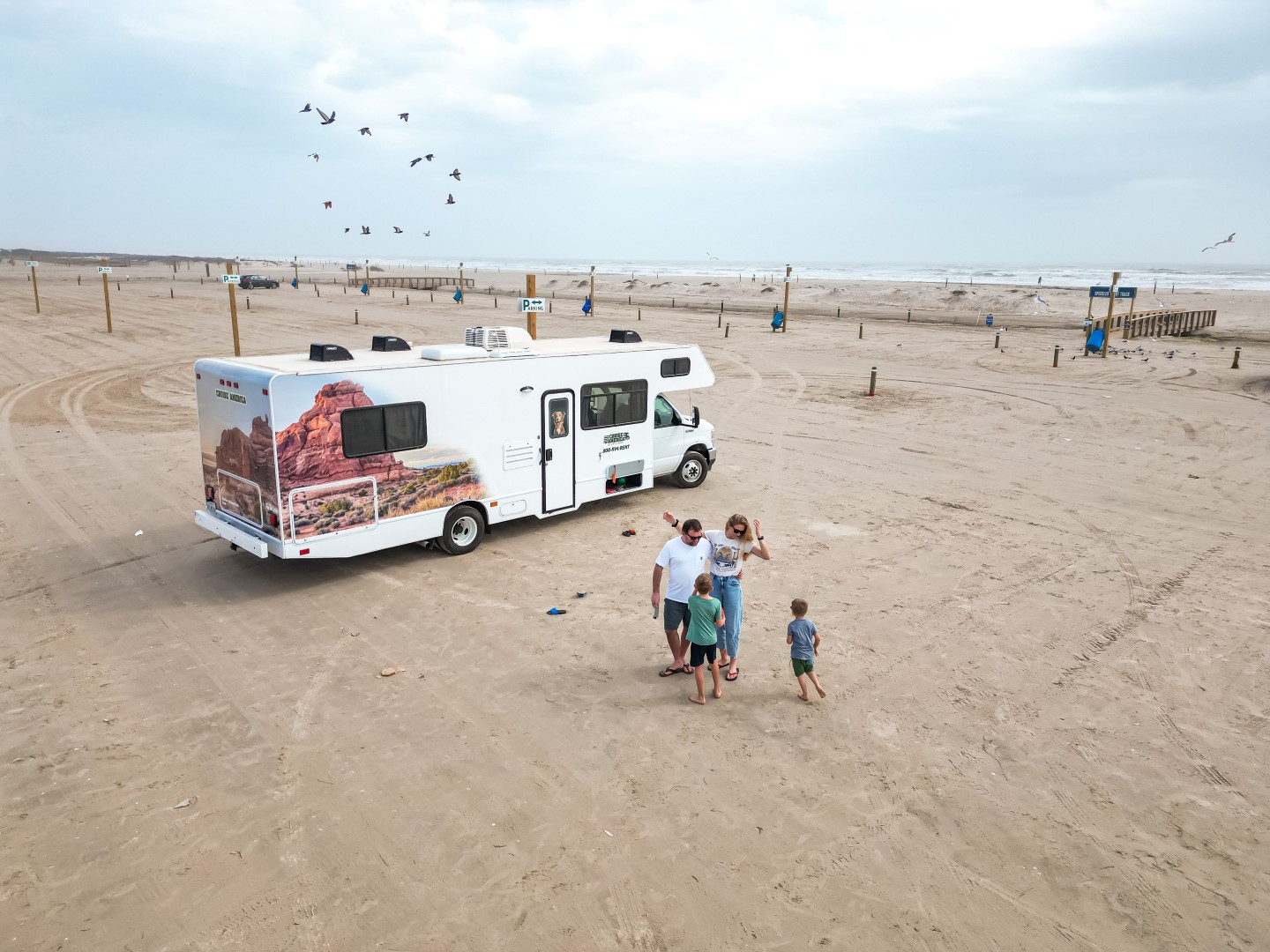 Go to www.usakamperem.pl and check rental prices in three international locations in Texas: Austin, Dallas and Houston. Checking prices yourself will allow you to adjust the date of your camper rental to flights that are convenient for you
Before you start planning, keep a few things in mind:
Cruise America and Cruise Canada do not recommend picking up your camper on the same day you arrive in the USA or Canada. They recommend spending the first night in a hotel.
The camper can be picked up between 1:00 p.m. and 3:00 p.m. and returned between 9:00 a.m. and 11:00 a.m.
There are very few points open on Sundays . Ask us in advance whether a given point is open before buying airline tickets.
The minimum rental period is 7 days .
gallery
We have created the CampRest portal for people who value freedom and travel on their own.
Enjoyed reading this article? Share it!