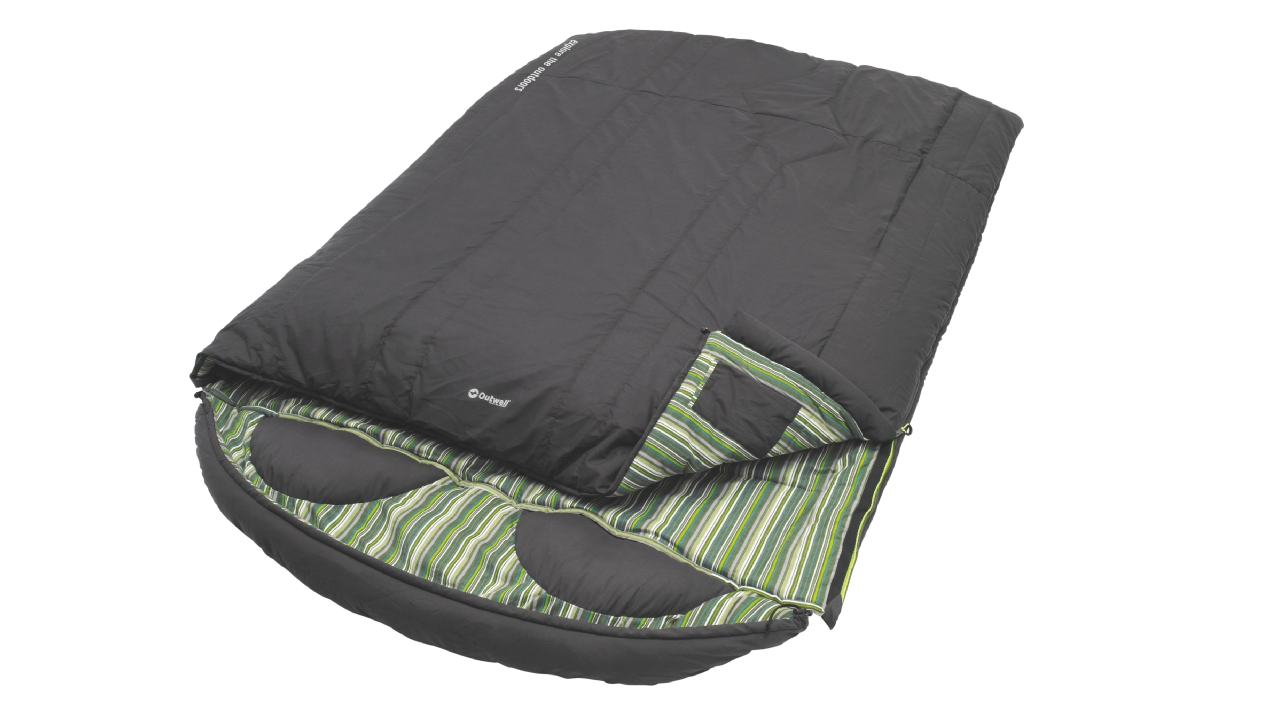 The Outwell Camper sleeping bag collection is one of the most interesting proposals on the market this year. Traditional solutions have been improved with modern technology, thanks to which we obtain high-quality products, extremely comfortable and user-friendly, and the prices are not exorbitant.
Camper, Camper Lux, Camper Double
We can choose from three versions of sleeping bags - classic, Lux and Double - each adapted to specific needs, differing among others thermal classification. The Camper sleeping bag works well during two-season use (from late spring to early autumn), at temperatures from -14 ° C to 18 ° C. Camper Lux gives you more possibilities, you can use it during 3-4 seasons of the year (in colder conditions, however, it works better), at a temperature from - 18 ° C to 16 ° C. Camper Double is worth choosing if we travel in the summer months, in late spring or early autumn, and the temperature at night ranges from -8 ° C to 21 ° C. Sleeping bags also differ in weight, which is 2300 g, 3000 g and 3500 g respectively. Of course, the Double version, unlike the others, allows for a double night, it is also possible to separate the sleeping bag into two single ones.
Specification of sleeping bags
Outwell decided to mix new and old solutions. Camper series sleeping bags have a classic shape and quite large dimensions (dimensions of an open sleeping bag: 235 x 90 cm , 235 x 90 cm and 235 x 170 cm ). The covers are made of polycotton (20% cotton / 80% polyester) and the colorful linings are made of flannel . The filling material is three-component Isofill fibers, which provide optimal warmth and adequate insulation. Each sleeping bag has a detachable hood with a built-in , comfortable pillow and strong zippers (by Outwell) that allow it to be opened from both sides. Inside you will find a small pocket where you can hide, for example, a phone or a flashlight. The set also includes a special square storage bag . Camper series sleeping bags can be fully opened, so they can be used as a blanket, they can also be combined, which increases their functionality.
The main advantage of Outwell sleeping bags
Why is it worth paying attention to the Outweel Camper collection among so many offers on the market? This time we do not have to choose between super light and resistant to extremely low temperatures mummy sleeping bags and those traditional, heavy, but extremely spacious and comfortable. The Danish company tries to combine the best of each of these proposals, focusing primarily on the expectations of users. The suggested price of the Camper sleeping bag is 599.95 DKK (Danish kroner), Camper Light is 669.95 DKK, and Camper Double is 999.95 DKK. If we take into account the quality of materials and the convenience of use, these prices are quite adequate, so when completing the equipment of your motorhome, it is worth checking out the Outweel offer.
Old fashioned travel is what I like the most. How about renovating your own vintage caravan and setting off on a journey through wild spots without a phone?
Enjoyed reading this article? Share it!