Camping grills - you can't go without it!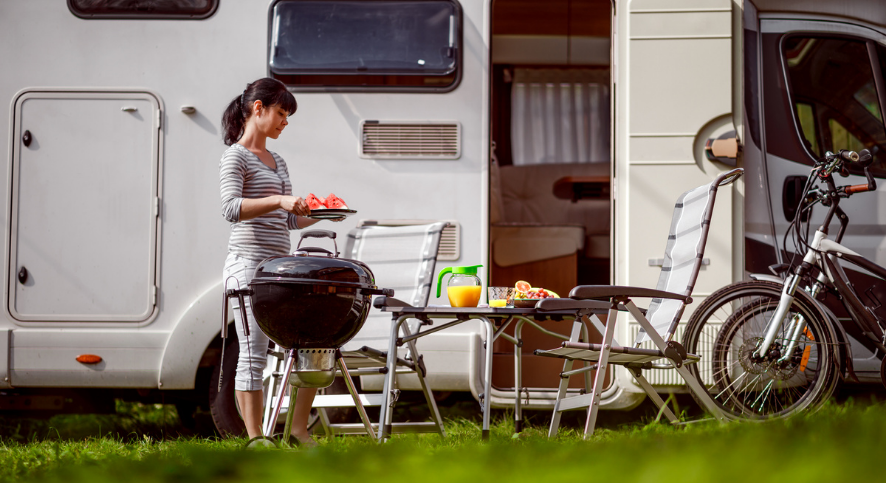 Every spring, many caravanning enthusiasts face the dilemma regarding the choice of equipment, and for many a key element of equipment is… a grill! What would a holiday trip be without him ...
In this article, from the perspective of a practitioner with many years of experience, I will try to present you with practical tips on how to choose the equipment that will meet your expectations. Note at the beginning: due to the restrictions on the use of open fire in most camping sites and many campsites, we focus mainly on gas and electricity powered models. Safety first and foremost.
Tourist grills - types
Currently, most of the units on the market today are oval or round table units, round on legs or rectangular folded into something like a trunk. Grills without legs / table grills are usually low and if we are going camping with a tent, they can be an ideal solution. Their operation, however, is not comfortable, and ensuring ergonomics requires sacrificing valuable space on the table. In addition, all ingredients placed on the grate will be an easy morsel, even for animals within the range of the grill. When folded, they usually take up little less space than models with legs.
The advantage of table models is definitely stability. Round grills on the legs (eg Cadac or Campingaz) are characterized by a different degree of stability in this respect - let us pay attention to this. The thicker the legs and the wide sockets to seat them, the better. Stability is also influenced by the reinforcement that connects the legs approximately halfway up their height, preferably a shelf:
Skottel CARRICHEF 2 gas grill with 3Ombar nozzle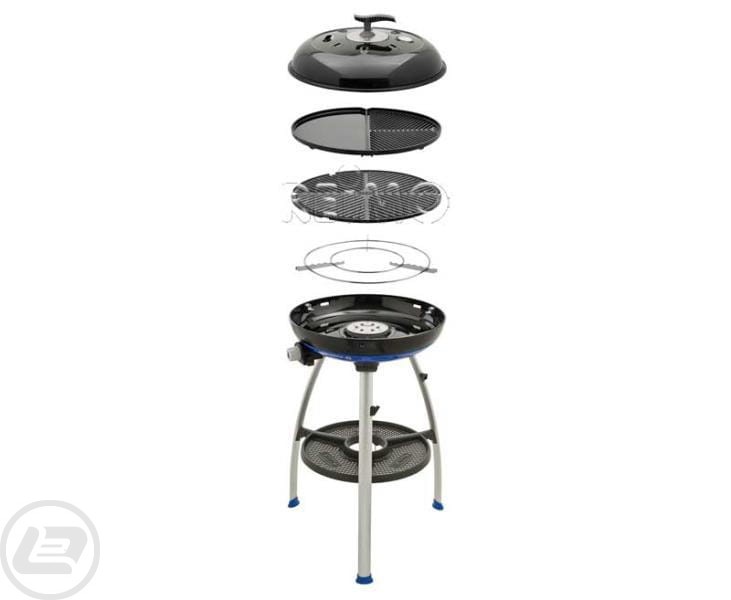 Such a shelf is suitable for grilling dishes, tools for turning ingredients or spices. If the free-standing grill is equipped with a lid, it is worth paying attention to whether the body or legs are equipped with a hook for it - this will allow you to avoid putting the hot lid on dirty ground or taking up valuable space on the table.
Folding and storing the grill
This criterion is extremely important - when choosing a barbecue for your home, we do not pay attention to how quickly it can be folded, how much space it will take and what its transport will look like. In the caravan / motorhome, we have to be more vigilant. Round grills often find their place in more or less practical transport covers / bags and take up a bit more space than the "suitcase" models. Here, all equipment, legs and accessories fit into one handy, lockable box.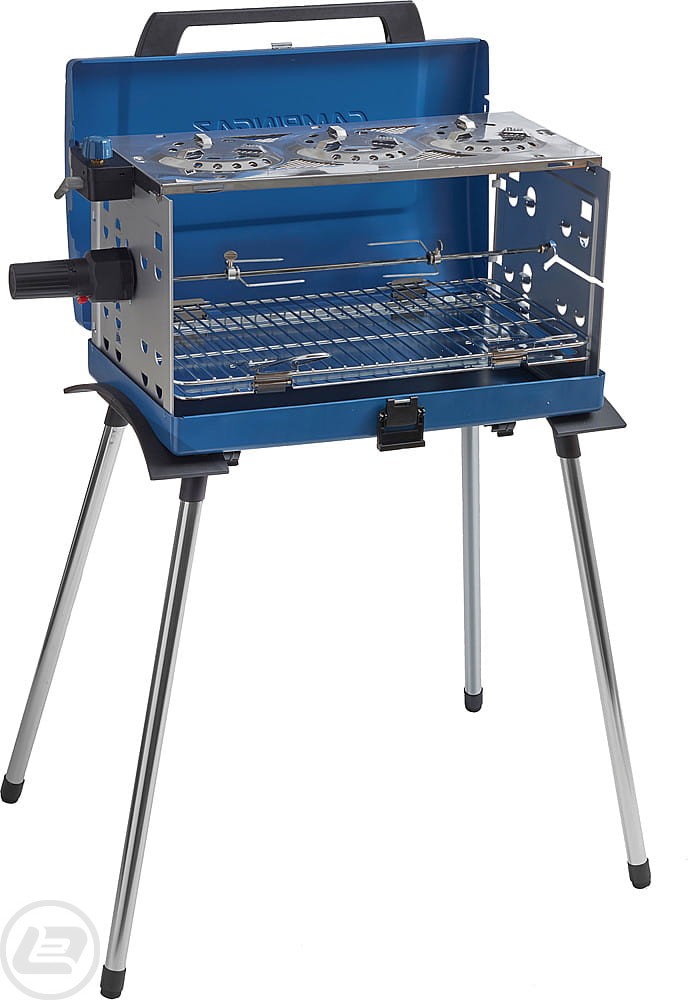 Cartridge grill, gas cylinder or electric grill?
As a rule, most grills are powered by gas from universal cylinders and adapted to work with regulators with a working pressure of 30 mbar. Be sure to pay attention to this parameter when buying equipment, e.g. at foreign auctions or on internet portals! An alternative are light and handy cartridges for powering cookers and grills, available in specialized stores.
There is no clear answer to the question of the best way to supply power. Because if we travel in a small motorhome mainly on weekends, and the only thing we use gas for is the grill, then carrying a large cylinder does not make sense. Similarly, if we are going to have a quick barbecue at the seaside or at the lake, we will appreciate the advantages of such a solution.
Gas cartridge grill Partygrill 200 Campingaz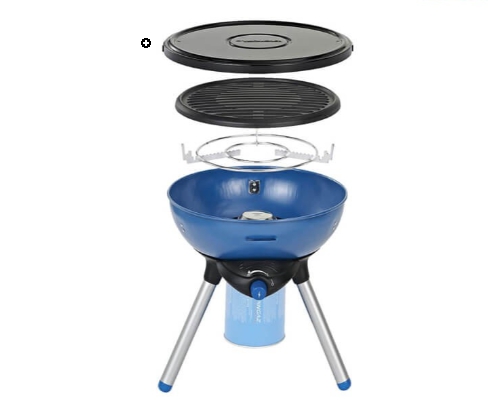 Gas cartridge grill Partygrill 400CV Campingaz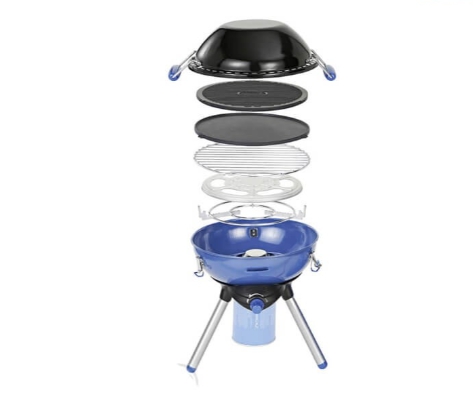 The above 2 models are perfect for traveling, they are equipped with trays and grids and allow you to prepare various dishes. Additional advantages are the piezoelectric igniter (we do not have to look for matches or a lighter) and the fact that we can use them for cooking in a pan or pot. In both models, the trays / grates are over 30 cm, which is enough for family grilling.
RV and caravan users often invest in external gas sockets and connect their mobile kitchens and grills to them. However, alternative powered models, e.g. infrared , are appearing more and more often on the market. If we go to places where we have a permanent power connection, it is worth taking an interest in, for example, such a patented solution:
Zaigle Well Being infrared grill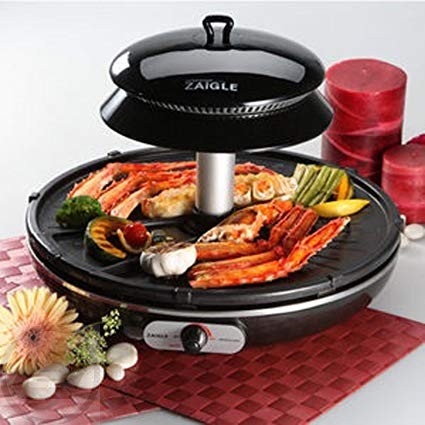 The advantage of infrared models is that the dishes do not burn, do not mix with their taste, we can enjoy their natural aroma.
Cleaning and durability
Here we come to the least pleasant element of the barbecue ritual - after all, we have to clean up our equipment after the meal. Due to the delicacy of non-stick coatings and the enamel layer, we should not clean the grill with just anything. As in many other aspects of caravanning life, the principle of "how you care, so you have" will also work here. When ordering a barbecue, it is best to remember about the right agent right away - for example: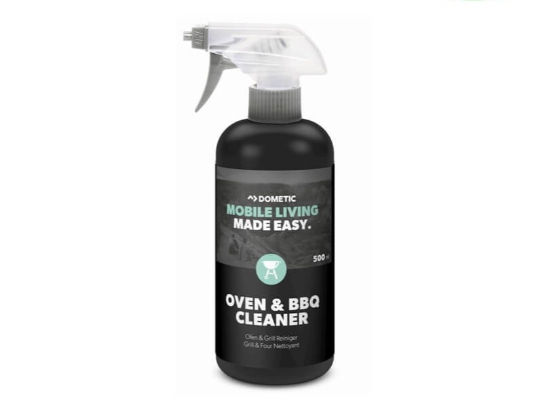 The use of an appropriate cleaning agent and regular inspection and cleaning of the gas nozzles will ensure our grills a longer life. We should also remember to use system covers - this will not only prevent fading of plastic elements, but also protect against flooding, corrosion and failure of the piezoelectric ignition system.
All accessories listed in the article can be purchased in the online or stationary store of Elcamp RV from Krakow.
I feel best in the form of trade fairs and meetings with enthusiasts. Technical freak. In my life I have dismantled many motorhomes for the first time. Fan of large vehicles, mountain biking and traveling without weight and financial restrictions. At CampRest, I am responsible for all publications on automotive topics.
Enjoyed reading this article? Share it!