It can also be comfortable in front of the trailer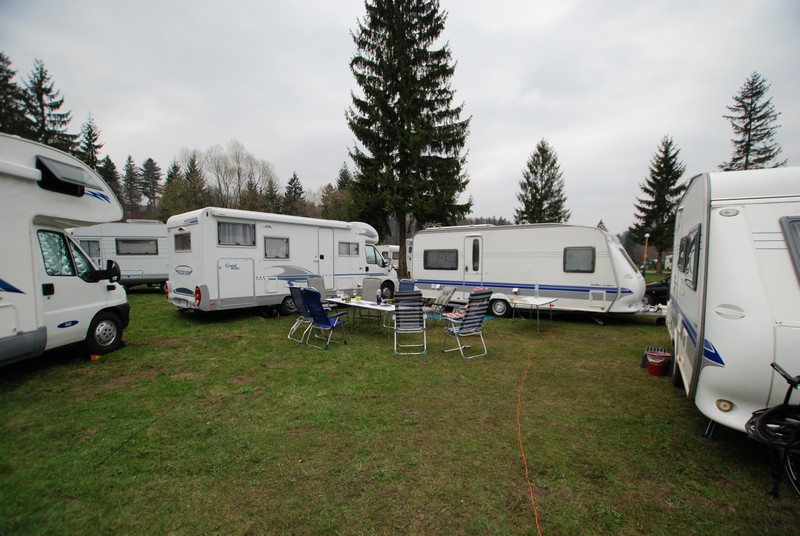 There is always not enough space in a caravan or motorhome! Therefore, it is worth considering whether the next furniture that seems necessary could not be replaced with something light and taking up little space.
Your trailer is missing a table? Do you need a bigger one, because the children have grown up and they won't all fit on one table top? Or maybe you are interested in the possibility of eating a meal in the open air? If so, think about a folding table.
Clever table
Some models are height-adjustable and have a weather-resistant top. After detaching or folding the legs, the table can be conveniently hidden in a place where it will not take up too much space.
A good solution may be to choose a rolled or rolled table . Classically, such a table has a rolled bale of material instead of a top, but nowadays aluminum furniture is available covered with thin pieces of bamboo wood. The bamboo is durable and such a table top can be rolled up comfortably. In addition, bamboo and aluminum go well together.
We will pay about PLN 500 for a table with bamboo elements. For less than PLN 400 you can buy an almost identical table, but without wooden elements, and for about PLN 300 you can buy a regular folding table.
Hanging organizer
If the day is sunny, we will probably spend it outside the trailer rather than inside. It is a waste of time to constantly go inside every time we want to reach for something we just need. A bottle of water, a change of shoes, newspapers, gadgets - where to put it all?
Fortunately, hanging organizers have been invented. We can hang them in various places, e.g. on the inside or outside of the door. Thanks to many pockets of various sizes, we can fit various items in them.
There are special organizers designed to store shoes or bottles, but you can also buy more universal models. Some of them can also be hung in the bathroom, when the cabinets no longer contain soaps or deodorants. The prices of the organizers are usually in the range from 50 to 150 PLN.
Just bet
There are also freestanding organizers, such as the Spike cabinet, which has its own frame. Unlike hanging organizers, we can put it wherever we need it. The price is PLN 84.
But the choice of polyester cabinets, based on a metal rack, is very large. For example, the foldable kitchen cabinet Jum Box Cross Cooker is designed for cooking outside of a caravan. The aluminum table top can be rolled into an accordion. The cabinet has a cover that protects the gas stove from the wind. There are four shelves in the cabinet. Price - approx. PLN 500.
For long "meetings"
We spend a lot of time at the campsite in a sitting position, so it is good to have a comfortable deckchair or chair. It turns out that a camping chair can be ergonomic. For example, the foldable Action Outdoor Ergonomic model has built-in special support for the lumbar spine. As if that were not enough, a cup holder is mounted in the armrest. The chair costs about PLN 260.
How about the Kerry Swan reclining chair? It is actually a cross between a lounge chair and a sun lounger. The seat is made of a durable material resistant to tearing and abrasion. The manufacturer claims that the armchair does not change its color under the influence of UV rays. But most importantly, this piece of furniture has a smooth adjustment of the backrest and footrest from a sitting to a reclining position and an adjustable, ergonomic headrest. However, such comfort comes at a price, which is slightly below PLN 800.
These are, of course, just examples. The choice of folding furniture is really wide and everyone will certainly find something for themselves.
Sometimes it is better to get lost than to ask for directions too much. Aldous Huxley
Enjoyed reading this article? Share it!