Types of motorhomes - a practical guide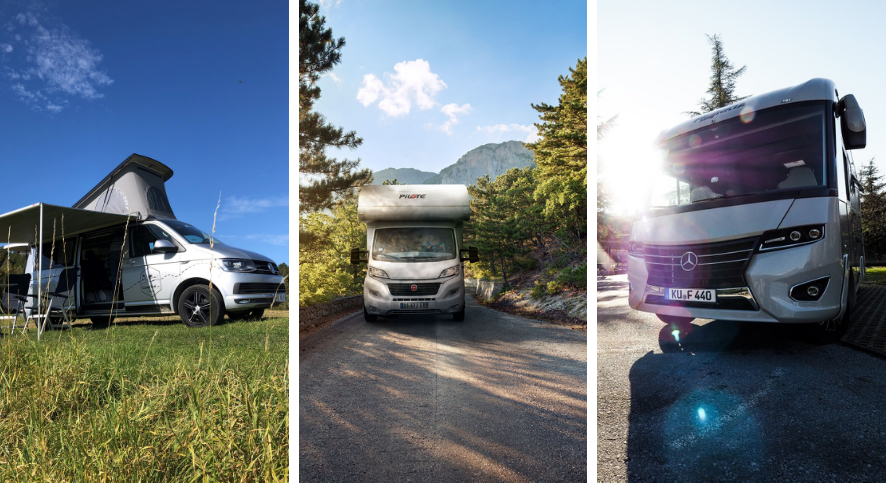 If you are interested in motorhome tourism , and you cannot find yourself in the maze of different types of vehicles - this article is just for you!
We will try to present briefly and substantively the basic parameters and our subjective view of the advantages and disadvantages of each of them. In this new, tutorial series of articles, we will also try to present each type of motorhome construction in detail and suggest what to pay attention to at the very beginning of this adventure.
We will start our journey with agile compact discs , we will discuss popular tin boxes and alcoves , spacious half- integrateds , luxurious integrateds and expedition capsule structures .
Compact - e.g. DREAMER CAP LAND / VW T6.1 Wavecamper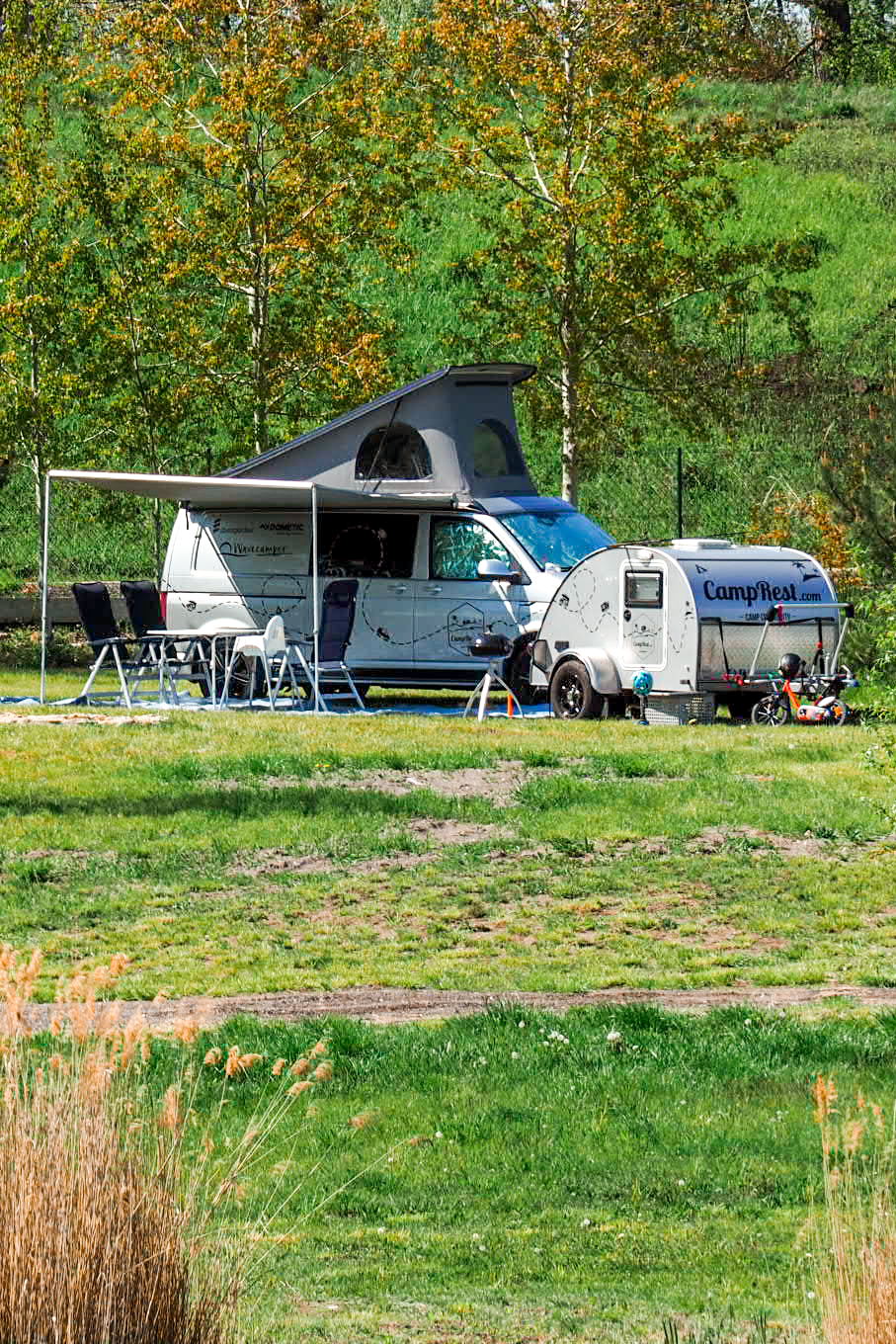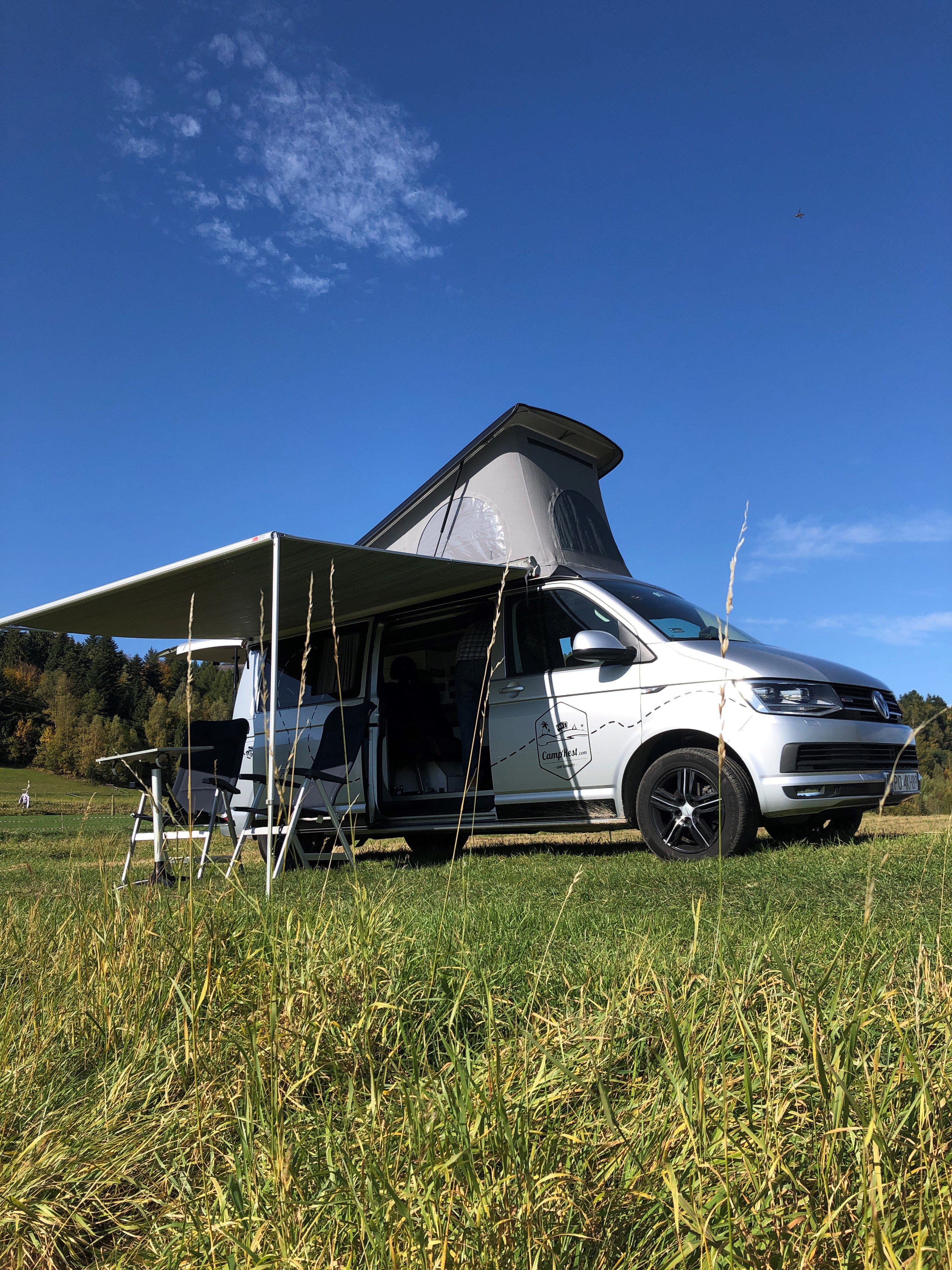 The segment of cars based on vans or small vans adapted to the needs of mobile tourism. We can find here, for example, a fold-out bed (usually in the back of the vehicle), often also an additional bed integrated with a lifting roof, kitchen furniture , thoughtful lighting, luggage compartments , in many models also small tanks for clean / gray water, and even a shower head for use outside the vehicle.
For whom?
There is no clear answer to this question. At first glance, when analyzing the dimensions and functionality of this category of vehicles, traveling couples come to mind. In recent years, sales records have been recorded here, and the demand is downright phenomenal. It should be remembered that during summer trips, these vehicles will prove themselves perfectly even among larger families - the market of dedicated roof tents and attachments is so well developed that we can successfully cope with all challenges. You can easily set off from the campground to conquer the area at any time without worrying about entering city centers.
Pros:
Mobile and economical in operation,
perfect for the city and sightseeing, it can be used as a "everyday" car,
relatively low road costs, ferry charges,
low requirements for parking spaces.
Minuses:
Space-limited functionality,
small water reserves,
often no dedicated sanitary room,
the need to transfer many aspects of life outside the vehicle,
limited luggage space,
limited functionality and space in winter.
"Blaszaki" - eg Globe Traveler / Pilote V630J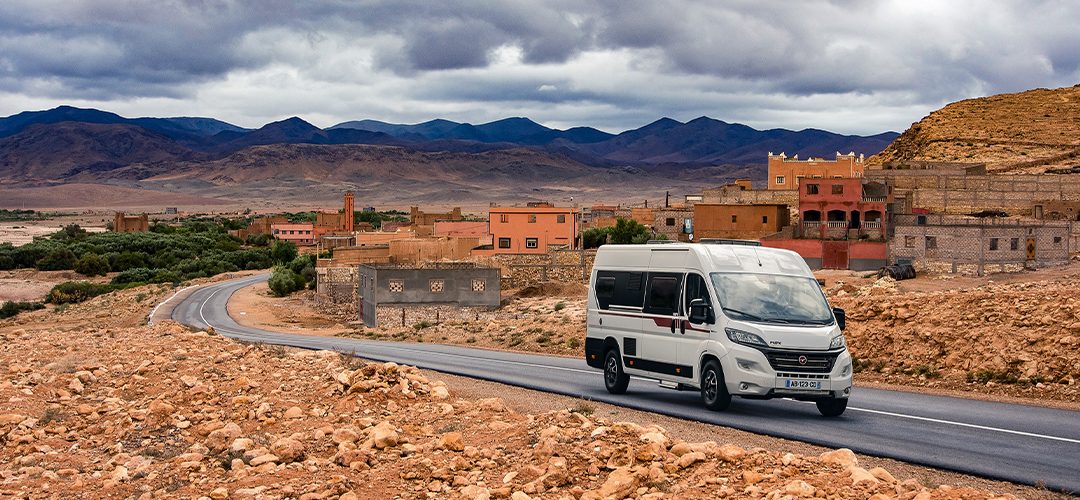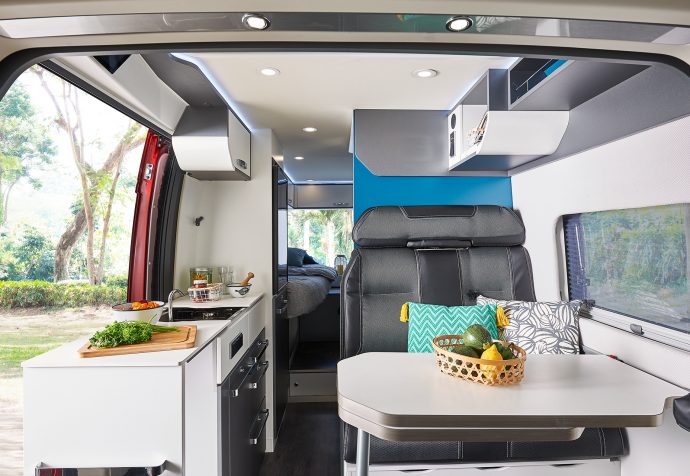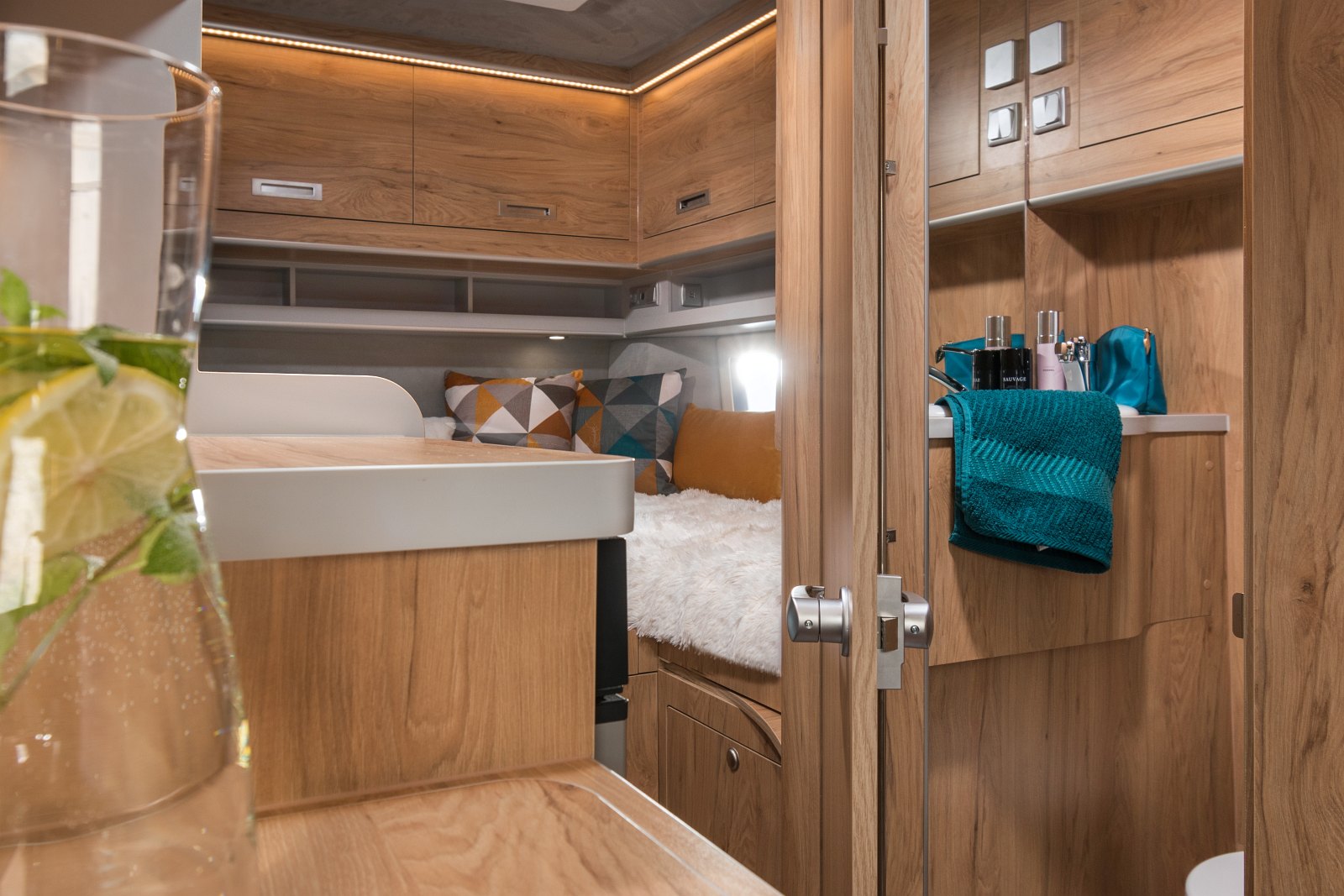 From the outside, a tin canopy - inside a full-fledged motorhome. This category, popularly referred to as " motorhome on a delivery van ", is a dynamically developing segment of the motorhome market. Not only because it is the cheapest option for many to build their own motorhome . This group of vehicles has gained popularity and favor with users and experts due to its practical advantages. From a pragmatic point of view, they are for many of us a "golden mean" combining mobility with the convenience of traveling and resting.
For whom?
Especially couples and families will find interesting arrangements here. The vast majority of vehicles are equipped with 4 driving places and 3 sleeping places. Increasingly, thanks to progressive solutions and technologies, we meet models that can transport up to 5 people and offer relatively comfortable sleeping conditions for four. A fully comfortable and functional bathroom and kitchen are a matter of course in this segment. On rainy or frosty days, we have enough space to comfortably function inside without major restrictions.
Pros:
Compact installation dimensions,
driving comfort and mobility,
airtight structure and inexpensive repairs of the sheathing compared to motorhomes,
functional kitchen and bathroom,
year-round use.
Minuses:
Slightly less space than in a standard motorhome due to the design of the vehicle,
sliding doors instead of standard built-in doors,
often lack of spacious lockers for larger luggage or tourist equipment,
high tare weight and often low loading reserves.
Alcove - e.g. SunLiving A75DP / Pilote C690G / Concorde Cruiser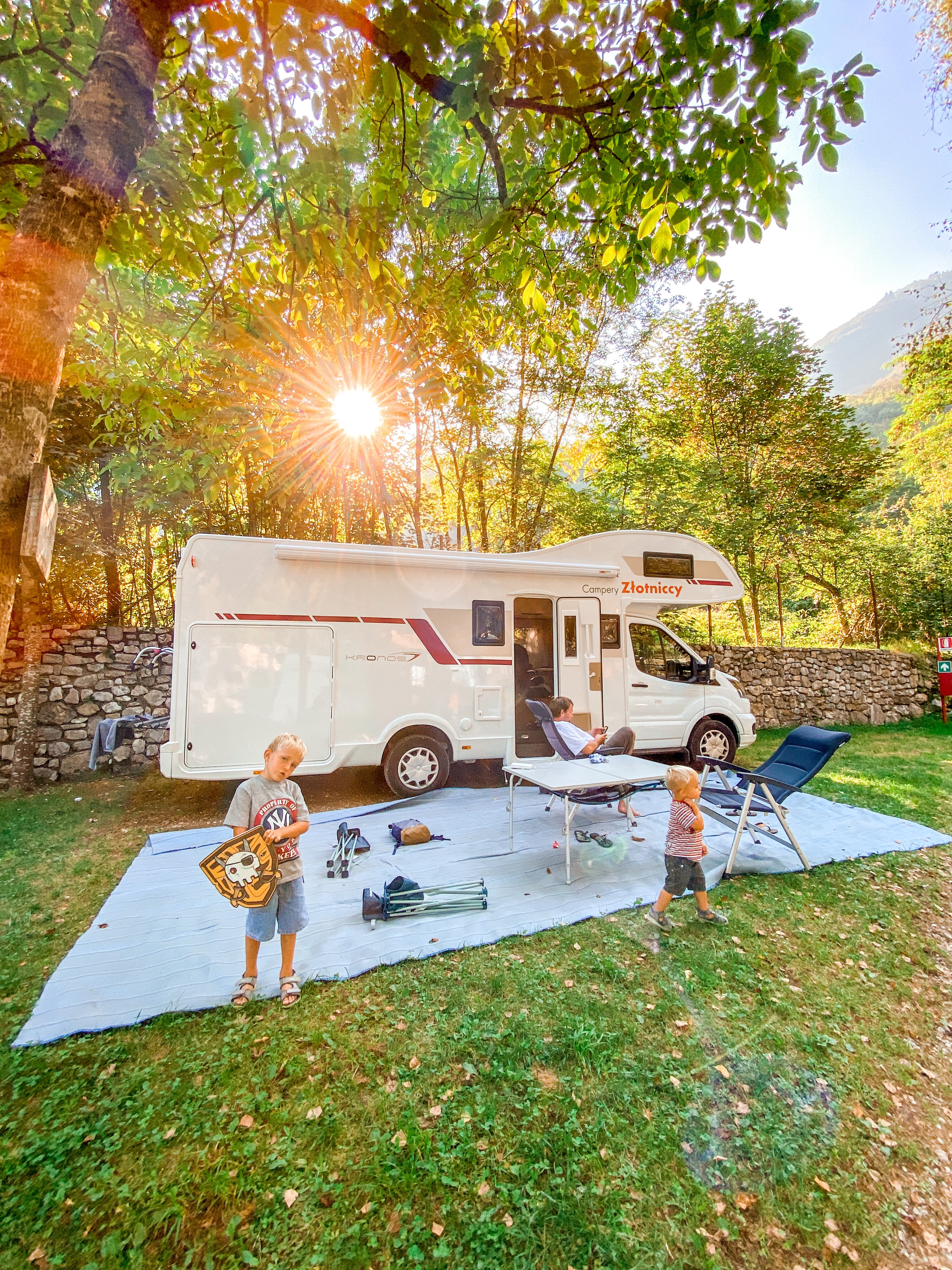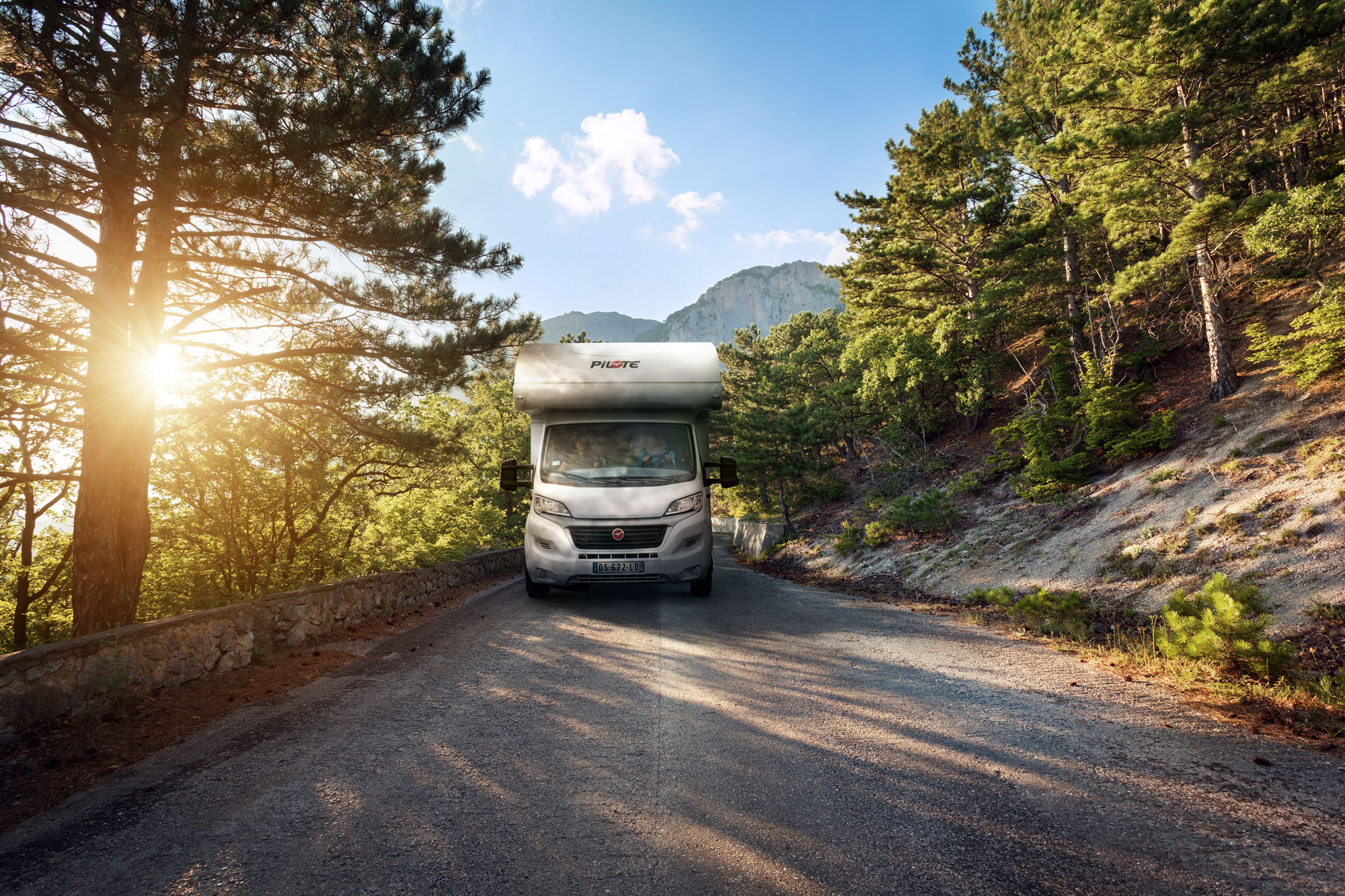 The alcoves , i.e. vehicles with a bed permanently placed above the vehicle's cab, have become a synonym for family camping trips over the years. Many manufacturers define this segment as an introduction to a caravanning adventure , but let's not be fooled by the first impression. The market offers a full spectrum of vehicles from economical constructions to the most luxurious houses on wheels.
For whom?
The target group here is certainly families. The alcoves are the only vehicles that allow you to take up to 7 people on board with approved seats equipped with seat belts and will be able to provide such a large group with relatively comfortable sleeping conditions. Of course, it will be paid for by the high curb weight of the vehicle itself, and taking into account the weight of passengers and luggage, it will also be a challenge when it comes to GVW . When planning trips in a larger group, we must always keep this aspect in mind. Alcove-type motorhomes can also be a perfect solution for mobile couples who want functionality and space typical for a thoroughbred motorhome and appreciate the small dimensions of the vehicle. Thanks to the use of space above the cab for the bed, many compact structures are in length below the magic limit of 6 meters.
Pros:
Space for driving and sleeping even for large families,
fully functional bathroom, kitchen, fridge and dining room,
the water supply and the gray water tank allow for some independence,
with appropriate insulation, the vehicles are suitable for year-round use,
large luggage space,
the interior can easily accommodate even taller people.
Minuses:
High vehicle structure,
relatively low cruising speed and greater susceptibility to side and frontal gusts of wind,
not all models are suitable for winter use,
may be associated with high road and ferry fees in some countries,
problem with restrictions on DMC with a larger group of travelers.
Editor's Note: Many people associate alcoves with cheap cars from a campervan rental . For many manufacturers, alcove-type structures are indeed the cheapest base models on offer. This does not mean, however, that all players on the motorhome market treat this segment in this way. Hence, in terms of +/- it is difficult to write about prices as an absolute factor. This category includes cheap models for rental companies as well as masterpieces of design and functionality that make your heart beat faster.
Half-integrated - e.g. Pilote P746GJ / Adria Matrix Plus / Niesmann + Bischoff Smove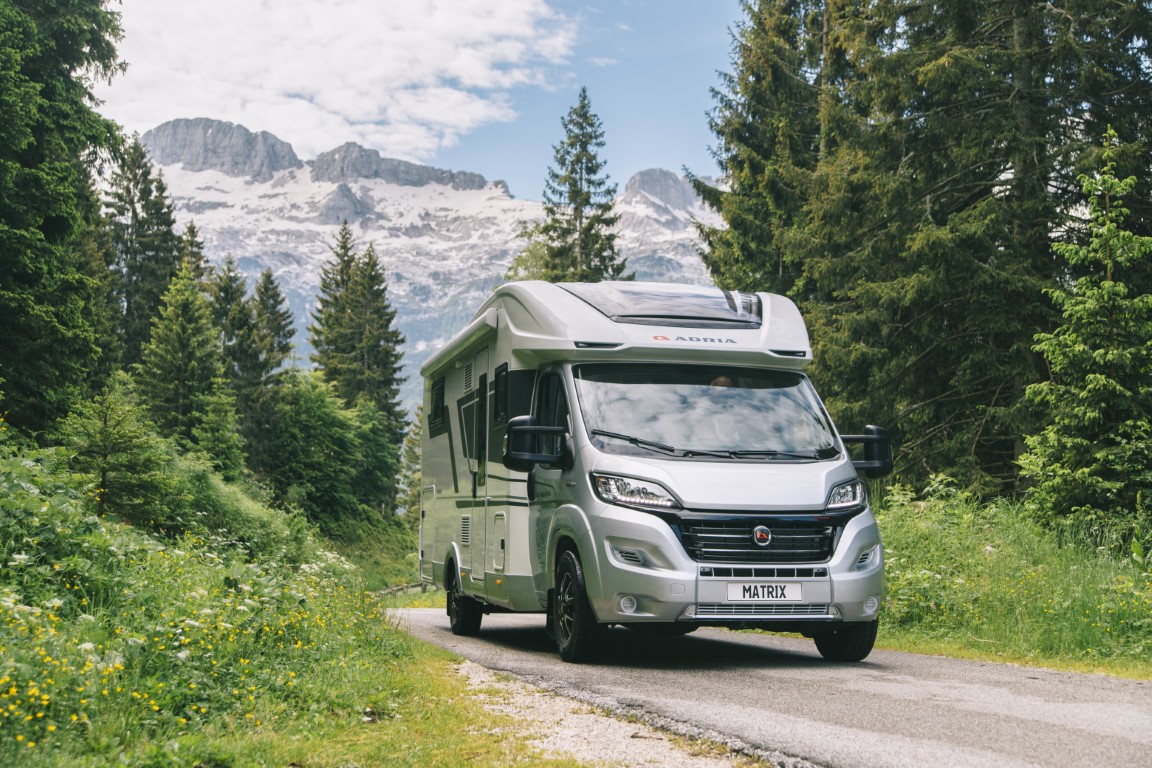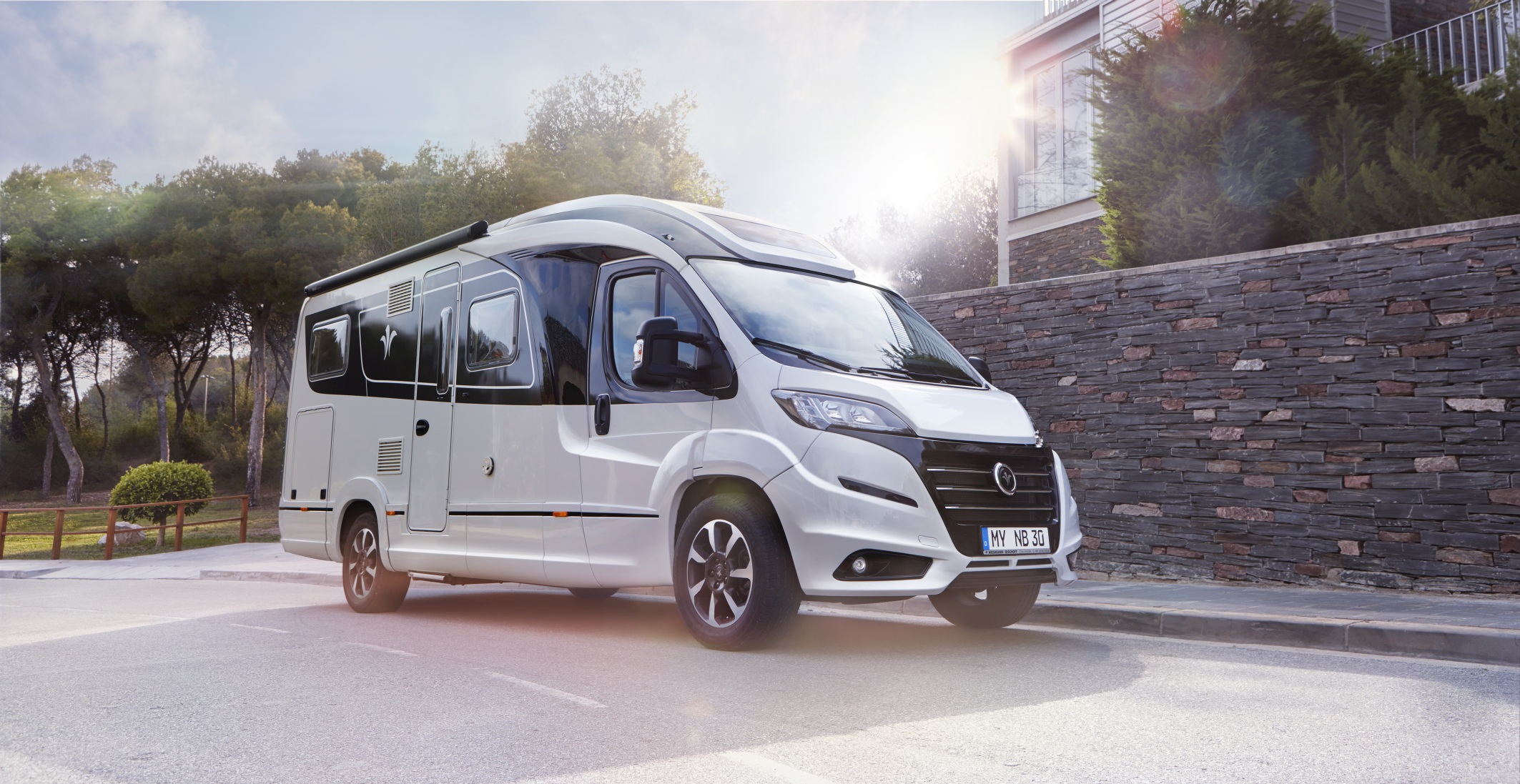 Semi- integrated motorhomes are an extremely broad and economically broad segment of the market. They owe their name to the design - we have a front here reminiscent of a standard serial base vehicle - most often it will be Fiat Ducato , Citroen , Mercedes Benz Sprinter or Ford Transit . Behind the cab, on the other hand, you will find a wider than the base bodywork created by the manufacturer of the motorhome.
There are many design differences in this segment, which can translate into durability, comfort and handling quality. The chassis may be factory-made from the base vehicle, but it may be a dedicated solution for motorhomes (e.g. AL-KO brand). In the construction of the walls of economic models, we can also find construction wood and polystyrene, and in hi-end models, aluminum frames and polyurethane cores are available. The sheathing can be aluminum or ultra-modern composites. The length of the vehicles, as a rule, does not exceed 750 cm and the height does not exceed 300 cm. Many manufacturers active in this segment, noticing a potential problem with the GVM of vehicles, modify the width of the body, which can be from about 225 to 210 cm.
For whom?
The answer is simple - for everyone. The segment of semi- integrated motorhomes is extremely extensive. The multitude of possible configurations and systems can make you dizzy (obviously positive). The common elements of most models are the beds at the rear of the vehicle - a centrally placed double bed or separate beds that can be joined are standard. We find here spacious shower cubicles , kitchens with plenty of space for storing and preparing meals, as well as variously configured lounges focusing social life. Here, too, several solutions are possible, among them the recently popular " face to face " variants. In conjunction with the reversible driver and passenger seats , even large families or a group of friends can fit here. Above the saloon, 2-person beds are most often located, equipped with a manual or electric lowering system. Half -integrated games are designed for 2-5 people and in most cases they offer a lot of space for luggage and tourist equipment.
Pros:
Spacious interior and fully functional bathroom / kitchen,
safety in the event of a collision, inexpensive replacement of the windshield and repair of the skins of the base vehicle in the event of a collision,
large loading space in most models,
year-round use possible,
many models equipped with a double floor offering additional loading space.
Minuses:
it is not possible to use the lounge with an abandoned bed,
the lowered bed above the living room may, in some systems, block the exit from the vehicle,
mediocre driving characteristics and no double floor with the factory base vehicle chassis for body build-up.
Integra - e.g. Frankia Platin / Rapido Distinction / Hymer Exsis-I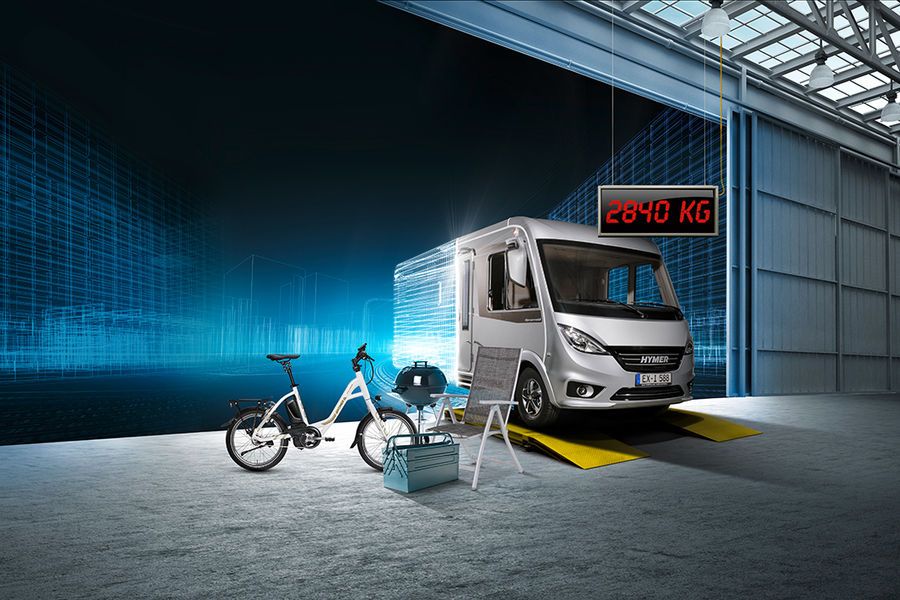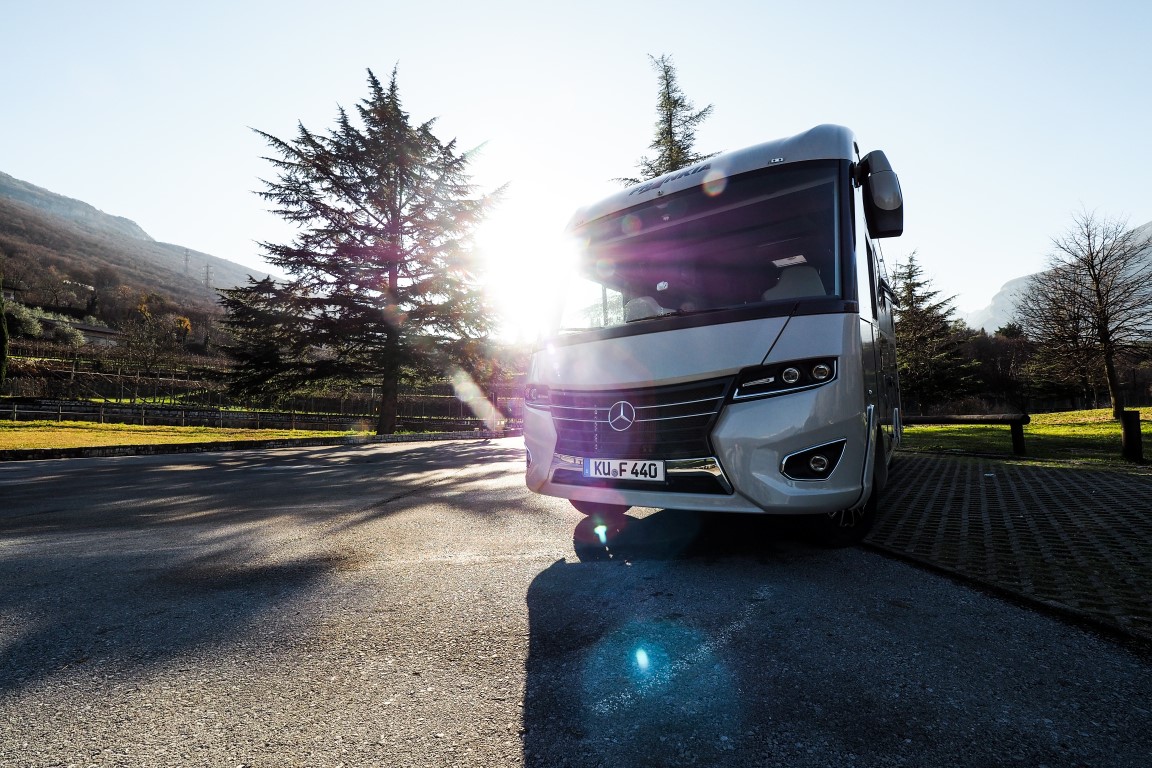 The largest and most luxurious houses on wheels are understood as integrated motorhomes . The name itself indicates the method of construction - the base vehicle is here "absorbed" into the body of the vehicle. In practice, this means that the bodybuilder's factory receives the chassis and an open cab, or even a "hull" consisting only of the drive head. Even the dashboard and its housing are the work of the camper manufacturer, not the base vehicle. From the outside, the monstrous-size windshields are characteristic of integrated vehicles - as a rule, they provide excellent forward visibility and illuminate the interior of the vehicle well. The elements of the construction, seen from the rear of the motorhome, are almost identical to those in the half- integrateds , and the main difference is visible from the front. Due to the fact that the width of the building is identical along its entire length, the lowered bed in the front part of the building is located above the cab, not the living room. This increases the functionality of the vehicles and the feeling of space.
For whom?
Due to the dimensions of vehicles and a wide selection of models and internal systems, regardless of preferences and needs, everyone will find something for themselves. Paradoxically, however, it is difficult to find vehicles for large families in this category - the salon in most models is designed in such a way that a maximum of 4 can fit during the ride, using the optional swivel chair "for poverty" 5 people.
Integrated motorhomes are very popular with our western neighbors in their prime. Retired couples who spend long months on their motorhome trips often give up the lowered bed at the front when ordering, instead choosing an unparalleled feeling of space in the living room and most often additional space for cabinets above the cab. If we plan to buy an integrated car for family trips , let's rather forget about vehicles with a GVM up to 3.5 tons. After adding the necessary accessories and refueling the car, we have empty scales, min. 3,200 kg. In Poland, it is difficult, in accordance with the manufacturer's approval, in this weight category to even register a car for use by 4-5 people. Let's save ourselves the problem and immediately get interested in the 4.25 or 4.5 t variant. This will allow us to sleep well and not worry about loading reserves. Of course, such a solution will require a category C driving license and will involve some additional road tolls. In practice, however, none of the well-known user editors regretted this decision.
Pros:
Big space,
convenience at a standstill,
double floor improves thermal properties and offers more storage space,
large capacity clean and gray water tanks offer independence for a long time,
a large part of the living room can be used with the lowered bed in front,
a lot of luggage space.
Minuses:
More difficult to maneuver and limited mobility due to the size,
front side visibility is often limited due to thick side pillars,
expensive repairs of plating and windshield,
high DMC and associated restrictions.
Expedition structures / residential capsules - e.g. Azar4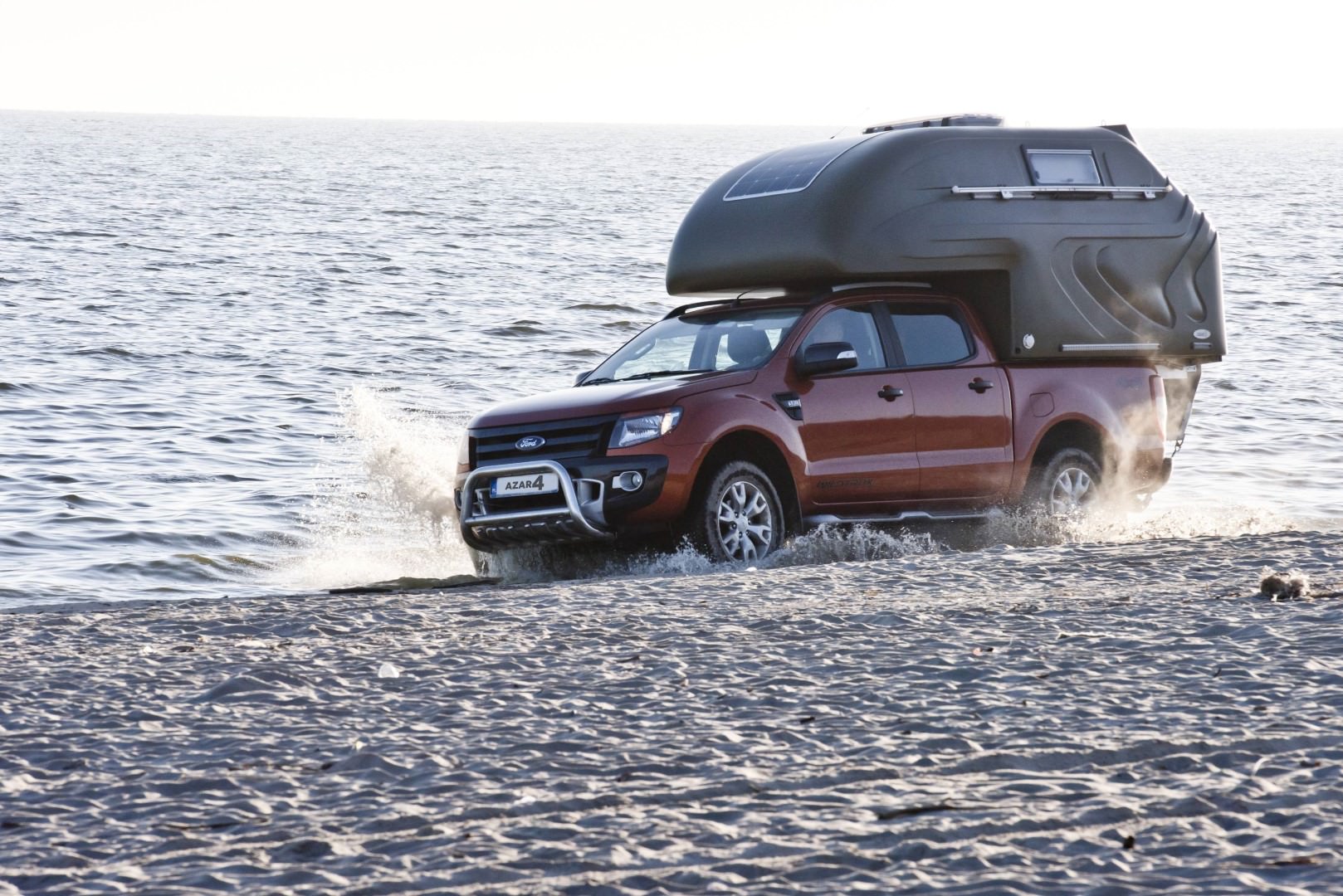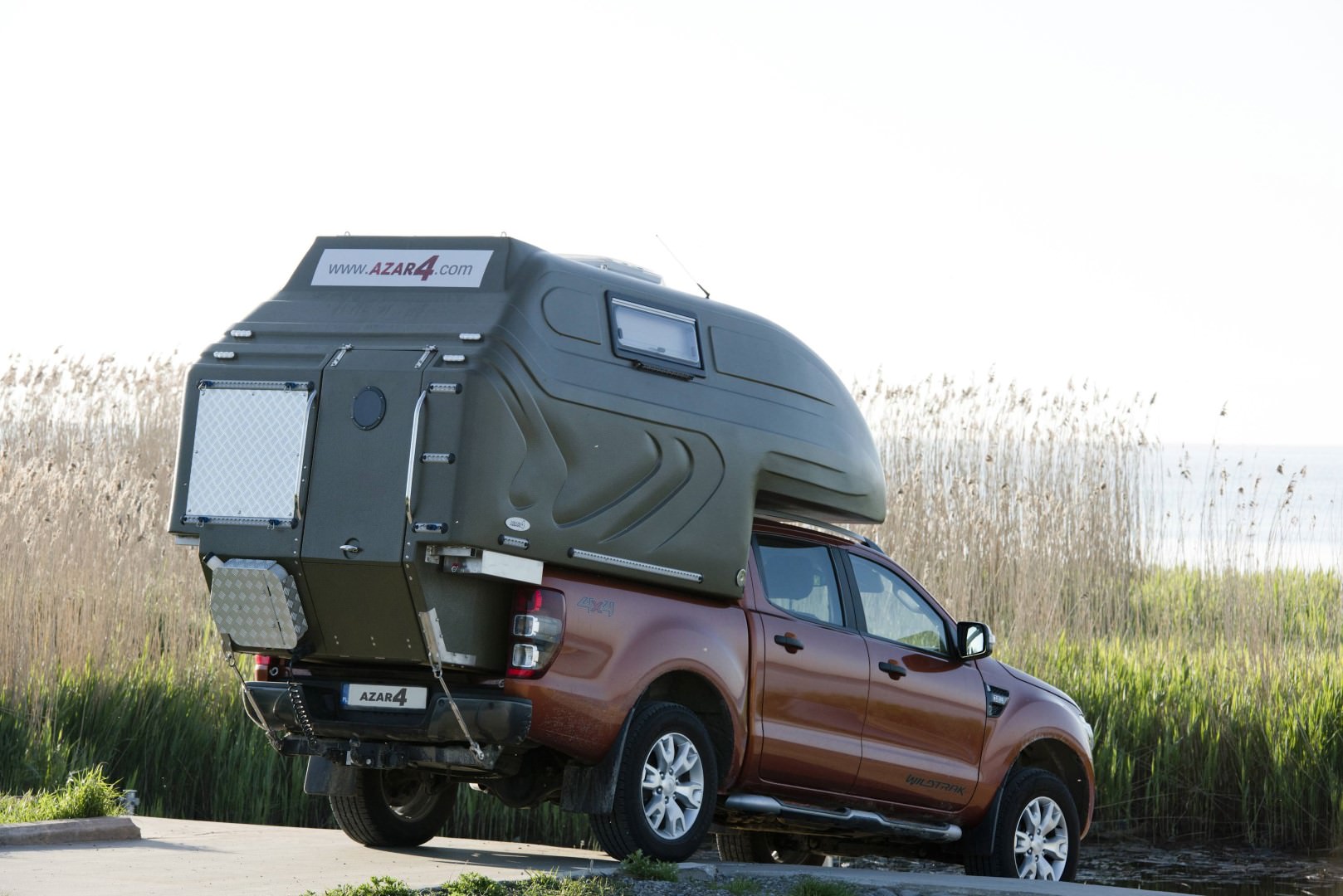 In recent years, solutions for travelers whose vacation plans do not fit into the traditionally defined framework have also become extremely popular. The exploration of hard-to-reach places, communing with wild nature and reaching interesting destinations far away from civilization have become a way of life for many people who want to taste life " off road ". The market responds to these needs with dedicated solutions or terrain superstructures of serial motorhomes, often with 4-wheel drive and increased ground clearance. A separate and at the same time extremely interesting category in this segment are capsules mounted on off-road cars . Buildings made of glass fiber composites often have bathrooms and tourist toilets on board and are adapted to all climatic conditions.
For whom?
Due to the specificity of the product, this solution is aimed at users of most pickups on the market. This solution will be comfortable for couples and small families, and with the use of an additional outdoor tent, the entire crew can go on a comfortable journey. The capsule can be removed at any time and in the place of parking, you can move freely by car, similarly, after the season, the capsule that does not take up much space is simply stored until the next trip.
Pros:
Mobility, development does not significantly affect the dimensions of the vehicle,
possibility of removing the capsule at a standstill,
rich capsule equipment in a small area,
strength and durability of the structure.
Minuses:
Due to the construction, a high threshold and an entrance that requires getting used to,
the need to have a compatible car.
I feel best in the form of trade fairs and meetings with enthusiasts. Technical freak. In my life I have dismantled many motorhomes for the first time. Fan of large vehicles, mountain biking and traveling without weight and financial restrictions. At CampRest, I am responsible for all publications on automotive topics.
Enjoyed reading this article? Share it!