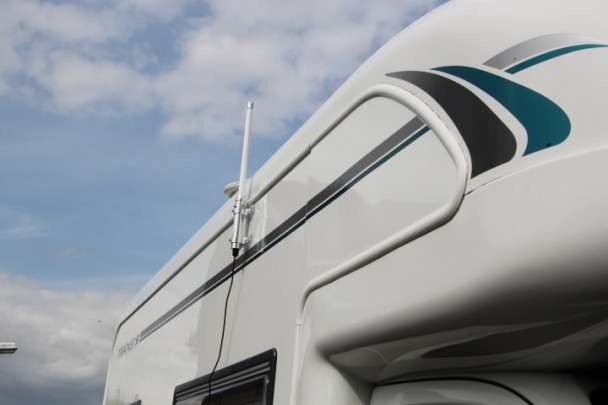 Going on vacation does not have to be off-line. More and more often we want to have Internet access in our place of rest. Fortunately, this is possible both in a motorhome and in a caravan.
There are more and more offers on the market aimed at drivers who would like to "catch" the Internet in their car. There are, for example, car navigations using the Internet provided by a mobile phone. In addition, we can easily buy, for example on Allegro, an antenna that can receive a signal from public Wi-Fi networks.
Motorhome WiFi has gone a step further, preparing its entire offer for caravanning enthusiasts traveling around the world.
Omni-directional or directional antenna?
The basis of the offer are antennas , which, unlike Wi-Fi receivers permanently installed in laptops, can amplify the signal. Thanks to this, it is possible to gain access to the Internet from a hot-spot located not only 50 meters, but even 1000 meters from the computer. This means that if there is any open internet network within a kilometer of our stopping point, we will be able to use it.
However, it is important to choose one of the two antennas offered. A more convenient solution will be to use an omnidirectional antenna . With strong suction cups, it can be placed on the roof or on the side of the vehicle. Its advantage is the fact that such an antenna does not need to be set up, because it will search for the signal around its axis, in every direction.
The antenna is made of stainless steel and is resistant to water and strong winds. It can be connected to a computer with a 5-meter cable plugged into a USB port . The device contains the Realtek 8188SU chipset and has a power of 8 dB . They can be used with both Windows and Mac OS. The manufacturer price is £ 69.99 .
Unfortunately, the signal captured by such an antenna may be weaker than what we can get by patiently adjusting the directional antenna . Such an antenna can be rotated around its axis by 180 degrees. It has a power of 12 dB , so you can receive a signal even 1.5 kilometers away . If we use the right software, we will be able to detect the location of open networks, which will speed up the settings. The price of such an antenna is £ 59.99 .
From TV to SIM cards
But that's not all that Motorhome WiFi has to offer. There are also iBoost systems that allow you to split the signal from the antenna to several computers, and even TV transmitters, thanks to which the DVB-T TV signal is changed into a signal that can be received via Wi-Fi.
For people who travel a lot, however, the offer related to SIM cards will be more useful. When we cannot find any open internet network, we are left with using the 3G or other networks used by mobile phone operators. For this purpose, we can install a 3G antenna on the roof, equipped with a strong magnet, and to reduce connection costs, use a special roaming , which allows you to use telephone and Internet connections at prices similar to local ones. Incoming calls to phones using such a service in a given country are free. Additionally, you can buy a package limit of internet access - e.g. 50 MB costs 3 euro.
There are also external modems for mobile internet that can operate on any cellular network.
Sometimes it is better to get lost than to ask for directions too much. Aldous Huxley
Enjoyed reading this article? Share it!