Busik Po Bezdrożach - part III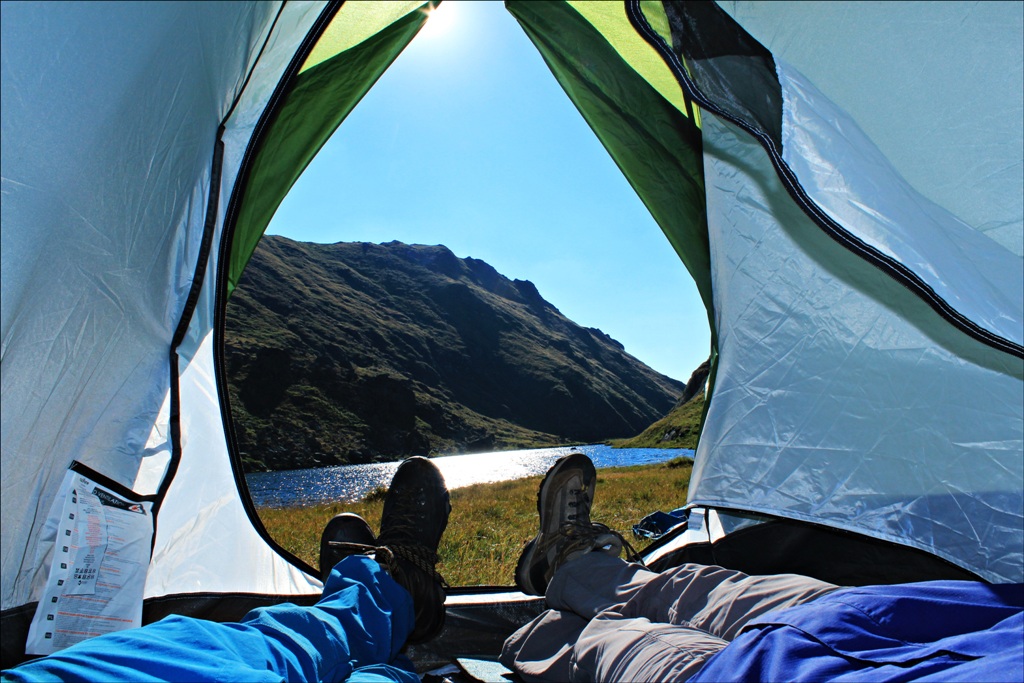 Busik Po Bezdrożach - part III
We start our trip to the mountains with a walk around the stands to buy a map of Fogarasha. We manage to find one for 18RON, unfortunately, apart from the marked routes, there is nothing else, we were especially troubled by the lack of transition times, which were not even on the trail. Before leaving, I tried to find some information about the ascent of Moldoveanu. On one of the blogs I read that the trip back and forth takes about 3 days, google maps showed less than 4 hours, and rescuers at the shelter stated that it was about 10 hours of hiking, in one of the mountain magazines that Asia took with her they also wrote about a 3-day trip expedition, so we took this time. It's not a problem for us, we have tents and a rolling pin, you can go. However, we only had 2 days to reach the highest peak in Romania. The first ascent and the only signpost with the given time (1h) led to the pass above the shelter, the ascent was quite steep and rocky, sometimes very slippery, but as it was one of the attractions on the Transfogarska route, Sunday tourists climbing in white sneakers could not be missing there , bootki or flip-flops. I thought that such views are only with us. It took us about 30 minutes to get to the first hiking point. At the top, Dominika remembered that she had forgotten to take the tablets from the car without which she could not go any further. Well, it was late, not a long time, and a long way to go. I left my backpack and decided to go get it, because it will be faster this way. I treated myself to skyrunning training, I ran down the hill quite quickly, I took what I needed and I had to try again ... I turned the whole thing in 50 minutes. I felt my thighs and calves mercifully, what my heart loves, but Dominika's legs hated it: P Fortunately, as a reward at the top there was a chunk of bread with chocolate cream and a kiss. We threw the backpacks on our backs again and moved on. After a while all the tourists on Sunday disappeared and the trail became almost empty. We were surrounded by more and more beautiful views, but the trail was becoming more and more demanding, from steep, almost vertical descents to similar entrances, chains began to appear. There are no signposts, but only once in a while there is a trail marking that is faded from the sun or washed away by rain. Daniel wondered how Barry would manage in the mountains. However, Barry is not an ordinary mongrel, but rather a mountain goat mixed with a pooch. I have never seen (even in movies) that a dog could cope with the rocks so well, he would easily climb to Rysy, and Orla Perć would not be scary for him if he could enter the TPN; D
Slowly, the sun began to hide behind the mountains. It was a sign that you should look for a place to stay, which was not easy due to the lack of a flat surface. We finally managed to find a seat, but it was very windy. Daniel decided to lightly climb over the ridge to the other side of the mountain and see the surroundings. It turned out that on the other side of the pass there is a lake - a mini Morskie Oko, additionally sheltered from the wind. However, in order to get there, we had to go down a very steep wall, which was also covered with grass. Danielo said it was roughly the same as climbing the ridge, which is about 5-10 minutes. On the way down, it turned out that he probably misjudged the distance a bit, because it took us more than half an hour, but I know him, he said so that we would not bother to stay on the leeward side. , a stream flowing from a slope with icy water. The time has come for the long-awaited dinner. A dozen or so kilometers with heavy backpacks gave us a hard time, so we consumed a bit too much of our daily food ration. Everybody was still hungry. Unfortunately, the lack of wood made it impossible for us to start a fire, so we talked for a while on the grass, while also turning up the atmosphere about the bears and wolves hanging around here. Fortunately, we had a Barry to serve as an early warning system. We were a bit cold at night, finally we had summer sleeping bags, and at night it was frost;) By the way, nothing ate us, but our sleep was quite shallow - at least me. Mainly due to marmots running around us.
We devoured the rest of the bread for breakfast and were left without food, so extending the hike for another day was out of the question. It took us an hour to get out on the trail from our spot! Massacre. We climbed to the next summit, but the highest one has never been heard of. We found ourselves on the map, it turned out that we are not even halfway, it was approaching noon, so we had to decide whether we were going further or turning back. From where we were, we had about 8 hours to get to the car and 6 hours to the dream summit. We decided to turn back, because a 14-hour hike without food could end in trouble .. We didn't know what awaited us next. The way back began to give us a hard time, our legs became softer and softer, then we decided that the retreat was a good decision, we simply wouldn't be able to turn it both ways in one day, unless it was lightly without backpacks. In the evening, exhausted, we return to the bus, which was waiting for us politely. Fortunately, no one threw him off the slope, or tried to borrow something from us :) We only had to find a place to stay and drill for the whole day. I will say this, the Polish Carpathians are beautiful, but the Romanian ones pierce them several times. Probably due to the lack of people on the trails - in 2 days we met maybe 12 people (and Poles at that) and the possibility of wild camping. Full contact with nature. Peace and quiet, views and peace. One thing is for sure, we will definitely be back!
We headed towards the real Draculli's castle. We spent the last cash on the map, so to get to the ruins we would have to go to the city and come back ... we didn't feel like spinning like that, so we got some information. We found out that, in general, there is nothing interesting there, you have to pay for photos, and the opinions of other tourists were not encouraging. A simple matter, someday we will come back here anyway, we will enter and verify the truth. Yeah, we were told by our hungry bellies.
In the end, we managed to find a place to stay. There is a stream, you can bathe, but first dinner. Unfortunately for us, it turned out that a 5-liter jar of baked beans, brought from Poland, had broken open ... Masaaaakra, so much food to throw away :( We are left with pasta with sauce. in the morning, set off on the longest route during the entire trip, i.e. 24 non-stop driving through the shafts, local roads, paths and mountains.
We spent the next day in the car, on the way we passed through Gypsy villages that didn't look too interesting. It's good that Tripciak did not think of a stop there, or rather the engine. We looked at the map and found a road bypassing Sofia and about 60km shorter, it looked promising. During the journey, however, it turned out that we found a kind of Transfogarska route, but in the Bulgarian version (that's what we called it) ... Only poorer by beautiful views, but more numerous in the turns. We climbed the hill, then descended, everything was fine, but on the mountainous section there was hardly any straight path, only serpentines. The crew in the back started to get sick. I am not surprised, after all, we drove this road for a good 2 hours. The lack of support was a pain, my biceps were pumped up like after a whole day at the gym :)
We wanted to shorten it, and it turned out the other way around :) Well, that's our style. At least it was interesting. On the way, we passed abandoned houses, post-communist buildings, I am not surprised that no one wanted to live there with such access. After a dozen or so hours we arrive in Macedonia, after crossing the border the landscape changes dramatically, it is simply clean. We stop at the station to use the Wi-Fi and check the current exchange rates. We calculate the cost of fuel and we get less than PLN 3.50 per liter, so we refuel right to the cork. 4 o'clock in the morning, I spent almost 1000 km behind the wheel. We get to the Ohrid Lake, we want to camp in the wild, but there is nowhere ... it is dark and we are tired. We decide to spend the night at Rino campsite. In the morning the owner offered us free coffee - it was delicious! Surprisingly, he spoke Polish quite well, we learn from him that this year is the season of Poles for him, he is visiting someone from Poland every now and then and he is afraid that his liver may not stand it. At the campsite, we also meet a Polish team in a rented transfer, returning from Albania. They told us how they were stopped by the police or by a black BMW that blocked their way, where a menacing-looking Albance emerged from inside, but when they saw foreign metal sheets, they left them ... Interesting, they scared us a bit, but we found that Nobody will mess with the happy cucumber team. We recharged the battery, cleaned the bus, removed small faults and had an equally good dinner, paying little for the whole thing. We liked this Macedonia, clean, good and fresh food and most of all it is cheap and so is the camping. We have about 5 km to the border, so we refuel again and take fuel up to a 5-liter bottle. We cross the border, Albance in Mercedes looks at us weird, they look a bit like those in movies with terrorists in the lead role. We also quickly learned that traffic rules exist only on paper. .. CDN
We are two students of Tourism and Recreation at AWF Katowice who want to visit the deepest corners of the world. Our teaser and passion for adventurous journeys, combined with Bartek's childhood dream from childhood, resulted in the purchase of an old school square - Tripciak :) The idea to buy a bus and tour the whole world was born when little Bartuś, who was only 5 years old, saw the cult fairy tale for the first time Scooby Doo and their crew in the crazy The Mystery Machine ... additionally infected with a travel note from an early age. From that moment, he started dreaming about his own bus, where he will be able to visit the whole world, getting to know foreign cultures, people, curiosities and secrets that the world hides;) Finally, after 16 years of dreams, he managed to buy a worn VW T3, which served almost 20 years as German ambulance - becoming the apple of his eye. After stormy deliberations, together with his chosen one, they named him Tripciak gloBus! We also invite you to our blog: http://tripciakglobus.blogspot.com/
Enjoyed reading this article? Share it!