Buying the first motorhome - a set of questions before buying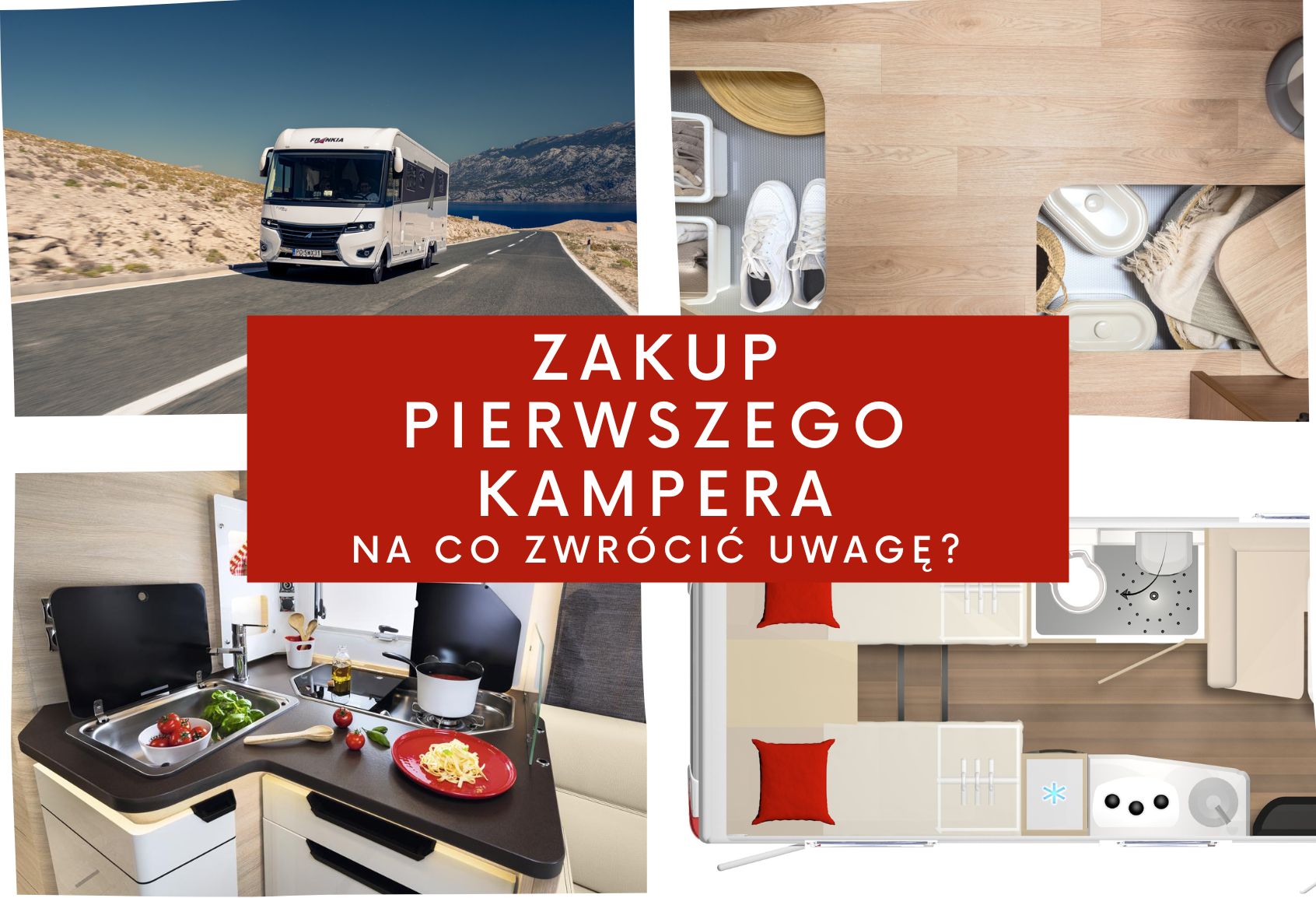 Buying your FIRST motorhome is a much more complicated process than buying an ordinary car for everyday use. There are many more elements to consider here. The layout of the interior of the motorhome, type of bathroom, weight of the motorhome, additional equipment, arrangement of beds, type of driving license to drive the motorhome ... In the following article we give you a set of questions that are worth answering when planning the purchase of a motorhome.
Remember that the best way to check if a motorhome is right for you is to rent it in advance . Check our motorhome rental search engine to see if there is a motorhome rental in your area or find a specific rental model in our database to test it before buying.
If you are thinking about buying a used motorhome , then in the article "What to look for before buying a USED motorhome?" we suggest what surprises you may encounter when buying a second-hand motorhome .
What is the best bed arrangement in a motorhome?
How many people will use the beds during trips, and how many people will use the seats?
Fixed beds are the most comfortable and functional.
It should be checked whether the change of seats to lying places will not be too laborious (in newer motorhomes manufacturers have used quick systems, but in older ones these systems are a bit more complicated).
When it comes to bunk beds or those placed in an alcove, they have limited space and require some exercise from the users.
Do you have to use a ladder or stairs every time you go to bed?
How to use the kitchen in the motorhome?
Is there enough storage space for dishes and food?
Will an oven be needed?
If you often have the possibility of connecting to 230V, a microwave oven will be a practical solution.
Is the capacity of the fridge and freezer adequate?
Is there sufficient ventilation?
Kitchen layout - is it possible to walk or access other important places while cooking?
How big is the worktop?
What interior color will be the best?
Light colors brighten a small area, but it can get dirty faster.
Dark colors will make the interior smaller, but it will be more resistant to dirt.
What arrangement of furniture in a motorhome to choose?
Is there enough height to stand comfortably without bending over?
Is it possible to get to the toilet if, for example, a bed is unfolded?
Can two people easily pass each other in the aisle?
There are no sharp corners that could be dangerous for children.
Are there enough lockers and cupboards?
Is there enough space in the living area for all passengers to sit together at the table?
What to pay attention to when it comes to a bathroom in a motorhome?
Is there enough space in the lockers for towels and other necessary beauty utensils?
Is there enough space to easily use the sink, shower or toilet?
How is the ventilation solved?
Is the shower cubicle separate from the toilet?
Is the toilet a cassette or is there a large faeces tank with a mechanical grinder?
How big a motorhome do I need?
How many people are caravanning trips planned for?
Bigger size = more weight
GVW over 3.5t means a category C driving license is required, higher tolls and higher fuel consumption, but it is less likely to overload the motorhome.
A longer motorhome means higher costs for ferry crossings.
More seating or sleeping places in vehicles with a GVW of up to 3.5t means less load capacity, i.e. fewer things to take on a trip.
When it comes to the permissible load capacity, you should not be guided only by the entry in the registration document , it is often the value of the Permissible Gross Weight reduced by the curb weight of the vehicle with empty water and fuel tanks and without passengers. After refueling all the tanks and packing your luggage, you can exceed the GVWR, which is associated with unpleasant consequences during roadside inspections. Before buying, it is worth checking how much the vehicle itself weighs. After refueling all tanks, and adding the approximate weight of passengers, we will get the exact weight that can still be loaded into a given vehicle.
Will it be comfortable to maneuver and travel with a motorhome of this size?
Do you have a place to park the motorhome when you do not use the vehicle for a long time?
Do I plan mainly stops at campsites or rather trips to the wild in more difficult terrain? The weight and dimensions of the motorhome are of great importance here.
Think about what the near future will bring
Is it not planned to enlarge the family in the near future and the motorhome will be too small, or children will not start individual trips from next year and the motorhome will turn out to be too big?
Maybe soon there will be a desire and time for longer than just 2-week trips and the camper's equipment should be richer?
If you plan to spend the night outside the campsites, it is worth thinking about other equipment - adapted more to independent stay (solar batteries, generator).
Other important topics when buying a motorhome
Engine power - depends on what kind of driving you prefer, just like in a passenger car, but it should be taken into account that the weight of the entire vehicle with passengers and luggage will usually be around 3.5t and 90KM is a bit too little.
Solar batteries and a generator - if you plan frequent stays away from civilization, these are quite useful inventions.
Awning - definitely useful for every trip, even during the rain, you can sit in the open air, additionally, it significantly increases the usable space of the entire motorhome.
Where to look for a motorhome to buy or rent?
In our search engine, we have works where you will find motorhomes for rent and motorhomes for sale only from legally operating companies - this is a guarantee of a successful purchase or rental.
Advice when buying a new motorhome
If you are thinking about buying a new motorhome for the first time and the following questions appear in your mind:
Which brand belongs to which quality shelf?
Which brand to choose considering budget, quality and where I live?
Will the dealer advise me of his products as the best because he cares about sales and not my satisfaction?
What interior layout will be the most appropriate?
What accessories to choose?
Then I invite you to use my personal consulting service when buying a new motorhome. Thanks to this service, your purchase will be more conscious and will allow you to save a lot. More on this topic can be found in the article " Professional advice when buying a motorhome ".
We have created the CampRest portal for people who value freedom and travel on their own.
Enjoyed reading this article? Share it!