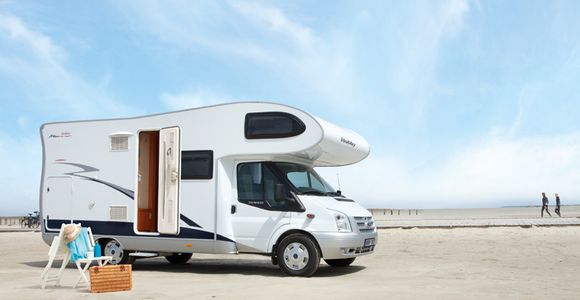 What to check before buying a motorhome? - CampRest Buying Guide
Buying a motorhome is like buying a house or apartment, we usually spend a lot of money and we want to enjoy it for many years. It isn't easy to find a vehicle that will satisfy us without wasting our money on expensive reparation. We provide you with some information that are useful when you think of buying a second hand motorhome.
General control
Check if there is some car service in the area and make an appointment in order to do a general review, just as with any other motor vehicle.
You should go to the place where you can weigh your car without any cargo, than you will know how much reserve is left for passengers and baggage. If the Curb Weight in the registration card is much different from the real weight, you might reconsider buying this camper, because it can cause problems connected with registration, technical review or weight control during driving.
If the engine is warm after your arrival it may mean that the seller is trying to hide some defects.
After filling all tanks with water you should check if there are no leaks and if all the equipment ( water pump, taps, showers, drains and drain system) work properly.
Check if the data in your documents are the same as data mounted on the vehicle ( model, body chassis, year, etc).
Lack of any documented service history should increase your vigilance.
Check if the tire tread rubs evenly, if it's not, it indicates vehicle's bad geometry which strongly affects driving.
Check the chassis if it doesn't rust and if there's no leakage from the steering system or engine.
External control of the plating
Check if there aren't any signs of damage or repairs, bad repairs can have fatal consequences.
Check the seal of the windows, roof, vents and of the antenna output. You should also check the jointings if they aren't crushing (Caravan services have specialized equipment to test the leak-tightness of the plating)
Check if there's no rust - you can never be certain if the whole plating is made of aluminum. You should also check under the vehicle.
You should also check the roof. If it's very dirty it can be a sign of a bad preservation during winter, which may cause leak-tightness damage.
Indoor control
On the first sight
If the interior smells stale you can almost be sure that something is leaking or the owner didn't care about the vehicle.
You should check every nook and cranny, if there's no mould, especially on the floor.
The general condition of the upholstery, hinges, cabinets locks, doors and windows
The general condition of the vents, skylights and windows, and if everything's working properly
Check if there's no leakage on the walls, especially in the lower parts.
Check if the floor is dry and hard, if it bends while walking, it means that plywood may be decayed
It's good to check the camper after heavy rain – it's the best opportunity to see if everything's OK and if there's no leakage.
You should check the area around windows, vents, skylights and antenna output – if there is no leakage or if the plywood or laminate wasn't replaced. Touch the walls around it, it's construction should be stiff.
The bathroom
Check if there're no cracks in the shower (repair can be expensive)
Check the quality of sealing on the walls joints, walls and shower joints, and on the walls and washbasin joints.
Check the floor condition, if it isn't puffed because of the leakage. The replacement of the bathroom floor is very expensive and time consuming. Everything has to be be dismantled, sealed and rebuilt.
Check if the toilet, water taps and drain are working properly
Check the leak-tightness of the water pipes and look thoroughly if the place where drain pipe is going through the floor is properly sealed.
The kitchen
Check the quality of walls just as in case of the bathroom
Check if the water taps and drain pipes are working properly
Check the leak-tightness of the water pipes and look thoroughly if the place where drain pipe is going through the floor is properly sealed.
Check the fridge (in the system of 12V, 13V and the gas supply if there's any)
Check if the gas stove works properly and if the owner has got any documents confirming the leak-tightness
Check the floor condition, if it isn't puffed because of the leakage. The replacement of the kitchen floor is very expensive and time consuming. Everything must be dismantled, sealed and rebuilt.
Additionaly
Check the condition of the boiler
Check the water pump
Check if all electrical devices work properly (interior and exterior lights, contacts, fans)
Check if the heater works properly both when driving and when the vehicle is parked. Check if all vents work properly
Check if the air-conditioner works both when driving and when the vehicle is parked.
Check the quality of the awning and if it works properly
Ask for the demonstration of water tanks filling, wastewater disposal system and handling the chemical toilet
Test Drive
Before you buy a vehicle, it's worth to go for a 2 hours test drive with full load.
It's recommended to take the maximum number of people we plan to travel with. If the motorhome is adapted for motorcycle transportation, ask the seller if you can load it, also it's worth to fill the water tanks full. The only way to check the exact driveability is to load the whole camper because that's the exact weight we will go on a trip with.
We should be aware that we will drive on diverse terrain (highways, mountainous and urban roads)
While driving you should listen intently if something doesn't tap or knock while braking, check if you feel any vibrations or if the vehicle pulls to each side
Ask the passengers if they hear some disturbing sounds.
The equipment and arrangement
If you still cannot decide which vehicle you should buy, below we provided a set of questions which may help you to choose the best one.
Beds
How many people will use beds and how many will use seats.
Fixed beads are the most comfortable and functional.
Check if changing the seats to beds won't be too time consuming, in the newer motorhomes it should be easy, while in older models - a little bit complicated.
If it comes to beds in the alcova or bunk beds you should know that they have limited space and require a little exercise.
The kitchen
Check if there's enough compartments for dishes and food.
Will you need the oven?
In case you will often have a power supply of 230V a microwave should be more practical.
Is the capacity of fridge and freezer appropriate?
Check if the ventilation is sufficient.
Kitchen arrangement – is there an easy access to the important places while cooking?
Interior colors
Bright colors can lighten up small rooms, however it may seem a little bit cold during the winter,
Dark color scheme will make a room seem smaller , on the other hand the room will seem warmer during winter.
What kind of color scheme will be easier to keep clean.
Interior arrangement
Check if there's enough space to stand without tiring leaning.
Is the toilet easily accessible when, for example, some bed is unfolded
Can two people easily pass by
Aren't there any sharp edges that can be harmful to children
Is there enough place for all passengers to sit down together at the table.
Bathroom
Check if there's enough compartments for towels and other necessary accessories
Is there enough space to freely use the washbasin, shower or toilet?
How does the ventilation system looks like
Size of the camper
Number of people included on a caravan trip
Bigger size = Bigger weight
For a camper with GVW over 3,5 ton, you should have driving license category C, road tolls and fuel consumption will also be higher
The longer motorhome, the bigger costs on ferries
More seats or beds in vehicles with GVW up to 3.5 tons means less capacity and less things possible to take on a trip
When it comes to the load capacity you shouldn't rely only on the registration card, often it's a Permissible Gross Weight minus Curb Weight of the vehicle (empty water tanks, fuel tanks and no passengers). When you fill all containers and pack up your luggage you can exceed the GVW, which is associated with unpleasant consequences when the road control happens – so before buying it's worth to check the weight of the vehicle itself, but with all tanks filled, and if we add the approximate weight of all passengers, we will have the exact weight that can be loaded to the vehicle.
Will it be convenient to manoeuvre and travel in a camper of such size?
Do you have a parking place during off season
The future
Are you planning to enlarge your family in the nearest future? If so, the motorhome can be too small. If your kids are bigger, and plan individual trips, then a motorhome may turn out a little too big.
Maybe in the nearest future you will go for a longer trip and you will need a better equipment
If you plan to stay outside the camping it's worth to think about the equipment more adapted for independent travels (like solar panels, generator).
Other
Engine power – it depends on what kind of driving you prefer, but you should be aware that the the vehicle will weight around of 3,5 tons with equipment, luggage and passengers, and 90 km/h won't be enough.
Solar panels and a generator are very useful inventions when you plan frequent visits far from the civilization.
Awning is very useful for any trip, you can sit safely in the open air even if it rains, it also significantly increases the usable space.
Types of motorhomes
Motorhome is a great solution for people, who love travels and the sense of independence. It's not only a fashion for cheap travelling but also a lifestyle and a way to explore the world without being worried about booking an accommodation. But if you want to be fully satisfied you should adapt the motorhome to your needs.
Because of fashion for this kind of travelling the selection of the equipment is bigger and bigger. You can either buy, or rent it in many places in the whole Europe.
The interior is adapted to transport passengers as well as travelling with a bigger amount of luggage. It provides both a place for sleep, as well as a place where you can make a dish. Motorhome equipment includes a gas cooker, fridge, sink, small bathroom and living space. You only need driving license category B, because the GVW does not exceed 3,5 tons.
Panel van / Campervan
We more and more often see smaller motorhomes, which were designed on the model of appropriately adapted, mass-produced common vans. We can divide them into two types, camper-vans produced by professional companies which deal with the production of motorhomes, and those produced at homes by their owners. A van most often remade, is a van all of us know - the VW T1, so-called "cucumber". Simple modifications allowed to adapt this vehicle for two people, who can travel and sleep in it. Other, but larger vehicles, are for example Mercedes Sprinter, Fiat Ducato, Peugeot Boxer and Ford Transit, and they also uderwent reworking. The advantage of such vehicles, apart from lower fuel consumption and higher speed development, is the ability to access places, which cannot be accessed by larger campers because of their size and also the ability to make overnight stops in places, where stadard campers are not allowed to. The disadvantage, however, is less space for baggage, sleeping and relaxing, but when we travel only in two, it should be enough.
Photos of camper-vans: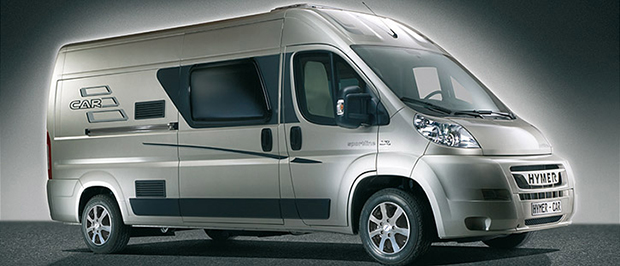 Hymer - Car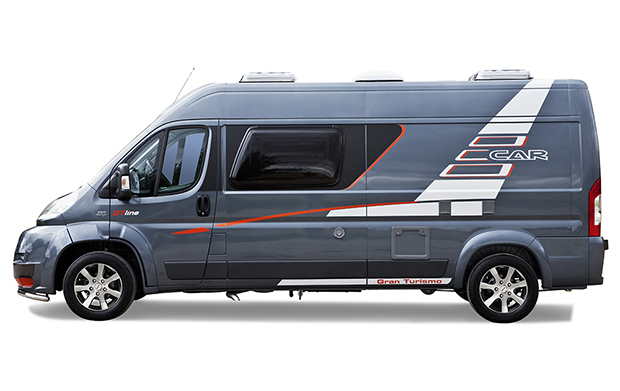 Hymer - Car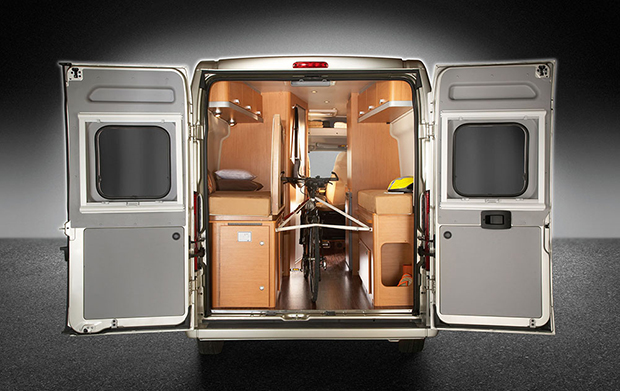 Hymer - Car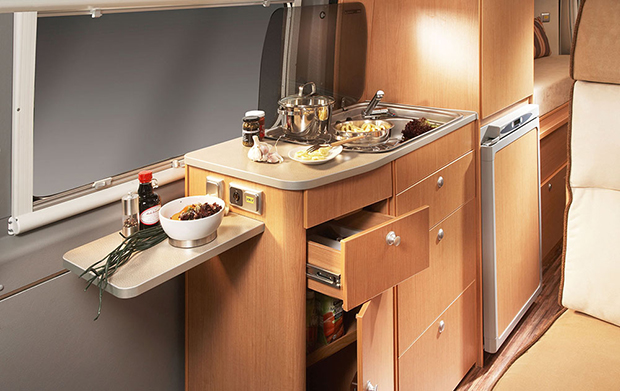 Hymer - Car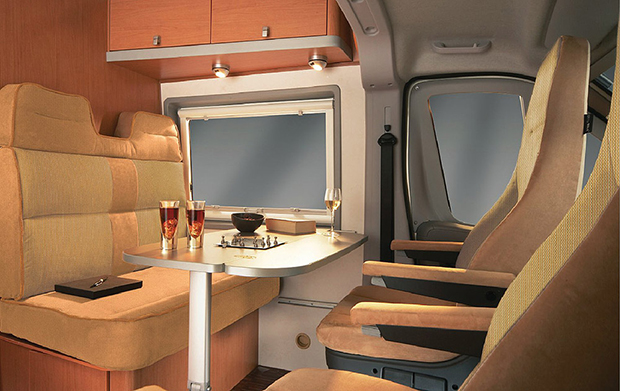 Hymer - Car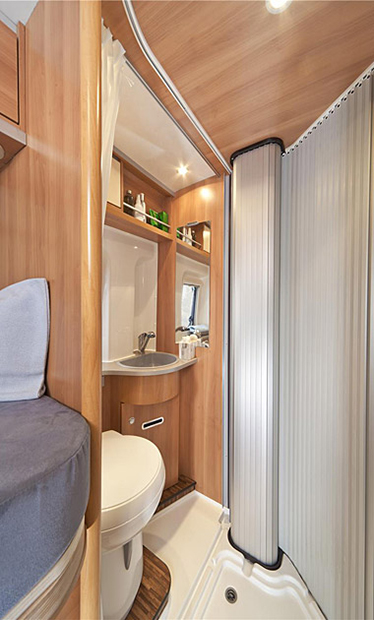 Hymer - Car
ALCOVE MOTORHOMES
Alcove motorhomes are most commonly seen on European roads. It's a kind of camper, where the additional sleeping space is located above the driver's cab. This superstructure is called 'alcove' and it comprises sleeping accommodation for 2 people. Below this additional bedroom there's of course a living space with its basic equipment. Alcoves popularity is determined by their attractive prices and lot of sleeping places. This type of camper can fit in up to 7 people. In the day, alcove can serve as a luggage storage. Wide and comfortable bed provides the comfort of sleeping and resting, which is very important when travelling. Another advantage of this type of vehicle is its small size, which makes manoeuvering easier. No wonder why alcoves have so many enthusiasts. Nonetheless, there also people, who find this kind of solution a bit disadvantageous. The major drawback is the higher fuel consumption and discomfort of sleep. Another flaw is surprisingly using the alcove as a storage, which makes the motorhome heavier. This factor strongly affect the quality of driving.
Photos of alcove motorhomes: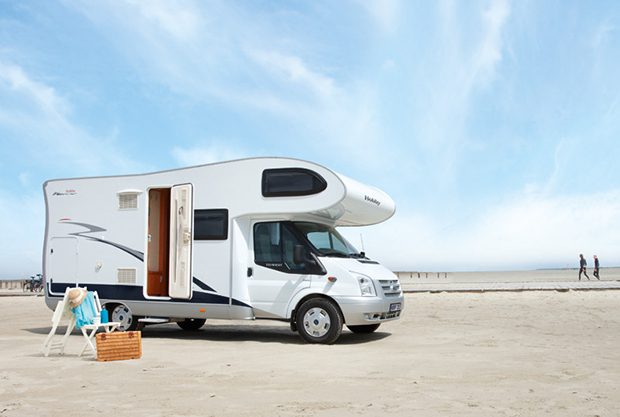 Rimor - Koala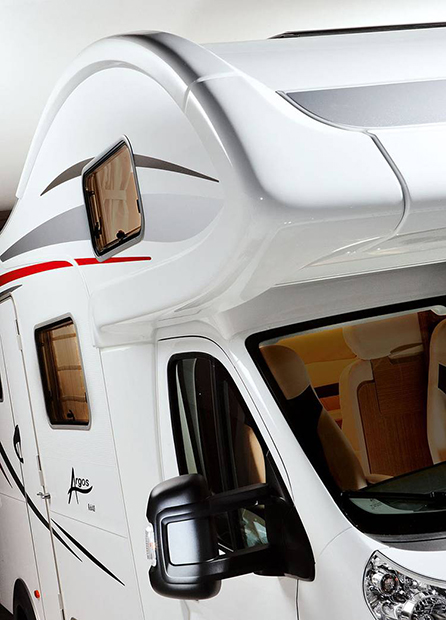 Bürstner Agros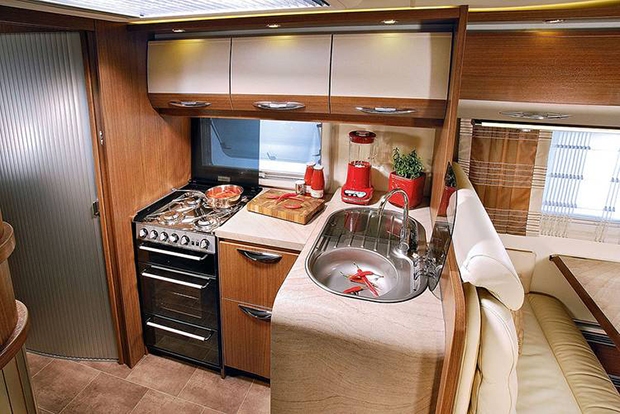 Bürstner Agros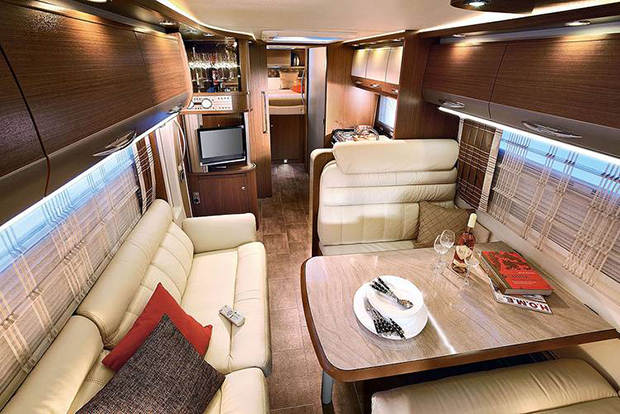 Bürstner Agros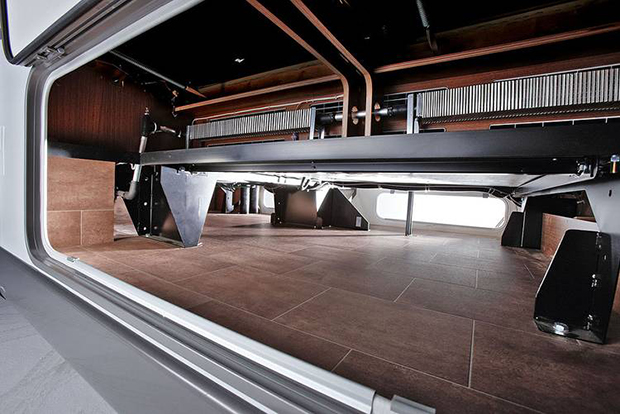 Bürstner Agros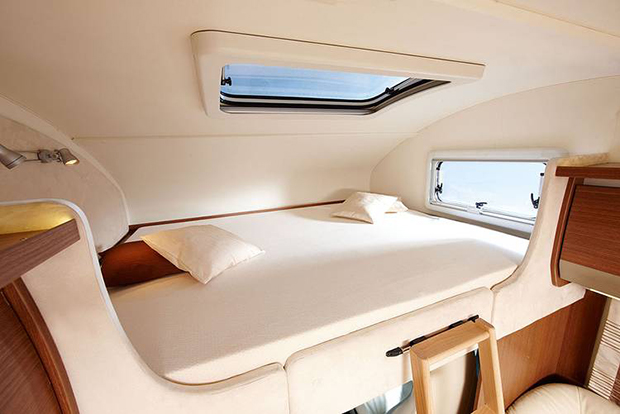 Bürstner Agros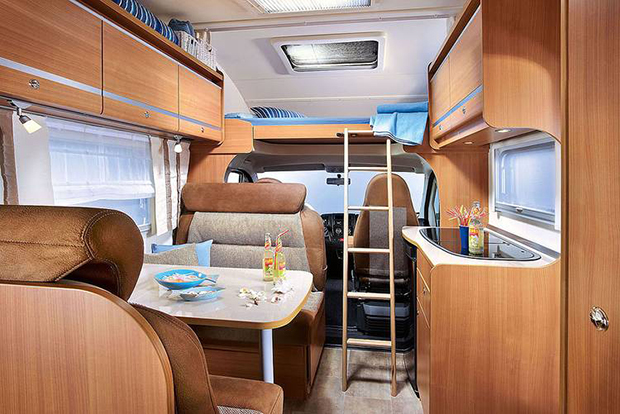 Bürstner Agros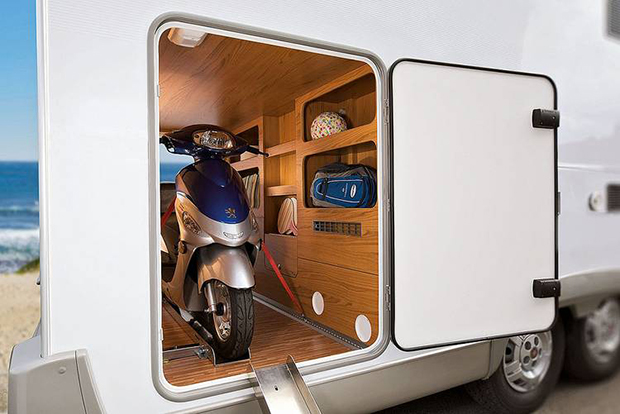 Bürstner Agros
SEMI-INTEGRATED MOTORHOMES
Campers are also available in semi-integrated version. There, the living space is partially integrated with the cab. The cab is produced in series, and the living space slightly extends beyond the outline. There's no alcove above the driver's cab, which might been used as a storage, and a small sleeping space may seem a bit problematic. Nonetheless, lower fuel consumption and possibility to develop a higher speed fully compensate for that. The overall height of semi-integral camper is lower than the alcove camper, which facilitates driving under bridges and tunnels.
Photos of semi-integral campers: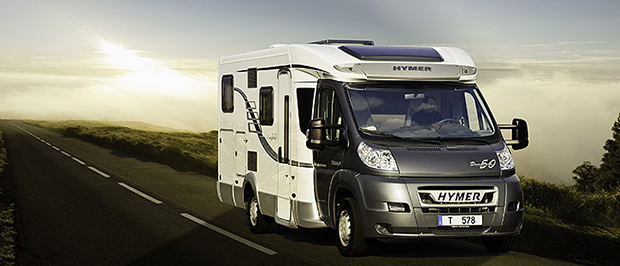 Hymer - Tramp Premium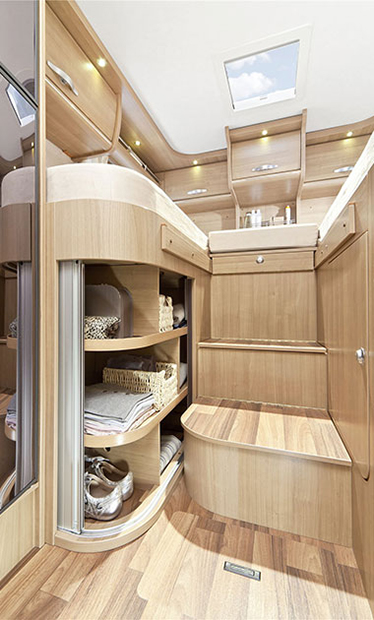 Hymer Tramp Premium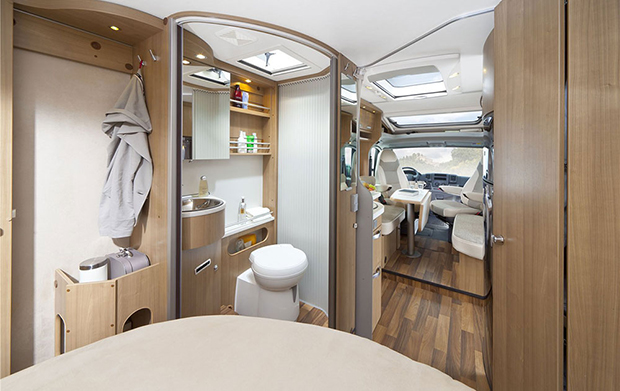 Hymer Tramp Premium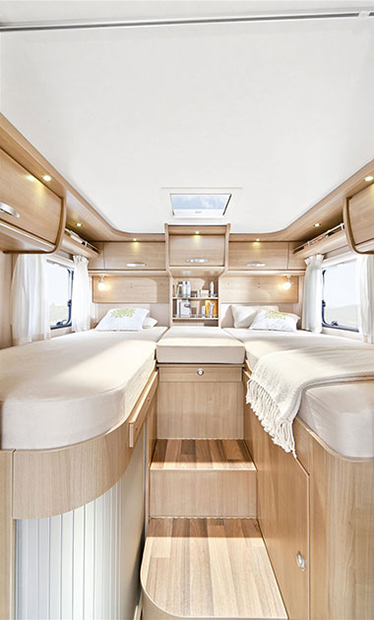 Hymer Tramp Premium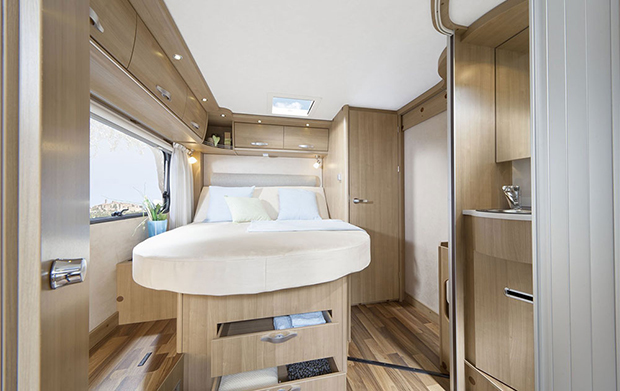 Hymer Tramp Premium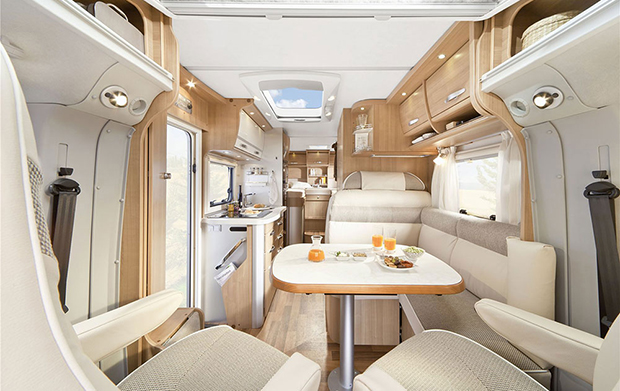 Hymer Tramp Premium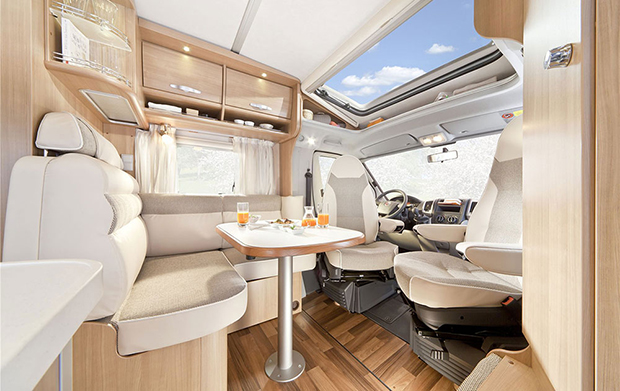 Hymer Tramp Premium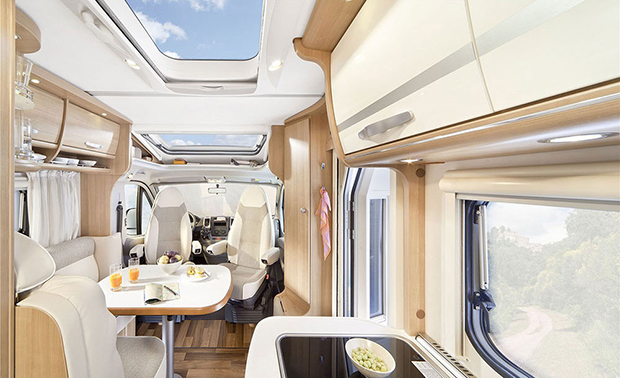 Hymer Tramp Premium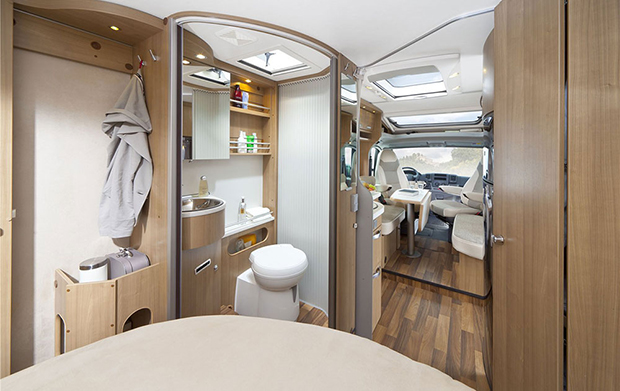 Hymer Tramp Premium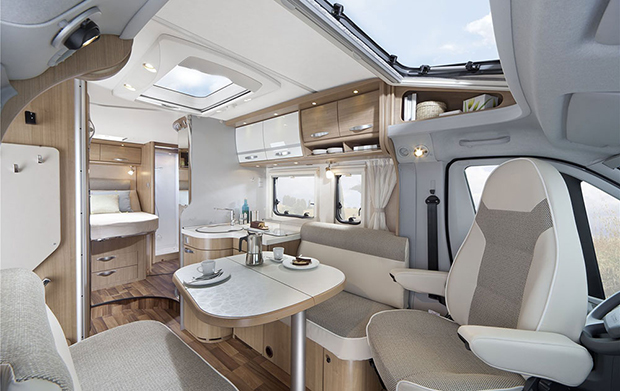 Hymer Tramp Premium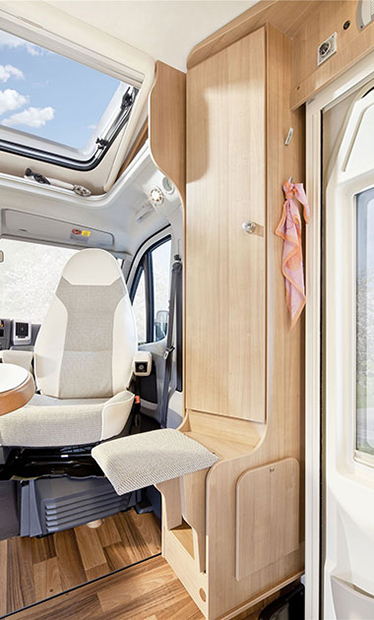 Hymer Tramp Premium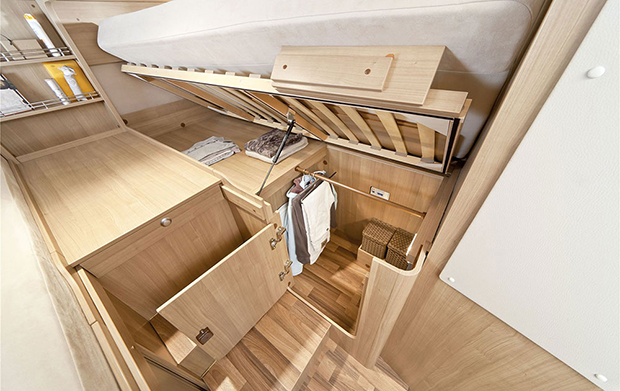 Hymer Tramp Premium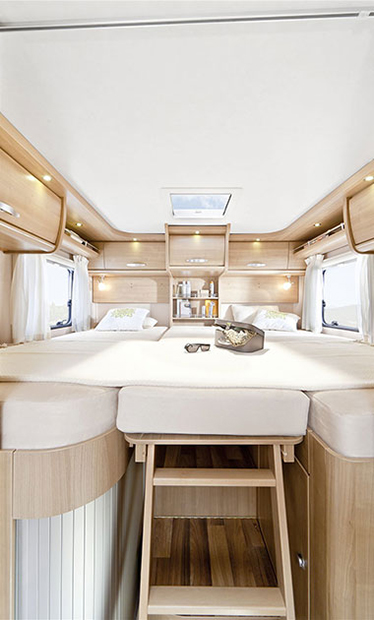 Hymer Tramp Premium
INTEGRATED MOTORHOMES
The most luxurious solution are integrated campers. Here the body is connected with the cab, and the whole makes up a solid structure. Their biggest advantage is increased aerodynamics and the possibility of introducing innovative solutions by the producers. This applies both to the living space and the driver's cab. These campers are created by producers from scratch, which gives them an advantage over semi-integrated campers and alcoves. Many of the producers put an emphasis on individual preferences of their clients. Lets take for example Niesmann + Bischoff, which is known for campers of the highest class. The biggest advantage, when it comes to integrated campers, is the highest exploitation of space and great comfort. The downside of this solution is higher price, and a higher base curb weight, which decreases loading capacity.
Photos of integral motorhomes: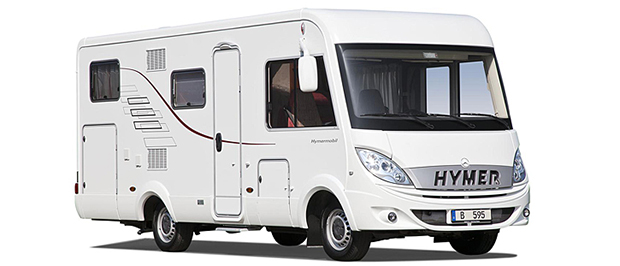 Hymer - B Class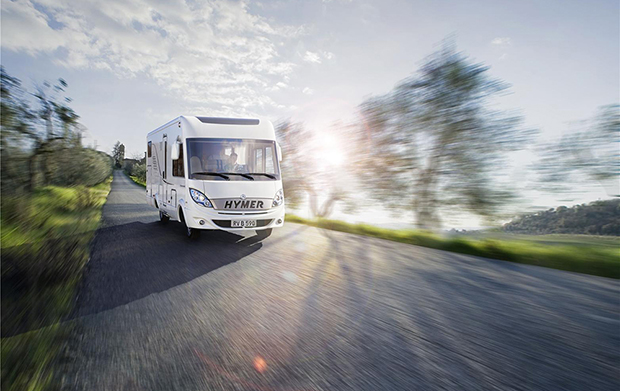 Hymer - B Class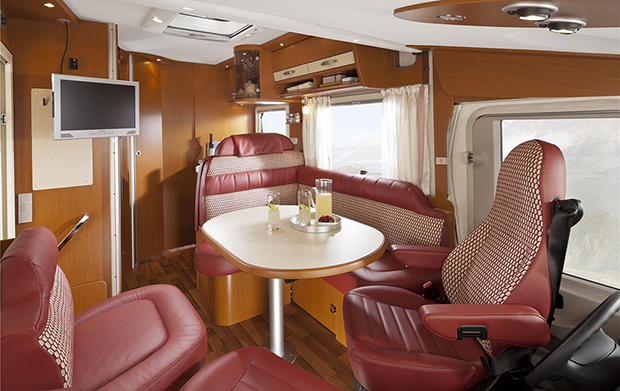 Hymer - B Class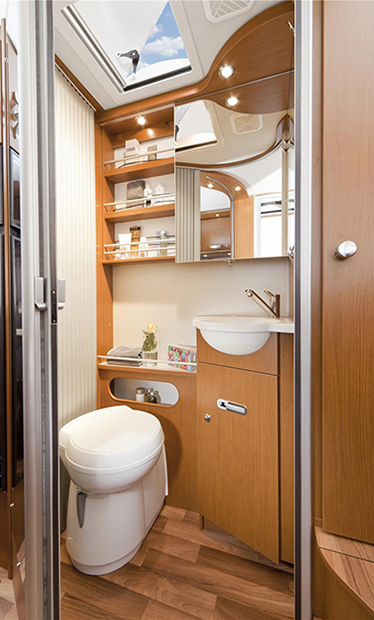 Hymer - B Class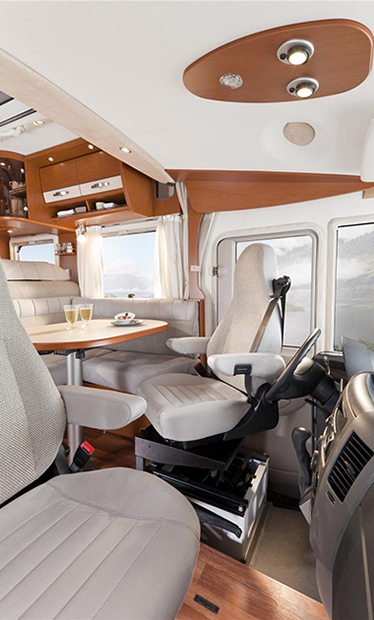 Hymer - B Class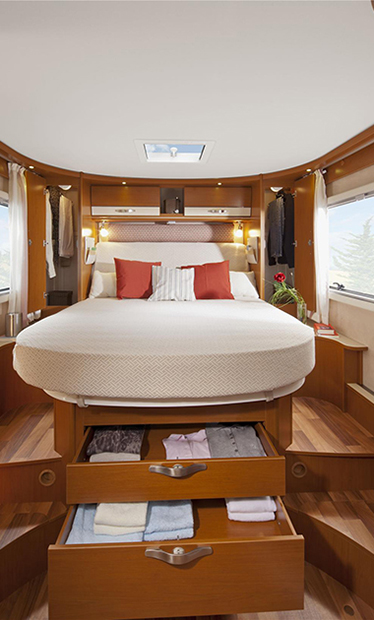 Hymer - B Class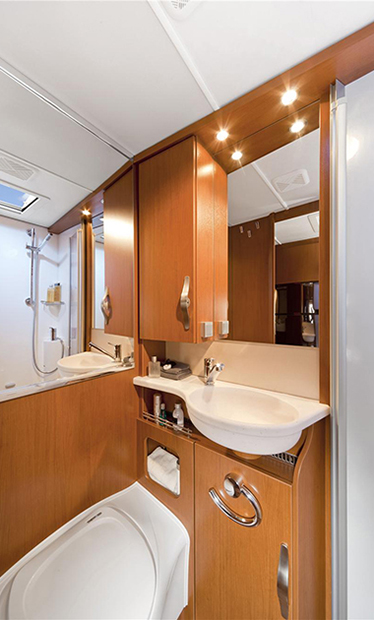 Hymer - B Class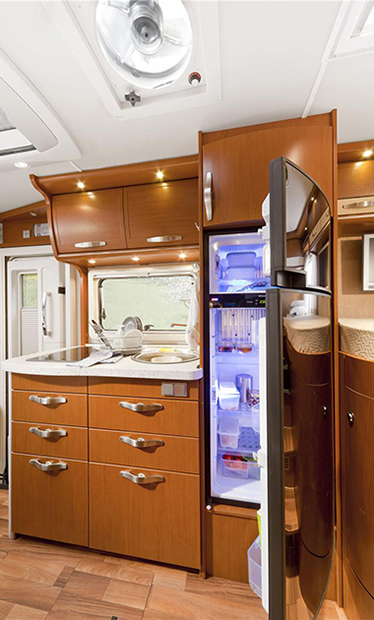 Hymer - B Class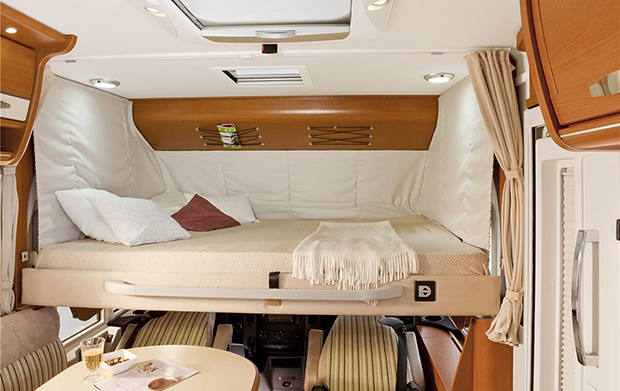 Hymer - B Class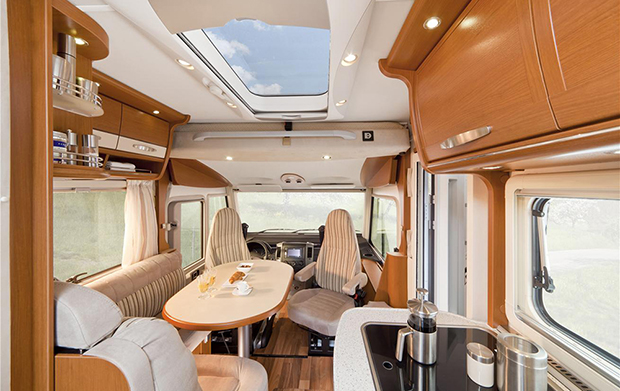 Hymer - B Class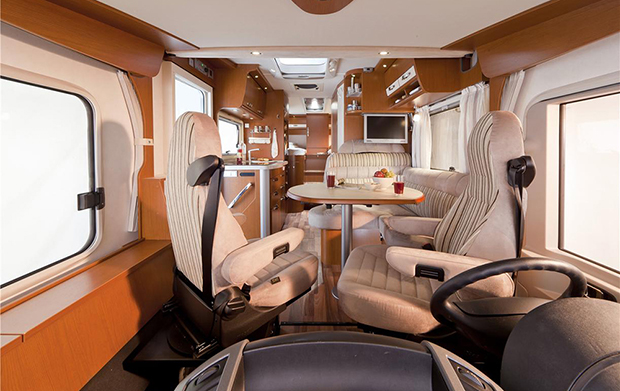 Hymer - B Class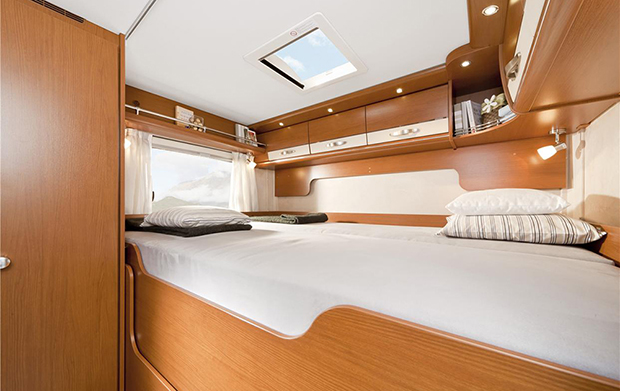 Hymer - B Class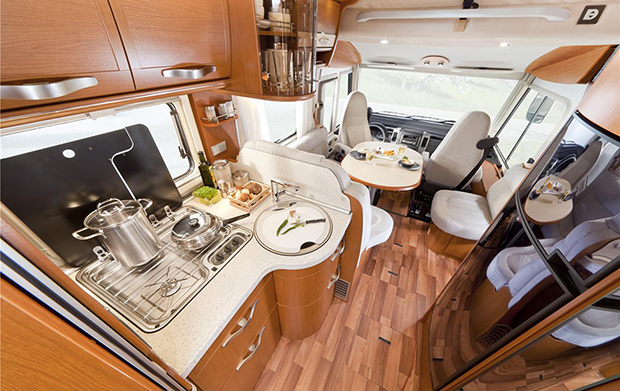 Hymer - B Class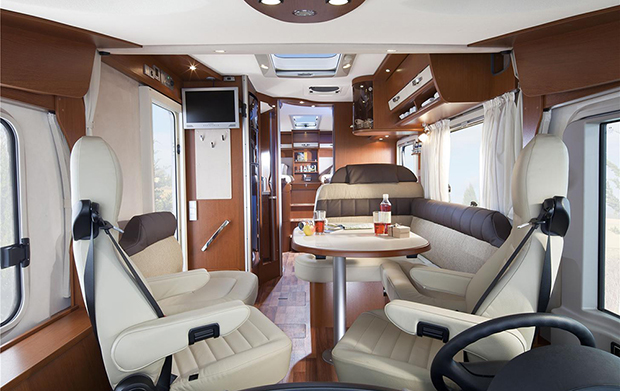 Hymer - B Class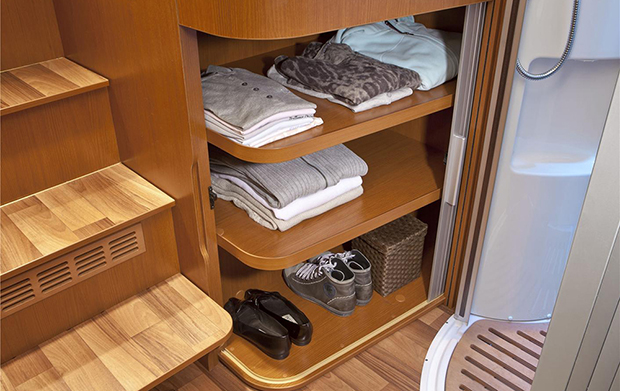 Hymer - B Class
PICK-UP CAMPER
There's a solution even for those, who value unbeaten tracks and hard conditions of travelling – it's a pick-up, with an open top and rear cargo area. This solution gives you a bed, a roof under your head, a bathroom and a kitchen annex. There are two types of building – folding, and with a stiff building, which doesn't recquire any any work before go to sleep. The following pictures show aforementioned solutions.
Photos of pick-ups: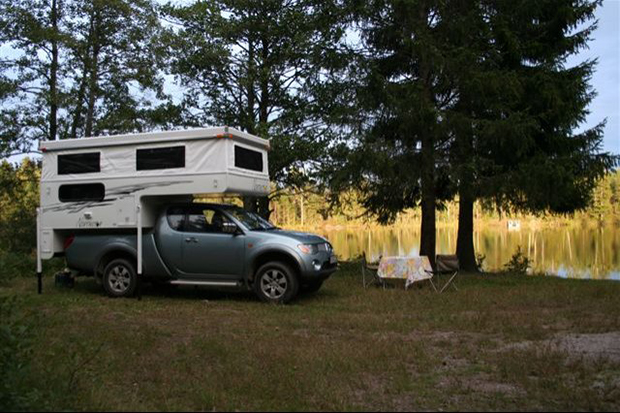 Pick-up - Northstar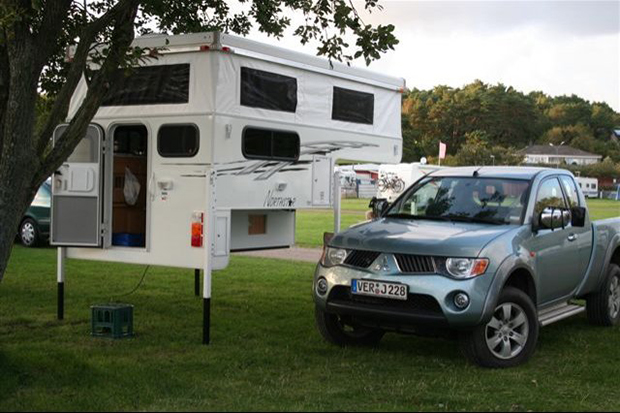 Pick-up - Northstar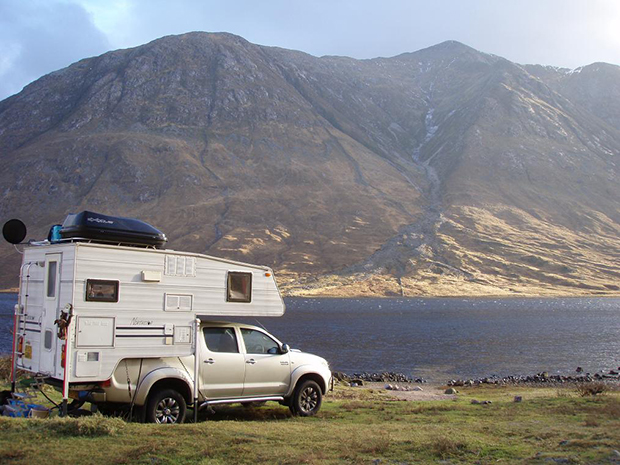 Pick-up - Northstar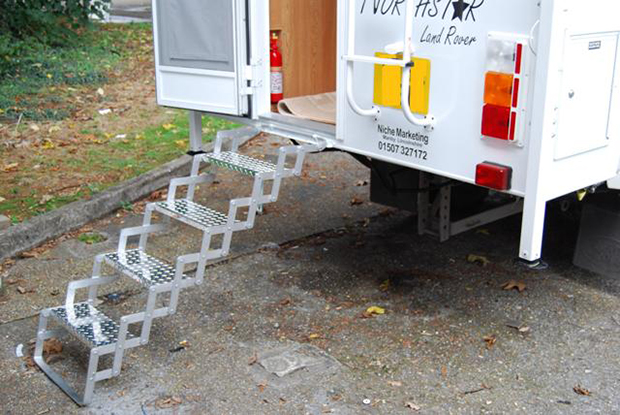 Pick-up - Northstar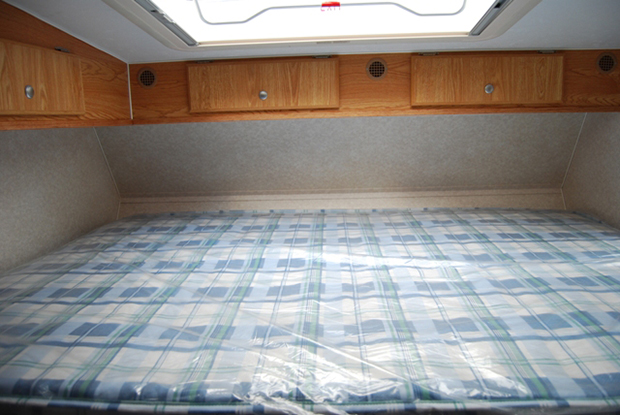 Pick-up - Northstar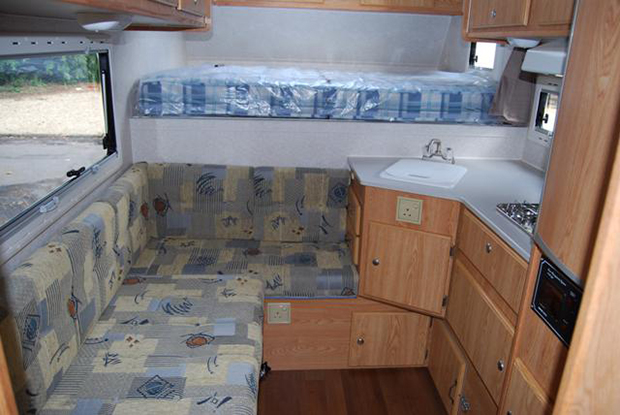 Pick-up - Northstar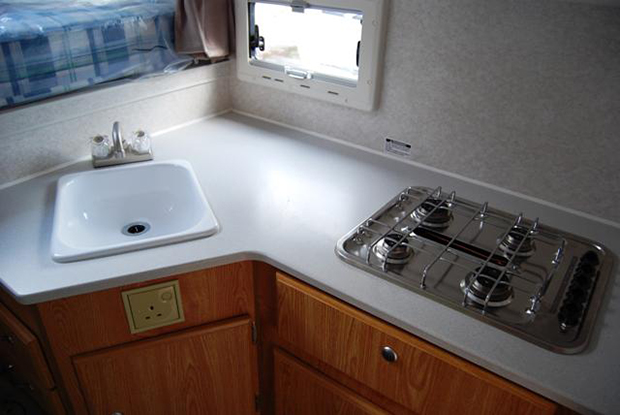 Pick-up - Northstar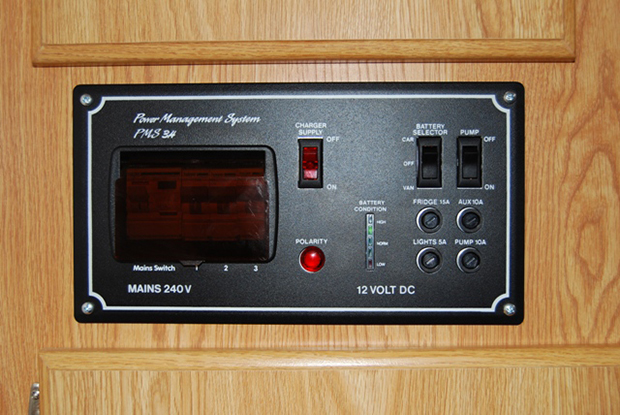 Pick-up - Northstar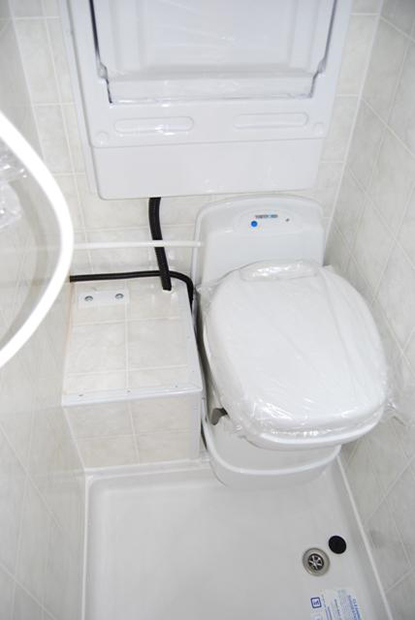 Pick-up - Northstar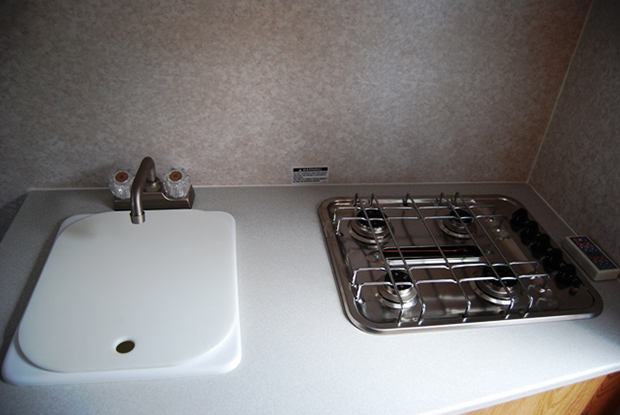 Pick-up - Northstar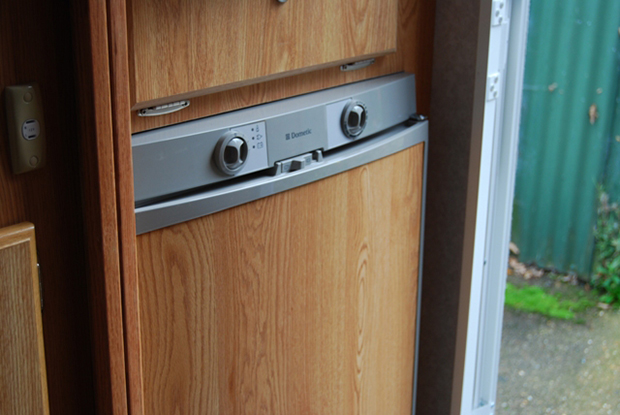 Pick-up - Northstar
AMERICAN MOTORHOMES
Campers produced in the USA constitue a separate class and type of motorhomes. Like everything else in America - they are really huge and primarily designed to increase the comfort and facilitate the usage in every way. Unfortunately, most of the European campsites are simply too small for them, so in order to enjoy these residences on wheels it's best to fly to the USA, rent one and see a piece of a different continent. Take a look at the gallery.
Photos of American Motorhomes: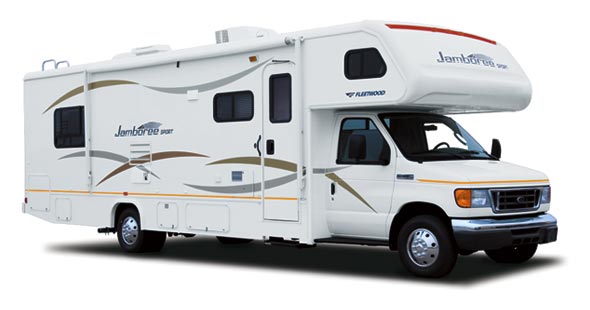 Fleetwood RV - Jamboree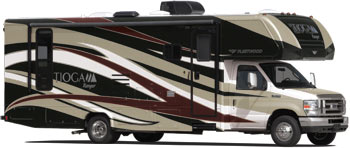 Fleetwood RV - Tioga Ranger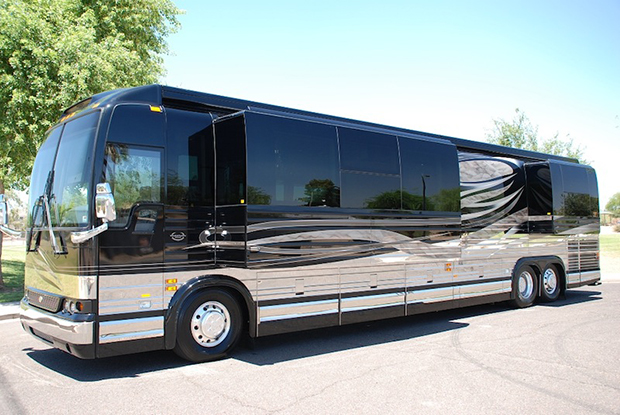 Marathon Coach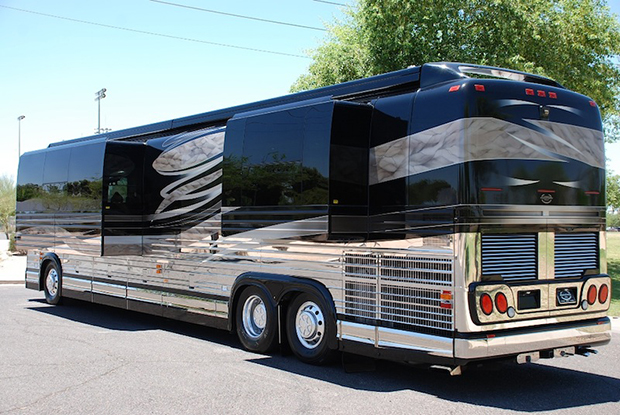 Marathon Coach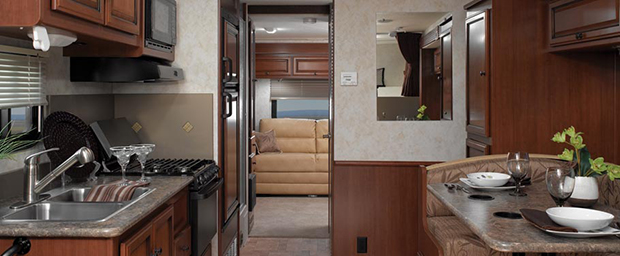 Fleetwood RV - Tioga Ranger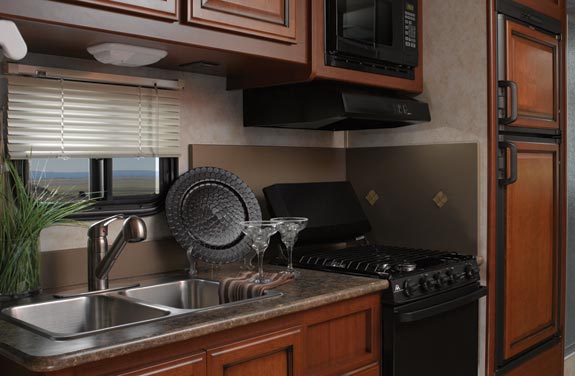 Fleetwood RV - Tioga Ranger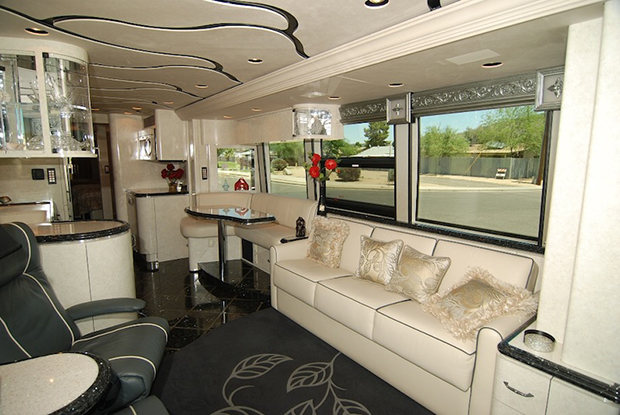 Marathon Coach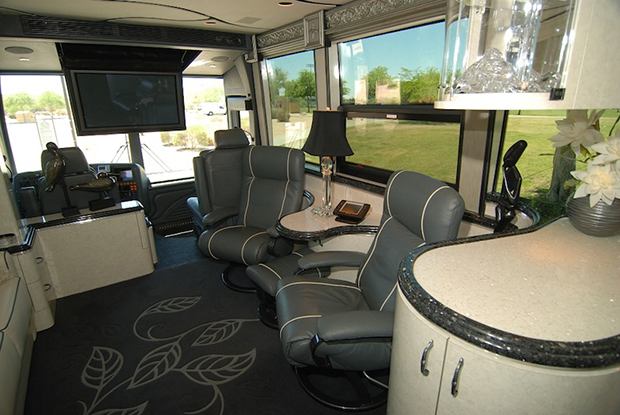 Marathon Coach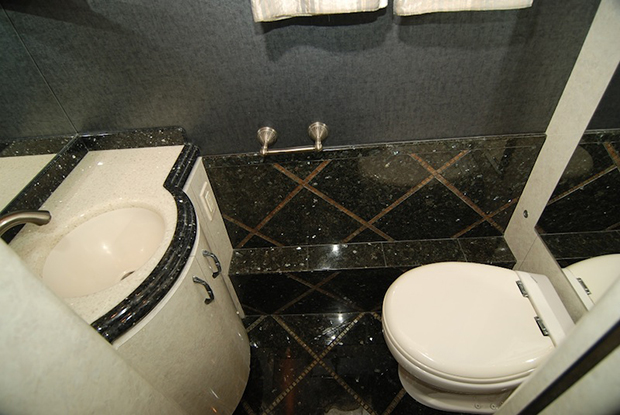 Marathon Coach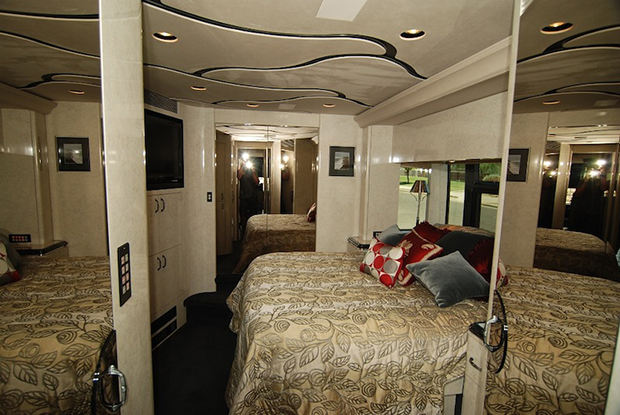 Marathon Coach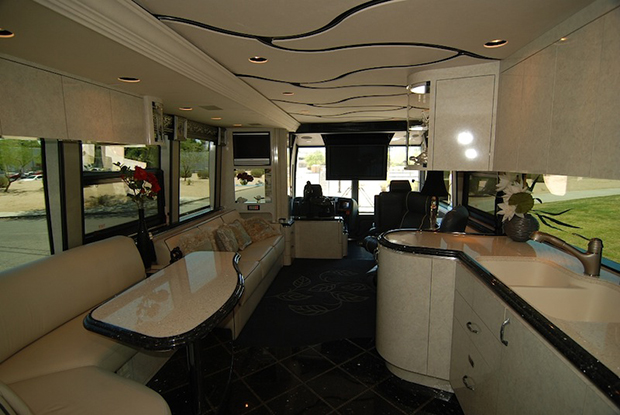 Marathon Coach
Camper is a great way for cheap and comfortable travelling, and well-chosen one turns every trip into a nice experience. While choosing the best camper, you to take into account your needs and the approximate number of passengers. The better camper will be fitted to your individual needs, the bigger comfort of traveling.
Required qualifications
GVW (Gross Vehicle Weight) - the maximum operating weight of a vehicle including the cargo and passengers
Before travelling with a camper or buying this vehicle, make sure that you have recquired qualifications.
Vehicle (GVW=< 3500kg) = Category B

To drive a vehicle with a GVW up to 3500kg you need only driving license Category B
Vehicle (GVW >3500kg <7500kg) = category C1 or C
Driving license category C1 or C is required when we want to drive a vehicle with GVW over 3500kg, but up to a maximum GVW of 7500kg
Pojazd (DMC >7500kg) = kategoria C

To drive a vehicle with GVW of over 7500kg you need driving license Category C
If you are thinking of a camper with a caravan, go here
We have created the CampRest portal for people who value freedom and travel on their own.
Enjoyed reading this article? Share it!