Averso Plus - a trailer for a large family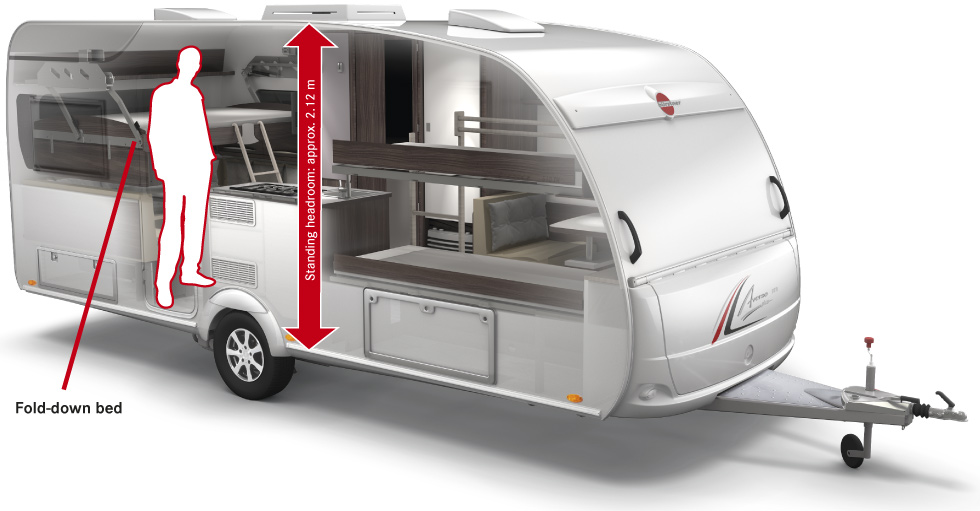 The Averso Plus caravan is a Burstner offer for a family larger than two adults and two children. Although the vehicle has fairly standard dimensions, it can accommodate six or even seven people. The disadvantage, however, is the modest standard equipment.
Bed on rails
Averso Plus is available in four variants, the shortest of which measures 656 cm , and the next 728, 740 and 751 cm. Each trailer is 230 cm wide and 274 cm high. A person measuring less than 212 cm can fit in the threshold, without tilting the head.
Interestingly, the most places to sleep can be found not in the longest model. The 740 cm version of the 510 TK includes a bunk bed (one place downstairs, the other upstairs), a single bed transformed from a dining corner, a double bed created into a seating area, and additionally - a folding double bed above it.
This last element is the most important distinguishing feature of the Averso Plus series. A large bed with dimensions of 194 x 144 cm , equipped with a five-zone foam mattress , can be lowered electrically by pressing a button. Then we will see how smoothly (although apparently a bit too loud) it moves along the special rails from the ceiling down to hang 70 centimeters lower .
A ladder can be mounted to the bed, which makes it easier for children to comfortably climb up. Anyway, this bed can be a very good solution for children. It may be too crowded for an adult who would like to read a book in a sitting position in such an "attic", for example. Another problem may be that when the bed is lowered, it is impossible to use the lounging area underneath it. It is a pity - the more that the corner itself is very comfortable, thanks to the extended table .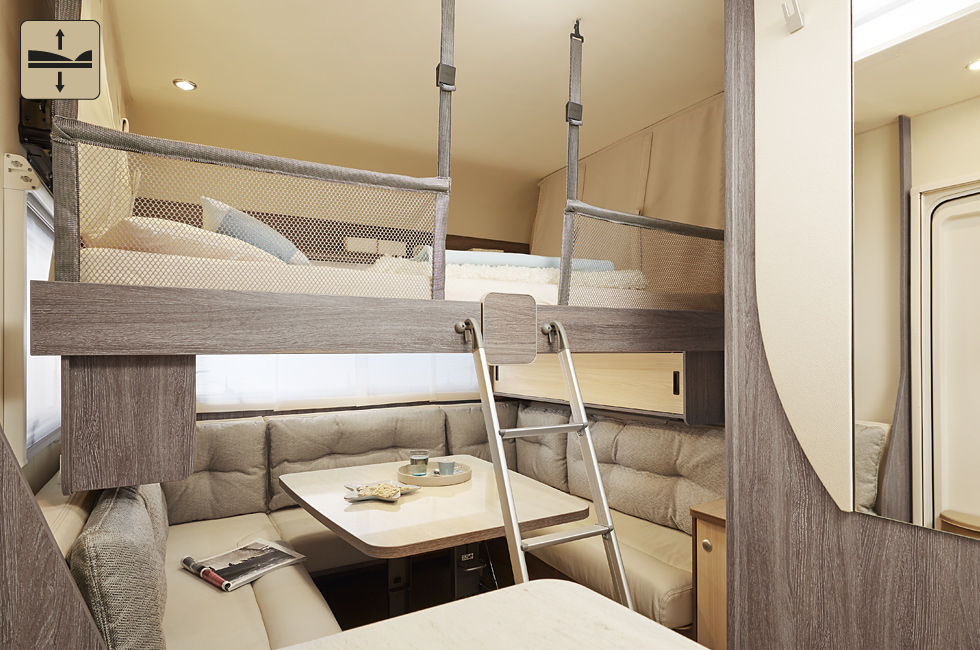 The longest model 520 TL also looks interesting - here, at the back of the trailer, there are two single beds , but the space between them can be filled by joining them into one large sleeping place. Theoretically, the caravan was designed for a maximum of six people, but with seven people on board, a few-year-old child would certainly fit on the bed with their parents.
Shower and thermal baths for an extra charge
There are spacious lockers under the "ground" beds. Some of them were partially filled with devices and installation wires (unfortunately, they were not additionally covered). In the caravan you will find a quite spacious wardrobe for jackets , a convenient shoe storage (right on the doorstep), and outside there is a storage space for two gas cylinders. It is large enough to store tools and other small items.
Of course, there is also a bathroom - unfortunately, although there is a paddling pool in it, we do not have a shower as standard . Why? Well, there is also no water heater in the basic equipment. A 22-liter waste water tank is also an option. As standard, however, we find… a TV bracket . Yes, comfortable, with a large range of adjustment, but if you do not plan a TV set, it will only disfigure the interior.
The basic price also includes a 40-liter fresh water tank , 142-liter fridge with freezer compartment, S 3004 gas heater (extra charge 5004), 300 VA converter. On the list of paid add-ons, however, we can find, among others extractor hood, oven and microwave.
Averso Plus 520 TL weighs 1600 kg , and its permissible total weight is 1800 kg. The trailer comes with a 5-year warranty that includes protection against moisture - admittedly, some competitors provide longer protection. The prices of the Averso Plus model with standard equipment range from 19,680 to 20,990 euro (in Germany).
Is it a lot or a little? Unfortunately, the overall good impression is slightly spoiled by the fact that the manufacturer treats elements such as a water heater as a luxury that requires an additional fee. This is especially puzzling in the case of a caravan, which is to be traveled by up to 6-7 people.
We wrote about the Averso model (without Plus in the name) here .
Sometimes it is better to get lost than to ask for directions too much. Aldous Huxley
Enjoyed reading this article? Share it!