Cheap motorhome - up to 15,000 zloty.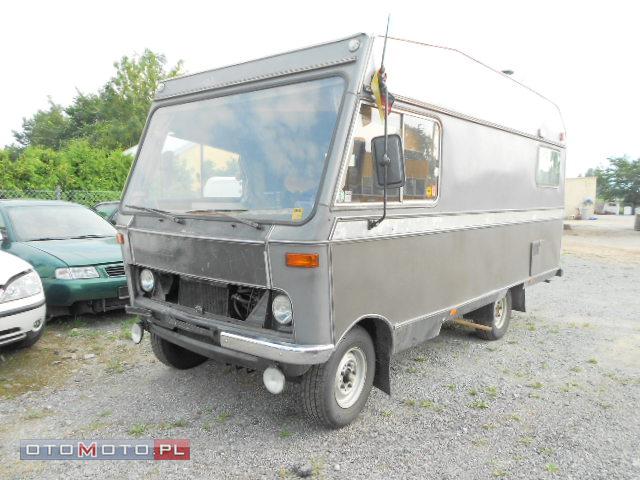 Can we buy a camper for up to PLN 15,000? zloty? It turns out that yes, although it certainly will not be a vehicle of the first youth.
If we want to buy a car for camping, we can use advertising portals such as Allegro and Otomoto. We can also contact companies specializing in renting and selling campers. However, such offers for 20-year-old and older vehicles are rare in companies. It's different on advertising websites.
Trailer with driver's cabin
For PLN 5,980 I find a strange car from... 1978 ! It has been described as a "Hymer-Eriba Bedford Vauxhal Blitz" and looks like a caravan with a driver's cabin (see article: Hymer Eriba-Touring ). Unfortunately, both the outside and the inside seem a bit worn out. I am not convinced by the assurance that the condition is good, the engine can be powered by petrol and gas, and the car is equipped with a kitchen, refrigerator and shower.
The seller emphasizes that "the inside is dry, there are no leaks" and the roof is tight. The good condition is also proven by the fact that the car was "used all the time by a German." Unfortunately, despite such excellent condition, the drive bridge is damaged. The price must include the cost of registration in Poland, although one may have doubts whether the camper will pass any technical tests...
Pink walls and a chauffeur outside the window
Then maybe something newer? My interest is aroused by a truck with a camping extension - a Nissan Cabstar 2.5D from 1990 . The car is freshly imported and not yet paid for, so the total cost will be higher than the advertised PLN 8,900 .
But that's okay, because the camper can accommodate 4 people and is equipped with a two-burner gas stove, a sink, many cabinets, storage compartments and halogen lamps, as well as an electric heater. There is also a bathroom with a shower and sink. So maybe it's worth it?
The car has a dizzying power of 75 HP, but it has only 152,000 miles on the odometer. km . Unfortunately, when I look at the photos, I start to suspect that the Nissan could have covered a few more kilometers... I guess I'm being picky because I don't like the pink walls or the window between the driver's cabin and the seating area.
According to the owner, "engine, brakes, suspension - everything in very good condition." The car apparently traveled as much as 400 km on its wheels! However, my expectations are higher, so I keep looking.
Refreshed with veneer
I'm looking through several ads with vehicles priced at around PLN 10,000. zloty. I find vans that have been converted by campers (sometimes in an amateur way), often used quite intensively. Unfortunately, I'm still turning up my nose until my attention is drawn to an advertisement titled: "Very nice camper."
It is a Fiat Ducato from 1989 with a Burstner body (see our article Burstner Brevio - an idea for the family ). Engine - 1.9 D, and the alleged mileage is 139,000. km . Price: PLN 15,900 , but maybe we can bargain for something?
The owner assures that "The Fiat drives and looks very good, the body has been fully restored, there are no odors, as is the case with other old campers." Indeed, the vehicle looks clean and tidy in the photos.
According to the description, the walls in the toilet and the toilet itself, the internal roof covering and the floor covering were replaced. The sleeping area (alcove) was renovated, and the furniture fronts and walls were given new veneer. Thanks to this, the whole thing looks really good.
Unfortunately, the advertisement included a note that the car was "prepaid", so I guess someone beat me to it.
However, I already know that nicely maintained or refreshed vehicles are rare at this price, so I should increase my budget and only then look again. Next time I will describe used campers up to PLN 35,000. PLN .
Sometimes it is better to get lost than to ask for directions too much. Aldous Huxley
Enjoyed reading this article? Share it!