Motorhome Ranger R530 - Ford Transit Custom with potential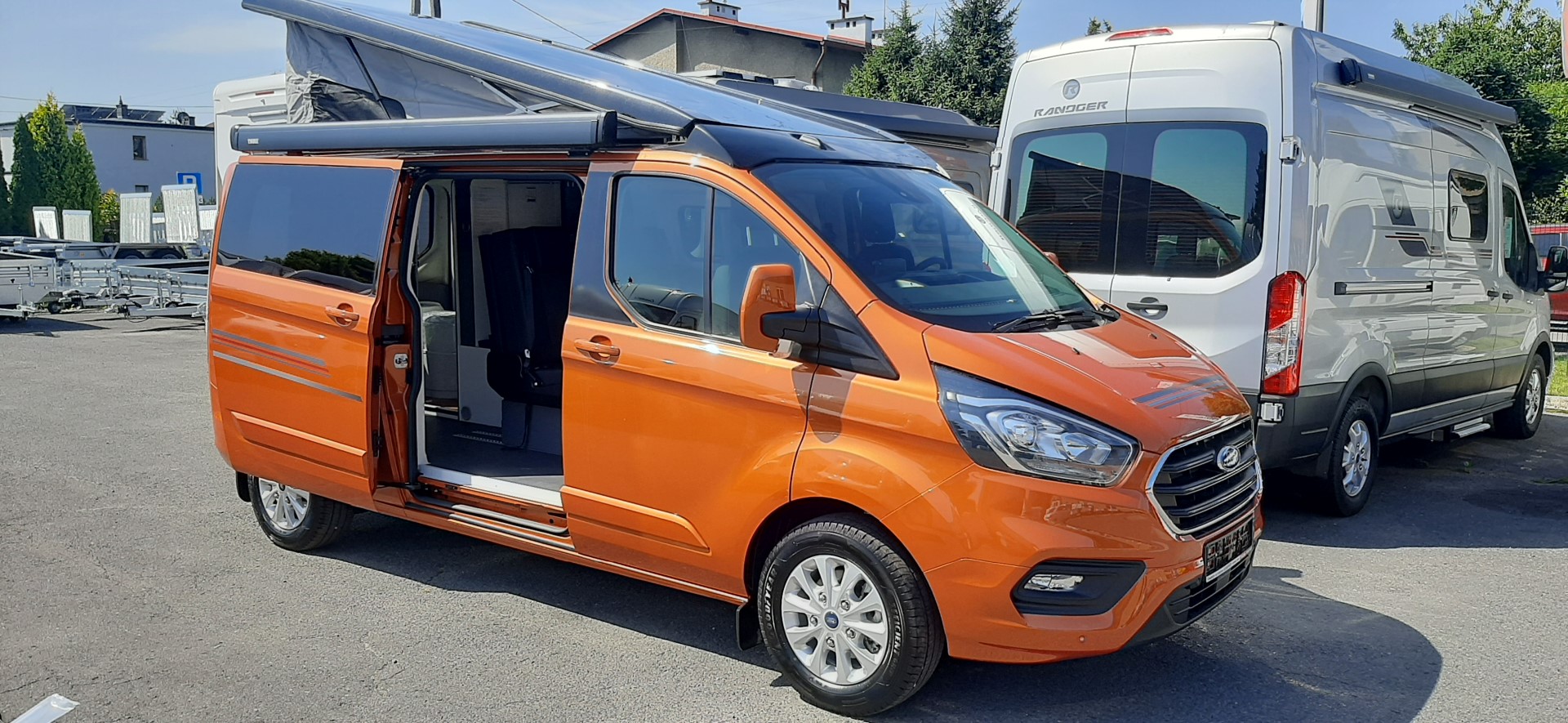 Ranger is a brand that has taken the Polish motorhome market by storm in the last 2 years. Even the managers of demanding motorhome rentals liked the cars of this brand.
The success was certainly influenced by several factors - the use of Ford as a base (low excise duty), many well-thought-out solutions in the field of bodywork and excellent value for money. Ranger's range includes both smaller models based on the popular Transit Custom, as well as traditional, large "plates" - also with 4x4 drive (we wrote earlier HERE ).
Today we will look at a small proposal based on Custom - the Ranger R530 is an incredibly versatile vehicle with a number of features that are hard to find in competition of this size.
A small tin every day ... with a bathroom!
Measuring 534 cm in length, 199 cm in width and 209 cm in height, the motorhome is designed for 5 passengers and has as many places with seat belts. The system of modular seats with the Isofix system will ensure the safety of our little ones.
The sofa can be easily unfolded to obtain a 2-person bed with dimensions of 1877x1140 mm. It can also be moved and is also removable.
The extra bed in the pop-up roof measures 200x116 cm. This means that up to four crew members can sleep on board if necessary.
It is worth noting that the raised roof has a significant impact on the comfort of use during the day. We can (for a compact cubature) comfortably use the facilities.
Cooking a meal will not be a problem - the standard here is a two-burner gas cooker with a piezoelectric igniter.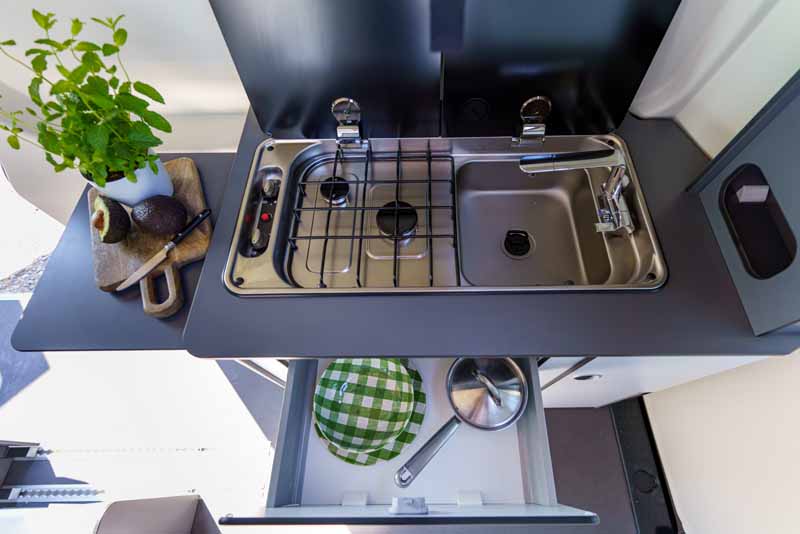 The functionality is complemented by a Dometic compressor fridge with a capacity of 41 liters and a steel sink.
The source of gas is a cylinder with a capacity of 2.7 kg (as standard) or more - this means that we are not doomed to system cartridges, which we know from compact typical tourist cookers.
At the back of the motorhome, the designers have provided a fully functional bathroom equipped with a Thetford type C223 toilet, a washbasin and a shower cabin - the entire sanitary module is separated from the living space by sliding, slatted doors. Interestingly, there is also an external shower connected to the back.
The capacity of the tanks is impressive - 70 liters of clean water and 35 liters of gray water is a great result in this class of vehicles. It should be emphasized that - which is also not an everyday solution in a tin of this size - the water system is equipped with a pressure pump, not a submersible one.
Visually, the interior looks attractive - white fronts, gray countertops and floor as well as dark upholstery reflect the latest trends and invite you to use it.
Comfort also in winter
The Truma Combi Diesel heating is the perfect solution for thermal comfort in all conditions. Of course, in addition to the heat inside the vehicle, the system will take care of heating water thanks to the integrated boiler.
Speaking of heating and insulation of the vehicle, it is worth paying attention to several construction aspects - we will find a sandwich floor, and the materials insulating the bodywork include glass wool, polystyrene and aluminum screens.
Special window curtains with thermal insulation properties decorate and protect the windows at the front, rear and sides of the vehicle.
A lively engine and a large load capacity
The R530 fits perfectly into the fashion for compact and universal camping vehicles for everyday use - both in city traffic and on the road to holiday destinations it will cope without any problems.
The drive unit with a power of 130 or 170 horsepower (with optional automatic transmission) and a curb weight of just over 2,600 kg (with a GVWR of 3,200 kg) are quite "life" parameters in terms of dynamics and payload, which many larger cars would be proud of motorhome.
The prices of the R530 model start at PLN 295,000 (gross), and the official representative is Transa-M from Pszczyna.
Motorhomes and caravans for sale from Transa-M
The current offer of motorhomes and caravans for sale by Transa-M can be found in the company's profile in our dealer database at the link: https://camprest.com/pl/firmy/transa-m/dealer
gallery
I feel best in the form of trade fairs and meetings with enthusiasts. Technical freak. In my life I have dismantled many motorhomes for the first time. Fan of large vehicles, mountain biking and traveling without weight and financial restrictions. At CampRest, I am responsible for all publications on automotive topics.
Enjoyed reading this article? Share it!