T-Line motorhome - boring but practical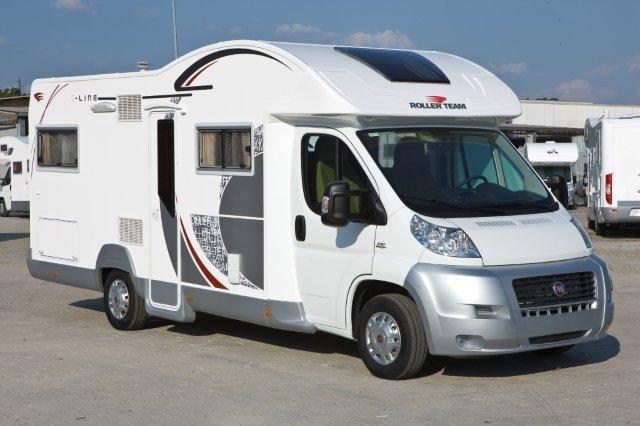 Trigano has been one of the largest motorhome manufacturers in Italy and Europe for years. Achieving such a position was possible thanks to offering tourist vehicles at prices that were very attractive compared to competitors' offers.
Roller Team is a brand owned by the Italian company Trigano. What distinguishes this manufacturer is the independent production of bodies and furniture for their vehicles. Since 2001, the company has had a complex of three factories with a total area of 80,000 square meters.
T-line is one of the five currently produced series of Roller Team motorhomes. Like other models of this brand, the T-Line also does not stand out from the outside with anything special. Fiat Ducato (or Ford Transit) with an added "hut", in which you can spend the night, does not impress with its appearance.
However, the T-line makes up for it with a relatively good price (in Poland you can have it for 40,000 euro ) and practical solutions inside.
You can choose the color
This motorhome is available in as many as 11 different versions . Its length can be 676 cm, 699 cm, 711 cm, 726 cm, 738 cm and 743 cm. Of all the models, 7 have a garage, with some stowage spaces a scooter and some with only a bicycle.
What distinguishes the entire T-Line series is the drop-down bed located in the front part of the cabin. It is said to be the first motorhome in history to be equipped with a bed suspended from the ceiling. Thanks to this , you can get an additional "floor" , because even during the day one or two passengers can, for example, watch TV while lying on a bunk, while underneath others sit, for example, at the table or cook.
In some versions, you can get up to 6 beds - it is possible because the accommodation can also be prepared below the raised bed . In addition, there is also a double bed in the rear of the motorhome. In some versions there are two beds in the back, there is also a solution with a third (smaller, child's) sleeping place between two adult beds.
There are many possible arrangements, and a big plus in all versions is a shower cubicle separated from the bathroom (completely or partially) . Unlike many German or French vehicles, the use of the toilet on the T-Line does not require placing your feet in the paddling pool.
T-line motorhome under a magnifying glass
Consider the Garage M model. This is one of the longer vehicles (738 cm), with space for a scooter. In this version, we should not complain about the cramped environment. There are five approved driving seats in the car, but a sixth person can also stay in it.
The permissible total weight is 3.5 tons (although there is also an option of 3.65 tons). The T-line Garage M is available with 130, 150 and 180 HP engines . The wheelbase is 4035 mm.
What's included? We can count on a clean water tank with a capacity of 100 liters, as well as an insulated and heated dirty water tank (108 liters). The chemical toilet has a capacity. 17.5 l. Oil heating (with a boiler) was used in the motorhome. There is a 160 liter fridge and a 3-ring cooker. A serious drawback is the single gas cylinder hatch . Among the advantages, it is worth noting a rigid curtain (in the form of an accordion roller blind) between the toilet and the shower cubicle. There is an extractor hood in the kitchen.
T-line is a well-equipped motorhome at a price that also seems reasonable compared to competitors' offers. The biggest disadvantage, although in some circumstances also the advantage of this motorhome is that it does not stand out from the crowd of similar vehicles with anything special.
Sometimes it is better to get lost than to ask for directions too much. Aldous Huxley
Enjoyed reading this article? Share it!