The phenomenon of teardrop, or teardrop-shaped trailer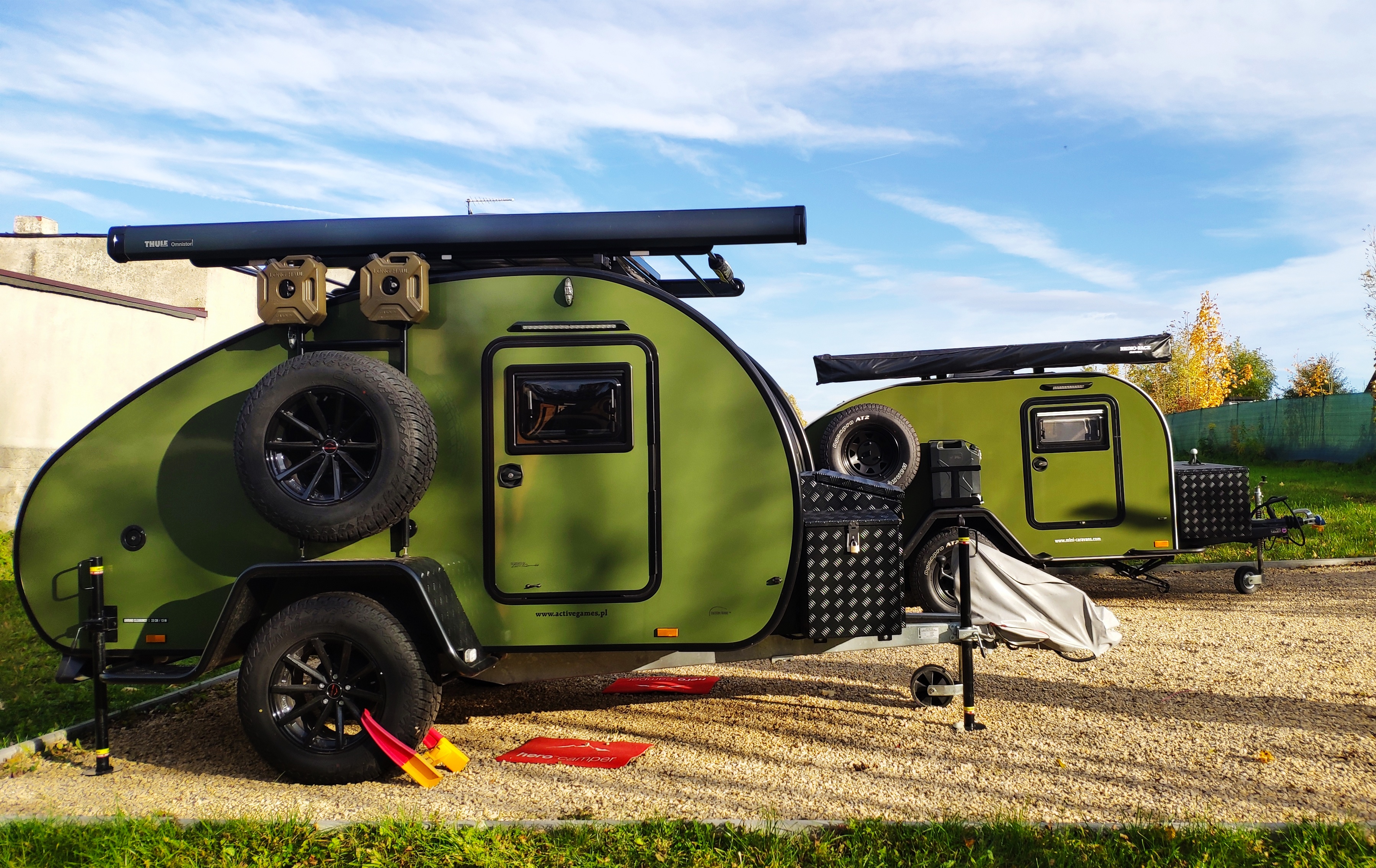 The trend for compactness and mobility is perfectly reflected by the wide range of small trailers in the characteristic teardrop shape. We wrote earlier about their advantages and possible boom motives for this type of caravanning in mini format HERE - Hero Camper - small caravans with great possibilities .
Teardrop for active people
Today we come back to the topic in an interview with Katarzyna Bator-Kalus, a representative of ACTIVEGAMES.PL , an authorized distributor of two renowned manufacturers of teardrop trailers.
You are specialists in an active lifestyle as well as in travel. In your offer you can find two ranges of trailers with a "common denominator", i.e. the teardrop shape. What distinguishes both ranges of teardrops?
That's right, our offer includes two leading European brands: the Danish Hero Camper and the Slovak ProCamp MiniCaravans.
Contrary to appearances, there are a lot of differences, so maybe let's start with what they have in common. Each of them has the shape of a "teardrop" in both off-road and road versions. The common elements are the chassis of the German brand Knott (in ProCamp on springs, in Hero standard on joints) and the structure (PUR sandwich plate, aluminum laminated on both sides). The curb weight around 900 kg and the DMC of 1200 kg are also similar.
The most important difference, especially from the buyer's point of view, is the waiting time (2 weeks to even 6 months). This is due to the business model of these companies.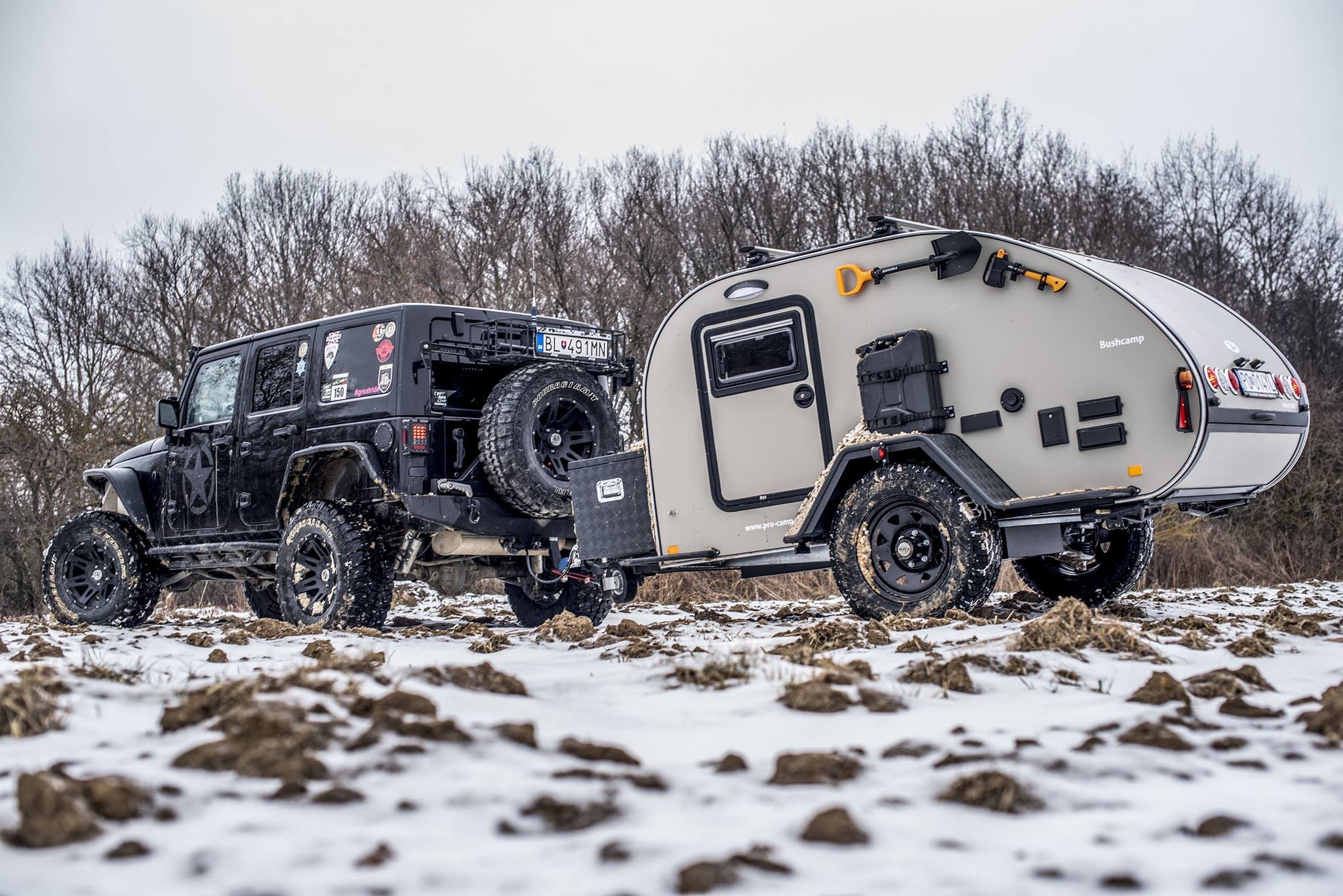 HeroCamper offers 2 models and 4 equipment versions as well as a short list of accessories, thanks to which the trailers are ready for collection before the season. They are only waiting for retrofitting with accessories or additions, which also do not have many - each version of the equipment contains the most important elements. Only options remain, such as the power supply system, type of heating, and awnings / vestibules.
At ProCamp, the trailer is manufactured from scratch for a specific customer order, thanks to which we can configure it very individually, using a long list of accessories and options (also dedicated strictly to very difficult terrain - e.g. raptor paint coating, protective frame, etc.).
HeroCampery are taller, which makes the interior more spacious. The lower Procamp is even more convenient when towing, as it usually does not extend beyond the outline of the car.
The rear kitchen section was closed in a different way - the Danes opted for a large, uniform hatch, while the ProCamp has a divided hatch for off-road features and the bottom part opens downwards. This procedure allowed for obtaining very good inrun and downhill angles, which will surely be appreciated by off-road enthusiasts.
Another important difference is the construction of basic water and power systems. ProCamp has compartments in the chassis, which can be accessed after lifting the mattress. This is where the water tank, battery and optional boiler are located. In Hero Camper, the water tank can be found in the kitchen area under the sink, and all power in the cabin behind the backrest. We have a lot of space here, even for the installation of the most extensive power supply system.
On our YouTube channel you can find photos as well as presentation videos of both models.
How, in your opinion, but also from the perspective of customers, can the phenomenon of popularity of this type of caravans be explained and why are they chosen by some more than "traditional" solutions?

The phenomenon, in our opinion, results from minimalism and the possibility of reaching places that are difficult to reach for traditional trailers or campers. If someone likes camping and tent tourism, and the most important thing is being close to nature and pursuing passion, then you will definitely love teardrops!
In Europe, this popularity is growing all the time, certainly giving way to America or Australia, where mini trailers were born and where the infrastructure is incomparably better developed (e.g. in national parks).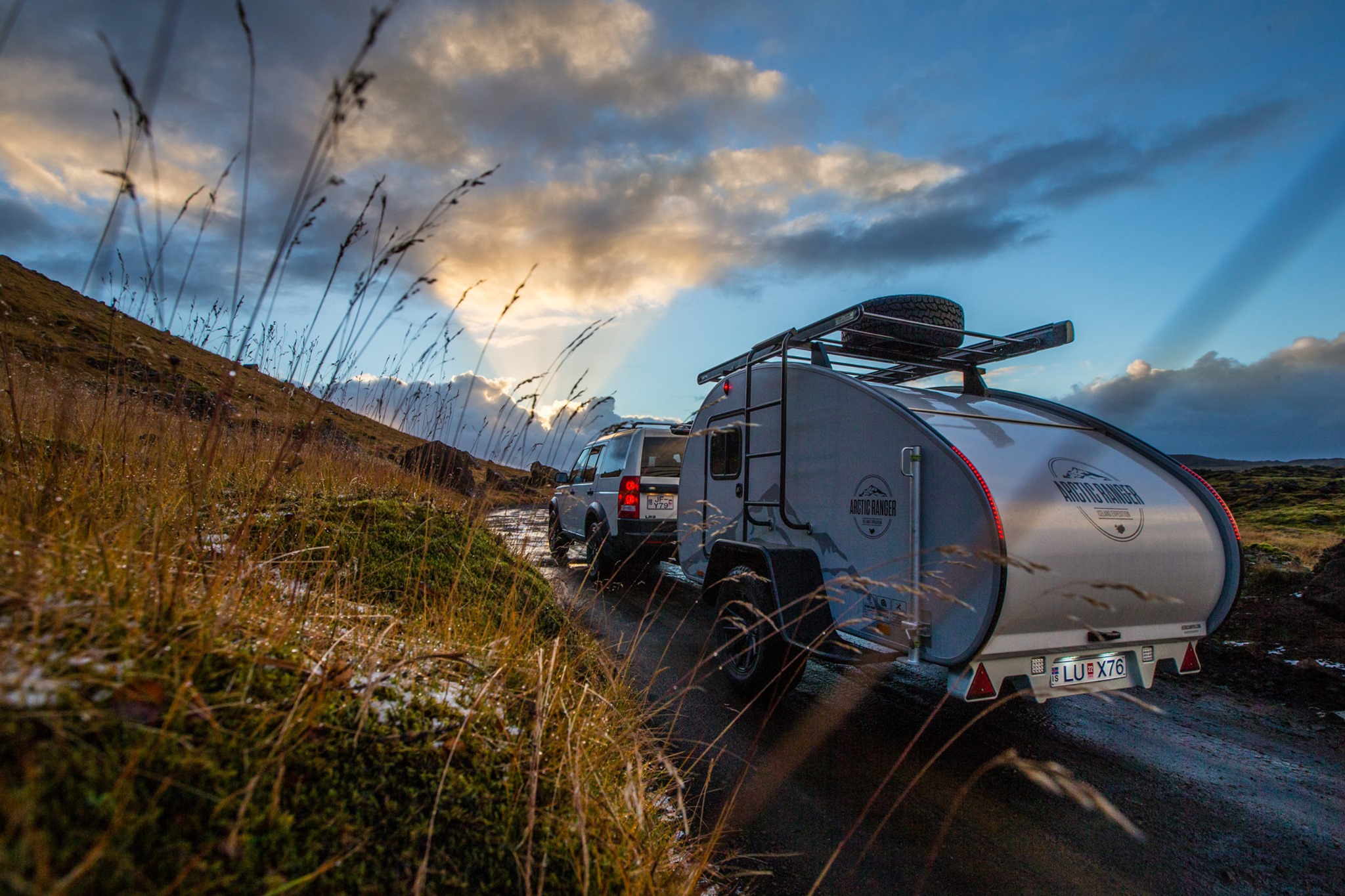 Access to attractive, wild places is crucial here. We are seeing a very fast growing market in Scandinavia, but the Balkans are also a great destination to explore with a mini trailer. It should be noted that tear drops are also used for a typical weekend or longer camping holiday - this is the case in Germany, Austria or Great Britain.
Can you tell us more about the construction of walls and thermal insulation, as well as the installations that are equipped with trailers?
Both brands for the production of walls use PUR sandwich panels, which are characterized by very good thermal insulation and durability. Hero sets the limit of thermal comfort at -21 degrees Celsius - a necessary condition in the demanding Scandinavian markets.
Regarding installations:
clean water tanks: values are similar - 35l Hero, 40l ProCamp
power system - apart from the basic one, we can configure a practically self-sufficient off grid installation
gas installation to power the stove, but also to heat water in ProCamp trailers
heating: diesel Autoterm Planer 2D, Webasto or electric
How can the durability of the structure of the offered trailers be assessed and how to properly care for them?
Durability is rated very highly - it also prompted us to choose this particular structure (instead of light ones based on plywood / wooden frames). Hence, there is no need for any special service or maintenance. The durability of the claw is confirmed by their weight - if something is to be durable, safe and comfortable, it must weigh its own.
Manufacturers, of course, provide service instructions on what mileage to check after - this mainly applies to the chassis as well as power and gas systems (if there is a given installation on board).
Trailers for special tasks
Many families considering buying a trailer say it would have a problem to fit in your teardrops. What possibilities do we have for the optional expansion of space and functionality with system accessories?
Much depends on what someone needs during the trip. Evening outfits may not fit ... A family of 6 travels in Norway, and their adventures can be followed on Instagram.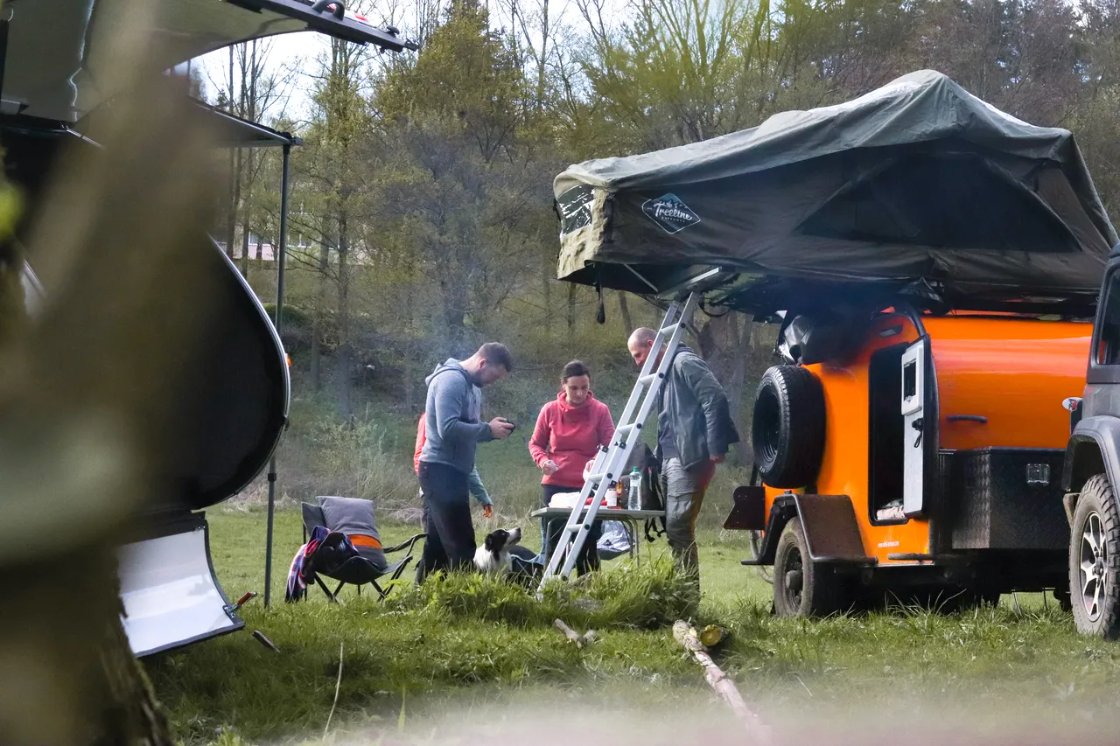 In general, there is a lot of space in wardrobes and the front transport box. We also have the entire roof (load capacity in the Hero 500 kg) at our disposal. Inside, 2 adults + child / dog will sleep comfortably (Hero even has a dedicated pull-out bed up to 60 kg). For another 2 or 3 people, we offer a roof tent. Of course, there are also awnings with side walls from brands such as Thule or Rhino, so you can arrange your living space. While driving, the cabin can also be used as a luggage space (luggage net in ProCamp or a safety belt to fasten things that are transported inside the Hero). We personally never ran out of space, and we usually travel with a folding sailing catamaran, SUP boards or bicycles (mounted on a transport box at the front) and a lot of water sports equipment.
From the point of view of endurance, can the "off-road" models really be damaged in the field? If so, how to properly secure the equipment on uneven surfaces?

Go ahead! This is what it is all about, after all. Manufacturers anticipated such use and hence numerous practical solutions (cabinets, hooks, nets, belts).
Just type "Bushcamp Explorer Procamp" on YouTube to see what it can do in the field. Here, too, we have a significant difference in the philosophy of both brands and their approach to the destination of trailers. Hero Camper Ranger gives us the opportunity to drive off paved asphalt roads - just like an SUV - a lot can, but it is not an off-roader. ProCamp in the Bushcamp Explorer model shows that where a car can do it - e.g. a pickup truck or an all-terrain vehicle, the trailer can do it too.
I feel best in the form of trade fairs and meetings with enthusiasts. Technical freak. In my life I have dismantled many motorhomes for the first time. Fan of large vehicles, mountain biking and traveling without weight and financial restrictions. At CampRest, I am responsible for all publications on automotive topics.
Enjoyed reading this article? Share it!