New projects by Camper System - caravanning Poland is growing in strength!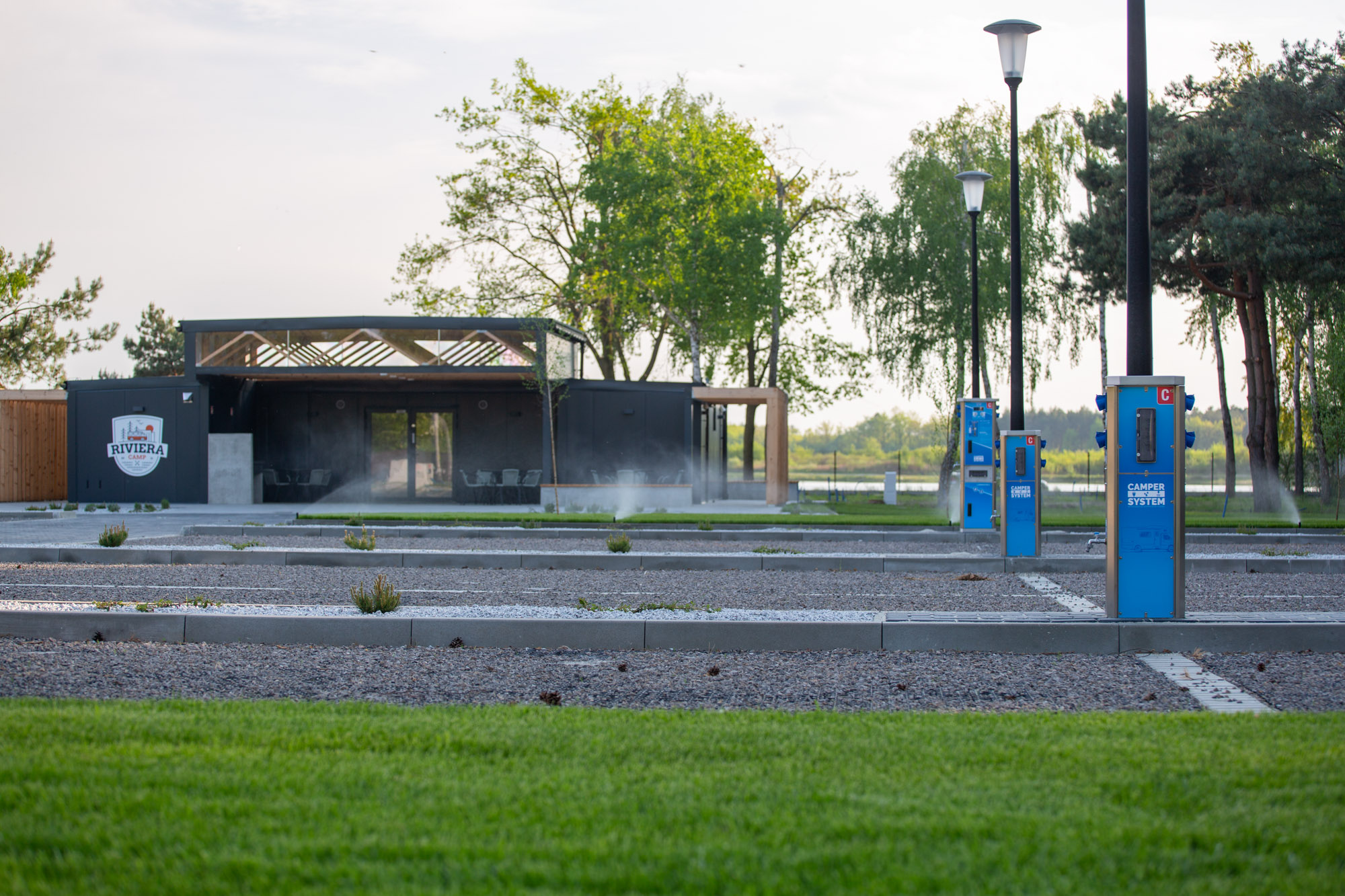 We often hear voices that the caravanning boom across Europe, i.e. the avalanche increase in the number of recreational vehicles, is a huge challenge for caravanning infrastructure and service points. However, those who think that new places of this type are not being created are wrong!
As Camprest, during trade fairs, we always spend long hours talking with new investors planning to open campsites or camper parks and we are glad that there are more and more investments. We are all the more pleased when a Polish company - a leader in the construction of infrastructure for motorhomes - adds an important contribution to these projects. We have been following the activities of CAMPER SYSTEM from the very beginning of its existence and we are glad that thanks to them on the map of travel-friendly points, more are being added.
Today we have prepared another portion of new spots for you with a short description.
Riviera Camp, Radłowskie Lake (Lesser Poland, near Tarnów)
This newly opened Recreation Center located directly on the lake is equipped with 28 full-size pitches for motorhomes and caravans, with direct access to electricity and water. There is also a year-round point available also for those who would like to quickly take advantage of the gray water discharge, toilet service and refilling clean water on the way.
The Camper Park includes a year-round, modern social building with a large kitchen equipped with microwave ovens, induction hobs, a refrigerator and sanitary facilities (women's, men's and disabled bathrooms, toilets and showers). There is also a campsite with direct access to electricity and 10 modern, all-year-round rental houses (4- and 6-person). The facility's guests have at their disposal a playground for children, a beach volleyball court and two swimming pools in the summer season - one smaller for children, the other larger for teenagers and adults. For an additional fee, you can use the dry sauna, jacuzzi and tub.
The entire RIVIERA CAMP resort is fenced, which provides a feeling of greater security and privacy for guests. The property is surrounded by beautiful forests, bicycle paths and small lakes that can be explored on hiking and biking tours. Detailed information can be found at www.rivieracamp.pl.
Camper Park "Między Mostami" (Vistula Spit, Pomeranian Voivodeship)
The new recreation and leisure complex called "Między Mostami" is located on the provincial road 502, 10 km behind Nowy Dwór Gdański, 8 km in front of the beaches in Jantar and Stegna. The fenced and illuminated area of the center is located between the historic bridges: the yellow one on the Szkarpawa river and the blue one on the Królewiecka Vistula.
In addition to charter boats, rooms and apartments, there is also a camper park with space for 14 motorhomes. Each plot is 100 m2, paved and surrounded by greenery. We find here electric and water connections (included in the price of the plot), as well as drain grates and professional service stations. There is also a gazebo with a summer kitchen and grill, playground equipment for children, sanitary facilities with a laundry and drying room, and recreational areas. For an additional fee, guests can use a washing machine, iron, ironing board, rent a fishing boat and a motor boat on preferential terms (15% discount for resort guests).
The car park for motorhomes is open from 10/06/2022 to 30/09/2022, and the day lasts from 4 p.m. to 2 p.m. the next day. Details and price list available at www.miedzymostami.pl .
Partęczyny Center (Lake Wielkie Partęczyny, Warmian-Masurian Voivodeship)
Wielkie Partęczyny is the largest lake in the Brodnica Lake District, located in the Warmian-Masurian Voivodeship, in the Kurzętnik commune, Brodnica forest inspectorate, in the Brodnica Landscape Park. The area of the lake is 340 ha. It is here in Tereszewo that there is a center equipped with over 300 summer houses and a campsite with a professional service base for motorhomes.
This proposal will appeal especially to lovers of nature and peace. The multitude of reserves surrounding the lake, well-marked cycling and hiking trails as well as tourist attractions means that everyone will find something for themselves here. Also, anglers and mushroom pickers will be pleased with the wide offer and facilities offered by this seat. The base includes the beach with a division of the swimming pool for children (paddling pool), youth and adults, as well as water equipment rentals with boats, pedalos and kayaks. This center is also an ideal starting point for historical attractions of the region: Grunwald, Castle in Golub-Dobrzyń, Toruń, Iława are just some of the places worth visiting.
On Lake Wielkie Partęczyny, the International Drwęca-Vistula River Rafting takes place, popularizing qualified canoeing tourism. The rafting slogan "For beauty and adventure" confirms the appreciation of the canoeing brothers for the region and the beauty of the Brodnica Lake District and the Drwęca and Vistula routes. More about the center and the offer at www.osrodekparteczyny.pl .
Wieleń (Greater Poland, Wolsztyn poviat, Przemęt commune)
Halfway between Wolsztyn and Wschowa, on Lake Wieleńskie, in the area of the Wieleński Landscape Park, there is a picturesque village of Wieleń.
In May, a professional service point for the discharge of dirt from motorhomes and caravans was opened at the pumping station at 1 Jodłowa Street. Przemęckie Przedsiębiorstwo Komunalne noticed the interest and increased popularity of motorhome tourism and without hesitation decided to contribute to making the region more attractive and more friendly to us - globetrotters. The point is year-round, monitored and self-service. At any time, visitors to the site can discharge gray water, refill clean water and empty the toilet. In addition to motorhomes and caravans, buses can also be used. You can pay for the service with a payment card. This is the first service point of this type that was launched not only in the commune, but also in the Wolsztyn poviat.
Camping Pieszowola (Lubelskie Voivodeship, Parczewski Poviat, Sosnowica Commune)
The newly built campsite in Pieszowola is already visible on google maps and you can easily find it with the help of popular navigation. Pieszowola is located in the heart of the Poleski National Park, in the Sosnowica commune, in the Łęczyńsko-Włodawskie Lakeland. The site is surrounded by forests, meadows, ponds and lakes. Such a location makes this proposal an ideal place for active recreation close to nature, all in the company of the amazing flora and fauna of the Polesie National Park. The property offers 9 pitches for motorhomes with electricity, as well as a service point, a place to pitch a tent, bathrooms with showers and toilets, and a laundry room with a washer / dryer. We can use the place for feasts with a fireplace and gazebos, and there is a playground for children. There is a shop only 500 m away, and a market, restaurant and ATM within 6 km. Poleski Park and its bicycle routes are only a few hundred meters away.
If you think that creating a camper park can be a good business idea, we refer you to previous articles on this topic - LINK TO THE ARTICLE. If, on the other hand, you are a camping operator and you would like to provide guests with the best solutions for servicing camping vehicles on the market, be sure to visit the manufacturer's website - www.campersystem.pl .
Enjoyed reading this article? Share it!