The best restaurants in Garda Trentino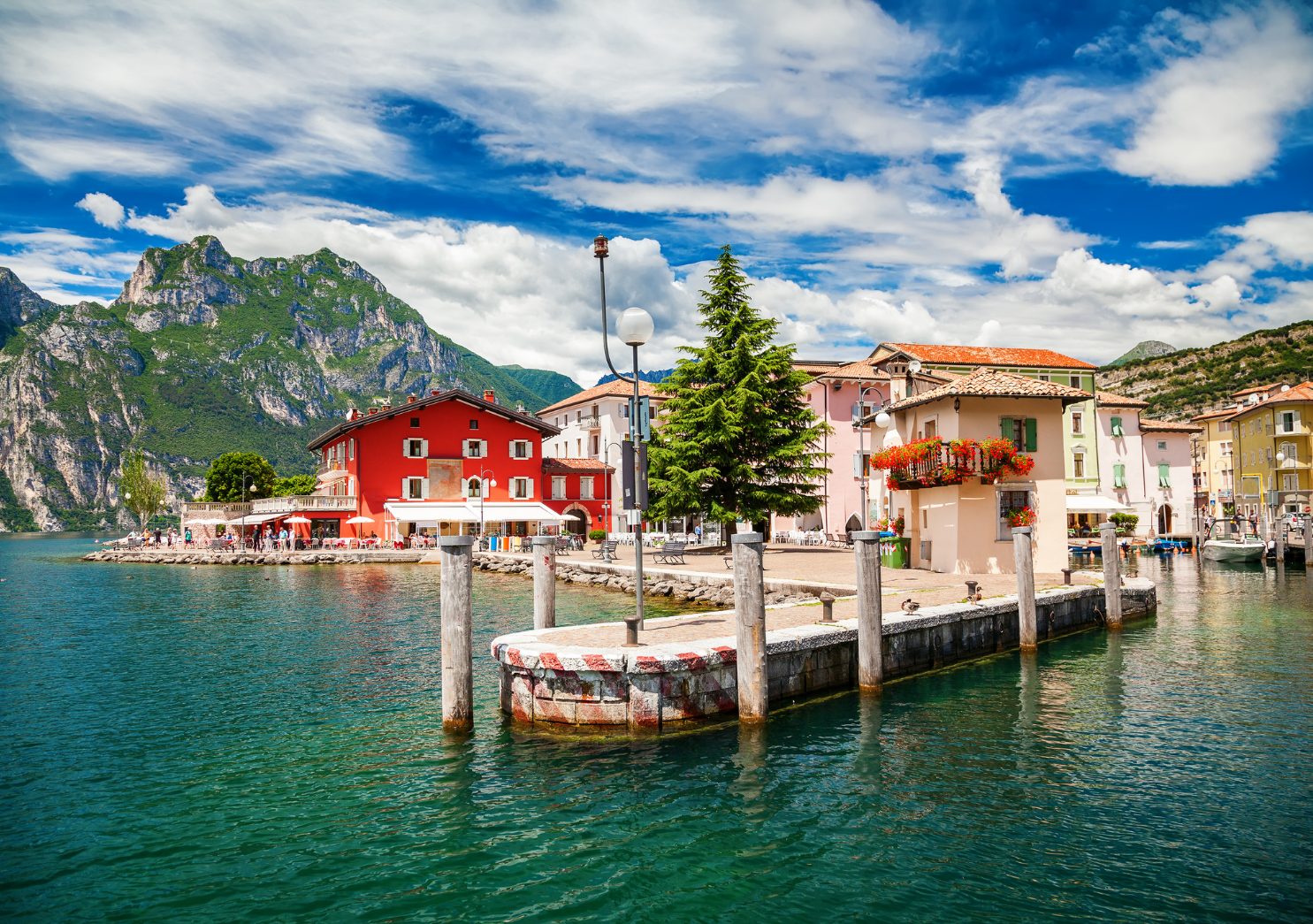 In September 2020, the Garda Trentino region invited us for a week-long holiday in a camper, during which we visited as many as 15 restaurants. It wasn't easy to eat so many delicious things in such a short time, but we did it for you!
Remember that Garda Trentino is not only Lake Garda, but also the surrounding valleys and mountains. Quite a few of the restaurants mentioned are located inland. I promise you that it is really worth going to these places to try, for example, micro local cuisine in Calvoli located high in the mountains, drink a beer above the clouds, or eat the best tiramisu with a view of the castle.
All restaurants require advance reservations. It is worth doing this a week in advance, even outside the season. Lunch is usually served between 12-2 p.m. Restaurants close after 3 p.m. and open only around 7 p.m. Keep this in mind when planning your day on the Garda River.
Riva del Garda – something for lunch and dinner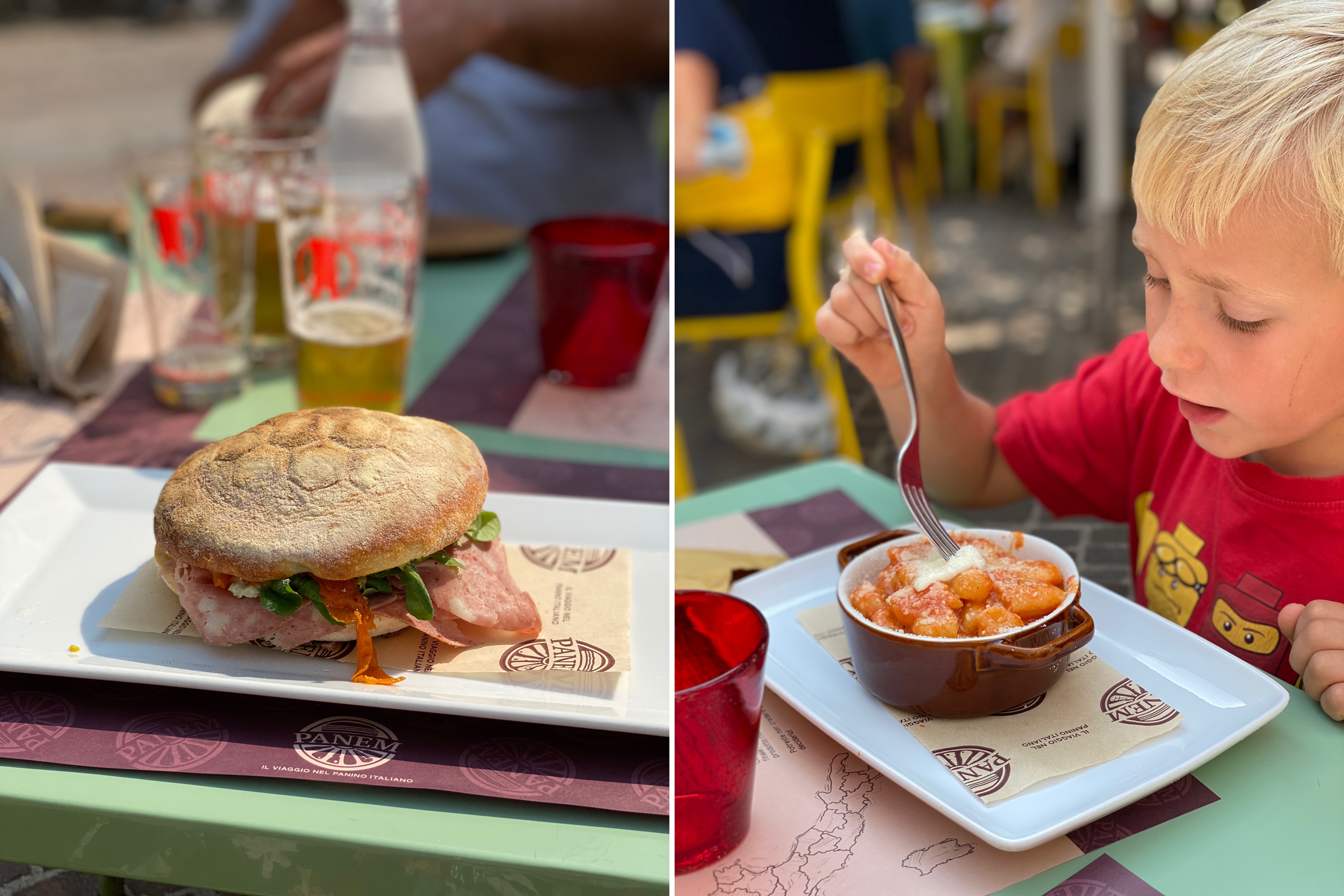 During the day, for lunch - a quick sandwich - go to Panem . Each sandwich served at this bar represents an Italian region. We chose Molise and Lombardo. The children chose gnocchi with tomato sauce. Remember that every restaurant in Italy will make simple dumplings with tomato sauce for your children to order, even if this option is not on the menu.
During the day, you can also eat pizza from a wood-fired oven at Bella Napoli. Look what pizzas they make for children.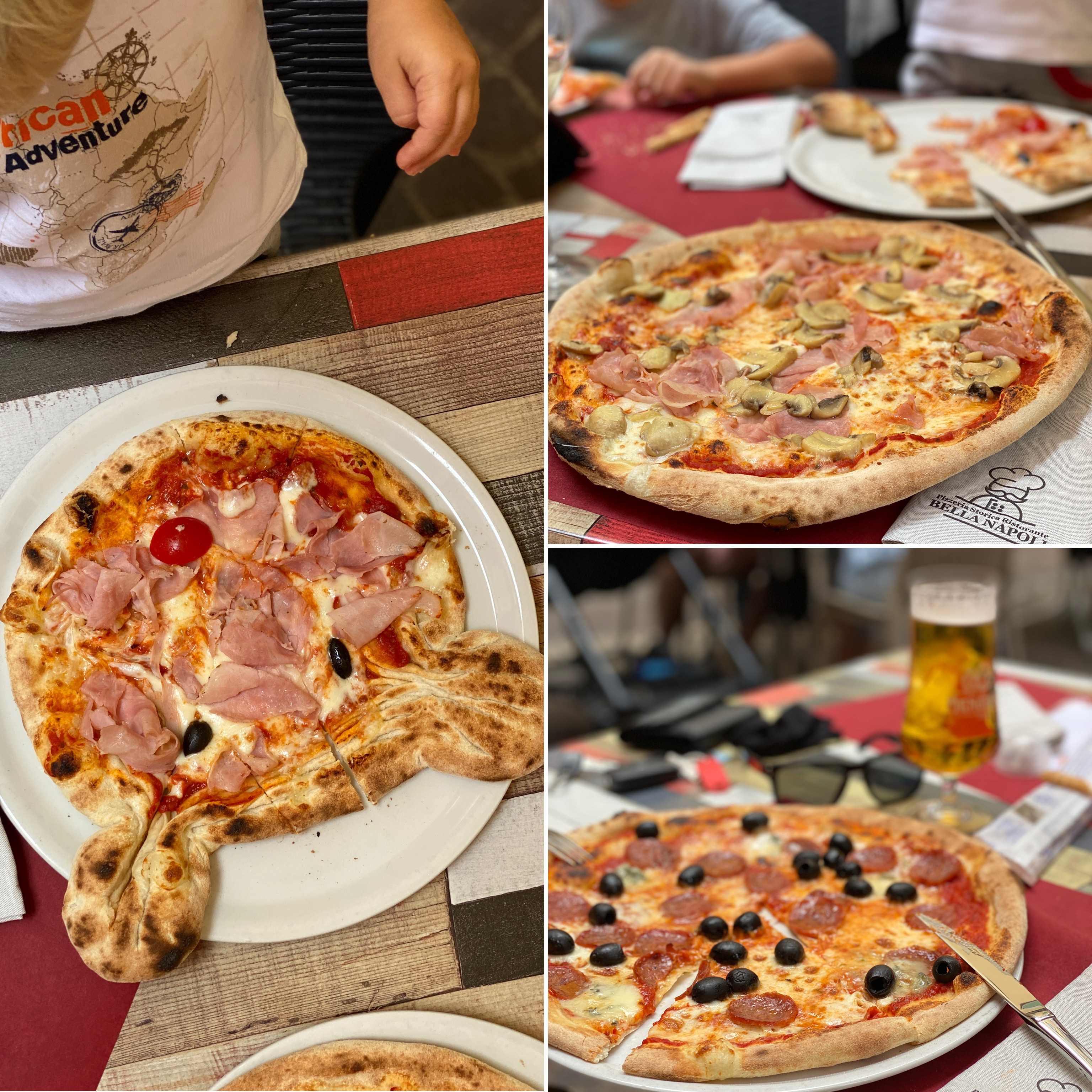 For dinner, it is worth going to the center of Riva del Garda to the Leon d'Oro restaurant, run by the same family for several generations. We go to this place during every holiday on Lake Garda .
Luca, the owner of the restaurant, pays great attention to the quality of food and imagine that he orders for his restaurant every day! Thanks to this, the plate includes not only local ingredients, but also fresh seafood from Sicily. That's why you'll see frito misto on our plate. However, a must-have item on the menu in Leon d'Oro is risotto and baked mussels. Jakub, which you can take home - just ask the staff to pack them for you.
If Luca has time, he is always happy to talk to his guests and talk about the food he serves. If you come to Leon' d'Oro, ask about Luca and give him our warmest regards.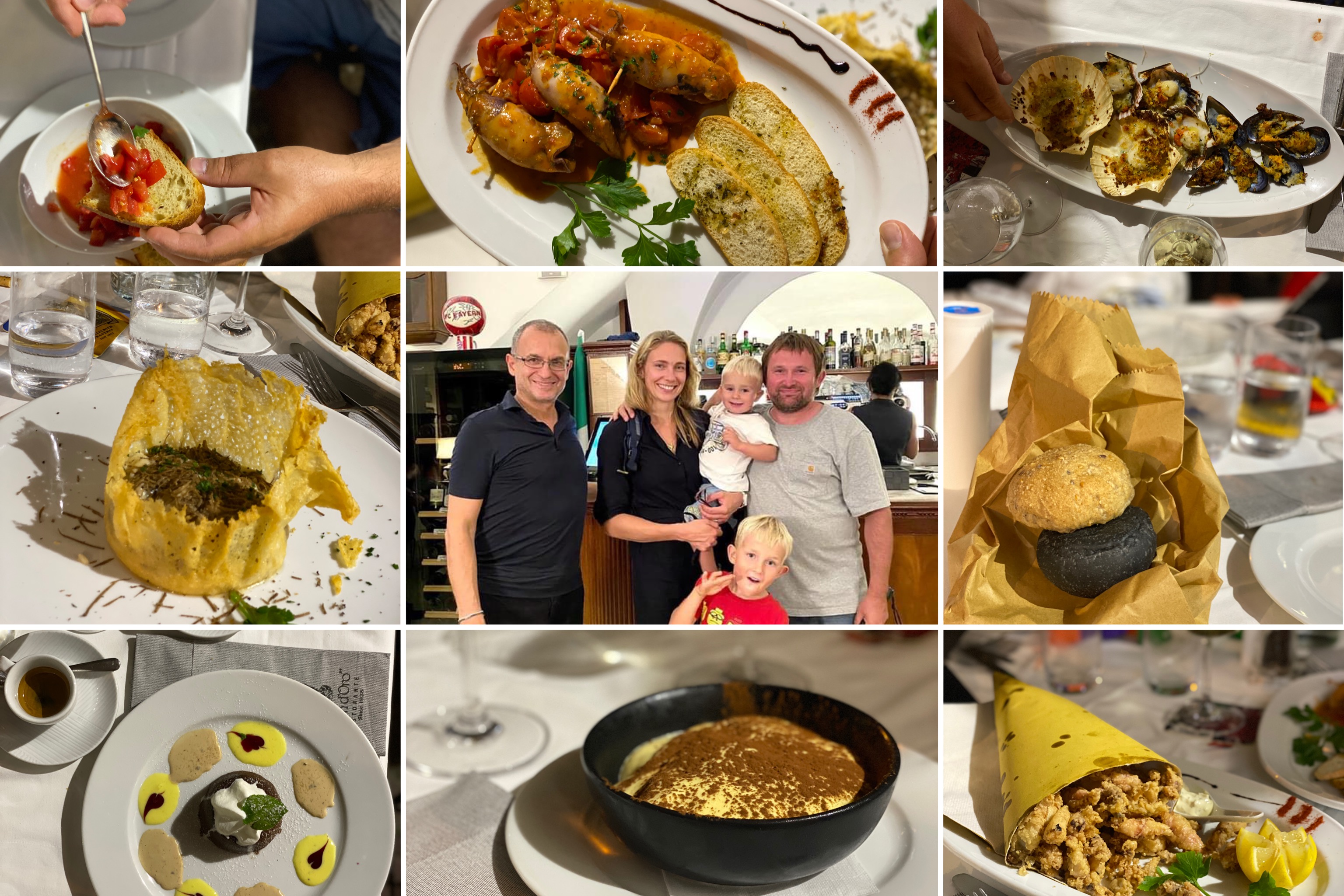 In 2020, Luca started packing bread in paper bags, which in my opinion is a great solution to not waste food. It is easier to take uneaten bread with you.
Drena - the best beef carpaccio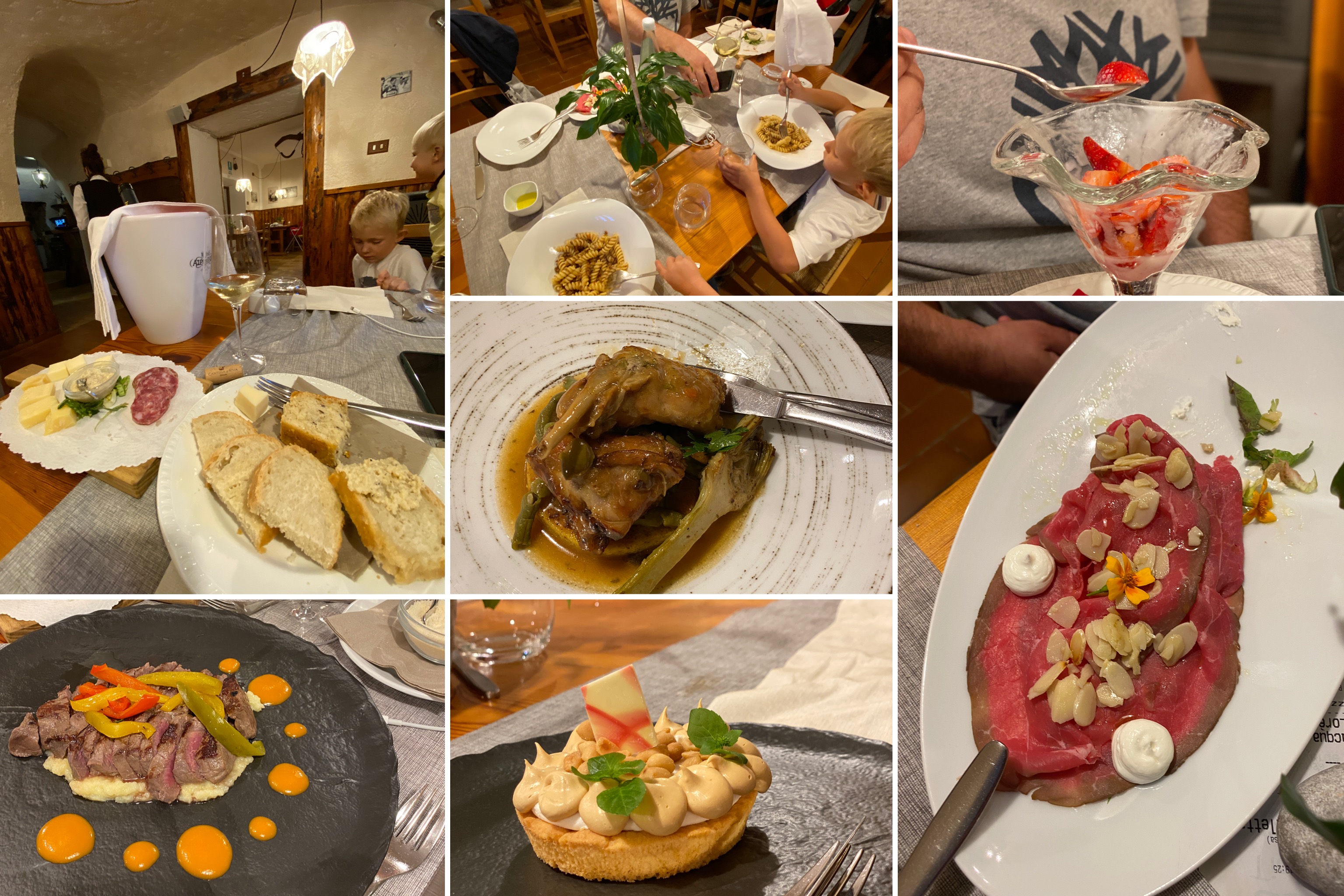 Drena is 20 km away from the lake. There is a regional restaurant called La Casina , where we ate the best beef carpaccio in Trentino. I know what I'm saying, because we ordered them in practically every restaurant to check if it was true :)
In addition to the amazing food, the restaurant has beautiful outdoor tables under a pergola, lit by lanterns. It also has its own playground. Beautiful views and an atmospheric evening guaranteed.
The playground is located among plum trees, and from the playground you can see the strawberry farm, from which strawberries are served for dessert. They are so delicious that they are served in the simplest way possible, i.e. in a cup with sugar or whipped cream.
What did we eat here?
For starters, we get a cheese and sausage board. Our kids got ragu, which wasn't on the menu, and the waiter offered to make it himself. I had delicious rabbit with polenta, and the sheriff had beef tagliata.
Dro – a valley of vineyards, ferrata and dinosaurs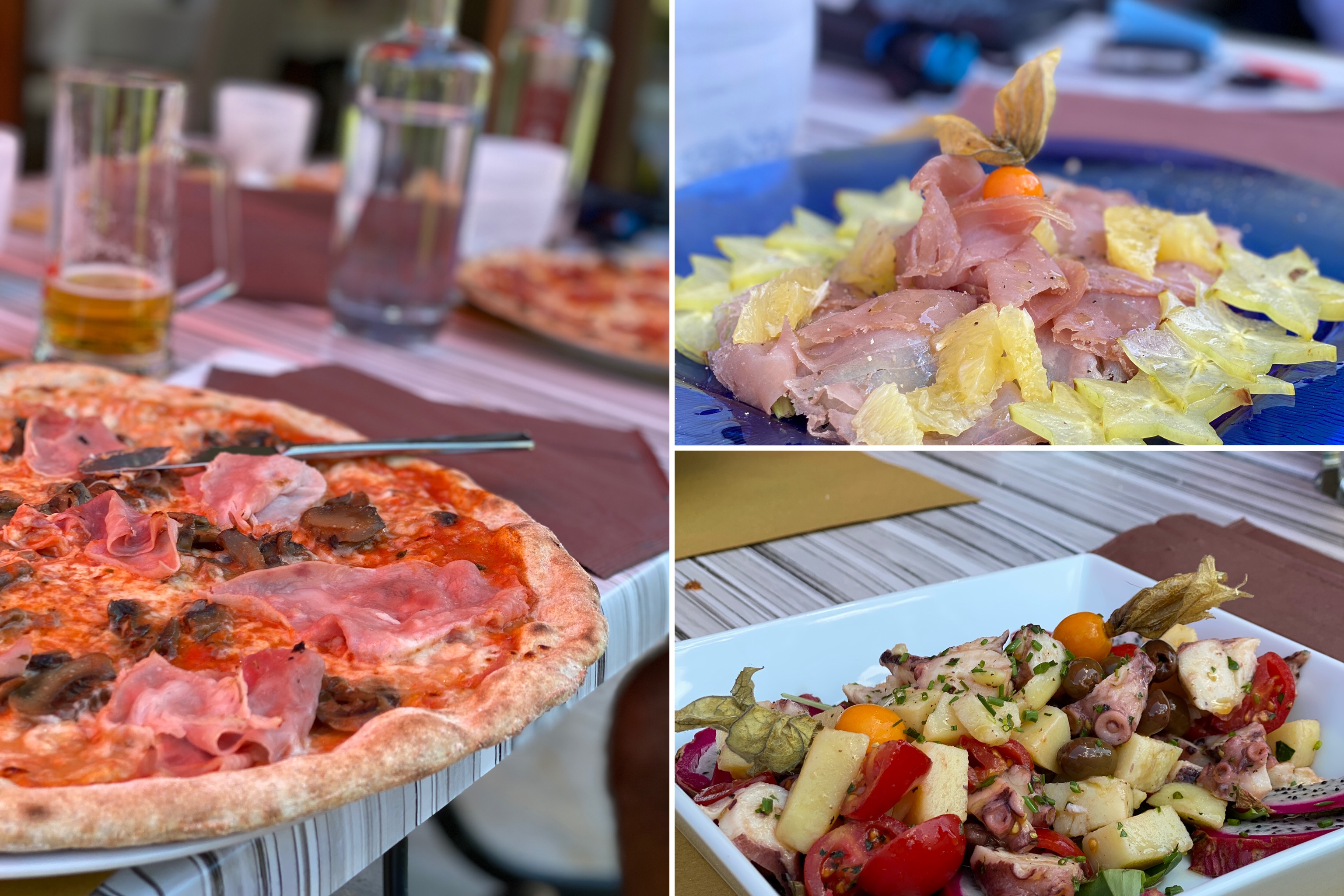 For lunch, we recommend going to Piccola Dallas . The restaurant has its own very large parking lot, where workers from construction companies come in large trucks during lunchtime - there is also plenty of space for campers. Whatever it is, if local residents come here, it must be tasty, and it is! The restaurant also has a huge garden with a playground.
What did we eat?
The sheriff ate tuna carpaccio, I ate octopus salad. There was pizza for everyone.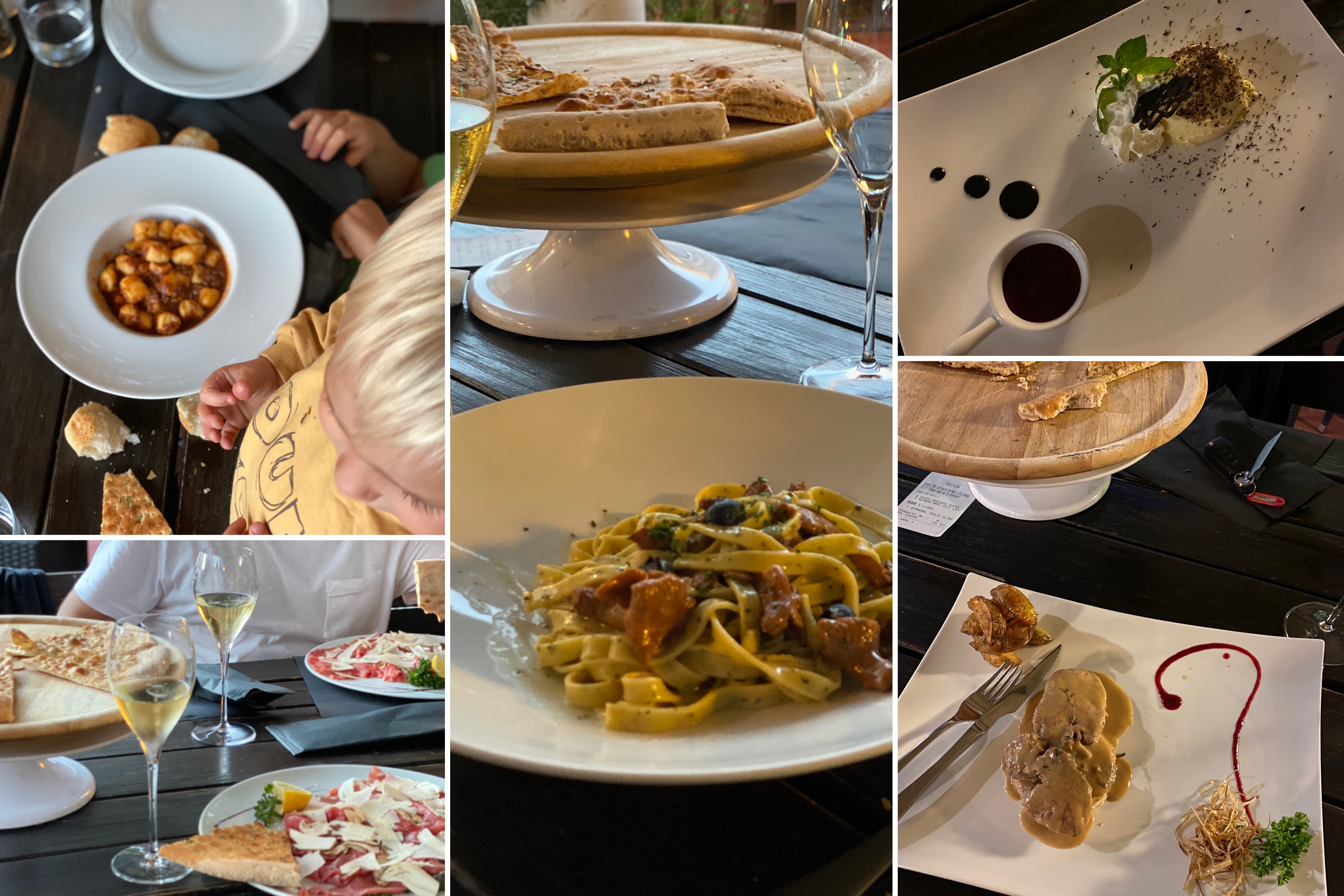 If you are looking for a place for dinner in Dro, you will have a great meal at Alfio restaurant. This restaurant is located on the road and there are no beautiful views, but there is one very big advantage. There is a huge parking lot next to this restaurant that can accommodate the largest campers.
During our stay, there was the TrentoDoc festival and the restaurants that participated in this program served sparkling wine with various dishes. Our €35 tasting menu included:
Focaccia with rosemary
Beef carpaccio
Tagliatelle with chanterelles
Veal with potatoes
Mango semifredo with raspberry sauce
Frapporta – a town that is not on Google Maps…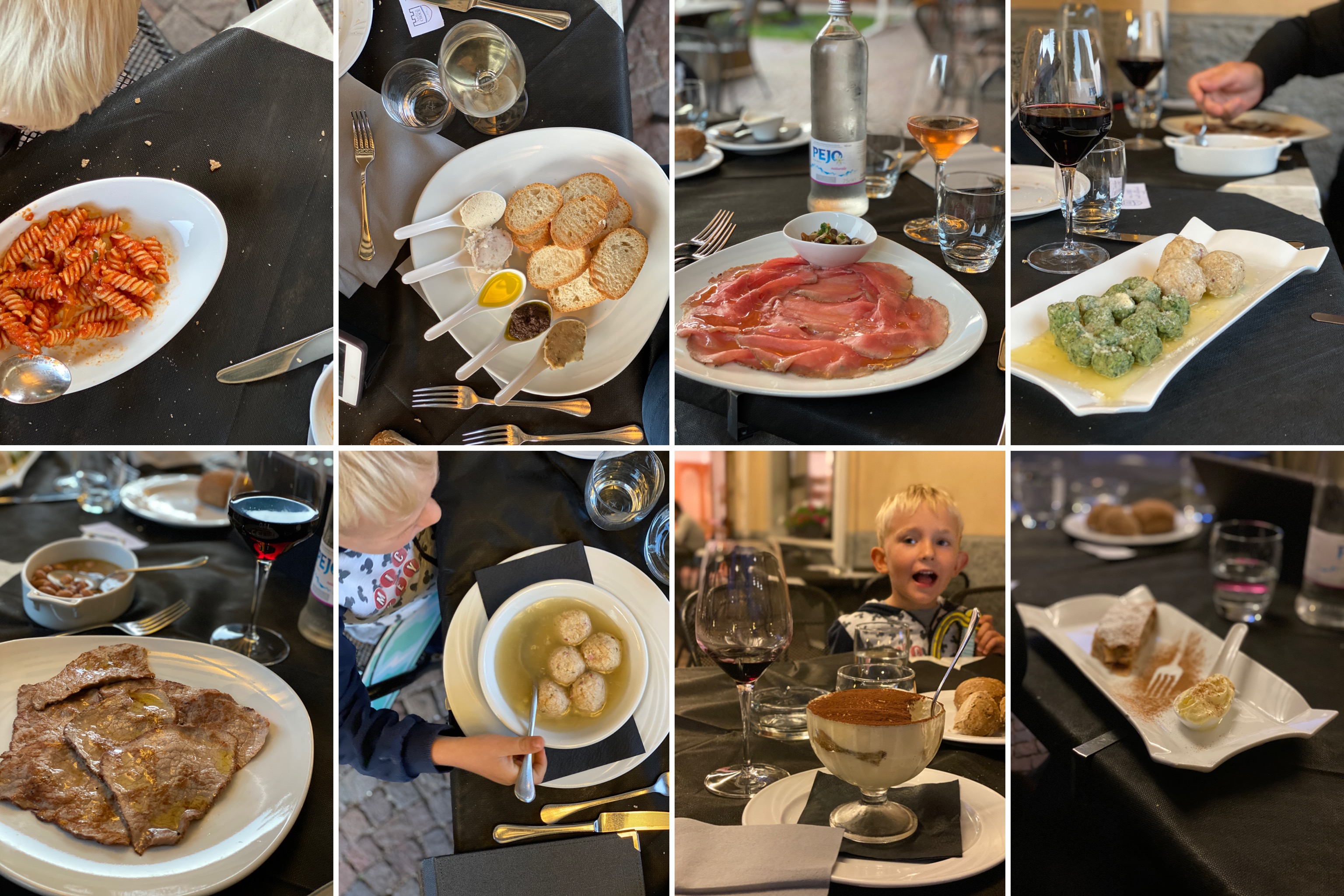 Antica Croce restaurant is a place with over 100 years of tradition. They only serve local specialties.
Before dinner, go to the medieval town of Frapporta , next to the Canale di Tenno castle. You won't find this town on Google Maps. However, if you park at the Antica Croce restaurant, you will find yourself directly at its gates.
The sheriff took the tasting menu for EUR 26, and got a different wine for each course. Menu:
Carne salad with mushrooms in olive oil
Pam brustola
Beef with beans
Apfelstrudel
I took strangolapreti trentini and canederli, traditional dumplings from this region with melted butter. And tiramisu. You must know that I have a personal classification of tiramisu. I eat it in practically every restaurant in Italy and tiramisu is absolutely in my "top of the top".
Rifugio San Pietro – lunch in the mountains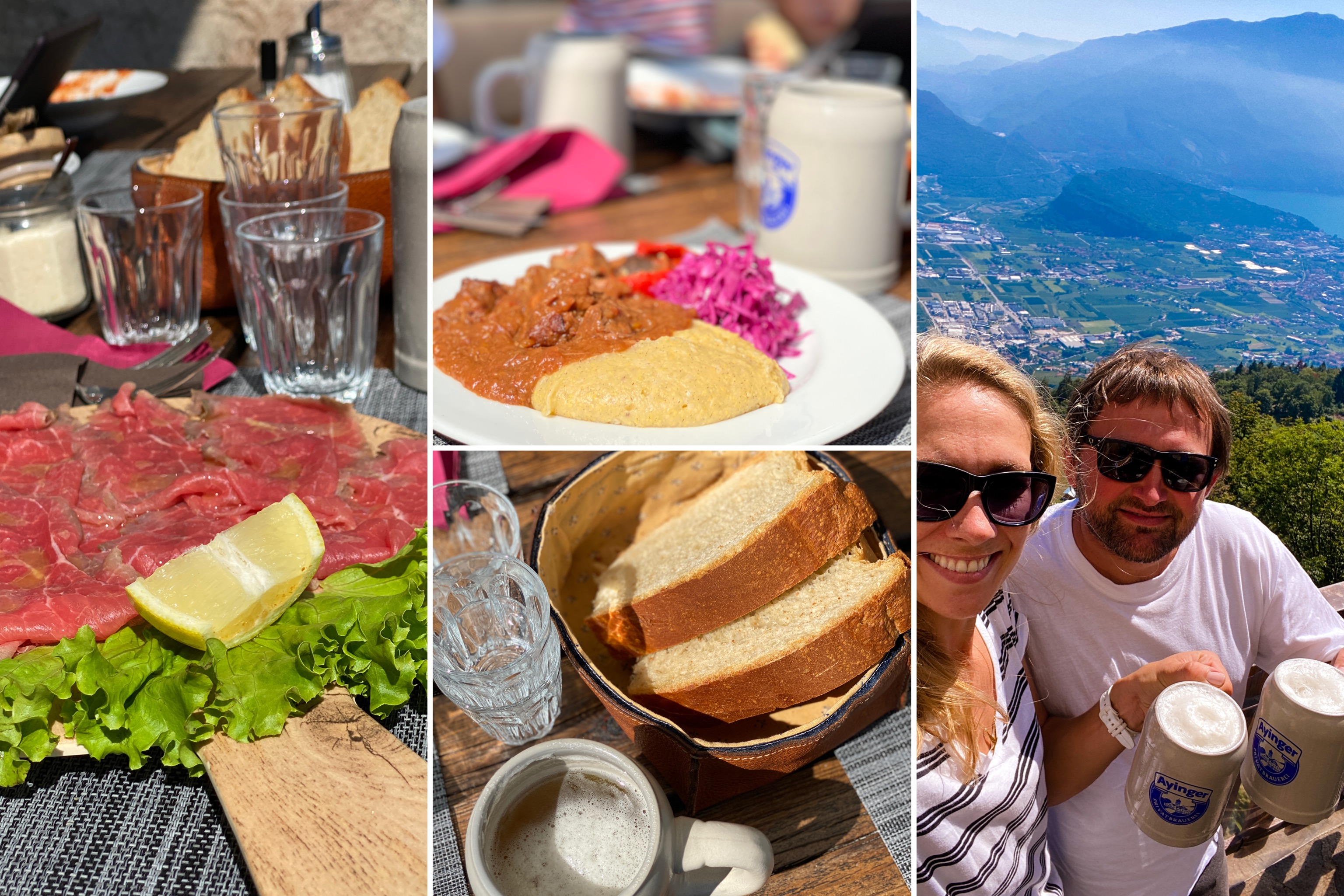 Rifugio di San Pietro is a shelter located at an altitude of 980 meters above sea level. You can get there in several ways, including: along the forest path from Lago di Tenno. We chose a gentle asphalt road, good for pushing a stroller, which starts at Canale di Tenno.
In Rifugio di San Pietro you can buy takeaway food and eat it in the meadow or sit for lunch at one of the few tables (prior reservation is necessary). There is an amazing view of Lake Garda from here! Children will love the playground and animals bred by the owners of the shelter: goats, pigs, chickens.
What did we eat?
We chose carne salad here again to check whether the one in the first restaurant we visited was really the best in the area, we drank local beer and homemade bread.
They have delicious beef or deer goulash, served with polenta.
It's worth staying in this shelter until sunset!
Canale di Tenno – a medieval town in the mountains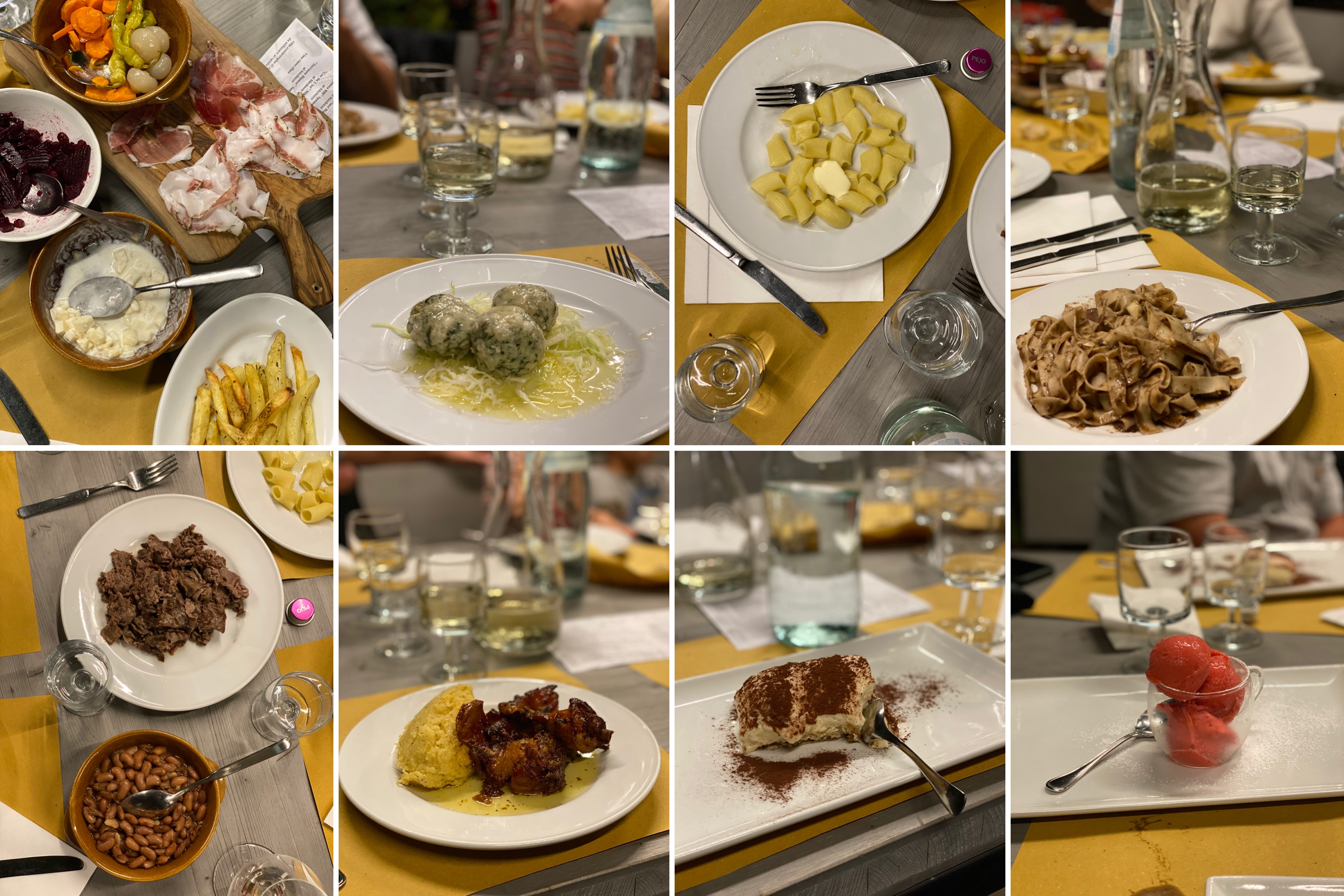 We were at Agritur Calvola for the second time. It's a small restaurant run by a family that grows its own vegetables and raises animals. Now I will tell you what the ordering process itself looks like, because it is a very interesting experience. All tables are occupied at 7 p.m. The owner (an older lady who doesn't speak English) personally takes orders at each table. If you don't know Italian, it's best to use Google Translate to read what's on the menu in advance. Only after collecting the orders does production start in the kitchen, and from then on they do not accept any more orders or even more guests.
What did we eat?
Of course, the owner praises everything so much that we order almost everything on the menu. We order a lot of appetizers, vegetables, cold cuts and cheeses. For an appetizer, I take canederli, and the Sheriff takes tagliatelle all'uovo della casa alle molche.
For the second, carne salad with beans. Rabbit with polenta again for me.
Our children asked for bianco pasta, i.e. pasta without sauce - with butter. And such children's dreams will come true in every restaurant in Italy.
Here you will also eat some of the best tiramisu and homemade strawberry ice cream.
Arco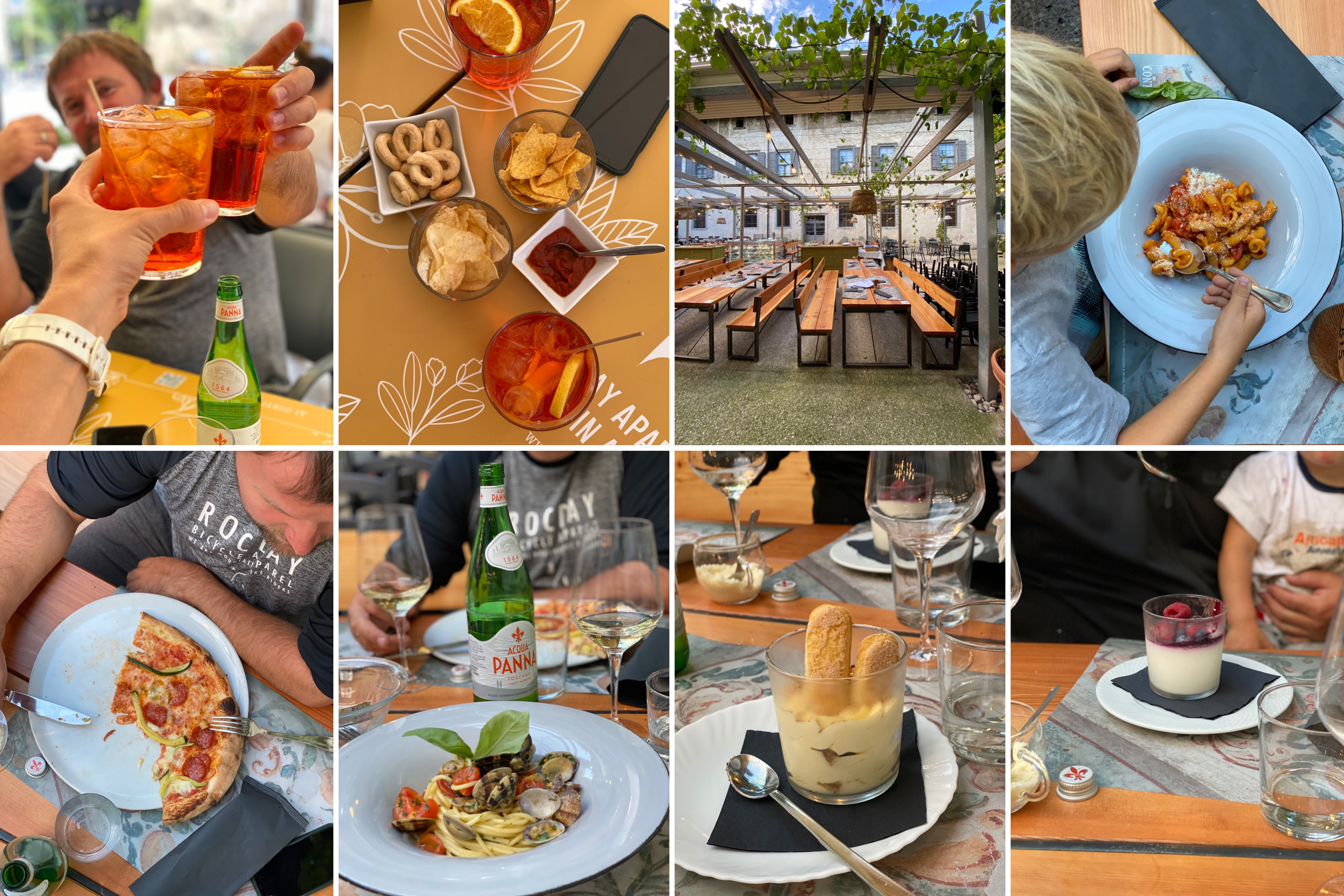 I suggest eating dinner at the Ai Conti di Arco restaurant located in Palazzo Marchetti. We chose a table on the beautiful patio, which also has a play corner for children, but the restaurant also has an amazing interior with interesting decorations. Notice the ceramic chimneys on the roof of this building, which can be seen standing on the side of the Ai Conti bar (not on the patio).
What did we eat?
Before dinner, we went for an aperitif to the Ai Conti bar, which is located on the street side. There, we were served various snacks with Aperol.
For dinner, I choose Spaghetti Vongole e pomodorini, Sheriff - pizza, and the children choose pasta with tomato sauce. Dessert – tiramisu is a must.
Santa Barbara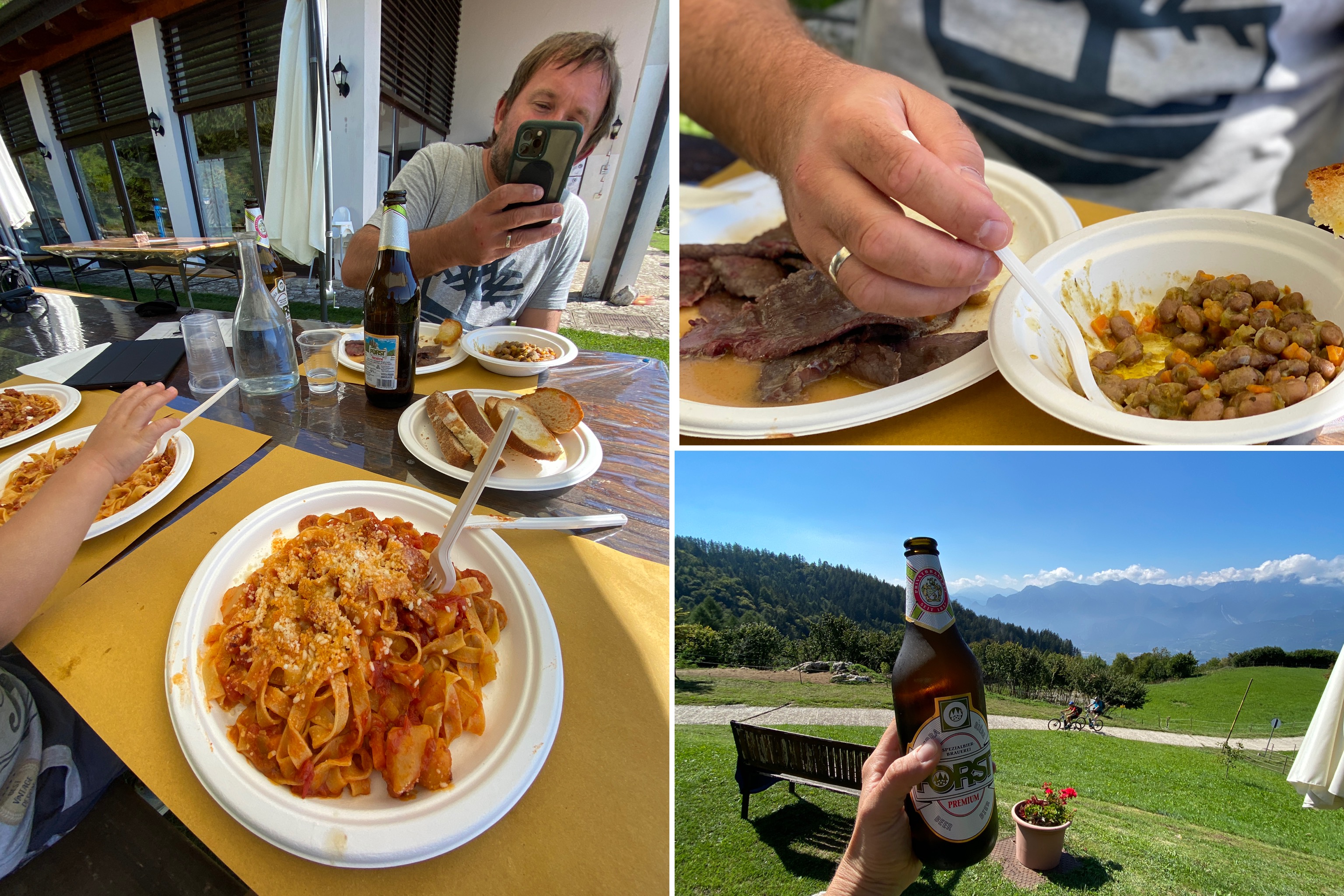 Malga Zanga is not a typical restaurant. It's more of an agritourism, which you can reach by mountain bike, small camper or bus. If you have a large camper, it is better to leave it a little lower. It can handle winding, narrow roads with ease, but not on the last section of the road, which is better to cover on foot or by bike.
At Malga Zanga you can eat delicious homemade spreads and there is always homemade cake. There is not much choice on the menu, but you will definitely eat a delicious lunch here with an amazing view in the company of llamas and donkeys. You can arrange a walk with the latter on the surrounding hills.
Torbole – a windsurfing mecca and plenty of mountain attractions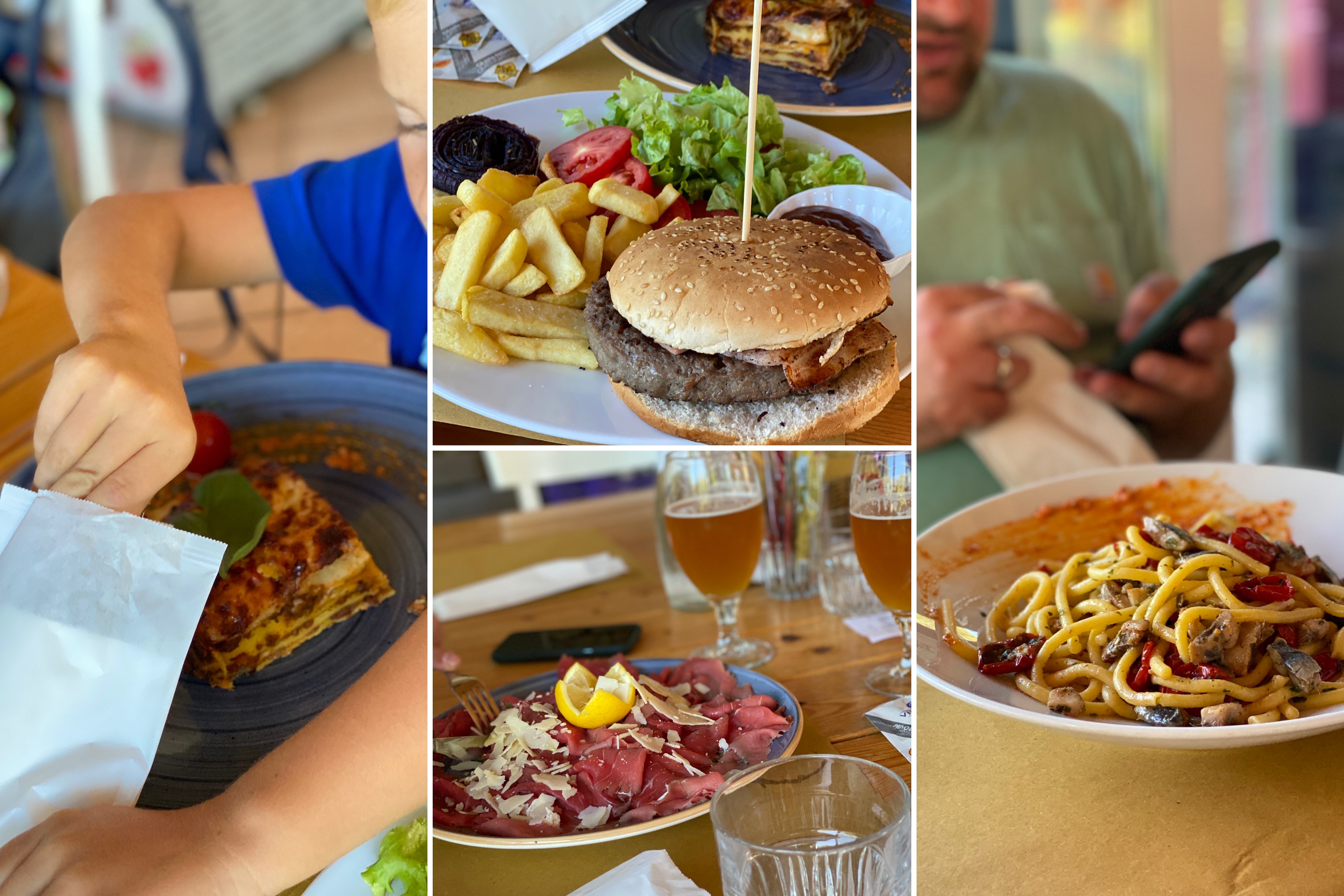 When in Torbole, you can eat great in the center (by the water), but I will tell you about that in a moment. First, I want to encourage you to go to the mountains. Go to the Busatte Adventure Park or the Busatte – Tempesta trek, then enjoy lunch at the Busatte Grill and Steak Restaurant.
What did we eat here?
Carne Salada
I take bigoi with sardines
Lasagna for kids
And a hamburger for the Sheriff
What about the center of Torbole?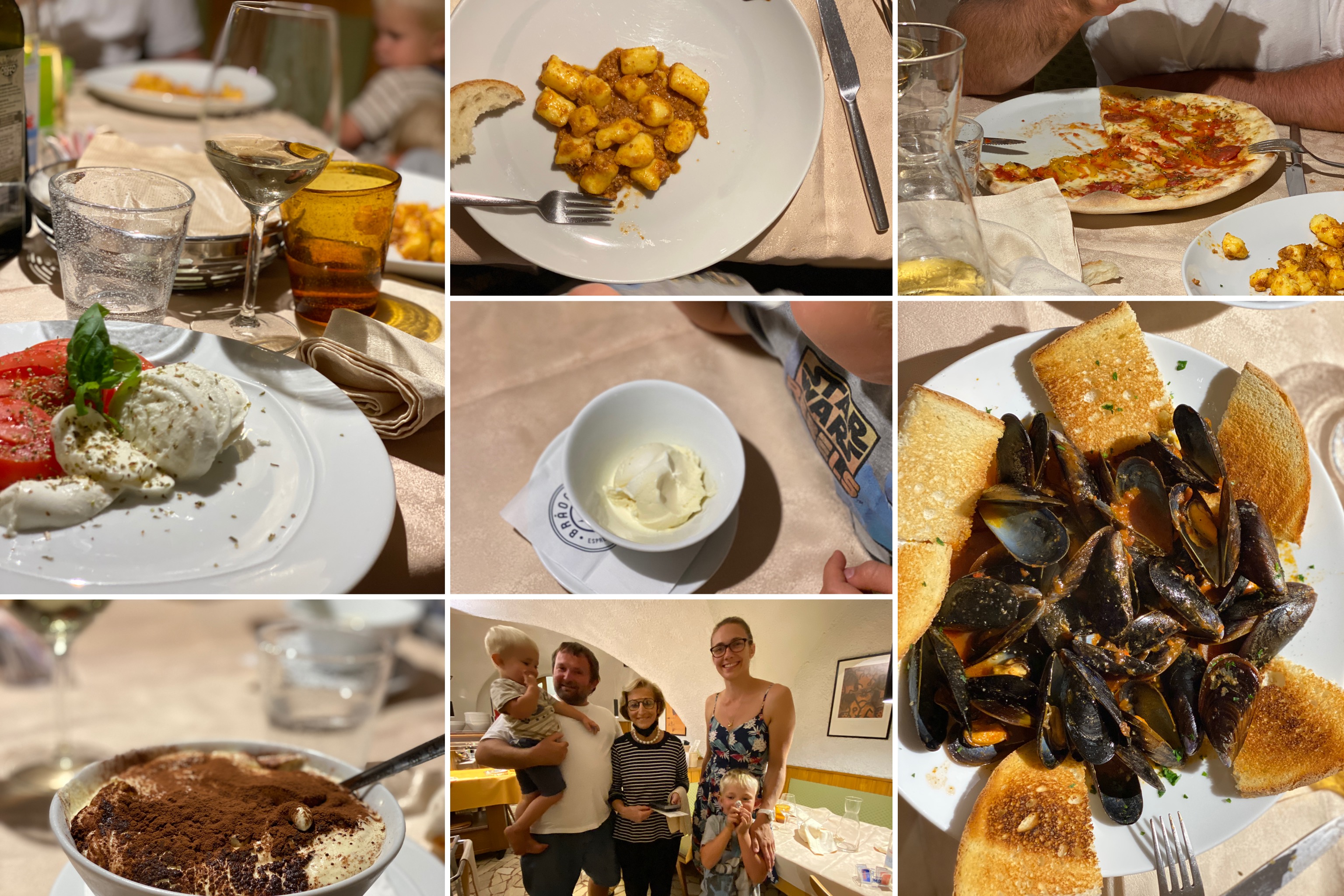 When it comes to restaurants by the lake, we have two recommendations. The first one is the extremely popular restaurant at the Centrale Torbole Hotel. The line for tables on the patio was about 20 meters long! The food is amazing. Note: if you want to order Tiramisu for dessert, leave plenty of room because the portion is huge!
Reservations can only be made for tables inside. If you want to sit outside (in the garden) you have to wait in that long queue that I wrote about earlier.
Inside, the owner takes care of everything. He personally looks after each table and takes care of his guests. Our boys didn't want to eat the rest of their dinner because they were full, but the owner was so worried about it that she offered to prepare something else for them several times, and at the end she gave them ice cream :)
What did we eat?
For an appetizer, mozzarella with tomatoes
The sheriff took the pizza
I have mussels in tomato sauce
The kids had gnocchi with ragu.
For dessert, a huge portion of delicious tiramisu
Restaurant overlooking the lake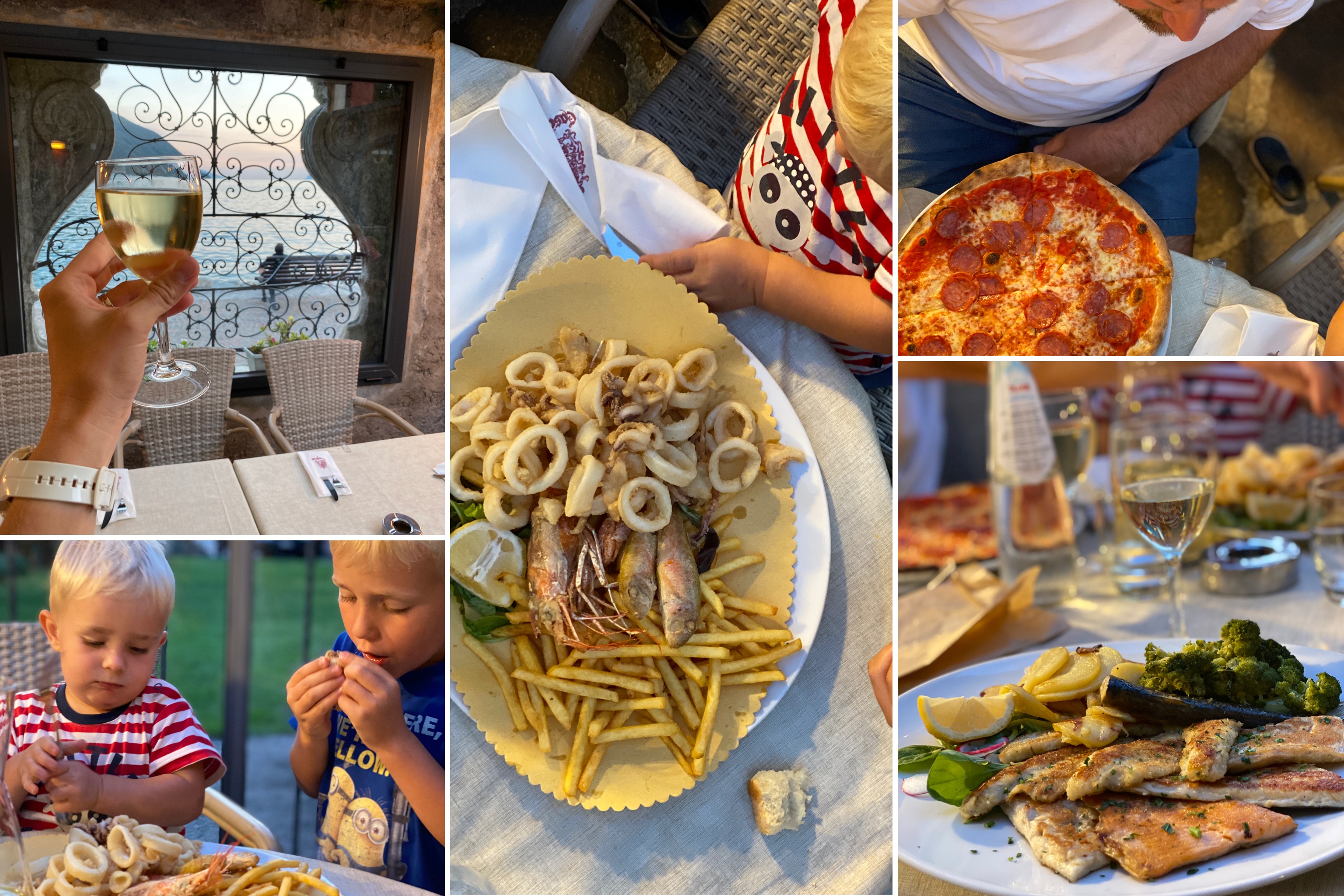 The restaurant with direct views of Lake Garda in Torbole is the postcard-famous Casa Beust. It is best to order a tasting menu here, although we went crazy this time differently.
The tasting menu costs approximately EUR 35 and looks like this:
Freshwater delicacies
Bigoli "Torbole style" or Potato gnocchi with lake fish ragout
Grilled mixed lake fish with side dish
Lemon sorbet
We took Frito Misto for the kids and mixed grill fish for me. The sheriff ordered a traditional pizza.
At the end, the manager offered us limoncello
Our culinary articles from Garda
If you are interested in this topic, see our other culinary articles from Garda:
Campsites in Garda Trentino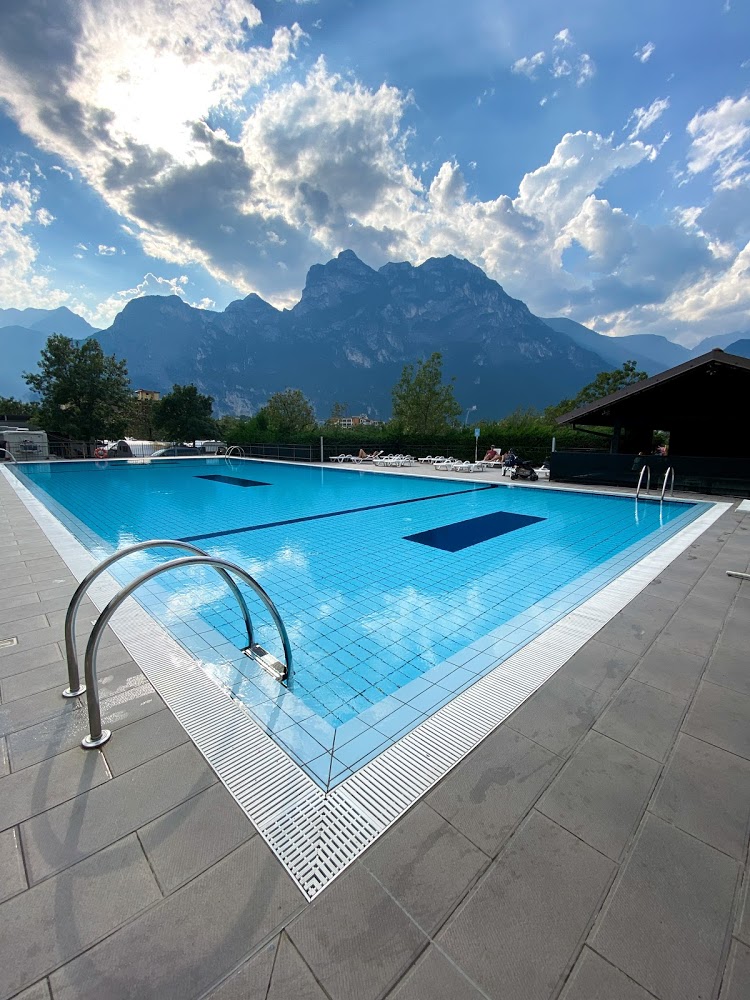 Want to know where to stay in Garda Trentino? See the official tourist information website of this region, where you will find information on all the best campsites in Garda Trentino.
We have created the CampRest portal for people who value freedom and travel on their own.
Enjoyed reading this article? Share it!